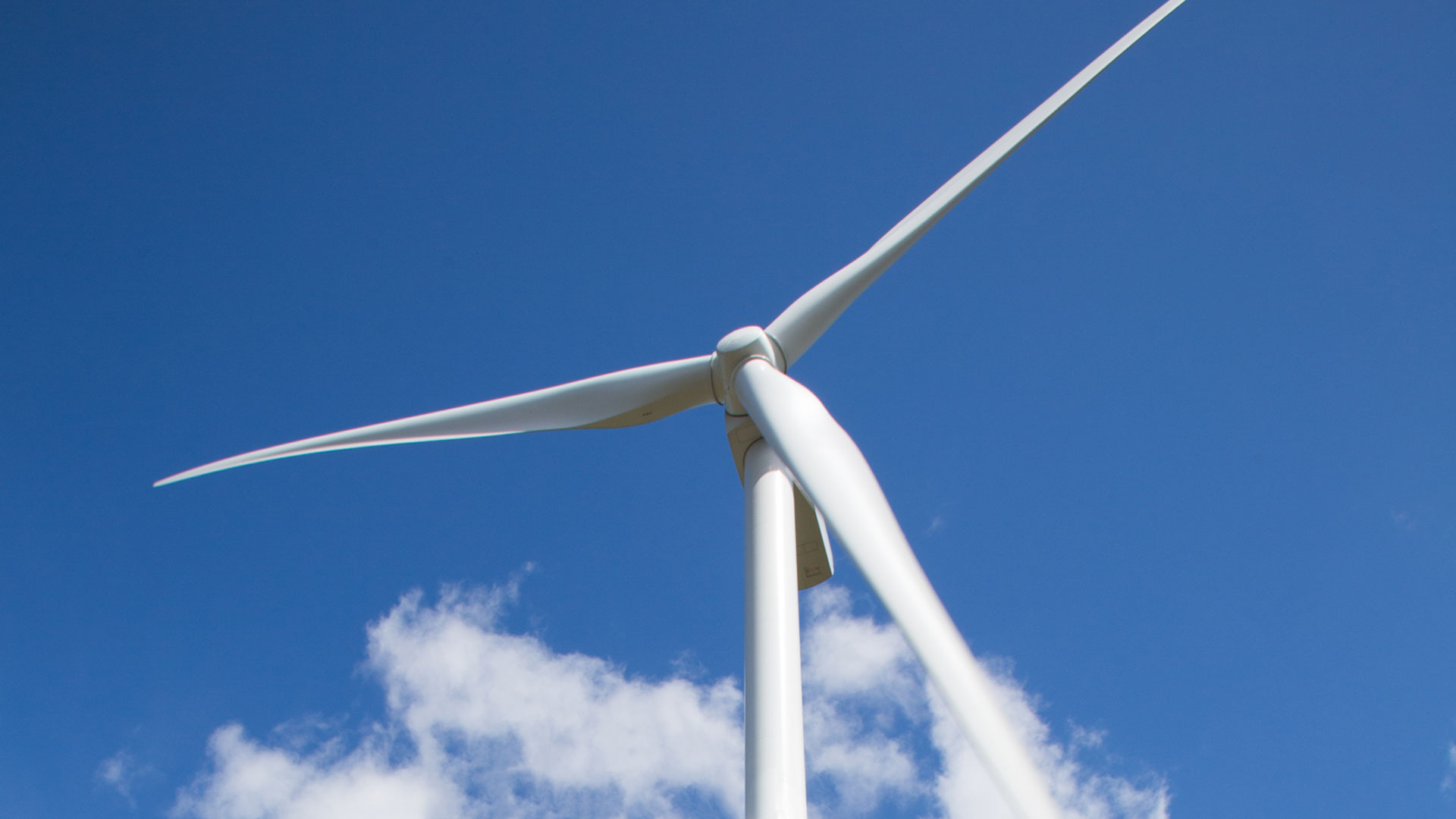 Ray Wind Farm blev officielt indviet i Northumberland den 11. juli 2017.
De 16 vindmøller i vindmølleparken Ray Wind Farm er imponerende 125 meter høje og knejser stolt over det northumbriske moselandskab, hvor de med deres fossilfrie elproduktion viser vejen mod en CO2-fri fremtid som fanebærere for den klimaintelligente generation.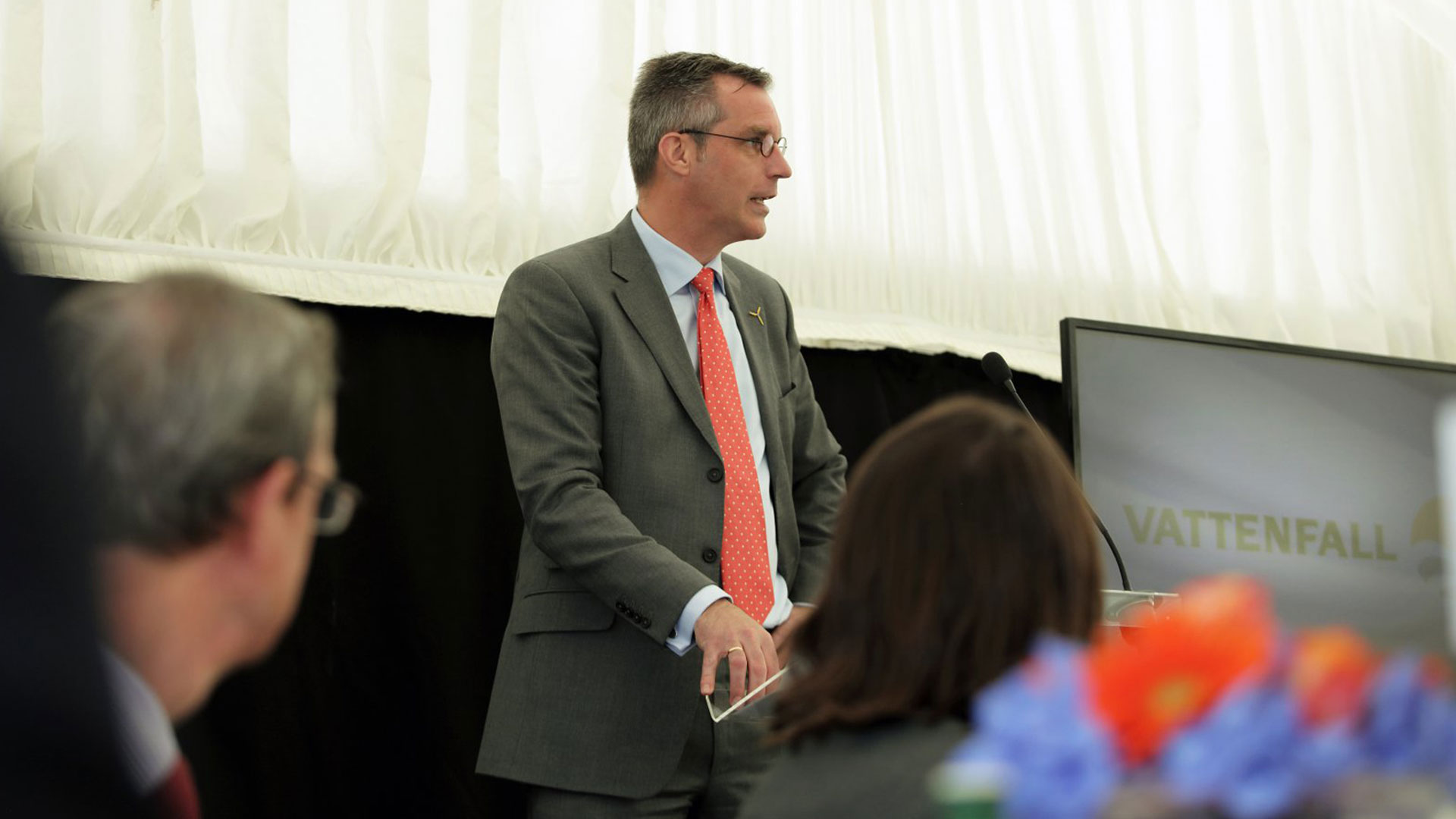 Gunnar Groebler, Senior Vice President of BA Wind, taler til gæsterne ved indvielsen af Ray Wind Farm.
Gunnar Groebler, Vattenfalls Senior Vice President for Business Area Wind, føler sig ydmyg ved synet af den fantastiske ingeniørmæssige bedrift på anlæg som Ray Wind Farm. "Når man står neden for en 125 meter høj, 379 tons tung vindmølle og ser de tre vinger dreje stille rundt i en stiv brise, minder det mig mere end noget andet om, hvorfor jeg laver det, jeg gør. Bare en enkelt omdrejning af vingerne producerer fossilfri strøm nok til at dække forbruget i en gennemsnitlig britisk husstand i hele ni timer," siger Gunnar Groebler, inden han tøver lidt og tilføjer: "Og det er dét, Vattenfall gør. Det er dét, Vattenfall fortsat vil gøre. Vattenfall vil være fossilfri inden for en enkelt generation."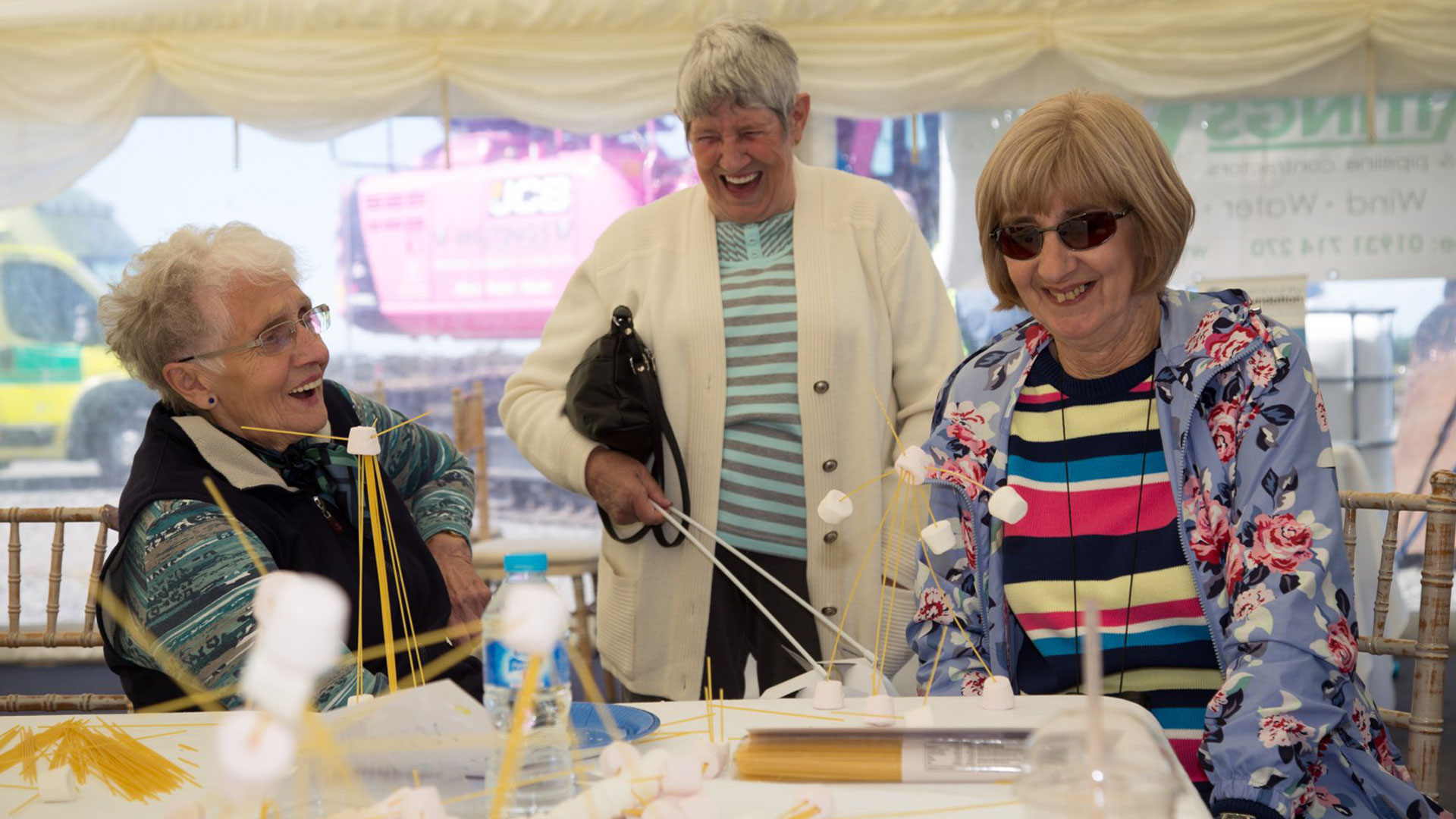 Tre lokale damer fra området omkring Ray Wind Farm i Northumberland overvejer, hvordan man kan bygge en vindmølle af marshmallow og tør spaghetti ved lørdagens indvielse for lokale beboere.
Beskedent projekt
Ray Wind Farm er på 54,4 MW og dermed et beskedent projekt sammenlignet med storesøsteren i det sydlige Wales, den 228 MW store Pen y Cymoedd, som Vattenfall idriftsatte for nylig, men fordelene er alligevel betydelige. På et år vil Ray Wind Farm kunne dække det årlige elforbrug i 30.000 britiske husstande – og forhindre udledningen af 50.000 tons klimaskadelig CO2 til atmosfæren.
Guy Mortimer, Vattenfalls britiske Head of Onshore Wind Development, som har arbejdsplads i den nærliggende afdeling i Hexham, påpeger fordelene ved landbaseret vindenergi: "Vindenergien fra Ray Wind Farm er produceret i England, og vindmølleparken bekæmper klimaforandringer hver eneste dag. Den ingeniørmæssige indsats er imponerende, og en stor del af projektet er bygget i Storbritannien. Vindmølleparken gør desuden en betydelig positiv forskel for de lokale takket være en stor lokalsamfundsfond."
"Det her er min afdelings lokale vindmøllepark. Vi er stolte af den. Jeg håber, at lokalsamfundene, lige fra Elsdon til Otterburn, Birtley, Kirkwhelpington og West Woodburn, også bliver stolte af den."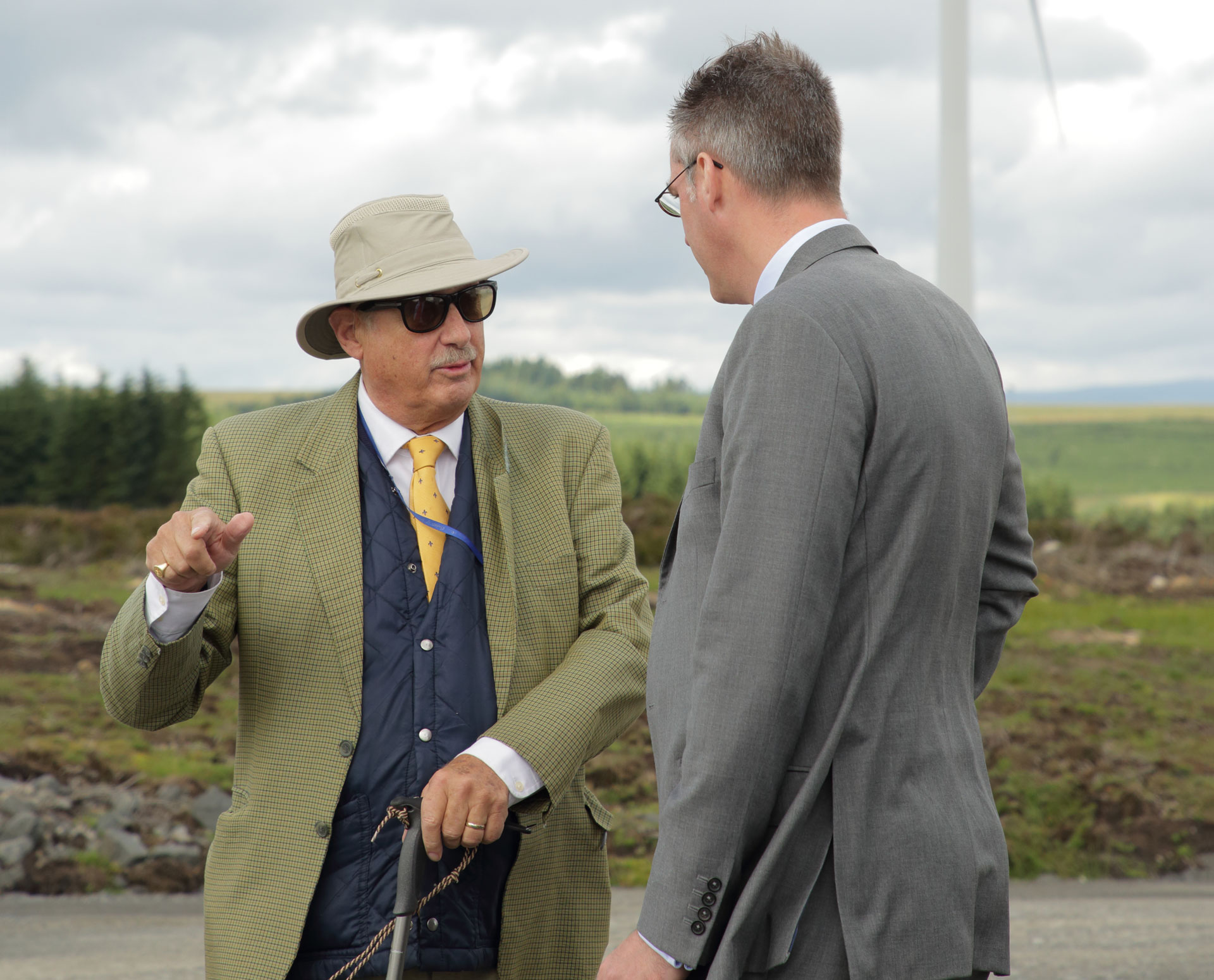 Gunnar Groebler, Senior Vice President of BA Wind, i selskab med Lord Devonport, som ejer Ray Estate.
Fond lanceres senere på sommeren
Vattenfall har forpligtet sig til at investere 250.000 britiske pund om året i hele vindmølleparkens levetid i en lokalt drevet lokalsamfundsfond, der vil blive administreret af Community Foundation. Planen er, at fonden lanceres senere på sommeren.
Sidste lørdag (den 8. juli 2017) fik over 100 personer fra lokalsamfundet mulighed for at se vindmølleparken helt tæt på, blot en måned efter, at den stod færdig. Tirsdag den 11. juli 2017 fik interessenter, ingeniører, teknikere og supportmedarbejdere, som har været med til at udvikle og bygge vindmølleparken, også mulighed for at besøge parken i forbindelse med den officielle indvielse.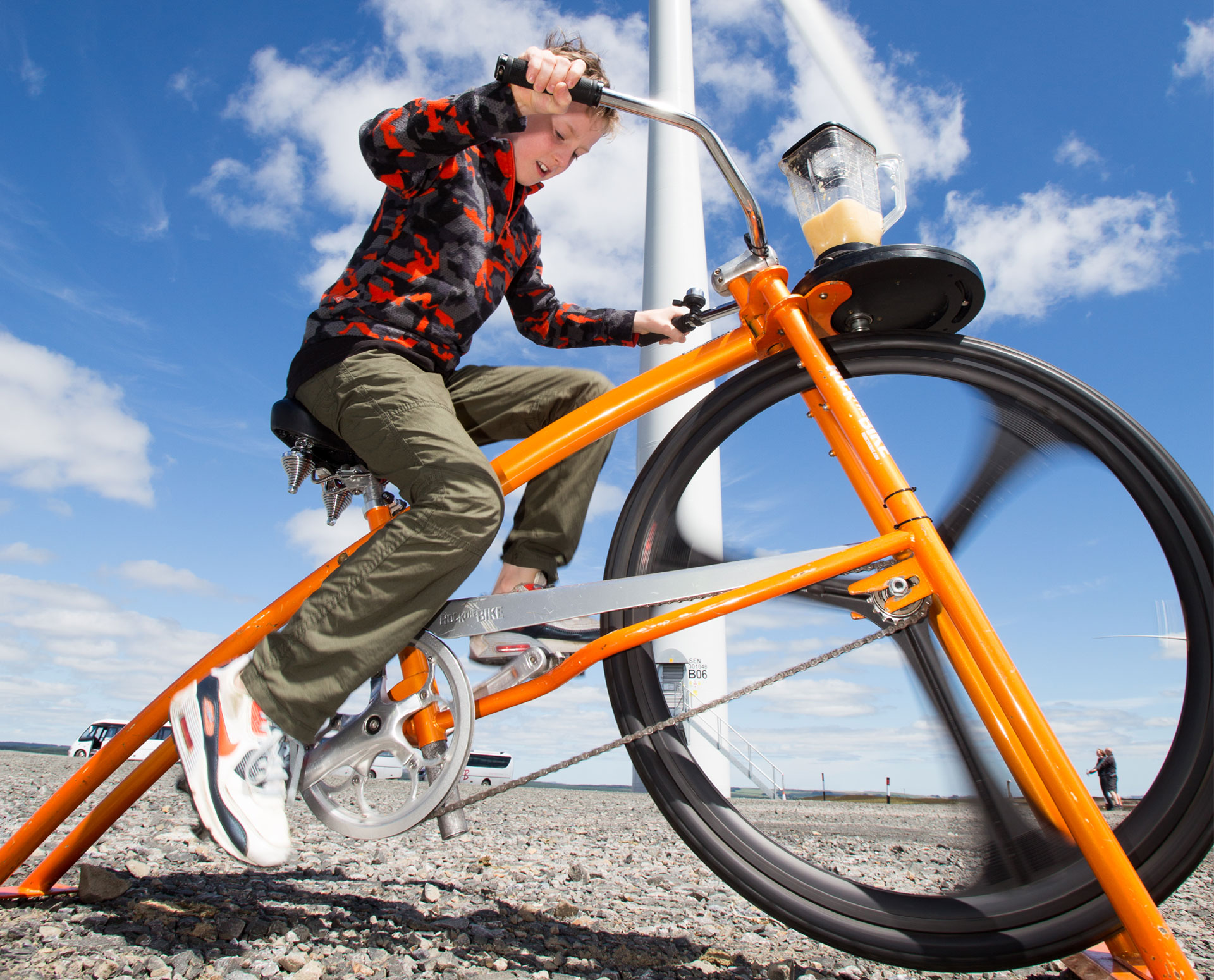 Med en 125-meter høj vindmølle fra Ray Wind Farm bag sig har Adrian Traill fra West Woodburn sat sig på sin cykel for at lave en frugtshoothie med pedalkraft ved lørdagens indvielse for lokale beboere.
De hørte blandt andet Gunnar Groebler sige: "Mit seneste besøg var under turbineinstallationsfasen, så det er fantastisk at se projektet blive indviet og opleve resultatet af alt det hårde arbejde, som alle, der er her i dag, og mange flere, som desværre ikke kunne deltage, har udført. Tak! Under mit seneste besøg oplevede jeg med egne øjne det fantastiske samarbejde mellem Vattenfall-kolleger, vores underleverandører, lokale forretningsdrivende, interessenter fra luftfartssektoren, grundejere og lokalsamfundet. Samarbejde er en del af vores DNA hos Vattenfall, og det er fantastisk at opleve, at det fortsætter her i dag."
"Vattenfall er i Storbritannien med det formål at vokse, og Ray Wind Farm er en del af den væksthistorie – vi er tæt på 1 GW installeret effekt i Storbritannien – jeg glæder mig til, at vi næste år runder 1 GW i Storbritannien og inden 2025 når vores europæiske mål på 7 GW. Med projekter som Ray Wind Farm er vi godt på vej."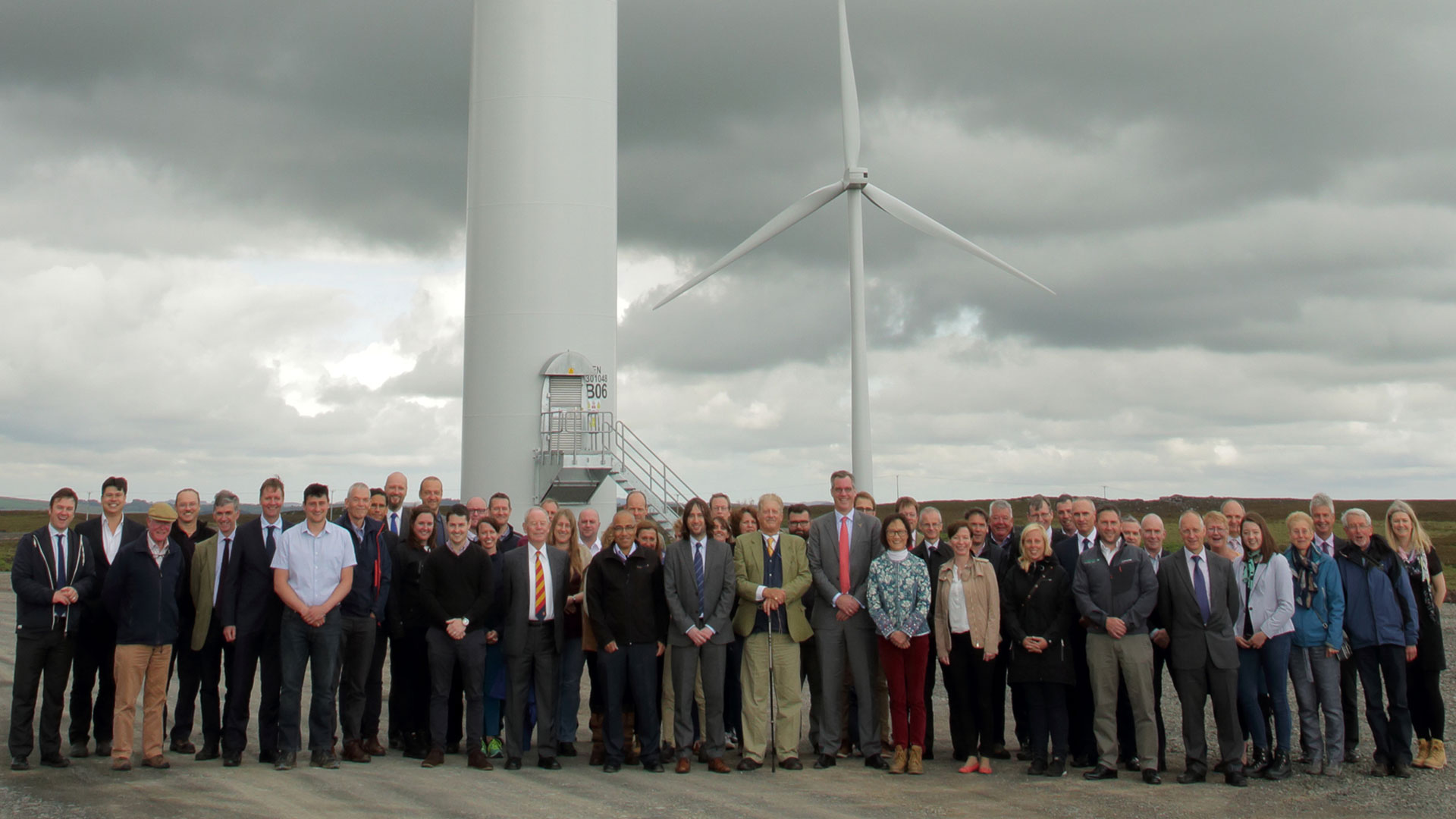 Alle gæsterne ved indvielsen af Ray Wind Farm samlet under en af de 16 vindmøller.
I 2018 vil Vattenfall færdiggøre etableringen af virksomhedens European Offshore Wind Deployment Centre, der kommer til at ligge ud for Aberdeen. Når det er idriftsat, står Vattenfall for over 1 GW installeret effekt i Storbritannien. I 2008, hvor Vattenfall tog et betydeligt skridt ind på det britiske marked, stod virksomheden for 90 MW.
Se videoen: Indvielse af Ray Wind Farm, juli 2017