"I dag er bæredygtighed big business – og ikke bare goodwill"
Hej Annika Ramsköld – som Vattenfalls Head of Sustainability har du været i New York, Donald Trumps hjemby, for at drøfte bæredygtighedsspørgsmål på World Economic Forum med nogle af verdens mest magtfulde beslutningstagere inden for politik og erhvervsliv.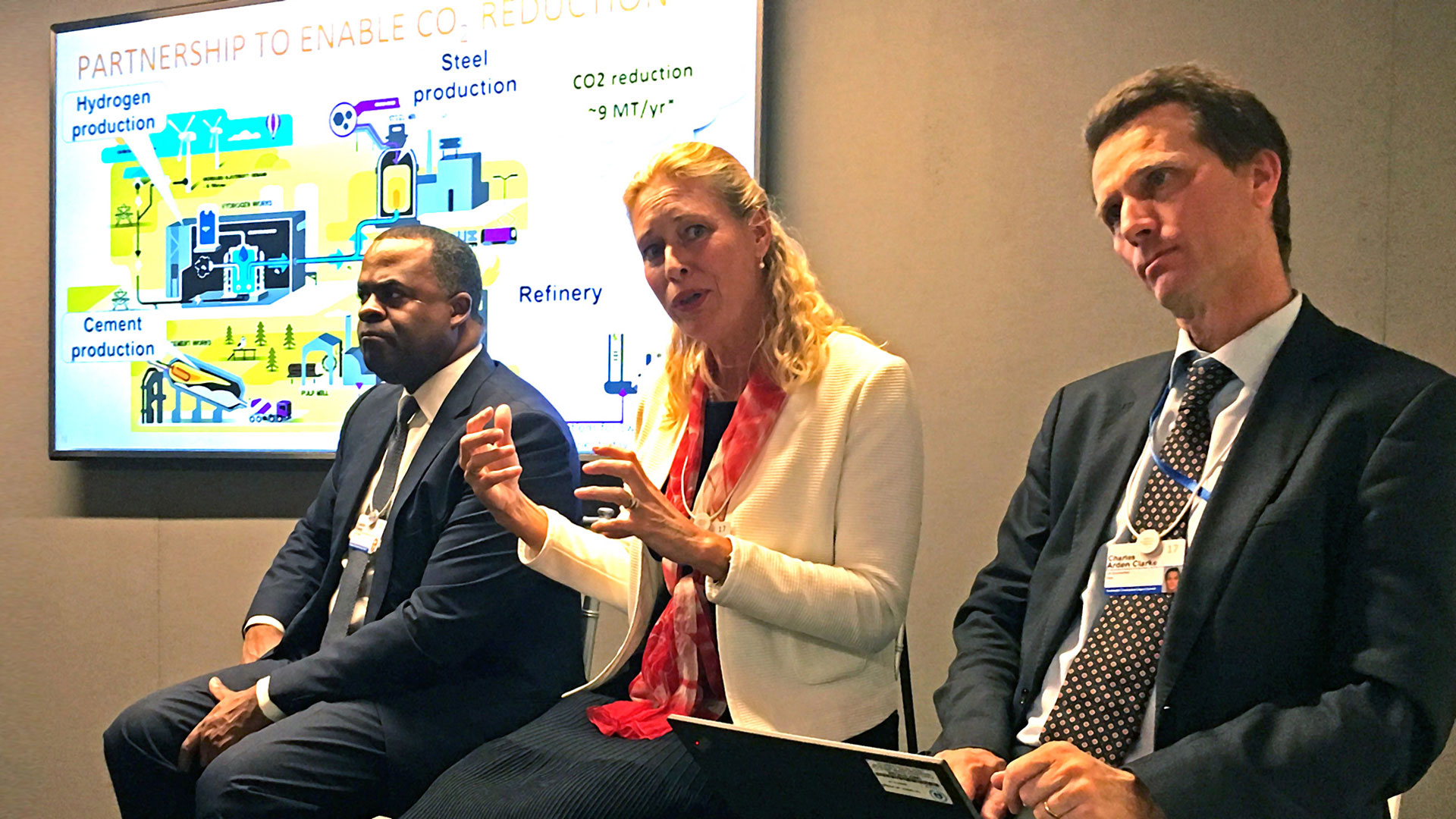 Annika Ramsköld, Vattenfalls Head of Sustainability, på World Economic Forum i New York 2017 sammen med Atlantas borgmester Kasim Reed og Charles Arden-Clarke, FN's Environment Economy Division.
Hvordan blev konferencen påvirket af, at USA styres af Donald Trump, som benægter, at klimakrisen er et problem og synes, at det er et "ikke-spørgsmål"?
"Kampgejsten blev styrket, og det var påfaldende, hvor mange amerikanske deltagere, som – til trods for Trumps politik – sagde, at 'vi vil vinde den her kamp'. Den type udtalelser kom bl.a. fra guvernørerne for Californien, Washington og en række andre stater samt fra en række amerikanske borgmestre. De støtter fuldt ud den gældende klimaaftale og er fast besluttet på at fuldføre den, uanset hvad Trump og Washington-administrationen siger."
"Det var positivt at høre deltagere fra alle verdenshjørner have den indstilling, at 'vi ved fælles kraft arbejder på at løse klimaproblemerne'. For at få rigtig fart på udviklingen og få den til at accelerere i den rigtige retning kræves der endnu mere samarbejde mellem virksomheder og endnu mere støtte fra myndigheder og regeringer. Det var der stor enighed om."
Annika Ramsköld deltog i to seminarer; "Accelerating clean energy" og "Accelerating sustainable production", hvor hun både var ordstyrer og hovedtaler.
Hvad er den store forskel på nu og tidligere?
"For nogle år siden handlede bæredygtighedsspørgsmål ofte om goodwill; noget, der blev drøftet for den gode sags skyld. I dag mener alle – med visse undtagelser – at klima- og bæredygtighedsspørgsmål indebærer rigtige forretningscases, at det er 'big business'. Der var stor interesse for Vattenfalls forskellige forretningssamarbejder om at eliminere CO2-udledningen fra industriprocesser ved hjælp af el (f.eks. cement- og stålindustrien) og om Vattenfalls forskellige satsninger og initiativer med henblik på at elektrificere transportsektoren."
"Påfaldende mange deltagere fremhævede den igangværende omlægning til elbiler som deres lands eller virksomheds konkrete bidrag til klimaet."
Hvilke spørgsmål var de "hotteste" under World Economic Forum?
"Der blev tilbagevendende talt om den 'fjerde industrielle revolution' og om, hvordan anvendelsen af IT vil forandre magtbalancen i verden. Den industrialiserede vestlige verden er overraskende langsom i forhold til denne omstillingsproces, og en af deltagerne, afrikanske Marianne Eve Jamme, konstaterede, at 'den vestlige verdens lande er analfabeter inden for IT'."
"Mens udviklingslandene springer ud i den nye teknologi, bremses udviklingen i den vestlige verden, fordi vi tager hensyn til de systemer, vi allerede har."
"Med ny teknik og strøm fra solenergi vil eksempelvis mange afrikanske lande blive elektrificeret på en helt anden måde end i dag, hvilket giver dem helt nye muligheder for at opbygge velstand og forretningsmuligheder."
Der sker udveksling af tanker og idéer på disse møder, men kaster de også konkrete forretningsmuligheder af sig?
"Møderne går jo ud på at finde fælles projekter, som vi kan udvikle sammen, og på den måde arbejde videre på at opfylde FN's klimamål – med så bredt funderede samarbejdskonstellationer på tværs af landegrænserne som muligt."
"Der tages mange forskellige initiativer, og jeg fik en hel del kontakter vedrørende klimatiltag, som vil kunne betyde store forandringer i f.eks. landbrugssektoren i både Holland og spændende platformsløsninger omkring recirkulering af affald."
Den 8. oktober rejser du til Ukraines hovedstad Kiev. Hvad skal du lave der?
"Der skal jeg fortælle om Vattenfalls satsninger inden for klimaintelligente løsninger. Præcis, som jeg gjorde det i New York. Der er stor global interesse for denne type bæredygtighedsbaserede forretningscases."