Vattenfall donerer 3-4000 portioner mad fra DanTysk havmøllepark til De Hjemløses Venner i Esbjerg.
Nogen må kunne bruge al den mad, men hvem?", var det første spørgsmål Service Leader på Vattenfalls DanTysk havvindmøllepark Jason Davidsen stillede sig selv, da han fik til opgave at stå for udskiftningen af nødrationerne på havmølleparken.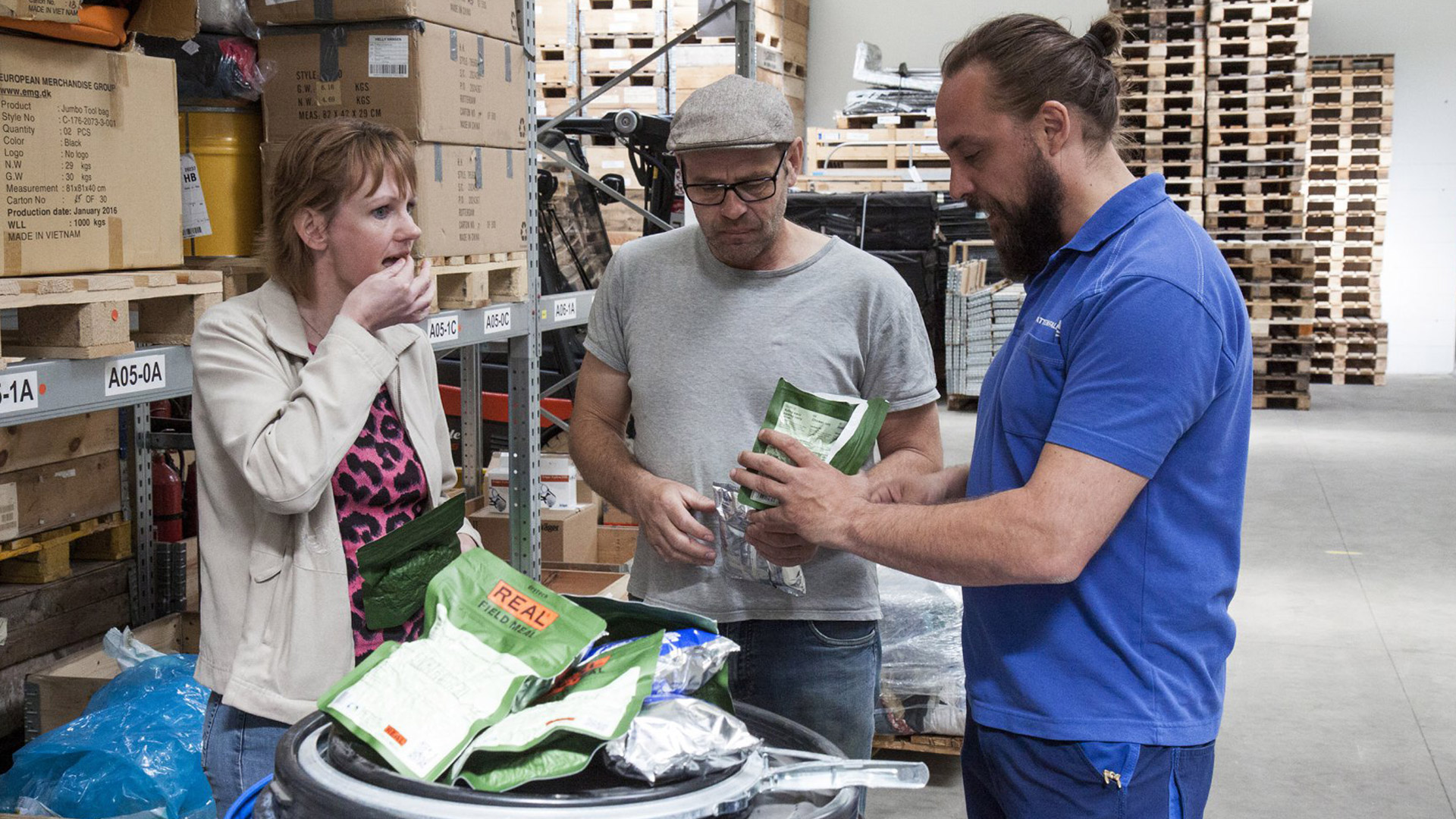 De frivillige Maibritt Rønne og Klaus Gustenhoff Eriksen fra De Hjemløses Venner ser og smager på nødrationerne fra DanTysk havvindmøllepark sammen med Vattenfalls Service Leader Jason Davidsen.
"Jeg er generelt imod madspild og kunne ikke rigtigt leve med, at maden skulle destrueres. Derfor gik jeg i gang med at finde en mulighed for at udnytte de mange gode poser mad og vand. Jeg fandt den lokale forening De Hjemløses Venner i Esbjerg, som arbejder med at hjælpe hjemløse og socialt udsatte i byen, og da jeg kontaktede dem, takkede de ja med det samme. De ville gerne hente mad og vand på vores lager og stå for uddelingen til dem, der ikke har så meget", fortæller Jason.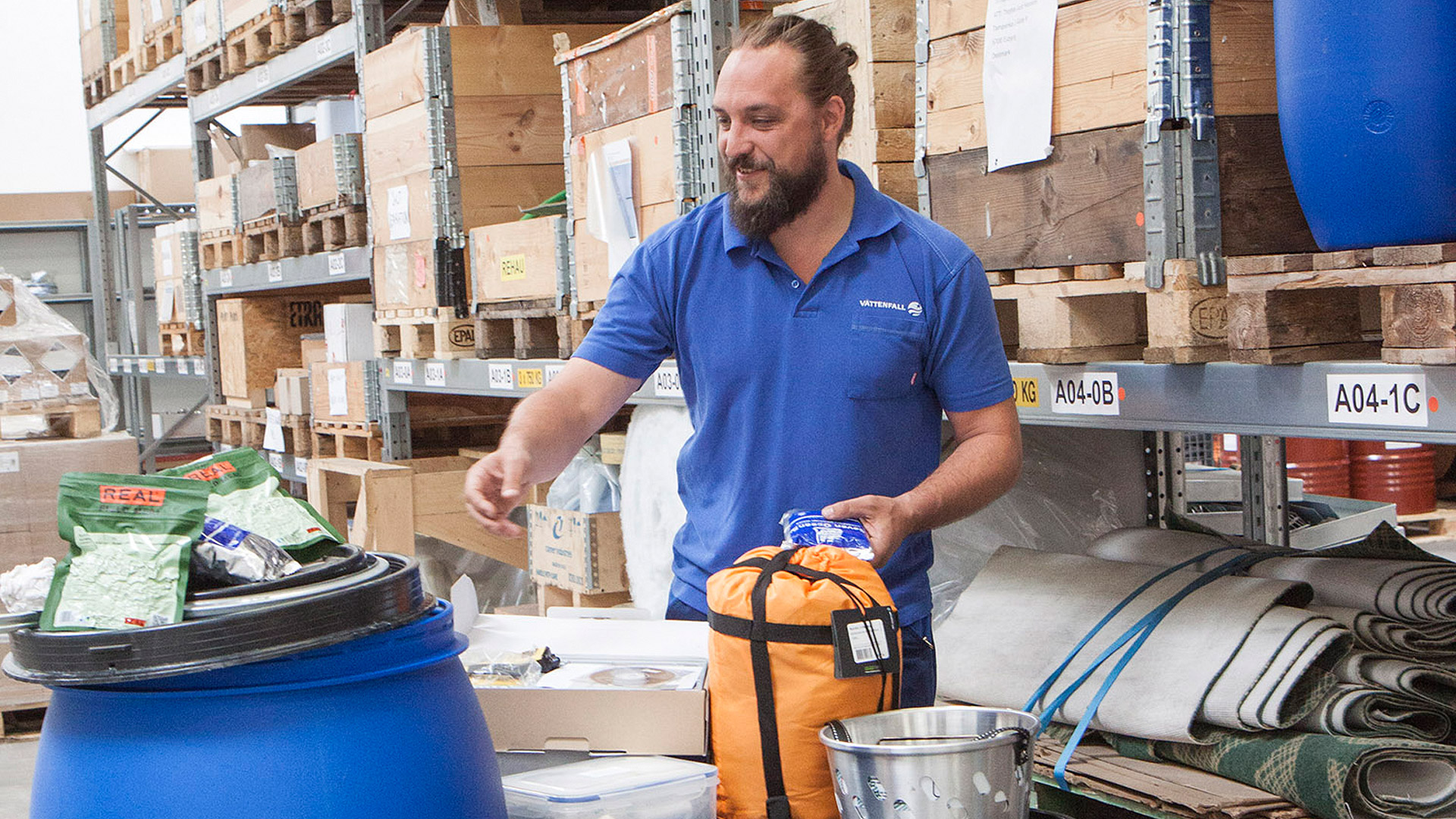 Jason Davidsen med hele nødsættet, som skal have nye forsyninger af mad og vand, nye batterier i det elektriske udstyr og generelt tjekkes igennem, inden det vender tilbage til Nordsøen.
Komplet nødsæt i hver vindmølle
I alt er der på DanTysk havmølleparks vindmøller henved 5000 portioner frysetørret mad i portionsposer og 5500 poser med vand, som er ved at nå sin "bedst før"-dato og skal udskiftes. De er en del af det nødsæt, der findes i tønder i hver enkelt vindmølle i DanTysk. Sættet indeholder også en nødradio, soveposer og termounderlag, et tørkloset, et kogeapparat, tallerkener og bestik, stormtændstikker, nødblus, en signalpistol; ja, listen er næsten uendelig – helt ned til et sæt spillekort til at fordrive tiden med, hvis man som servicetekniker ikke kan komme væk fra møllen efter endt arbejde.
Jason fortæller, "at det er yderst sjældent, det er sket, at serviceteknikerne ikke kan komme væk fra møllen på grund af uforudsete hændelser som pludseligt vejrskift eller en defekt båd. Men hvis det sker, skal seks mand kunne overleve i fire dage i møllen med det, der er i nødsættet".
"Nødrationerne bliver byttet ud løbende, når der skal udføres vedligehold eller reparationer på de enkelte møller, så det er realistisk at få mellem 3000 og 4000 poser mad ind i tide til at kunne give videre, når vi skal holde en god margen til udløbsdatoen", forklarer Jason.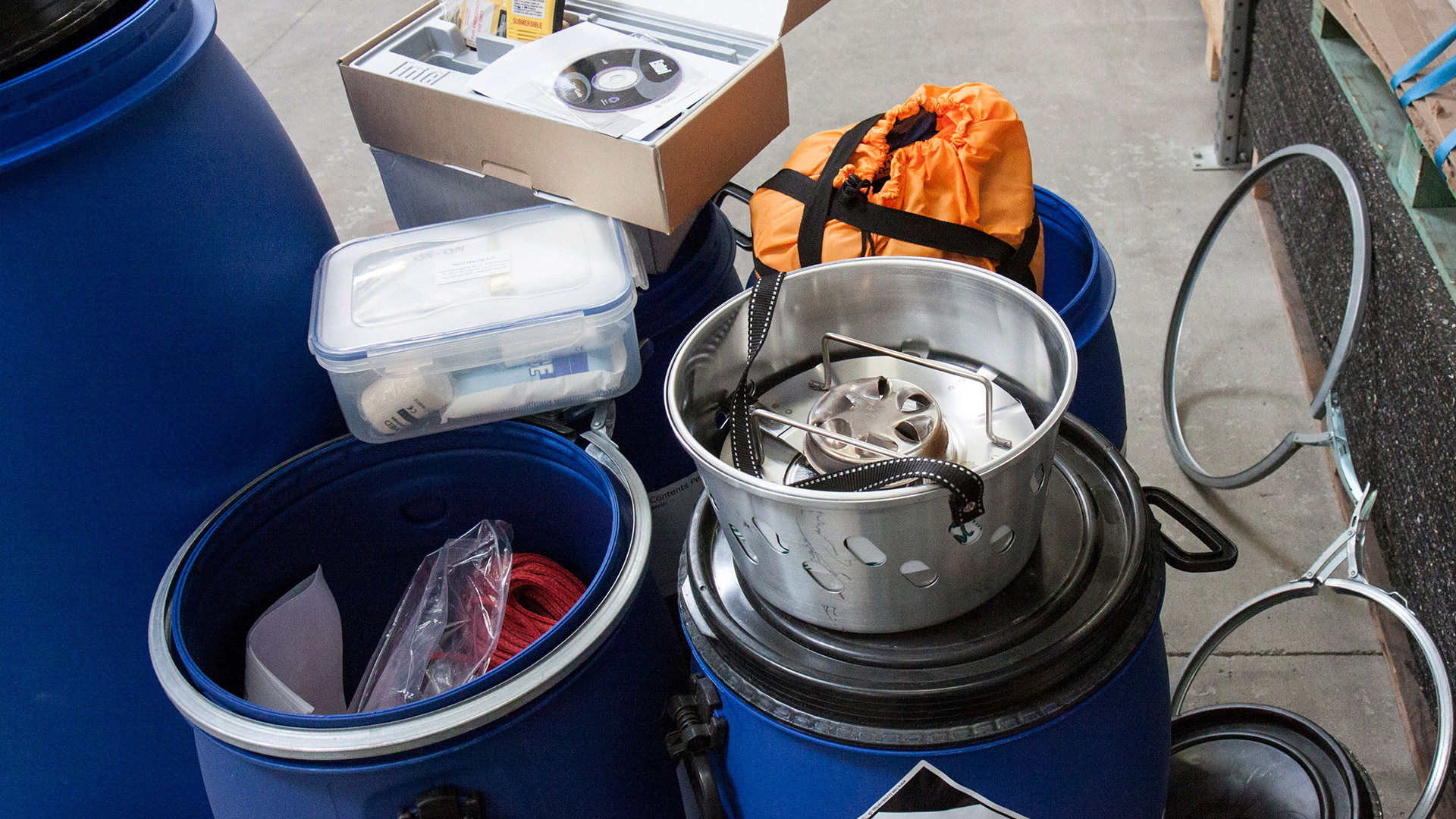 Nødsættet indeholder bl.a. nødradio, soveposer og termounderlag, et tørkloset, et kogeapparat, tallerkener og bestik, stormtændstikker, nødblus, en signalpistol og et sæt spillekort.
Første mad allerede delt ud til socialt udsatte
I onsdags afhentede De Hjemløses Venner de første poser med mad og vand, og ifølge foreningens formand Ingelise Wenzel var de allerede delt ud til nogle socialt udsatte i et bofællesskab om eftermiddagen.
"Det er sidst på måneden, og derfor har mange af dem, som har det svært, ikke længere penge til mad. Kontanthjælpen slår ofte ikke til, og de måltider, vi nu har delt ud, hjælper dem med at klare resten af måneden. For mange af dem, er det også en fordel, at tilberedningen er så simpel, som den er – luk posen op, tilsæt kogende vand, og du har et måltid otte minutter efter", forklarer Ingelise.
Ingelise er helt sikker på, at De Hjemløses Venner sagtens kan bruge de mange poser med mad, især fordi de kommer ind løbende, og organisationen i forvejen kører en kampagne "Fyld et køleskab", hvor borgere i Esbjerg kan aflevere madvarer, som foreningen så deler ud til hjemløse og socialt udsatte.
"Når en socialt udsat for eksempel får tildelt en bolig af kommunen, har de ofte intet. Vi har i vores butik i Sædding Centret et lager af alt fra senge, sofaer, borde og stole til køkkengrej. De får en færdig startpakke med det, der skal bruges i køkkenet og på badeværelset og en pose med sengetøj. De får så lov at vælge møbler i vores butik. De mange frivillige i foreningen hjælper dem med indretningen og sørger for, der er mad i køleskabet til den første tid", fortæller Ingelise.
"Vi er utroligt glade for at Jason og Vattenfall har taget det her initiativ. Det er så vigtigt, at virksomheder tager et socialt ansvar i lokalområdet", slutter Ingelise.
Læs også:
Jydske Vestkysten
Avisen.dk
---

7½ ufrivillige timer i en vindmølle i Nordsøen
Den tyske servicetekniker René Peters er en af de få, der har fået et ufrivilligt ophold i en af DanTysk havmølleparks vindmøller. Han har arbejdet i vindmøllebranchen i omkring 14 år. De seneste to i Vattenfall.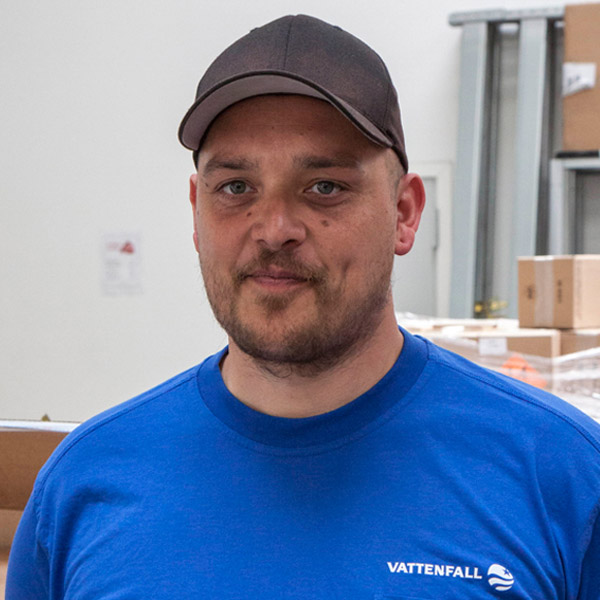 René fortæller om den dag, han blev "fanget" i en vindmølle ude i Nordsøen.
"Der bliver altid joket med at blive fanget i en vindmølle, når der kommer nye serviceteknikere til. Men det er faktisk uhyre sjældent, man ikke kan komme væk fra møllen. Jeg oplevede det dog sammen med to kolleger fra Siemens i januar 2016.
En halv time før båden skulle hente os kl. 17.30, vi fik at vide over radioen, at bådens ror var i stykker, og at der ikke var andre både i nærheden til at hente os. En time efter begyndte vejret at blive værre, og vejrprognosen talte om tre dage med dårligt vejr, så vi krydsede fingre for, at vi kunne komme hjem til hotelplatformen, inden det blev for slemt. Måske med en helikopter.
Det begyndte også at blive koldt. Der var ingen varme, fordi vindmøllen ikke fungerede, så vi besluttede at forlade nacellen og gå ned i bunden af tårnet til tønderne med nødforsyninger. Ud kom soveposer og termounderlag og campingbrænderen, så vi kunne lave mad. Valget stod mellem chili con carne, kylling og svinekød med ris eller nudler. Det smagte faktisk ganske godt.
Vi har altid en WiFi-router med, så vi kan sende og modtage informationer, rapporter og måleresultater, som vi skal bruge til vores arbejde, så vi brugte en del tid på at tjekke Facebook og mails. Resten af tiden gik med at hyggesnakke.
Til alt held fik de repareret båden, så de kunne hente os hjem til hotelplatformen kl. 1.00 om natten.
Vi var heldige ikke at komme ud for et uvejr, som vi havde sidste jul med 17 meter bølger, hvor man ikke engang måtte gå udenfor på hotelplatformen.
Men vi fik konstateret, at nødudstyret har en vigtig funktion, og at der faktisk er tænkt over, hvad der er tønderne".
---
De Hjemløses Venner
De Hjemløses Venner er grundlagt i 2003 og arbejder for socialt udsatte – herunder hjemløse – i Esbjerg Kommune. De Hjemløses Venner hjælper hjemløse og andre udsatte med at etablere et hjem, hvis de er så heldige at få en bolig. Foreningen skaffer penge gennem medlemsskaber og via fonde, events som den årlige golfmatch, kunstauktioner osv.
Foreningen har mere end 40 frivillige tilknyttet, og i februar i år åbnede de deres egen genbrugsbutik i Sædding Centret i udkanten af Esbjerg. Her modtager de genbrugsting, der bliver brugt i foreningens arbejde med at genhuse socialt udsatte. De resterede ting bliver solgt i butikken. Foreningen har indtil i år været med til at genhuse 90 personer.
Endelig kører foreningen projektet "Fyld et køleskab", hvor man ved at donere 400 eller 800 kroner kan hjælpe socialt udsatte med at få mad på bordet. Foreningen har et stort netværk i Esbjerg, bl.a. via en slagkraftig bestyrelse bestående af erhvervsfolk med forskellige kompetencer.