Energinet.dk investerer over en halv mia. kroner i nye højspændingsstationer og landkabler.
Sommeren 2018 går Energinet.dk i gang med at etablere anlæggene, der skal koble strømmen fra Vesterhav Syd og Vesterhav Nord til el-nettet på land, når havmølleparkerne står færdige. Det er energi-, forsynings- og klimaminister Lars Christian Lilleholt, der har givet grønt lys til, at Energinet.dk investerer 564 mio. kr. i anlæggene.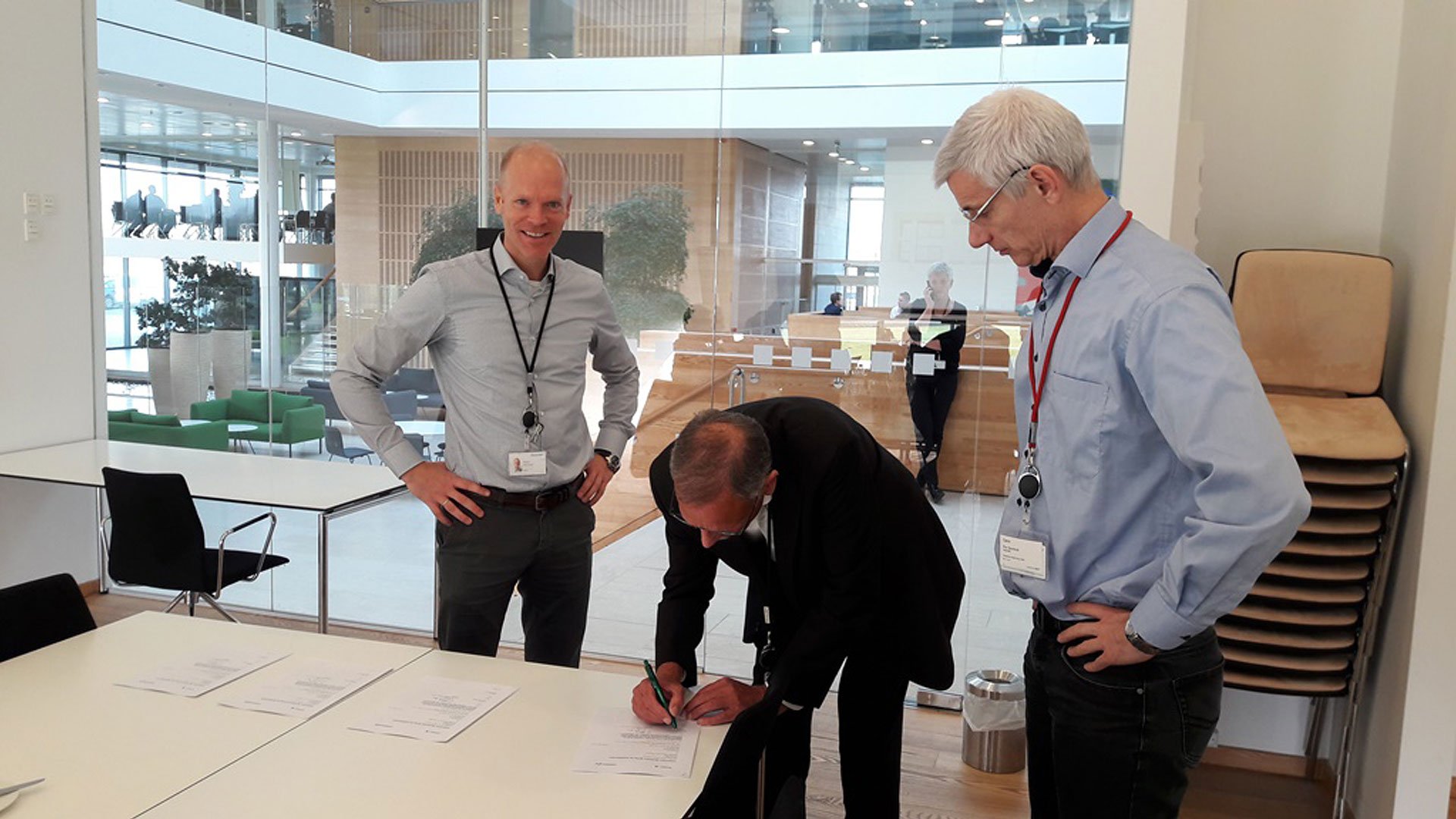 Teknisk direktør Torben Glar Nielsen fra Energinet.dk underskriver her aftalen med Vattenfall om nettilslutningen af Vesterhav Syd og Nord sammen med Energinet.dk's projektchef Martin Hinrichsen (tv) og Project Manager Per Stenholt fra Vattenfall (th). Foto: Energinet.
To nye højspændingsstationer
Til Vesterhav Syd opfører Energinet.dk en ny højspændingsstation ved Søndervig, og derfra lægges der 48 km kabler i jorden frem til højspændingsstationen ved Stovstrup øst for Skjern.
Til Vesterhav Nord etablerer selskabet en ny kystnær højspændingsstation i Klinkby og lægger 35 km 150 kV kabler i jorden frem til stationen i Idumlund vest for Holstebro.
Vattenfall betaler søkablerne
Som noget nyt skal Vattenfall i forbindelse med koncessionsaftalen på de to kystnære havmølleparker betale for de søkabler, der skal forbinde vindmøllerne med højspændingsstationerne på land.