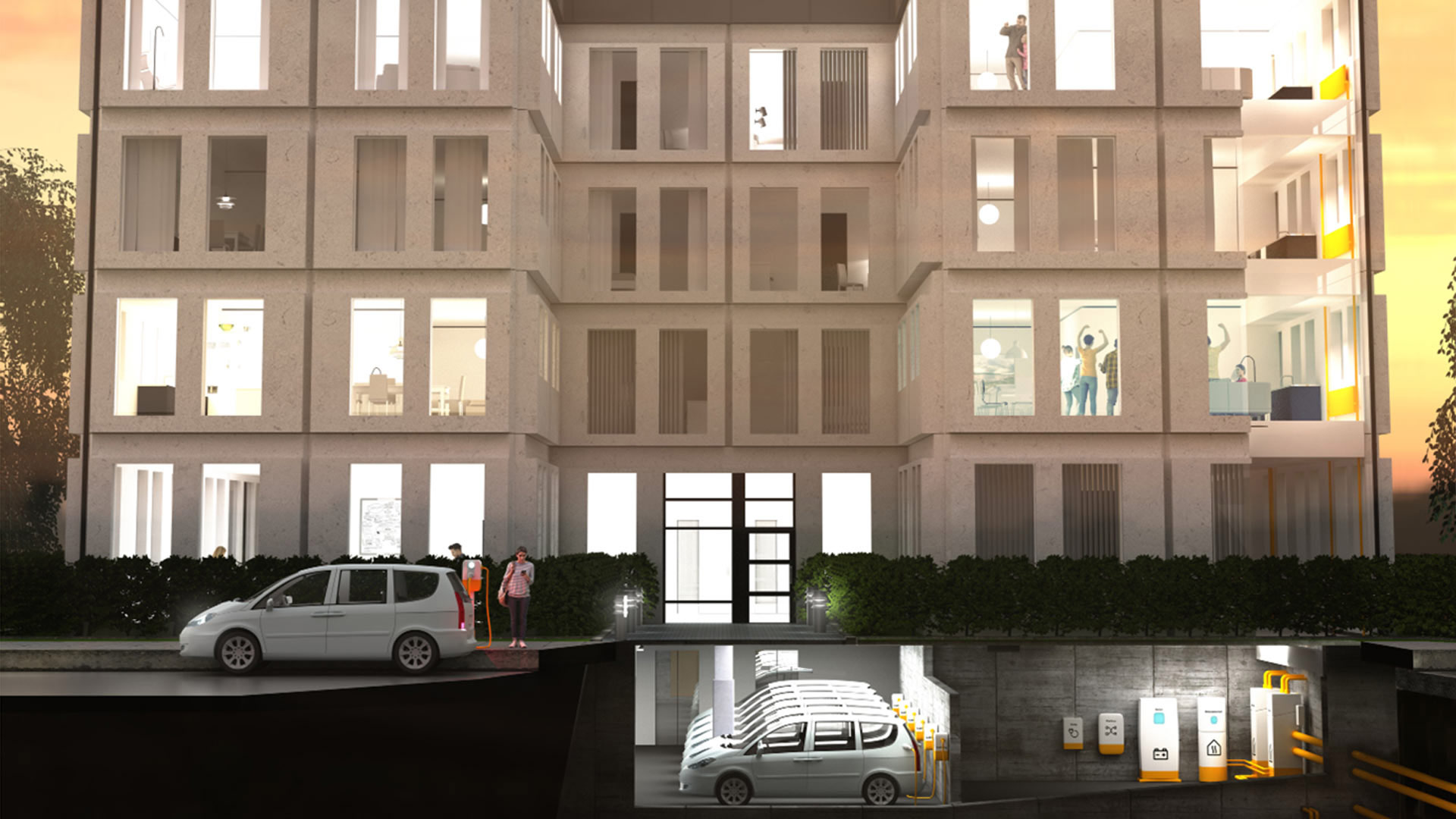 Nu lancerer Vattenfall nye og intelligente energitjenester
Nu lanceres Vattenfall InHouse: intelligente energitjenester til boligforeninger og boligejere på det svenske marked.
Vattenfall InHouse er et helhedskoncept omfattende flere energitjenester, som er rettet mod boligejere og boligforeninger, der er interesserede i energibesparende og klimaintelligente energiløsninger tilpasset ejendommens behov. De nye energitjenester er et led i Vattenfalls overordnede strategi, om at tilbyde kunder centrale såvel som lokale energiløsninger.
En bæredygtig løsning for både økonomi og miljø
"Mange boligejere og boligforeninger efterspørger i øjeblikket omkostningseffektive og bæredygtige løsninger til varme, el og opladning af elbiler. De efterspørger også skræddersyede løsninger, der fungerer ud fra et helhedssyn, og som med tiden kan arbejde sammen. Med Vattenfall InHouse kan vi tilbyde en enkel og intelligent energitjeneste, som kan hjælpe kunden med at vælge den rigtige energiløsning," siger Mattias Tingvall, Head of Business Development.
Det nye forretningskoncept, Vattenfall InHouse, kombinerer lokal energi med kundenær energi og består af fire dele: InHouse Värme, InHouse El, InHouse Laddning og InHouse Smart. Ud fra en kortlægning af ejendommen findes der frem til en passende løsning ved hjælp af en eller flere dele af Vattenfall InHouse. Tjenesterne er abonnementsbaserede, og kunden betaler enten en månedlig afgift ud fra det forbrugte antal kilowatt-timer eller en fast afgift.
"Tjenesterne i Vattenfall InHouse er udviklet for at gøre det nemt og sikkert for vores kunder. Som InHouse-kunde behøver man ikke binde kapital i udstyr, og man behøver ikke at investere tid i at opbygge viden og tage sig af diverse tekniske løsninger. Det gør vi for kunden. Kunden kan også være sikker på, at ejendommens forskellige anlæg kan spille sammen på en smart måde, så man er garanteret en bæredygtig løsning – såvel økonomisk som miljømæssigt," fortæller Magnus Hall, Vattenfalls CEO.
"Med Vattenfalls nye energitjenester kan vi nu tilbyde varmeløsninger til kunder uden for vores fjernvarmenet, men også til de kunder, som ønsker en anden løsning end vores fjernvarme. Det leder os i den rigtige retning, så vi bliver endnu mere kundeorienterede og kommer et vigtigt skridt nærmere mod at blive en altomfattende varmeleverandør," siger Jenny Larsson, Head of Vattenfall Värme Sverige.
Brf Haga sparer 100.000 kroner om året
Boligforeningen Haga i Solna nord for Stockholm indgik for nylig en 10-årig aftale med Vattenfall InHouse og er dermed en af de første kunder til at få del i de nye energitjenester. Boligforeningen har tidligere fået opsat ladestationer i garageanlægget og ville nu have en helhedsløsning, som er bæredygtig, energibesparende og tilpasset foreningens behov.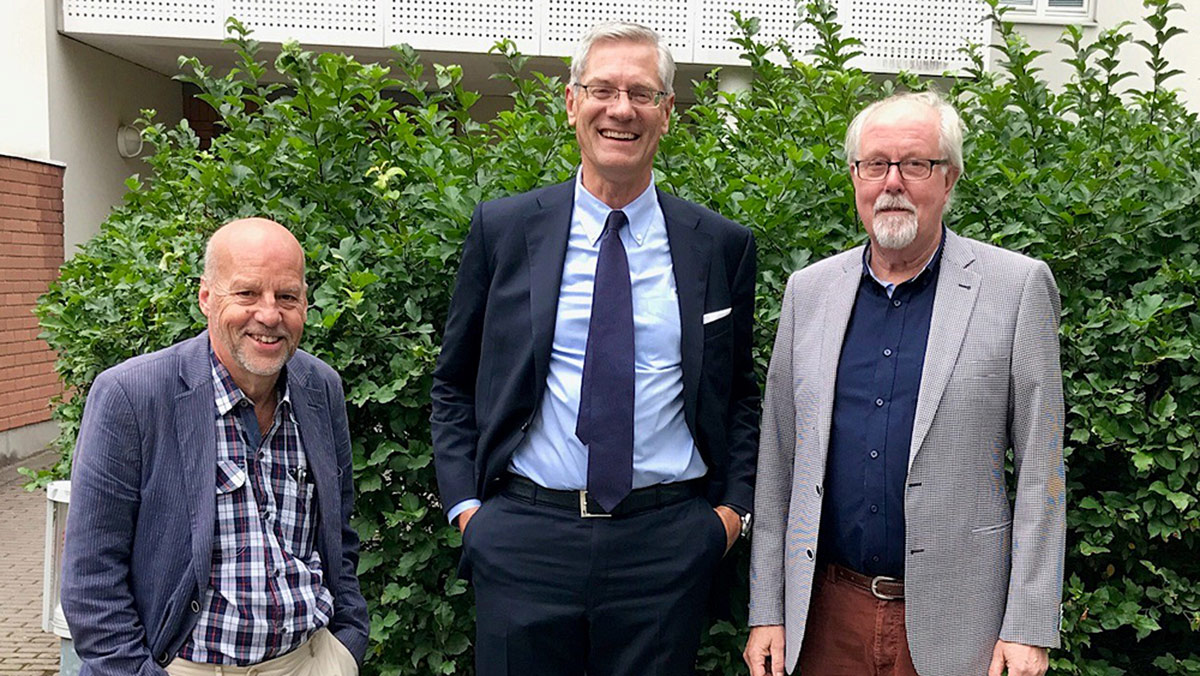 Lennart Jonsson og Lars Samuelsson fra boligforeningen Haga i Solna på hver sin side af Vattenfalls administrerende direktør Magnus Hall.
"Den kombiløsning, vi har valgt, med både geotermisk varme, solceller og fjernvarme vil komme til at reducere energiomkostningerne med godt 100.000 kroner pr. år, samtidig med at den giver mulighed for andre bæredygtige energiløsninger. Min opfordring til andre boligforeninger er at begynde at se på en tilsvarende helhedsløsning. Det her er fremtiden," siger Lennart Jonsson, bestyrelsesformand i BRF Haga.
Vattenfall InHouse-aftalen med BRF Haga
En 10-årig aftale, hvor Vattenfall leverer el og varme baseret på solenergi som tjenester, dvs. BRF Haga betaler el og varme pr. forbrugt kilowatt-time på månedsbasis.
Ud af det samlede energiforbrug på 1500 MWh/år erstattes 810 MWh/år med geotermisk varme.
Ca. 5 % af det samlede elforbrug vil blive erstattet af solenergi, ca. 30.000 kWh/år.
Dette reducerer el- og varmeomkostningerne med 5,7 % pr. år ud fra de nuværende forudsætninger, godt 100.000 kroner i lavere årlige omkostninger.
Det giver BRF Haga 7 % lavere varmeomkostninger med 50 % geotermisk varme og 50 % fjernvarme.
Anlægget vil blive sat i drift i midten af december.


---
Fakta om Vattenfall InHouse
InHouse Värme: Opvarmning af ejendommen med enten fjernvarme eller geotermisk varme, alternativt en blanding af begge, uden høje grundinvesteringer.
InHouse El: Kombinerer egenproduceret el fra solceller med centralt produceret el, uden at kunden skal investere tid eller binde kapital i et solcelleanlæg. Overskuddet kan sælges til Vattenfall. Afregningen af den producerede el sker via den almindelige faktura.
InHouse Laddning: Giver mulighed for opladning af beboernes egne og gæsters biler på samme tid, uden at det går ud over ejendommens øvrige funktioner, eller at der skal sættes kapital af til det.
InHouse Smart: Intelligent teknik til lagring af energi samt måling, styring og optimering af ejendommens energiforbrug.