Vattenfall har besluttet sig for at afgive bud på havmølleparken Hollandse Kust Zuid i den hollandske del af Nordsøen. Det er det første udbud i verden helt uden støtte. Det er en betydelig milepæl for Vattenfall og vil være et væsentligt skridt henimod det at blive fossilfri inden for en generation.
Vattenfall er stærkt engageret i den grønne energiomstilling i Nordeuropa og investerer over 2 mia. euro i vedvarende energi i perioden 2017-2018. Derfor har virksomheden besluttet sig for at deltage i udbuddet på den hollandske havmøllepark Hollandse Kust Zuid og ser projektet som en betydelig milepæl for både den grønne omstilling i Holland og for Vattenfall.
"Som et energiselskab med en stærk tilstedeværelse på det hollandske marked og med stor indsigt i udviklingen på det hollandske elmarked, er vi meget engageret i at tage en ledende rolle i den grønne omstilling i den hollandske økonomi. Hollandse Kust Zuid ville være en vigtig milepæl," siger Magnus Hall, administrerende direktør og CEO for Vattenfall.
Vattenfall har betydelig erfaring med havvind i hele værdikæden: fra udvikling og installation til salg af vindmøllestrøm til husholdninger og erhvervslivet. Et eksempel på det er den nylige aftale i Holland om at levere vedvarende energi fra Vattenfalls vindmølleparker til Microsoft. Vattenfall er globalt anerkendt som en førende spiller med et stærkt omdømme, hvad angår omkostningsreduktioner på havmølleprojekter. Porteføljen er stabil og tæller 21 nordeuropæiske havvindmølleparker, som enten allerede er i drift eller under udvikling og opførelse.
En robust business case
Nordsøen og i særdeleshed området, hvor Hollandse Kust Zuid skal opføres, har gode betingelser for vindkraft, og der er betydelige synergier imellem denne site og Vattenfalls havmøllepark Egmond aan Zee i nærheden. Dertil kommer, at det hollandske udbud, som skal føres ud i livet i 2022, passer godt ind i Vattenfalls pipeline for havmølleparker, og det kan derfor let indarbejdes i den nuværende strategi for ordreindtag og projektudførelse.
"Vi har været meget omhyggelige med at sikre, at vores business case er stærk, og at vi er godt forberedte på at håndtere alle risici. Vi kombinerer en stærk erfaring med at bygge og drive vindmølleparker med de lavest mulige omkostninger med evnen til at håndtere markedsrisici og sælge elektricitet på det hollandske marked. Vi er overbeviste om, at vores bud repræsenterer et virkeligt robust all-round bud, når det gælder om at imødekomme den hollandske regerings behov. Landets stærke engagement i vedvarende energi skaber stabile rammevilkår. Sammen med støtte i form af tilvejebringelse af transformerstation og netforbindelse, er det væsentlige faktorer i Vattenfalls beslutning om at byde," siger Gunnar Groebler, Head of Business Area Wind.
Stærk på reduktion af omkostningerne på havvind
I 2016 vandt Vattenfall de danske havvindmølleprojekter Vesterhav Syd, Vesterhav Nord og Kriegers Flak til rekordlave priser. Opførelsen af disse vindmølleprojekter, som skal sættes i drift senest 2020 og 2022, er i gang og kulminerede for nyligt med en stor ordre på møller fra Siemens Gamesa, som yderligere understregede Vattenfalls evne til at reducere omkostningerne.
"Gennem et tæt samarbejde med vores leverandører har Vattenfall i de seneste år gjort store fremskridt med at nedbringe omkostningerne på havvind. Vi vil fortsætte med at reducere omkostningerne yderligere, og det giver os en stærk tro på, at vi kan bygge og drive vindmølleparker på rentabel vis – selv uden subsidier. Det vil naturligvis være en betydelig milepæl for os," siger Gunnar Groebler.
---
Fakta om Hollandse Kust Zuid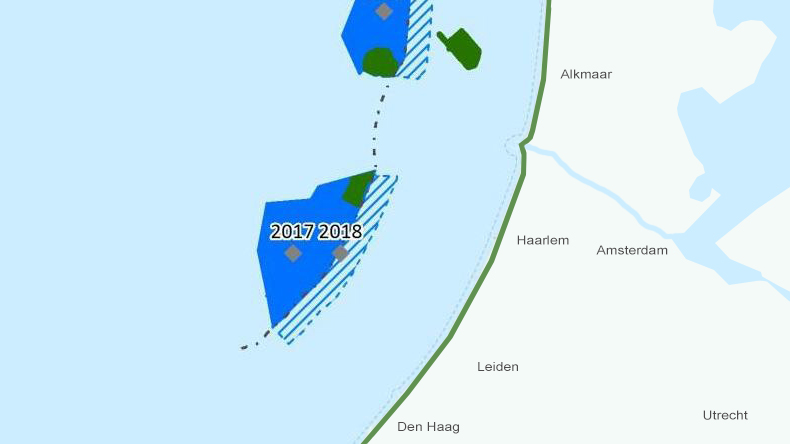 356 km2 totalt. Placeret 22,2 km (mellem 16 og 35 km) fra Hollands vestkyst.
Hver site (2 i alt) er stor nok til at få installeret mellem 342 og 380 MW.
Der er korridorer imellem de to sites på grund af kabler/rør og sikkerhedszoner.
Vanddybde: 17-28 m
Havbundsforhold: Sandbølger +/- 3 meters højde, 500 meters længde. Første 20-25 meter er hovedsageligt sand. Lokalt tynde lerlag på op til 3 meter.