Samtidig arbejder Vattenfall med at installere udstyr på de to transformerplatforme i samarbejde med Energinet. Desuden skal en række opgaver sendes i udbud.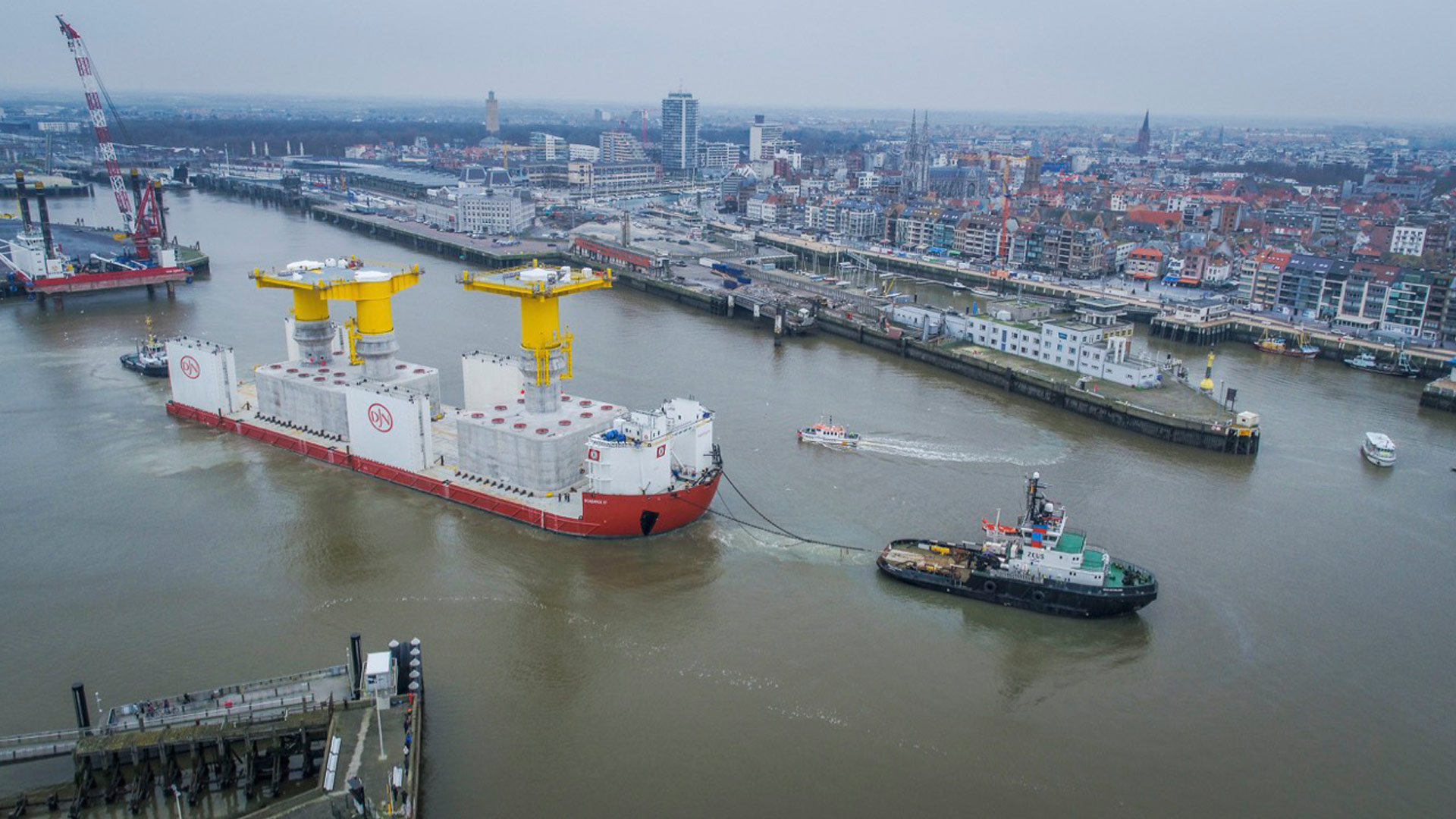 Fundamenterne på henholdsvis 8.000 og 10.000 ton sejles her fra Ostende i Belgien til havnen i Køge og den efterfølgende installation på Kriegers Flak i Østersøen. Foto: Jan De Nul Group.
To gigantiske betonfundamenter med overgangsstykker i stål til Kriegers Flak lægger til kaj i Køge i midten af januar. Når vejret tillader det, bliver det første fundament sejlet ud på flakket i Østersøen i slutningen af januar og sænket ned på havbunden. Det andet ventes installeret i løbet af februar.
Det er Energinet.dk, der har bestilt de to betonfundamenter, hvorpå deres transformerstationer til havmølleparken skal placeres. Fundamenterne er som sænkekasser i storformat og fyldes med vand, når de i en kontrolleret aktion placeres på havbunden. Til sidst fyldes fundamenterne med sten.
Brug for to transformere
Der er ikke tale om to ens fundamenter og transformerstationer, for den ene af transformerstationerne er større end den anden. Den største skal stå for sammenkoblingen af Kriegers Flak og de to tyske havmølleparker Baltic 1 og Baltic 2. Det er i øvrigt første gang, at to landes elforsyning kobles sammen via havmølleparker.
Fundamenterne på henholdsvis 8.000 og 10.000 ton er produceret i Belgien og sejles hertil på pramme. Det mindste får monteret en transformerstation med en kapacitet på 200 MW. Det største fundament består af to sænkekasser med to stålstel, også kaldet overgangsstykker, hvorpå den største transformerstation på 400 MW monteres.
Når der skal to transformerstationer til, er det fordi Kriegers Flak er delt op i to arealer på hver sin side af en korridor til udvinding af råstoffer fra havbunden.
Travlhed hos Vattenfall
Hos Vattenfall er der også travlhed i forbindelse med gennemførelsen af såvel Kriegers Flak som de to andre havmølleparker, Vesterhav Syd og Vesterhav Nord på den jyske vestkyst. Teknisk projektchef for alle tre havmølleparker, Daniel Lorenz, siger:
"Et af vores vigtigste fokusområder lige nu er installation og idriftsættelse af en 33kV kobling, mellemspændings-kabler og SCADA-udstyr til overvågning, styring og data-opsamling samt telekommunikationen på de to transformerstationer på hhv. 200MW og 400MW, der bygges på Hollandia værftet i Krimpen i Holland. Planlægningen og udførelsen af opgaverne sker i et tæt samarbejde med Energinet."
"2018 som helhed bliver meget travl. Vi har lige gennemført en geoteknisk og geofysisk undersøgelse af området på Kriegers Flak. Desuden udbyder vi fremstillingen og installationen af monopæle og overgangsstykker (TP) i licitation, og det samme gør vi med 33 kV kablerne og installationen af vindmøllerne. Licitationen gælder ikke kun Kriegers Flak men også Vesterhav Syd og Vesterhav Nord."
"Sideløbende er vi ved at designe fundamenterne, og i slutningen af året begynder certificeringerne," siger Daniel Lorenz.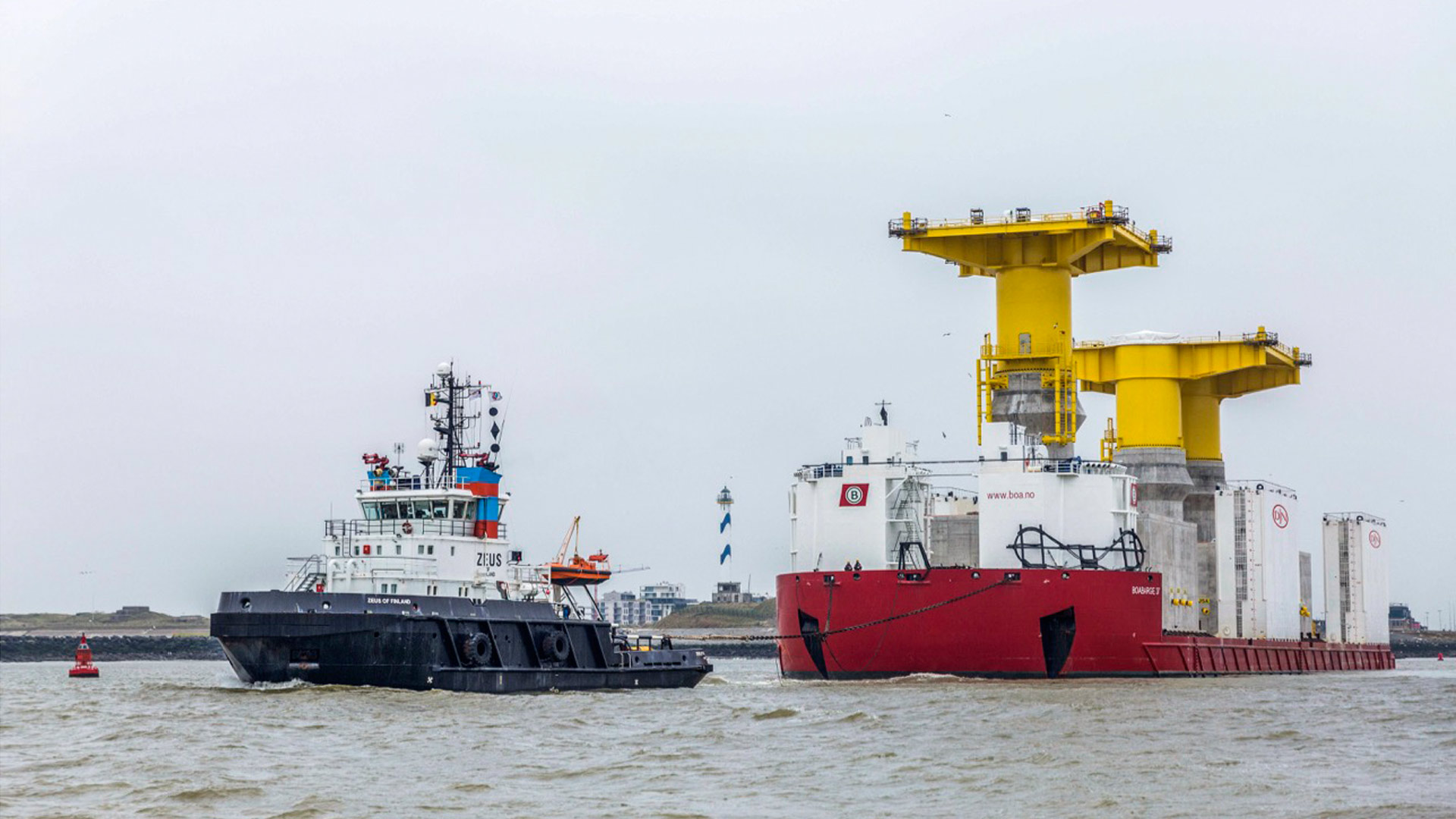 Foto: Jan De Nul Group.
2019
Først i 2019 begynder produktionen af monopælene, overgangsstykkerne og 33kV kablerne. Samtidig lægges der filterlag ud på havbunden, hvor møllerne skal stå. Filterlaget skal beskytte mod erosion af havbunden omkring fundamenterne.
2020
Nu kan placeringen af fundamenterne begynde. Derefter sættes overgangsstykkerne på og der udlægges 33kV kabler på havbunden mellem møllerne og transformerstationerne.
2021
Vindmøllerne installeres, sættes i drift fortløbende, og inden året er omme, er Danmarks største havmøllepark oppe på fuld produktion.