Energinet.dk er omkring årsskiftet 2017-2018 klar med fundamenterne til de to transformerplatforme til Kriegers Flak.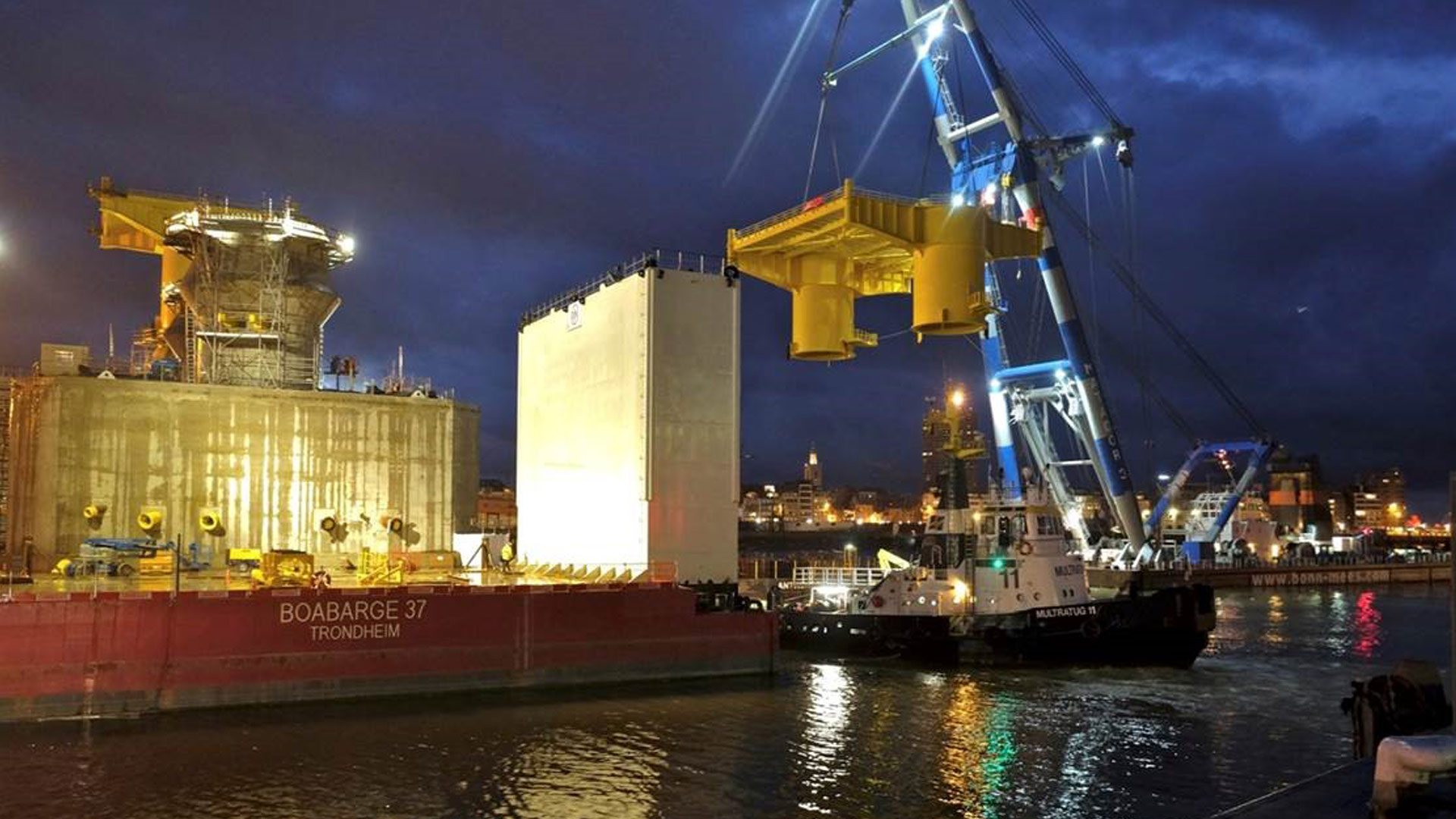 På havnen i Ostende i Belgien blev fundamenterne og overgangsstykkerne til platformene samlet før afskibningen. Her bliver stålkonstruktionen til den største af platformene løftet på plads. Foto: Jan de Nul Group.
Ifølge planen skal fundamenterne sejles fra Ostende i Belgien lige før nytår og derefter afvente godt vejr i Østersøen, før fundamenterne sænkes på plads på havbunden. Først til foråret kommer selve transformerplatformene for at blive placeret på fundamenterne.
Fundamenterne består af sokler af beton og overgangsstykker af stål. På billedet ses stålkonstruktionen blive løftet op på den største af platformene, der skal være samlingspunktet for den dansk-tyske el-forbindelse, som er aftalt i forbindelse med Kriegers Flak.
Den største af platformsfundamenterne vejer 10.000 ton uden ballast og den mindste 8.000 ton. Fundamenterne er konstrueret til at kunne flyde, når de kobles fra prammen, der sejler dem til Kriegers Flak. Ved en kontrolleret aktion fyldes de med vand og sænkes ned på havbunden i hver sin ende af havmølleparken. Kriegers Flak er på grund af råstofudvinding på havbunden delt op i to – adskilt af en råstofkorridor.
Mere information
Kabelføringen fra Kriegers Flak