Her malkes køerne ved hjælp af sol og batterier
Landbruget skal kunne producere meget mere solel. Vattenfalls forsøgsprojekt lagrer solel fra staldtage i svenske Kilafors.
Eva Molin og Henrik Johansson bor i et bølgende landbrugslandskab i Vallsänge i Kilafors 250 km nord for Stockholm. Gården har omkring 40 malkekøer og lige så mange kalve samt ca. 40 får og lam. Ved hjælp af solpaneler på staldtaget og et stort batterilager er deres økologiske landbrug blevet endnu mere bæredygtigt.
Projektet kaldes Solbruket og er endnu et eksempel på de satsninger, som Vattenfall foretager for at udvikle klimaintelligente løsninger. Formålet er at finde nye og bedre måder at opnå en øget produktion af vedvarende elektricitet. Projektet ledes af Vattenfall i samarbejde med flere aktører: forskningsinstituttet RISE, Energimyndigheten, Bra Miljöval og ikke mindst landmændene selv.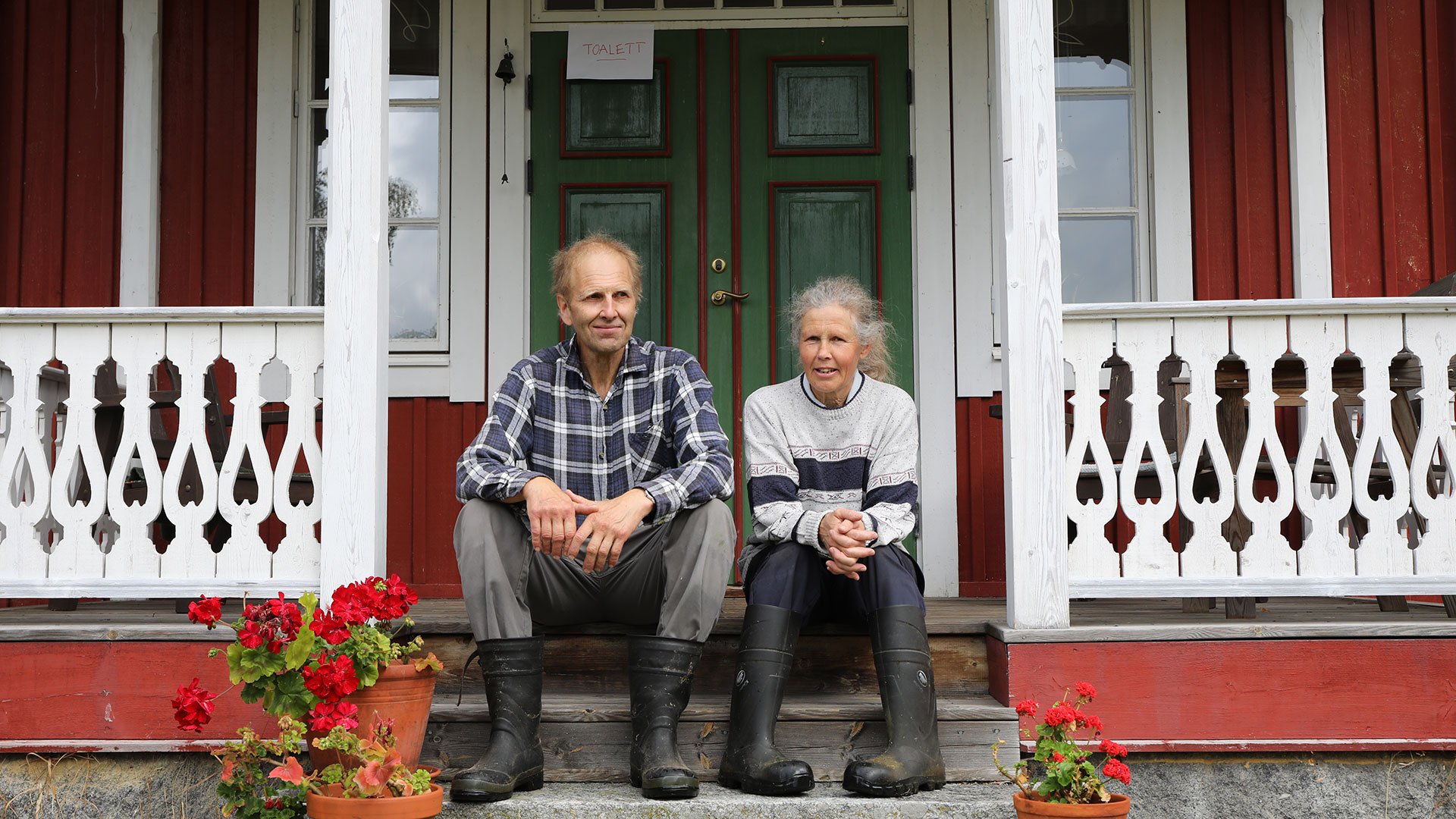 Vattenfalls kombinerede sol- og batteriløsning hjælper Henrik Johansson og Eva Molin med at drive deres økologiske mælkegård i Vallsänge i Sverige med at blive endnu mere bæredygtig.
Eva Molin og Henrik Johansson på Solbruket har store forventninger til projektet, selv om de efter den ekstremt varme og tørre sommer lige nu mest af alt ønsker sig mere regn og en solid efterhøst af foder.
"Det er godt, at der forskes i denne type løsninger, så udviklingen drives fremad. Med tanke på klimaforandringerne skal vi alle fastsætte strengere mål og fremskynde omstillingen til et bæredygtigt samfund," siger Eva Molin.
Sveriges landmænd har store arealer og skal kunne producere betragtelige mængder solenergi. Hidtil er der ikke rigtig kommet skub i udbygningen af solenergi inden for landbruget, dels på grund af at den økonomiske nytteværdi ikke har været tilstrækkelig stor, dels fordi solel har været set som en relativt uprøvet teknologi. Der hersker også en vis bekymring for, om svage elnet i landdistrikterne kan have vanskeligt ved at håndtere en hurtig udbygning af solel. Her kan batterier bidrage til at styrke systemet og give plads til yderligere vedvarende energi fra landbruget.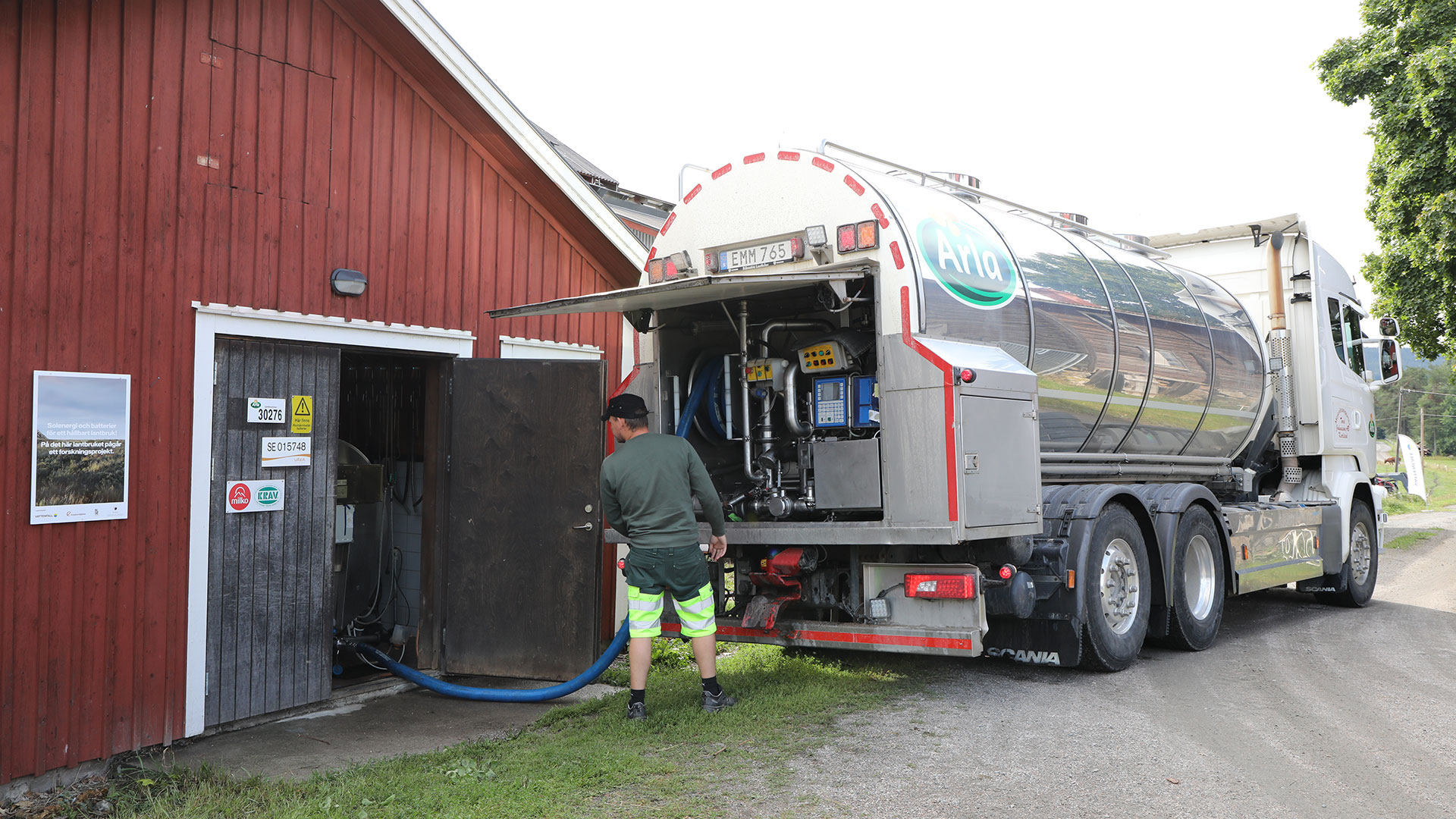 Mælkebilen henter den økologiske mælk fra gårdens 40 malkekøer.
"Det sjoveste ved Solbruket er, at vi har set, at et sådant anlæg fungerer i praksis. Faktum er, at det har fungeret bedre end forventet, til trods for at det er et forskningsprojekt med mange usikkerhedsfaktorer," siger Vattenfalls Project Manager Annika Larsson, der har arbejdet tæt på projektet siden begyndelsen.
Malkning forbruger meget strøm
Den tekniske løsning i Solbruket kan kort beskrives som et solcelleanlæg med batterilager og intelligent styring. Eftersom det er en mælkeproducerende gård, er der størst behov for elektricitet om morgenen og om aftenen i forbindelse med malkning af de 40 køer. Disse spidsbelastninger kan klares ved hjælp af batterilageret, hvorefter det oplades igen i løbet af dagen. Det betyder, at behovet for store hovedsikringer reduceres.
Solpanelerne, som dækker 82 kvadratmeter af staldtaget, producerer ca. 10.000 kWh el om året.
De tre batterier har en lagringskapacitet på i alt 30 kWh og kan levere en effekt på 10 kW. Som et foreløbigt resultat af projektet vurderes det, at man formentlig vil kunne reducere hovedsikringen fra 50 til 35 A takket være den nye installation. Det vil svare til en sænkning af netafgiften med omkring 4.000 svenske kroner om året, foruden den besparelse der ligger i, at gården kan producere en del af sit elforbrug selv.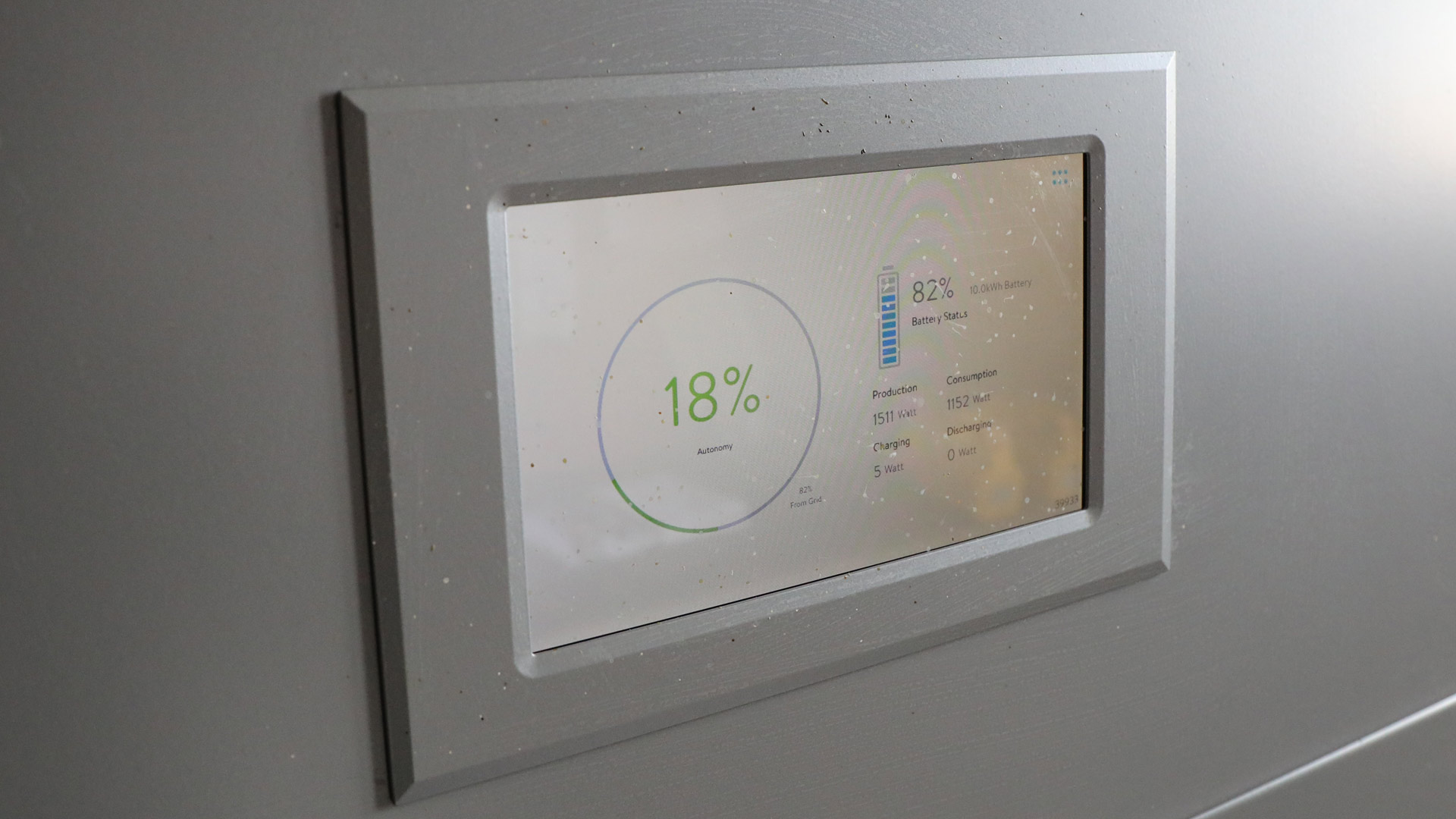 Når malkemaskinerne starter om morgenen, bliver strømmen leveret af tre kraftige batterier. På den måde kan spidsbelastningen jævnes ud og potentielt give en økonomisk besparelse.
Christian Gruffman hos Vattenfall er teknisk ansvarlig for anlægget.
"En stor udfordring i forbindelse med projektet har været at få forskellige leverandørers produkter til at arbejde sammen og installere et energilager med en tilstrækkelig kapacitet i forhold til behovet. Det, vi har lært allermest af, har været at håndtere integrationen af alle komponenter i praksis, herunder batteriløsningen og den intelligente styring af systemet," siger han.
Rentabelt inden for få år
Magnus Berg fra Vattenfalls forsknings- og udviklingsafdeling er i sidste ende ansvarlig for projektet. Han understreger, hvor vigtigt det er at gennemføre denne type praktiske projekter:
"I teorien er det enkelt, men det er først, når vi tester det i praksis, at vi kan se, hvordan systemet fungerer i den virkelige verden. Heri ligger det store udbytte ved at arbejde sammen med Eva og Henrik i Solbruket-projektet. Rent kommercielt vil denne type løsning sandsynligvis blive et rentabelt tilbud inden for to til tre år, afhængigt af prisudviklingen på batteriteknologien og ændringer i regelsættet. Hvis vi havde haft det samme regelsæt som i Tyskland, ville det allerede have været rentabelt i dag," siger Magnus Berg.