Alle kunder skal efter planen have installeret intelligente målere inden udgangen af året. Med denne omfattende installation bliver virksomheden en sand pioner i Tyskland.
Det ambitiøse projekt blev officielt sat i gang den 23. januar 2018 på Rotes Rathaus (det røde rådhus) i Berlin. Denne historiske bygning med ca. 200 lokaler har været fjernvarmekunde siden 1971. Her 47 år senere blev fjernvarmeforsyningens digitale fremtid så ringet ind i kedelrummet på selvsamme sted. Statssekretær i Berlin, Björn Böhning, og Gunther Müller, CEO for Vattenfall Wärme, tændte i fællesskab for Berlins første varmemåler med fjernaflæsning.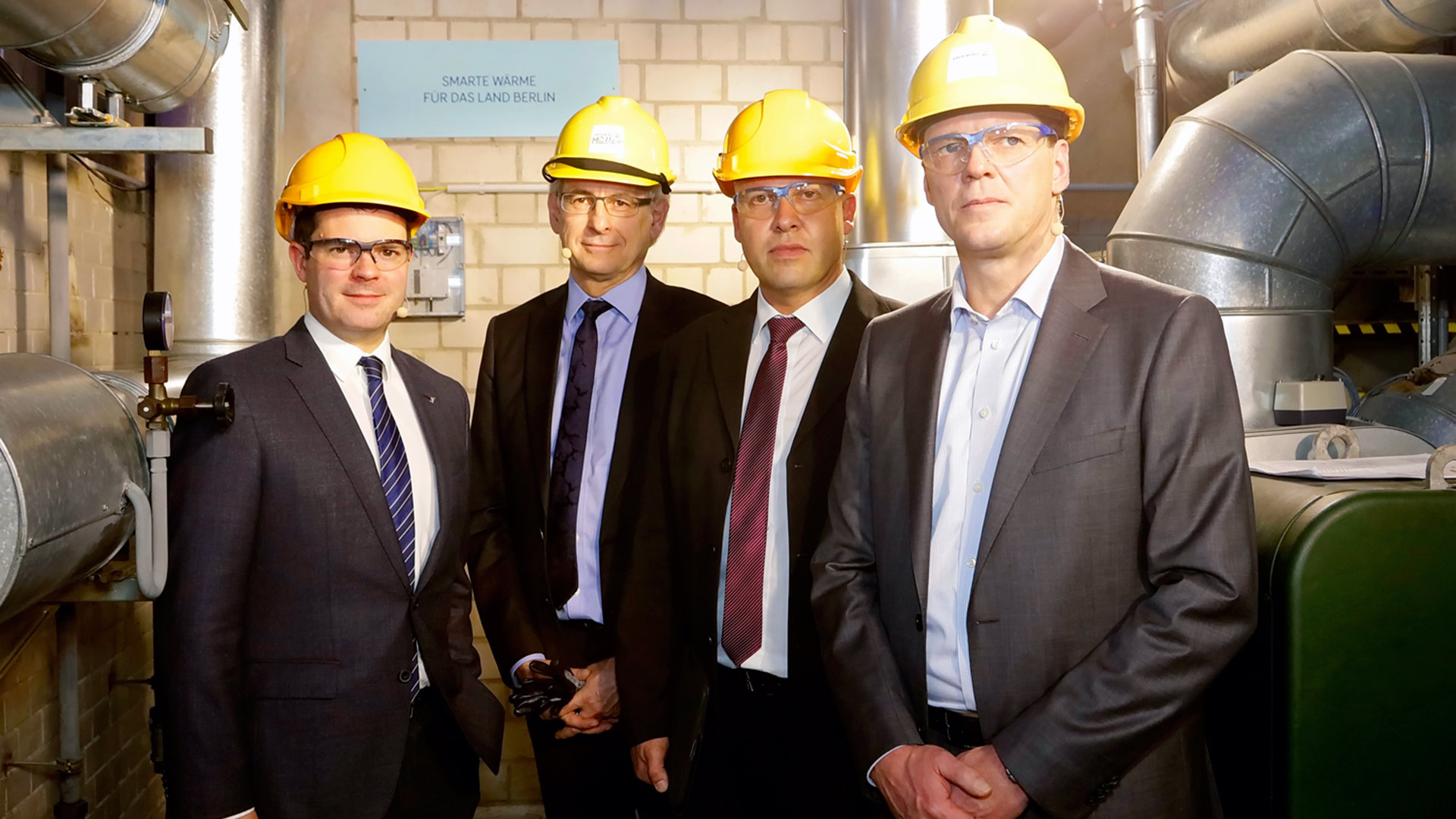 Björn Böhning (statssekretær i Berlin), Gunther Müller (Vattenfall Wärme CEO), Raul Fuchs (Director Marketing & Sales i Samson), Alf Geßner (Vattenfall District Heating Network Manager). Foto: Pedro Becerra.
Nøjagtig kontrol takket være intelligente varmemålere
"Denne lille, intelligente måler er nøglen til at kunne føre endnu mere nøjagtig kontrol med vores fjernvarmesystem – der består af ca. 2.000 kilometer rør – hele vejen fra produktionen og ud til forbrugeren. Vi kan optimere brugen af brændstof og mindske udledninger af CO2. Det øger effektiviteten og reducerer omkostningerne. Med denne teknologi støtter vi Berlins indsats for at blive en klimaneutral by inden 2050", sagde Gunther Müller i sin tale til de journalister og medarbejdere, der deltog i den historiske begivenhed.
Statssekretær Björn Böhning betegnede den intelligente måler som et vigtigt teknologisk symbol på, at Berlin er ved at udvikle sig til en moderne og succesrig by, der er attraktiv at bo i. Han bemærkede desuden, at samarbejdspartnere som Vattenfall er afgørende for denne proces.
Gratis intallation for varmekunder
"Vores mål er, at alle fjernvarmekunder i Berlin skal have installeret digitale målere inden udgangen af året", fortæller Alf Geßner, District Heating Network Manager. Dermed bliver de nuværende 60 netværksdatapunkter til ca. 20.000, og alle vil være forbundet til varmekontrolcentret, som overvåger og kontrollerer fjernvarmeforsyningen i Berlin. Installationen af måleren er gratis for kunderne og forstyrrer ikke den normale drift. Det betyder, at 1,2 mio. fjernvarmekunder i Berlin ikke vil opleve nogen afbrydelse af varmeforsyningen.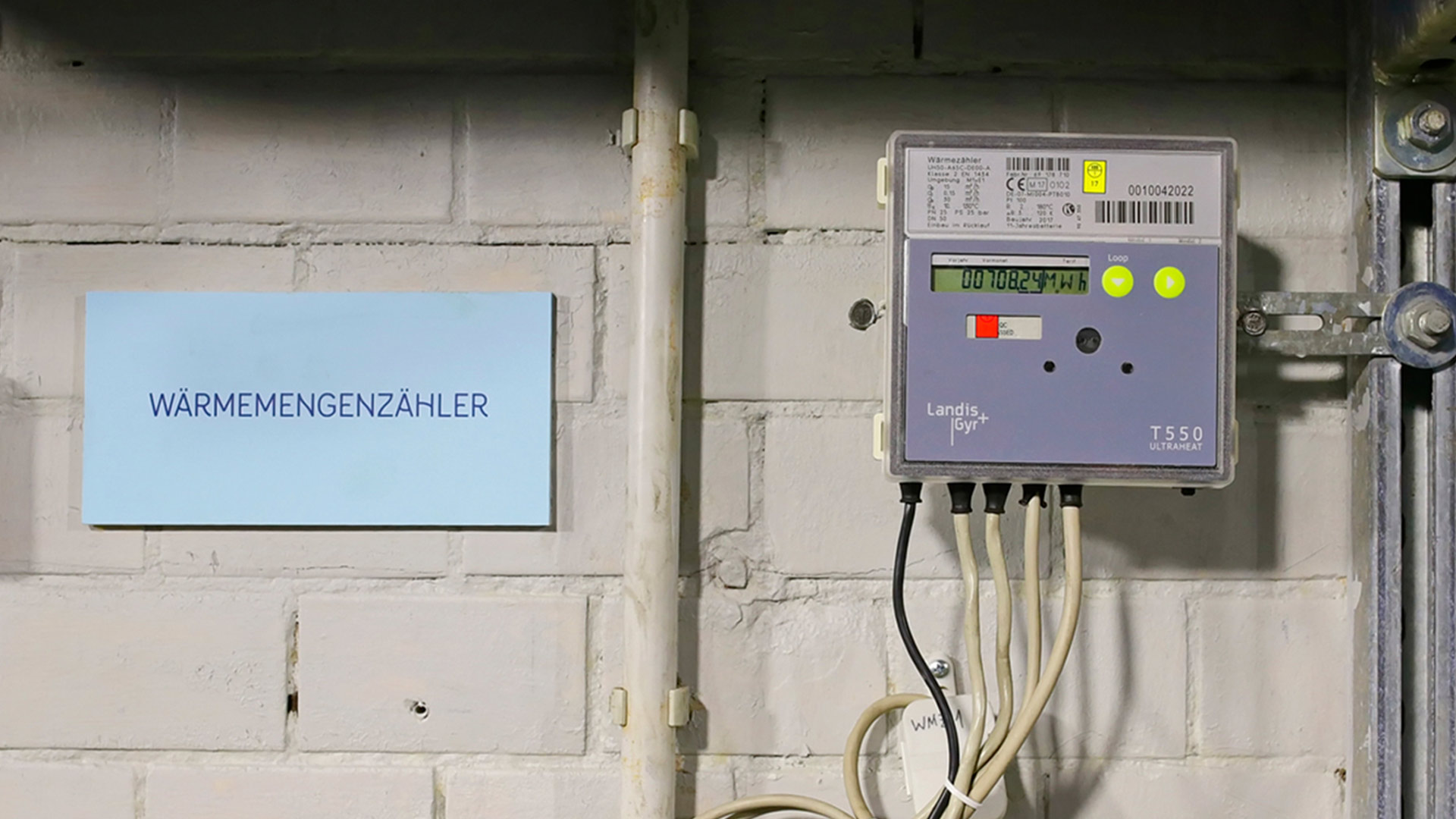 Intelligent fjernvarmemåler i kedelrummet på Rotes Rathaus (det røde rådhus) i Berlin. Foto: Pedro Becerra.
Intelligente varmemålere sikrer skræddersyet forsyning
De intelligente fjernvarmemålere er også lig med et endegyldigt farvel til manuel måleraflæsning. Husstandsspecifikke data vedrørende varmeforbruget, herunder temperatur, tryk og gennemstrømning, bliver aflæst hvert 15. minut og sendt over mobildatanetværket til fjernvarmekontrolcentret, hvor de behandles.
"Disse data bringer energistyring op på et helt nyt niveau", siger Geßner. Med udgangspunkt i deres forbrugsparametre kan kunderne få varmeforsyning, der er skræddersyet til deres behov, og tilpasse deres forbrugsadfærd. Teknologien muliggør også energioptimering i forbindelse med bygningsrenoveringsprojekter. Herudover er de indsamlede data med til at lette fakturering, fejlfinding og kundesupport. Gunther Müller: "De intelligente målere betyder, at vi intensiverer dialogen med vores kunder."
Fra Berlin til Berlin
I starten af december indgik Vattenfall Wärme Berlin og Samson en aftale om de digitale teknologier og serviceydelser.
"Det betyder, at de intelligente målere og digitale serviceydelser til varmeomlægningen i Berlin kommer fra byen selv", fortæller CEO for Vattenfall Wärme, Gunther Müller. Vattenfall Wärme Berlin investerer ca. 9,3 mio. euro i fjernvarmeforsyningens digitale fremtid.