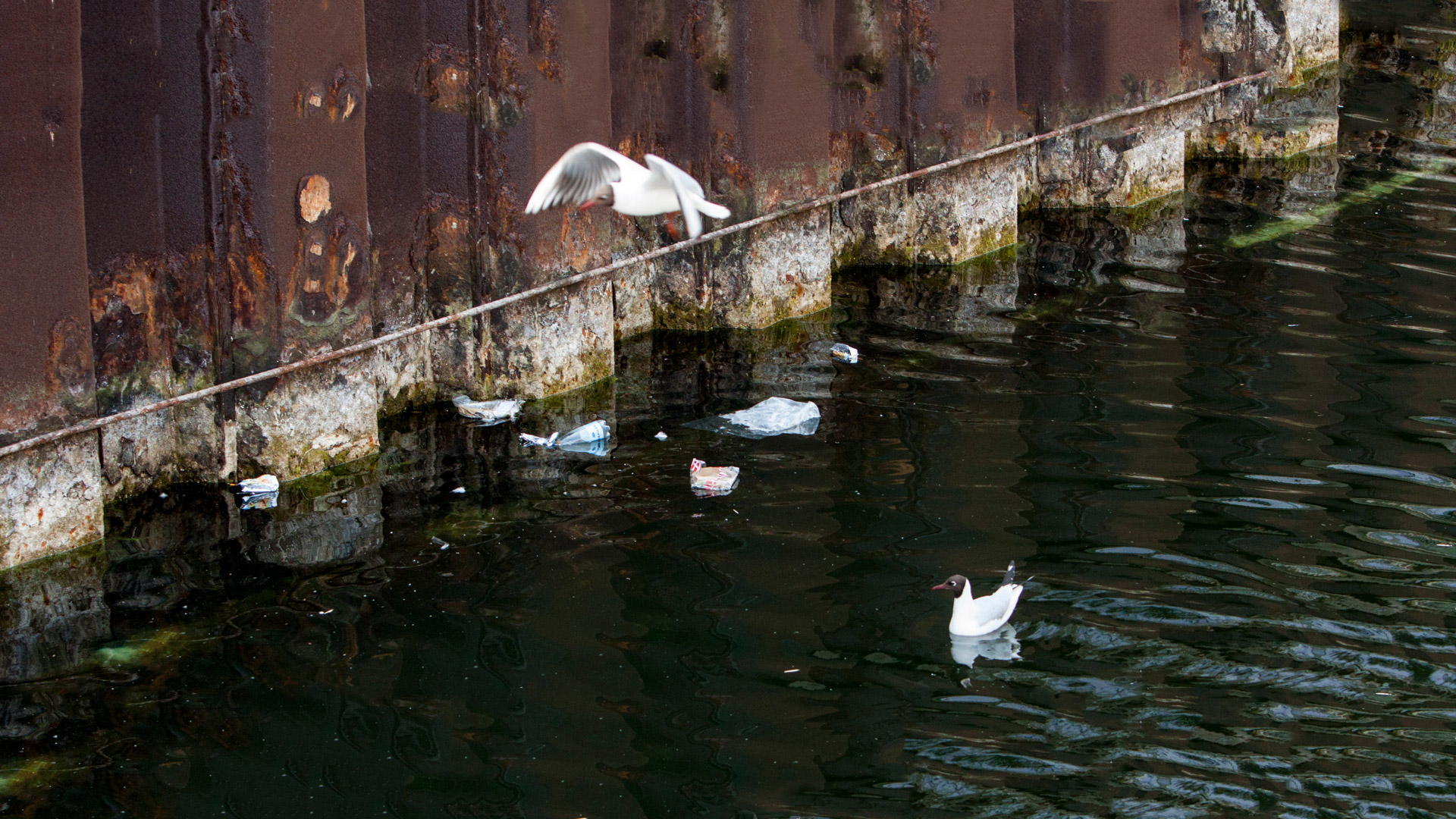 Plastic – en udfordring for det fossilfrie samfund
I år fokuserer FN's verdensmiljødag på den alvorlige trussel mod det globale miljø, som plasticforurening udgør. Det er et emne, der også påvirker Vattenfalls miljøambitioner.
Der sælges en million plasticflasker hvert minut, der bruges 500 milliarder plasticposer verden over hvert år, og plastic udgør 10 % af alt det affald, vi producerer. Disse og mange andre fakta fra FN danner baggrund for FN's verdensmiljødag 2018, der fokuserer på plastic.
Hvert år bruges der 17 millioner tønder olie til at producere plasticflasker til vand.
"Plastic er et olieprodukt, der frigiver CO2 til atmosfæren, hvis den bortskaffes i et affaldsforbrændingsanlæg. Og hvis plastic efterlades i naturen, kan det tage op mod 500 år, før den er nedbrudt. Vi er et energiselskab med en klar ambition om at hjælpe samfundet med at blive fri for fossile brændsler inden for én generation, så for os er plastic også blevet en vigtig problematik – både internt på vores kontorer og på vores produktionsanlæg, i driften af vores affaldsforbrændingsanlæg og i vores samarbejde med leverandører og lokale myndigheder," fortæller Vattenfalls Head of Environment, Helle Herk-Hansen.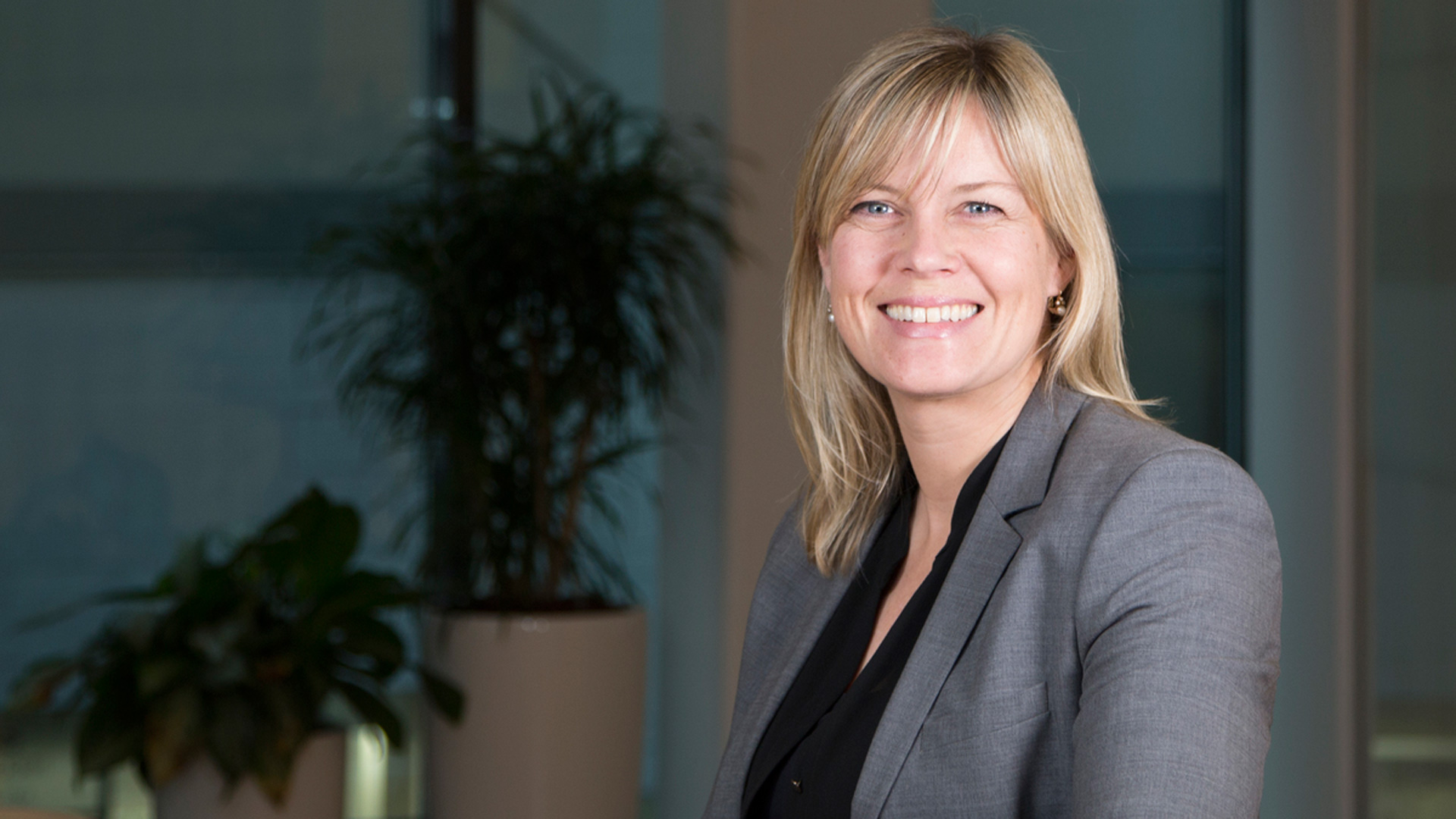 Helle Herk-Hansen, Vattenfalls Head of Environment.
Vi tager imod udfordringen
"Vi kan endnu ikke helt eliminere plasticmaterialer i vores aktiviteter, men vi kan løbende gøre en indsats for at reducere mængderne, udskifte plastic med bedre alternativer og sikre os, at vi genindvinder så meget som muligt af de plasticprodukter, der ikke kan undværes. Det er en længerevarende rejse, vi har begivet os ud på, og vi vil fortsætte med at evaluere, hvordan vi kan finde frem til gode løsninger ved hjælp af bæredygtig anvendelse af problematiske materialer," forklarer Helle Herk-Hansen.
"Et eksempel på en sådan løsning finder vi i Vattenfalls hollandske selskab Nuon, hvor afdelingen Real Estate & Facility Management sidste år indgik en aftale med en ny leverandør om cateringservicen til de hollandske kontorer. Det var en betingelse for kontrakten til firmakantinerne, at man skulle undgå store mængder af emballage ved at sørge for, at alting ikke længere skulle pakkes ind," siger Helle Herk-Hansen.
På samme arbejdsplads er de gamle plasticforede krus til kaffe/te/vand blevet udskiftet med Cup2Paper, som er et krus, der udelukkende er lavet af papir og kan genindvindes fuldt ud. Ud over at man undgår plasticforingen i krusene, så betyder det faktum, at de nye krus sorteres sammen med papirfraktionen og ikke smides ud sammen med det almindelige affald, at der generelt bliver sparet store mængder affald. Real Estate & Facility Management evaluerer nu de fremtidige løsninger for krus til alle Vattenfalls arbejdspladser.
"I Tyskland håndteres plasticfraktioner separat og genindvindes på alle vores arbejdspladser, og på vores hovedkontor i Stockholm er der for eksempel indført plasticseparering. I alle landene samarbejder vi med vores facility service-leverandør ISS og andre leverandører om at reducere den mængde plastic, der bruges på vores arbejdspladser. Derudover undersøger vi også, hvordan vi kan øge genindvindingen, i en dialog med de forskellige kommuner, hvor vi har arbejdspladser," fortsætter Helle Herk-Hansen.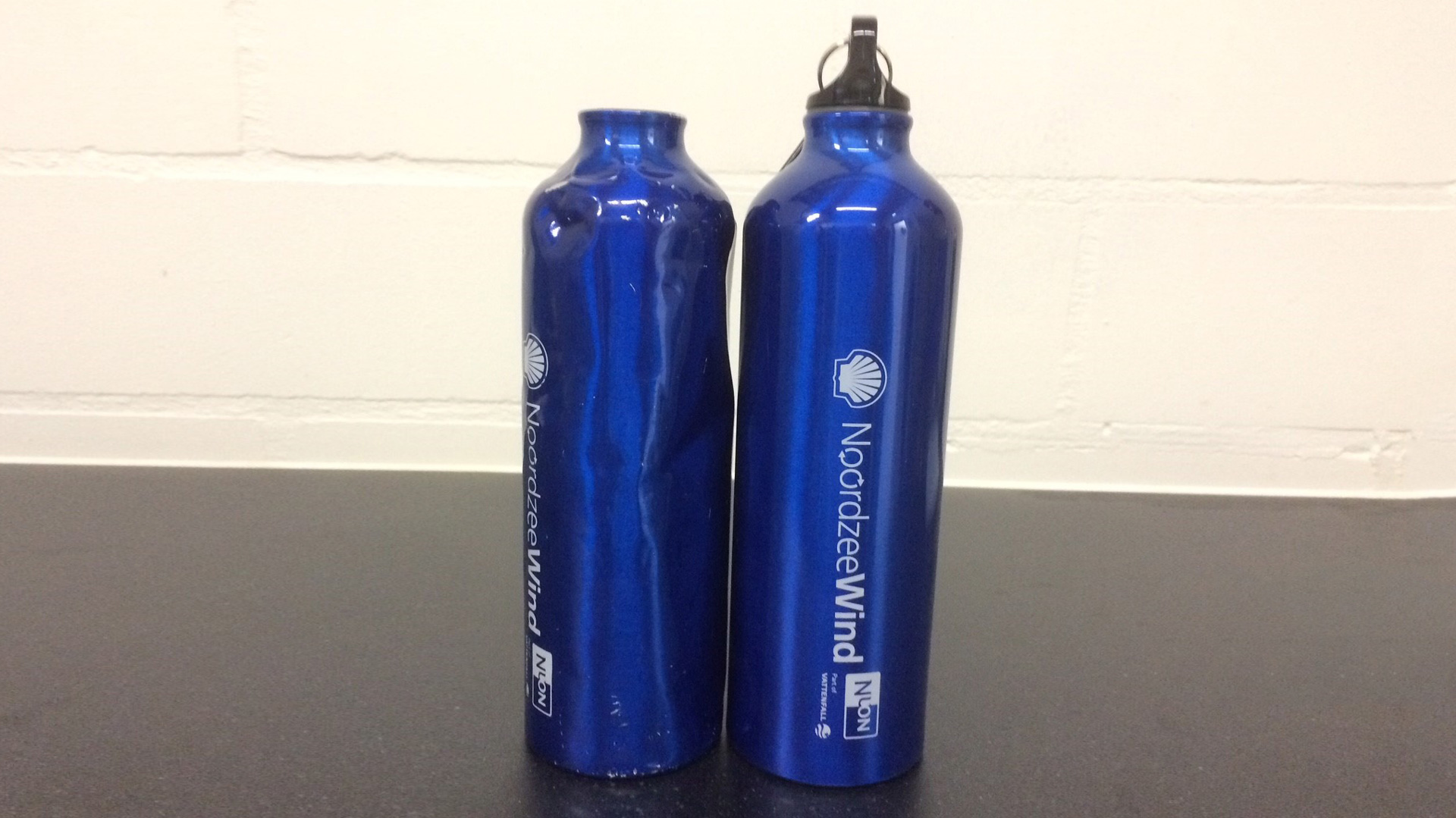 5.000 færre engangsplasticflasker – og det skal endnu længere ned
Vattenfalls vindenergiforretning har også taget vigtige initiativer. I 2017 udskiftede det hollandske NoordzeeWind-team plasticvandflasker med genbrugsflasker, hvilket vil eliminere mere end 5.000 engangsplasticflasker årligt. Og idéen breder sig nu til andre dele af vindenergiorganisationen i andre lande. Eksempelvis blev der uddelt genbrugsflasker i marts på Vattenfalls Ramsgate-lokation i Storbritannien, og antallet af flaskevand er i de seneste tre måneder faldet med 1.200 stk. sammenlignet med samme periode i 2017.
Mindre plastic i affaldsstrømme – fokus på Uppsala
I Uppsala, hvor Vattenfall driver et affaldsforbrændingsanlæg, samarbejder virksomheden med kommunen om at reducere mængden af plastic i affaldet. Det plasticaffald, der går til energigenindvinding i fjernvarmeanlægget, giver p.t. anledning til udledning af omkring 120.000 tons CO2 om året.
"Uppsala Climate Protocol" er et kommunalt initiativ, hvor blandt andet private virksomheder, lensstyrelsen, sundhedsregion Uppsala og Vattenfall samarbejder om at nå byens ambitiøse klimamål: At blive klimaneutral i 2030 og klimapositive i 2050, hvilket indebærer et fald i udledningerne på over 100 % sammenlignet med 1990.
"Det er en måde at gennemføre forretningsudvikling på. Vi er opdelt i forskellige arbejdsgrupper med et specifikt fokus, såsom energieffektivitet, transport eller plastic. Samarbejde og forskellige vinkler på, hvordan vi kan håndtere en så kompleks udfordring, er vigtigt for at finde frem til de rette tiltag," siger Anders Pettersson, som er en af deltagerne i plasticgruppen og til dagligt arbejder med brændsels-sourcing og håndtering af specialaffald hos Vattenfall Heat Uppsala.
I forbindelse med Uppsala Climate Protocol deltager Vattenfall i projektet "Klimaeffektiv plasticindkøb". Projektet fokuserer på at ændre indkøbskriterierne, så leverandørerne tilskyndes til at udvide deres sortiment af genindvunden og plastic fra vedvarende kilder.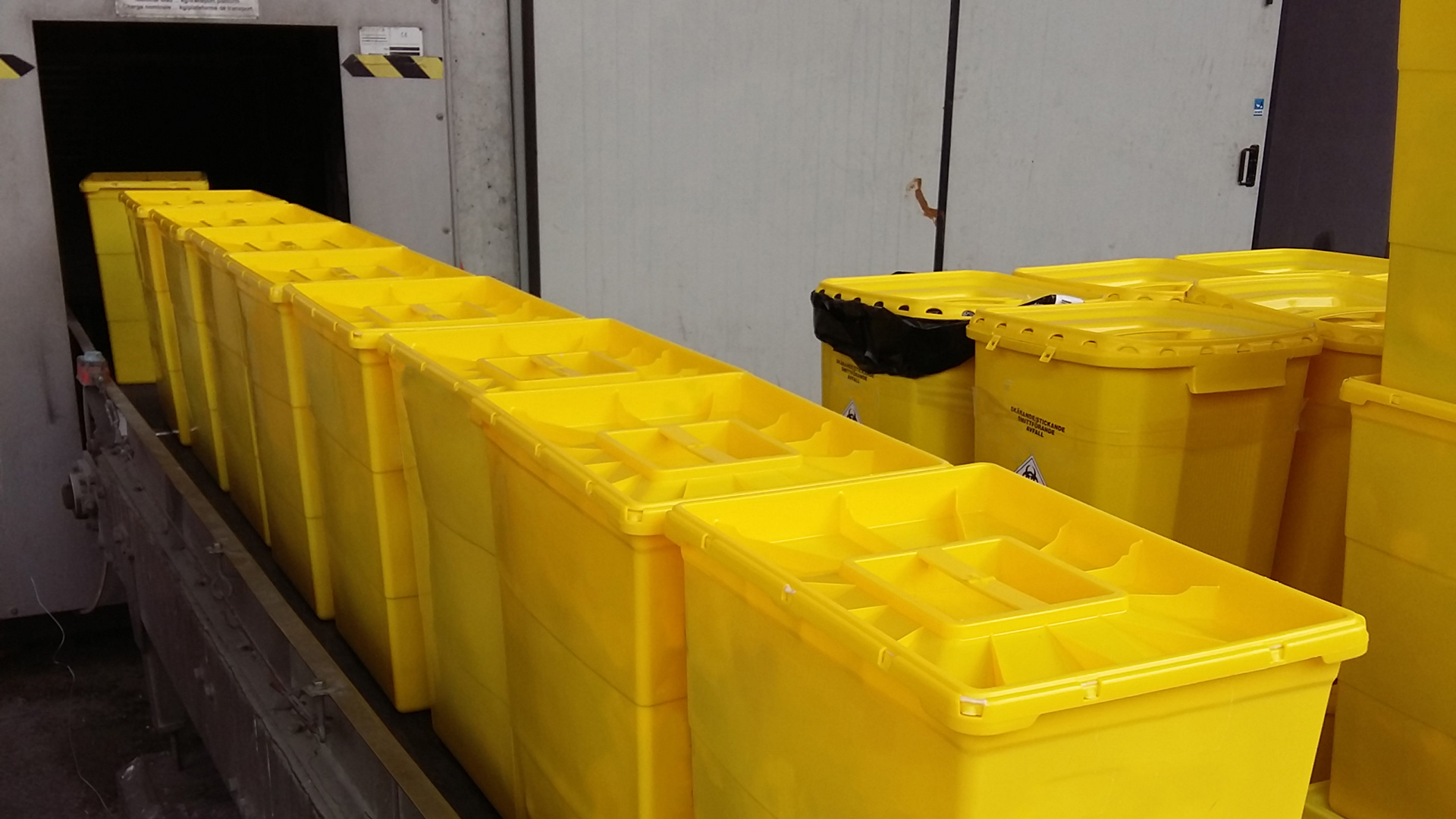 Beholderne til farligt affald venter på transportbåndet, før de bliver brændt i Vattenfalls affaldsforbrændingsanlæg i Uppsala i Sverige.
Biobaserede beholdere til farligt affald
Vattenfall Heat Uppsala nedbryder og genindvinder energi fra i tonsvis af farligt affald fra sundhedssektoren, tandlæger, dyrlæger og skønhedsklinikker hvert år. Omkring 80-90 % af affaldsmængderne består af plastic, primært fra engangsudstyr, men også selve beholderen til det farlige affald, som ikke kan genbruges. Der blev brændt omkring 200 tons plasticbeholdere i 2017, hvilket svarer til cirka 640 tons udledt CO2.
Anders Pettersson har taget initiativ til at udskifte plasticbeholderne til farligt affald med en biobaseret udgave. Det er en svensk opfindelse, der er under udvikling. Den består af en biokompositmasse og kommer til at overholde alle de tekniske krav til transport af farligt affald. Biobeholderen reducerer CO2-udledningen med 80 % sammenlignet med den aktuelle type af fossilbaseret plastic.
"Prisen vil være den samme som for de traditionelle beholdere, og biobeholderen er næsten CO2-fri. Distributører og brugere skal informeres om, at muligheden eksisterer, for at skabe efterspørgsel. Beholderne er måske kun en lille del af helheden, men det beviser, at det er muligt at ændre tingene. Nu ser vi, hvad næste projekt bliver i jagten på plastic," siger Anders Pettersson.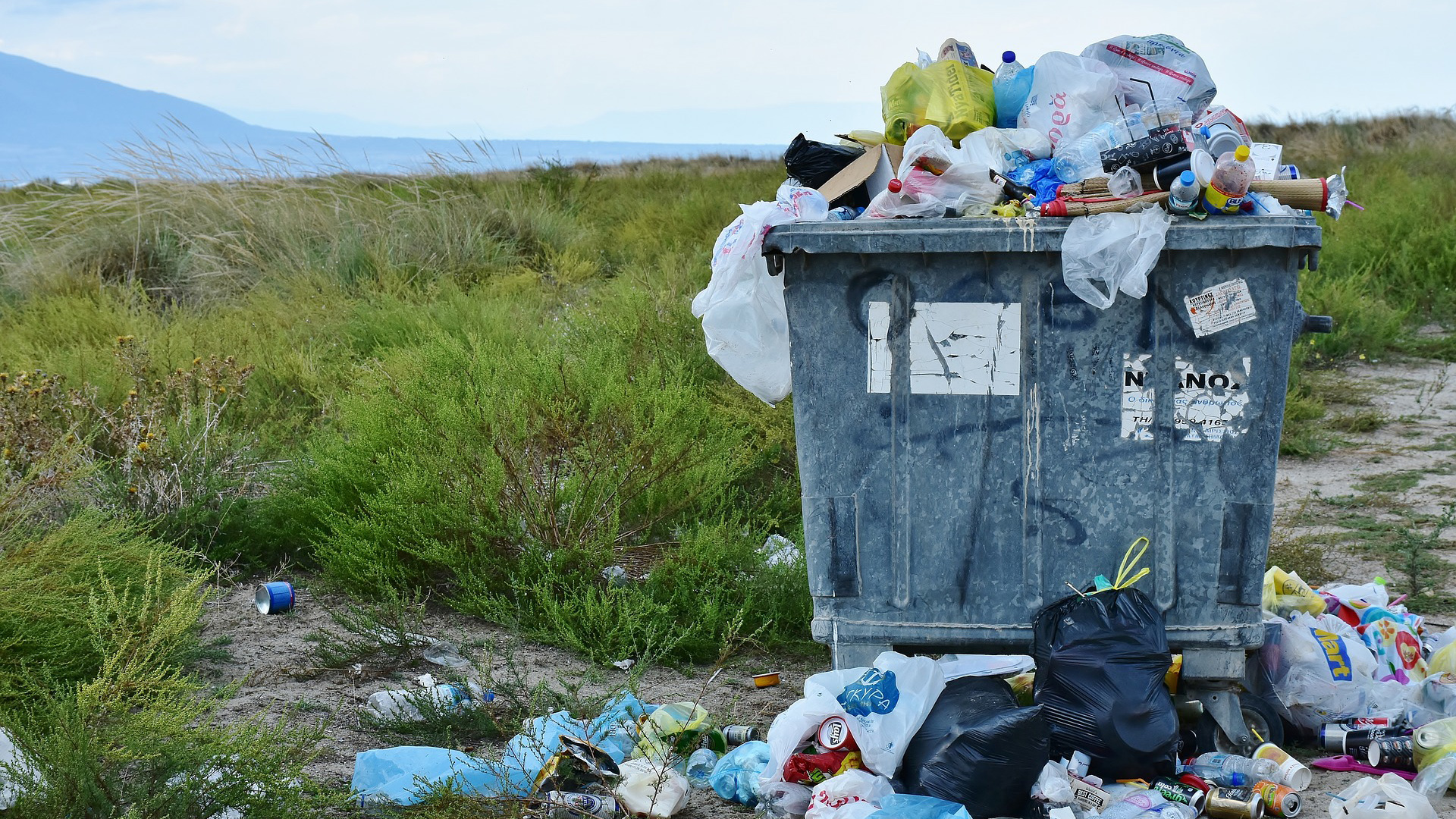 Den rette anvendelse
Plastic kan helt klart være et godt materiale – det er alsidigt, vejer meget lidt og er holdbart – når det bruges til de rette anvendelser. Men for en stor dels vedkommende anvendes det til engangsprodukter såsom plasticemballage. I henhold til en undersøgelse, der er udgivet af Ellen MacArthur Foundation, ender en tredjedel af plasticen med ikke at blive indsamlet og ender i stedet i naturen – til lands eller til vands – hvor den gør skade på økosystemerne.
"Det er vigtigt, at vi finder nye måder at producere plastic på uden brug af fossile ressourcer, og at vi begrænser mængden af plastic, der ender i naturen. Det kræver innovation, vedvarende energi og adfærdsændringer. Men jeg tror, at vi alle sammen kan være enige om, at tanken om, at der i 2050 vil være mere plastic i havet end fisk, det er noget, som ingen af hos har lyst til at se blive til virkelighed," slutter Helle Herk-Hansen.