En undersøgelse af havfugles adfærd og risikoen for kollisioner, der blev gennemført på Vattenfalls Thanet havmøllepark i Storbritannien, viser, at kollisionsrisikoen er under halvt så stor som forventet.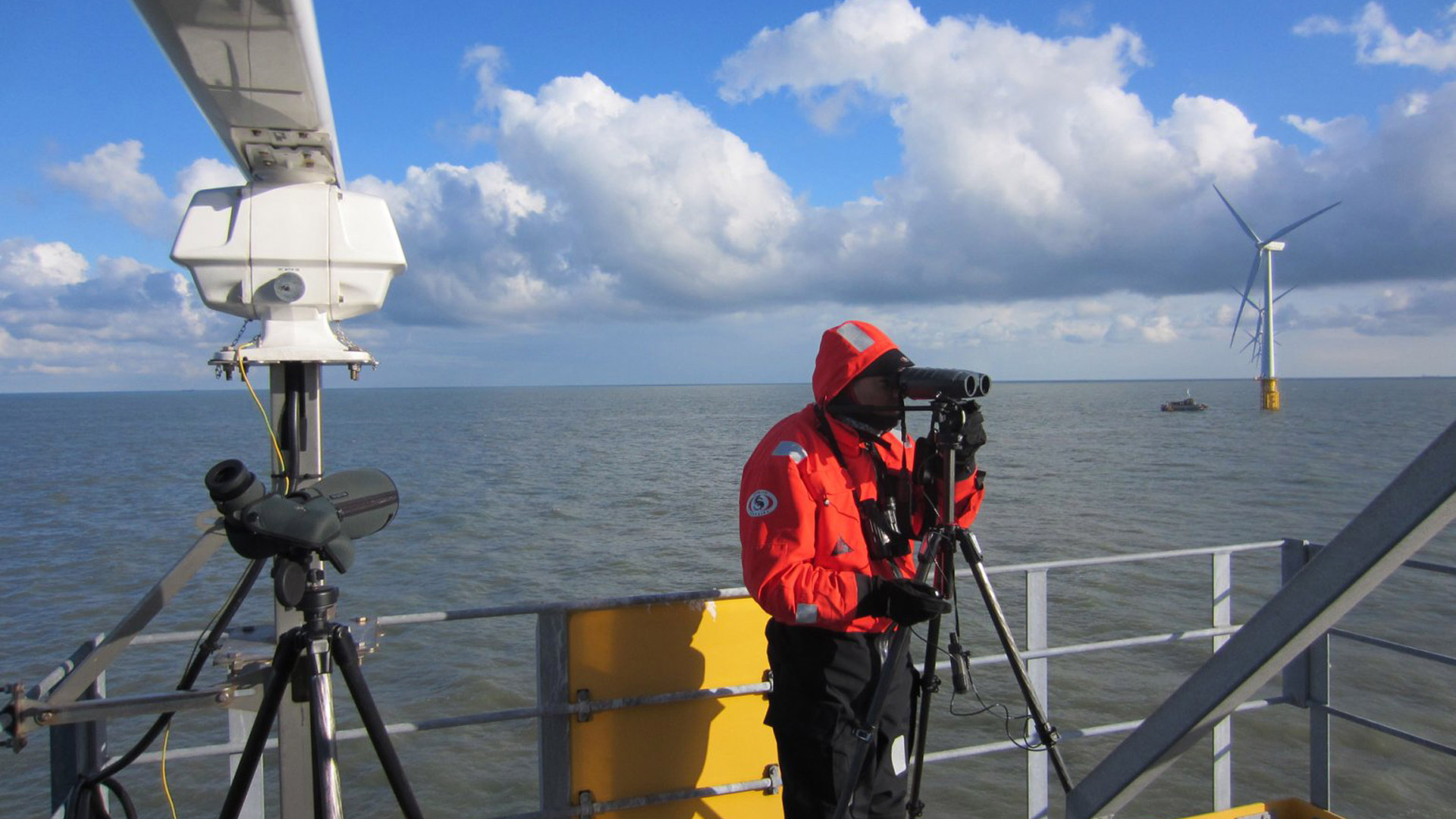 LAWR-radar, kikkert og observatør, der bruger afstandsmåler, på en vindmølle på Vattenfalls havmøllepark Thanet. Foto: ORJIP Offshore Wind.
ORJIP (Offshore Renewables Joint Industry Programme) har offentliggjort resultaterne af verdens mest omfattende undersøgelse af havfugles adfærd og risikoen for kollisioner omkring havbaserede vindmølleparker. Undersøgelsen blev gennemført på Vattenfalls Thanet havmøllepark i Storbritannien. Konklusionerne viser, at havfugle er langt bedre til at undgå at flyve ind i havvindmøller end man tidligere har regnet med.
Den flere millioner pund dyre undersøgelse blev gennemført i et samarbejde og med støtte og rådgivning fra Storbritannien og Nordeuropas førende ornitologer og miljørådgivere. I undersøgelsen blev der gjort brug af et topmoderne overvågningssystem med adskillige følere, hvor man kombinerede sporing baseret på menneskelige observationer med et system, der automatisk registrerede havfugles bevægelser, over en to år lang periode.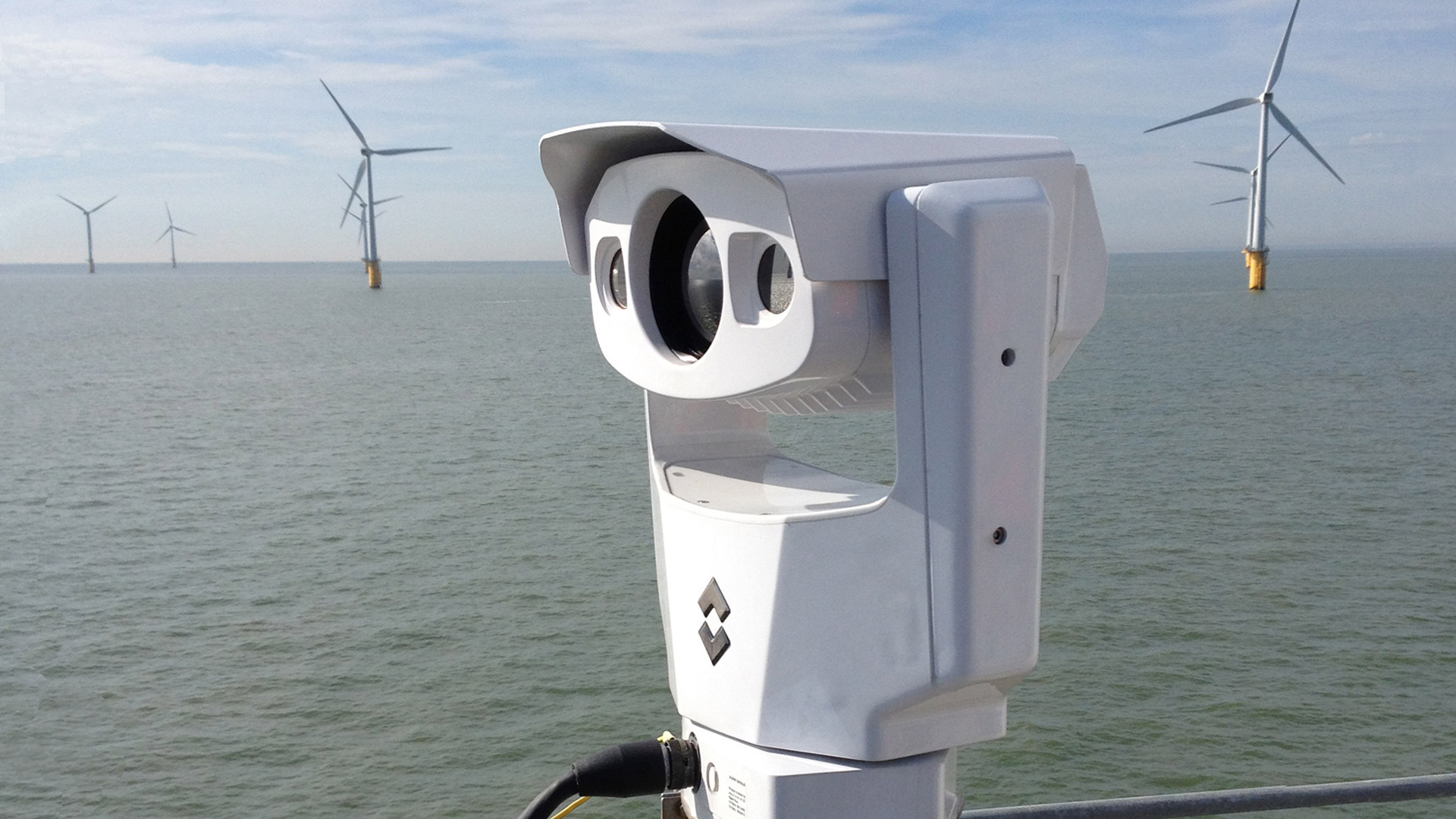 Termisk kamera til registrering af dyr monteret på en af havvindmøllerne. Foto: ORJIP Offshore Wind.
Undvigelsesadfærd og ændrede flyveruter
Analysen af over 600.000 videoer, hvoraf kun 12.131 indfangede fugleaktivitet, viste en kollisionsrisiko for havfugle, der er under halvt så stor som det forventede, og at havfuglene udviste en undvigelsesadfærd og ændrede deres flyverute for at undgå vindmøllerne.
Undersøgelsen var designet til at generere solid, empirisk evidens om niveauet af undvigelsesadfærd og kollisioner med henblik på at forbedre modellerne for kollisionsrisikoen. Undersøgelsen skal give større viden om den reelle effekt, som havmølleparker har på havfuglene, og om de tiltag, der er nødvendige for at minimere påvirkningen.
Helen Jameson, Senior Project Manager hos Vattenfall, udtalte:
"Fordi vi var værter for undersøgelsen på vores havmøllepark Thanet, har vi fået et førstehåndsindtryk af, hvor grundigt et arbejde, der ligger bag. De positive resultater viser, at vores tilgang som branche rent faktisk har være meget forsigtig. Praktisk, solid forskning som i den her undersøgelse er meget væsentlig, fordi vi har som mål at udvikle godt designede havmølleparkprojekter for at opnå en fossilfri fremtid. Selvom det på ingen måde er enden på historien – behovet for mere miljømæssig forskning og udvikling inden for havbaseret vindenergi er der stadigvæk – så vil resultaterne betyde, at vi kan tage stadigt mere velinformerede beslutninger, når vi fortsætter med at samarbejde med eksperter på området."
Piers Guy, Vattenfalls UK Country Manager, sagde: "Denne banebrydende undersøgelse er et væsentligt skridt frem i vores forståelse af den måde, hvorpå havfugle undgår havvindmøller, og den kommer på et afgørende vigtigt tidspunkt, fordi næste generation af vindmøller er ved at blive designet og udviklet. Denne forskning vil bidrage til at understøtte vores planer om at udvide vores aktiviteter inden for havbaseret vindenergi både hurtigt og bæredygtigt."


---
Om ORJIP
ORJIP (Offshore Renewables Joint Industry Programme) er et fælles brancheprogram, der omfatter Marine Scotland, The Crown Estate, The Crown Estate Scotland samt udviklere af havbaseret vindenergi. Projektet ledes af Carbon Trust. Hvert enkelt projekt, der gennemføres via ORJIP Offshore Wind, støttes også af et rådgivende ekspertpanel, som blandt andet består af førende eksperter fra Statutory Nature Conservation Bodies, den akademiske verden og andre organisationer.
Ud over økonomisk støtte fra den britiske regering blev ORJIP Bird Collision Avoidance Study også støttet af 11 udviklere af havbaseret vindenergi: EDF Energy Renewables, Eneco, Fluor, innogy, Mainstream Renewable Power, Ørsted, ScottishPower Renewables, Siemens, SSE Renewables, Statoil og Vattenfall.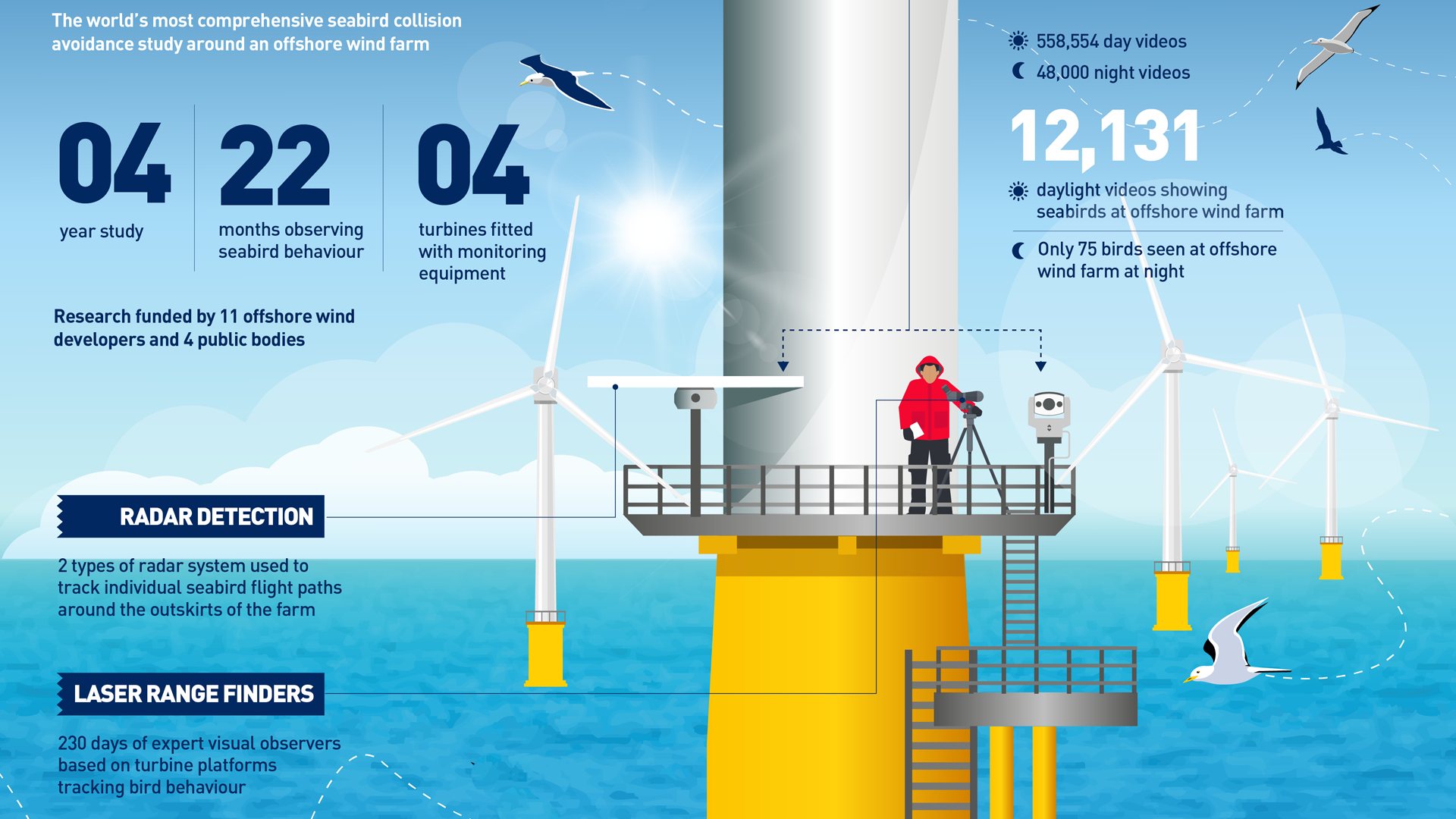 Illustration: ORJIP Offshore Wind.