Et skib fuld af specialister vil i de kommende to-tre uger befinde sig i området, hvor havvindmølleparkerne Vesterhav Syd og Vesterhav Nord etableres ud for den jyske vestkyst.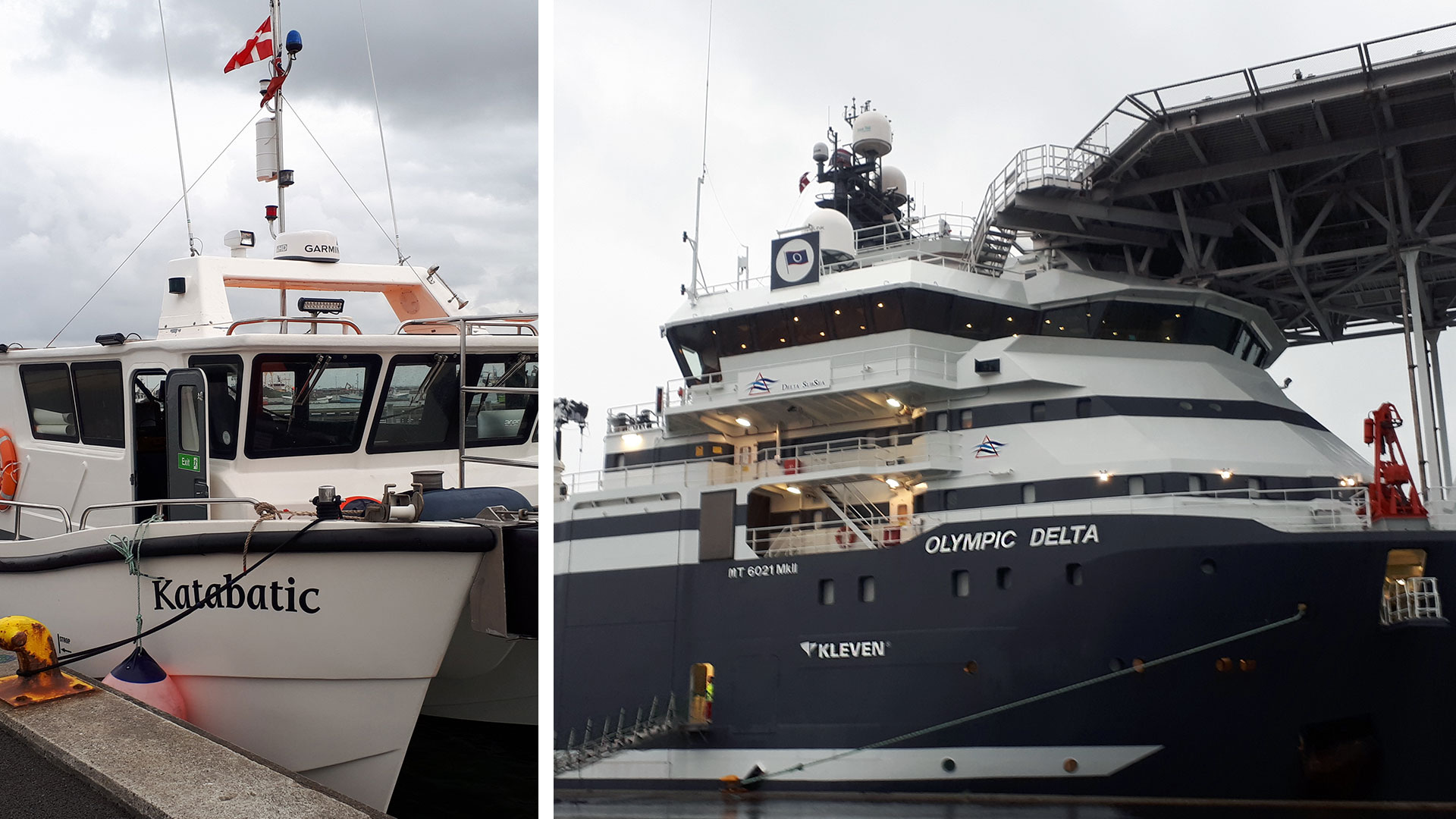 Delta Olympic og Katabatic vil begge deltage i eftersøgningen af mulige miner og skibsvrag ud for den jyske vestkyst.
Arkæologer, mineryddere, Vattenfall-medarbejdere og specialister i undervandsundersøgelser vil om bord på skibet Olympic Delta over de kommende to til tre uger gennemføre en minutiøs gennemgang af havbunden i Vesterhavet, der hvor vindmølleparkerne Vesterhav Syd og Vesterhav Nord opføres. Arbejdet skal endegyldigt at afklare, om der er gamle ueksploderede søminer i områderne, og samtidig skal arkæologer fra Strandingsmuseum St. George i Thorsminde, som har marinarkælogisk ansvar for bl.a. en stor del af Nordsøen, undersøge fundet af tre mulige skibsvrag i området ved Vesterhav Nord.
Sideløbende med Olympic Delta vil Katabatic, der er et mindre skib, som kan gå ind på lavere vand, gennemføre undersøgelser tæt på land.
"I 2017 er der foretaget en geofysisk undersøgelse af Vesterhav Syd og Nord, og vi har fundet 22 interessante punkter på hver af de kommende vindmølleparker, foruden nogle større områder, hvor ændringer i magnetfeltet gør, at målingerne bliver uklare. Man forventer generelt, at en til fem procent af de felter, man har udpeget, viser sig at være farlige objekter, men vi finder ofte andre interessante ting, som gamle ankre og måske gamle skibsvrag", forklarer Vattenfalls senior geophysicist Dorthe Reng Erbs-Hansen, som har det overordnede ansvar for arbejdet.
En mine på Horns Rev 3 set gennem det fjernstyrede fartøjs kamera.
Arkæologer afgør skibsvrags alder med fjernstyret fartøj
"Et af fundene er med sikkerhed et skibsvrag. Vi har et fint billede af det, men ved ikke hvad det er for et fartøj, og hvornår det sank. Derfor skal arkæologerne fra Strandingsmuseet med om bord og ved hjælp af vores fjernstyrede undervandsfartøj vurdere om det er over 100 år gammelt og derfor beskyttet i henhold til Museumsloven. Hvis det er tilfældet, vil der gælde en større sikkerhedsradius omkring skibet, end hvis det er af nyere dato", fortæller Dorthe, som tilføjer, at brugen af undervandsfartøjet gør, at det ikke er nødvendigt at sende dykkere ned, som er en betydeligt farligere metode.
"Sikkerheden kommer altid først, også for eksterne specialister, vi arbejder sammen med, så vi undgår helst at skulle sende dykkere ned, og i forbindelse med de nuværende undersøgelser vil dykkere kun blive brugt tæt på land, hvor der ikke er andre muligheder", forklarer hun.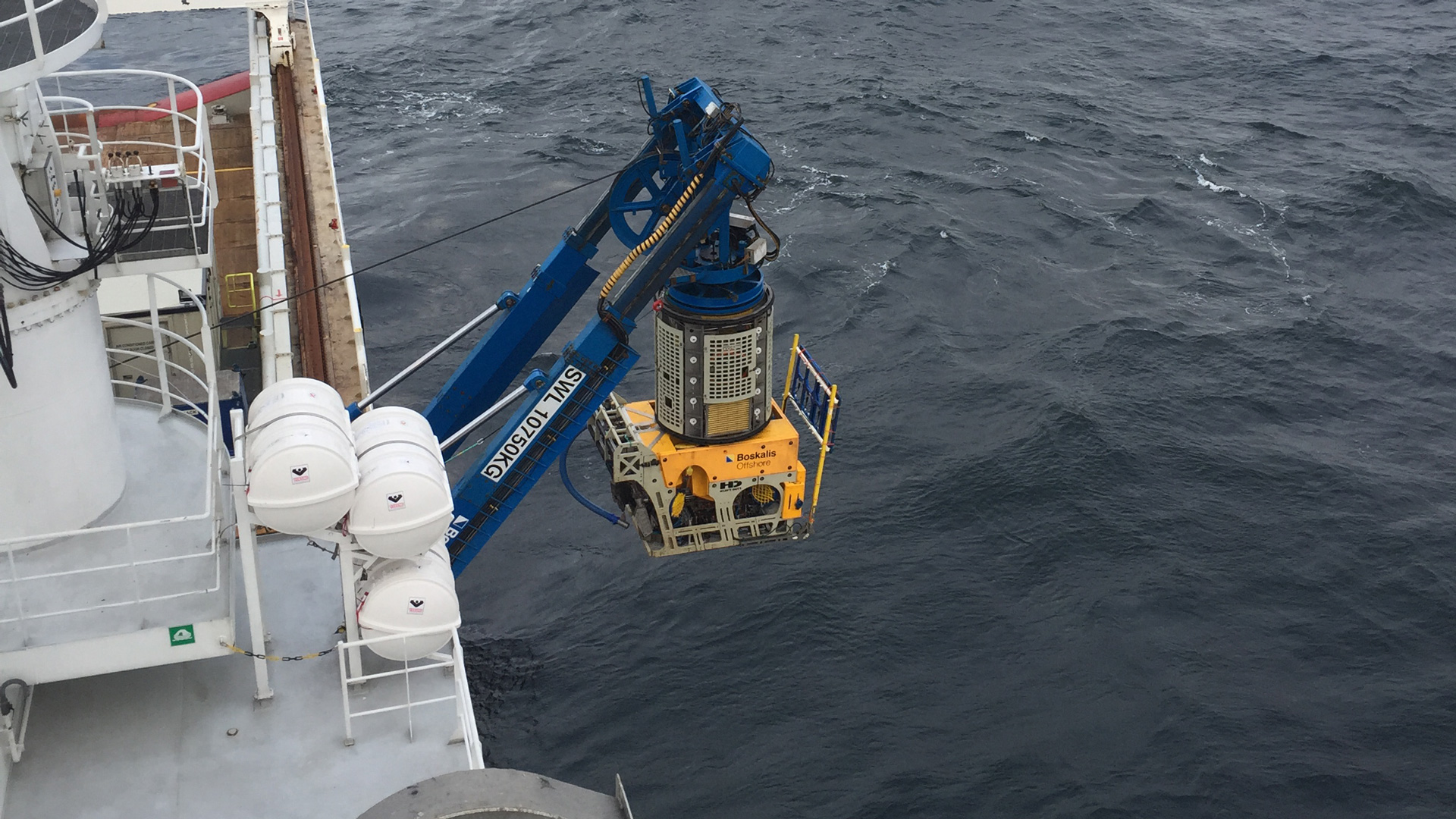 Klargøring af det fjernstyrede fartøj på Horns Rev 3. Foto: Boskalis Hirdes.
Vattenfall har også bedt Slots og Kulturstyrelsen om lov til at tage en prøve af skibet, hvis det viser sig at være lavet af træ, så det kan afgøres nøjagtigt, hvor gammelt det er ved hjælp af en kulstof 14-datering.
Vigtigt at sætte "benene" rigtigt
Ifølge Dorthe er de to andre markeringer, man har fundet ved de geofysiske undersøgelser, ikke med sikkerhed vrag. Det ene er et skibsformet aftryk på bunden, mens det andet er en spids klump, som kunne være et vrag af et skib eller en redningsbåd, men som også bare kan være en fire gange fem meter sten istiden har placeret på havbunden.
For arbejdet med vindmølleparken er det vigtigt at vide, hvilke områder de store skibe skal holde sig fri af, når de sænker deres lange ben ned på havbunden for at stå stabilt fast, i forbindelse med at fundamenterne og senere vindmøllerne skal placeres i havet. Det samme gælder for kabelføringerne imellem møllerne og ind til land.
Når Olympic Delta er færdig med arbejdet fortsætter det til Østersøen for at undersøge området, hvor Vattenfall skal bygge Kriegers Flak havmøllepark.
Minesprængning i 2016 i forbindelse med opførelsen af Horns Rev 3
Følg arkæologerne fra Strandingsmuseum St. George på Facebook under deres arbejde