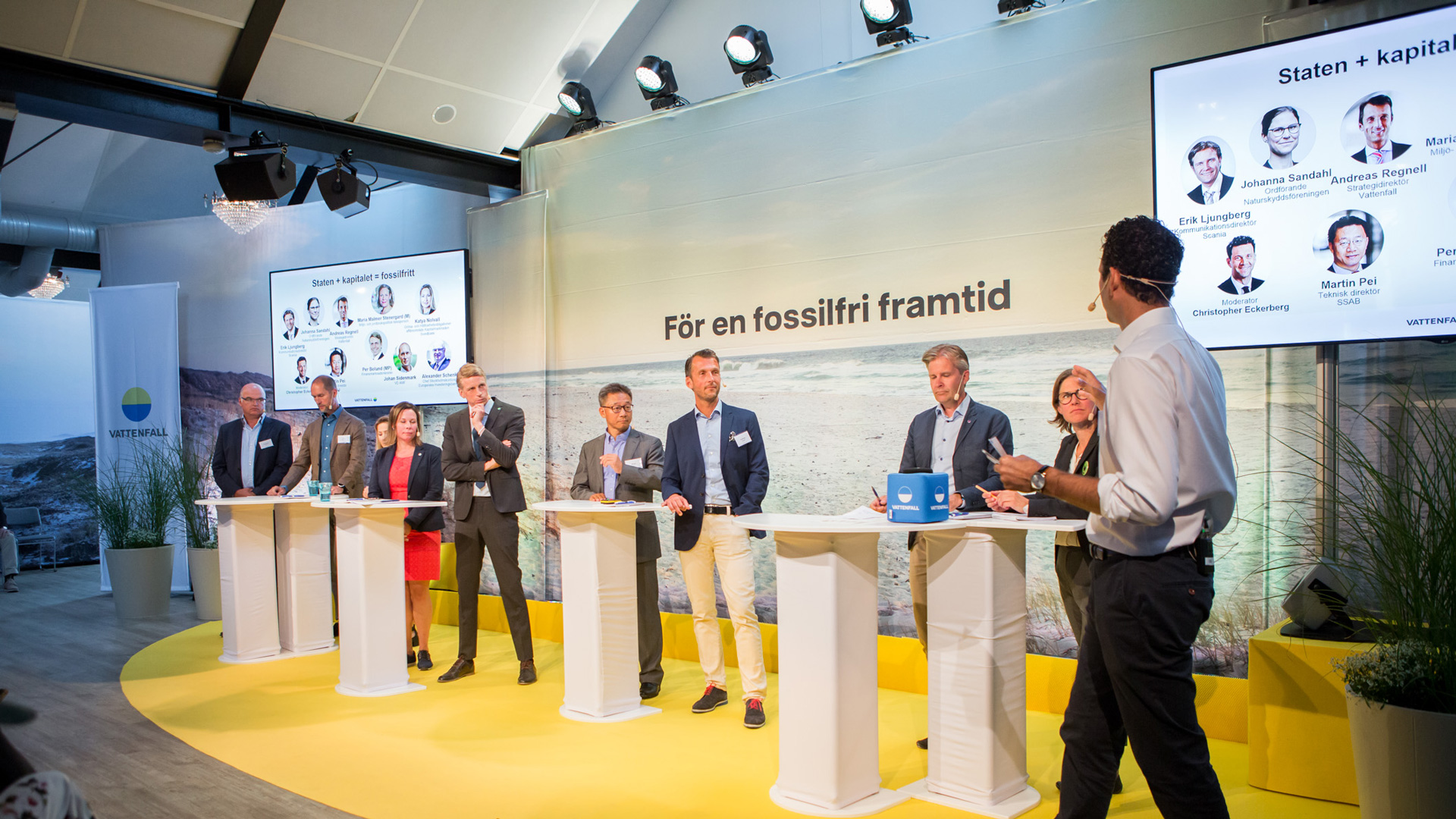 Stor interesse for Vattenfalls seminarer under Almedalsugen
Elleve hundrede personer deltog i Vattenfalls seminarer under årets Almedalsuge.
Seminarerne, der havde det fælles tema "fossilfri inden for én generation", var velbesøgte allerede fra starten om mandagen. I alt besøgte 1.100 personer Energihuset i løbet af de tre dage.
Det første seminar handlede om, hvordan Sverige skal kunne opfylde klimamålet og blive fossilfrit inden 2045. I de senere år har Sverige reduceret udledningen med 1 procent om året, men nu skal hastigheden øges til det femdobbelte for at nå klimamålet, konstaterede Vattenfalls Head of Strategic Development, Andreas Regnell. Som et skridt på vejen præsenterede han en ny "hastighedsmåler", som på en visuel måde viser, hvor udledningen kommer fra, hvilke løsninger der findes, og hvad der mangler.
Måleren, som vil være tilgængelig og åben for alle i begyndelsen af 2019, er udviklet af Vattenfall i dialog med den svenske energimyndighed, Fossilfritt Sverige, det svenske klimapolitiske råd og Naturvårdsverket (den centrale naturværns- og miljømyndighed i Sverige).
Stefan Nyström, chef for Naturvårdsverkets klimaafdeling, konstaterede, at Paris-aftalen indebærer et vendepunkt i klimaarbejdet:
"Forskellen i forhold til for fem år siden er, at det nu er erhvervslivet, som går forrest, når det gælder udviklingen hen imod et fossilfrit samfund", sagde han.
Transportsektoren i Stockholm og Göteborg kan snart blive fossilfri
I dag udgør Sveriges CO2-udledning 52 mio. ton om året. Omkring en tredjedel af udledningen kommer fra transportsektoren, hvilket var temaet for mandagens andet seminar.
Undersøgelser, som Vattenfall har været involveret i, viser, at det skulle være muligt at elektrificere trafikken i både Stockholm og Göteborg helt. Der er fortsat mange udestående vigtige spørgsmål, ikke mindst indkøbsprisen for genopladelige køretøjer og muligheden for opladning. Til trods herfor var panelet enigt om, at der for alvor vil komme gang i salget af elbiler inden for blot tre til fire år, og at det er vigtigt, at opladningsspørgsmålet er løst inden da, navnlig når det handler om at bo i flerfamiliehuse uden adgang til egen parkeringsplads.
Mandagens sidste seminar handlede om, hvem der skal påtage sig investeringsrisikoen for omstillingen af Sveriges industri til fossilfri produktion, hvor bl.a. finansmarkeds- og forbrugerminister samt vicefinansminister Per Bolund deltog.
Gode forudsætninger
Både politikere, finansielle institutioner og industrien var enige om, at der er gode politiske forudsætninger for grønne investeringer, rigeligt med kapital, og risiciene blev i det hele taget anset for at være ganske små, under forudsætning af at man kan påvise en nytte for klimaet, og at projektet lever op til kravene til resultat og afkast. Da Andreas Regnell, Vattenfalls Head of Strategic Development, opsummerede diskussionen, var han præget af optimisme:
"Vi har været positive på tidligere seminarer, men dette slår vel alle rekorder. Det er penge til rådighed, risiciene kan vi håndtere, og hvis vi bare gør visse ting først, vil vi ikke alene kunne skabe verdens første klimaneutrale velfærdsnation, men også være den mest konkurrencedygtige. Jeg tror på det her", sagde han.
Hvordan tiltrækkes energiintensiv industri?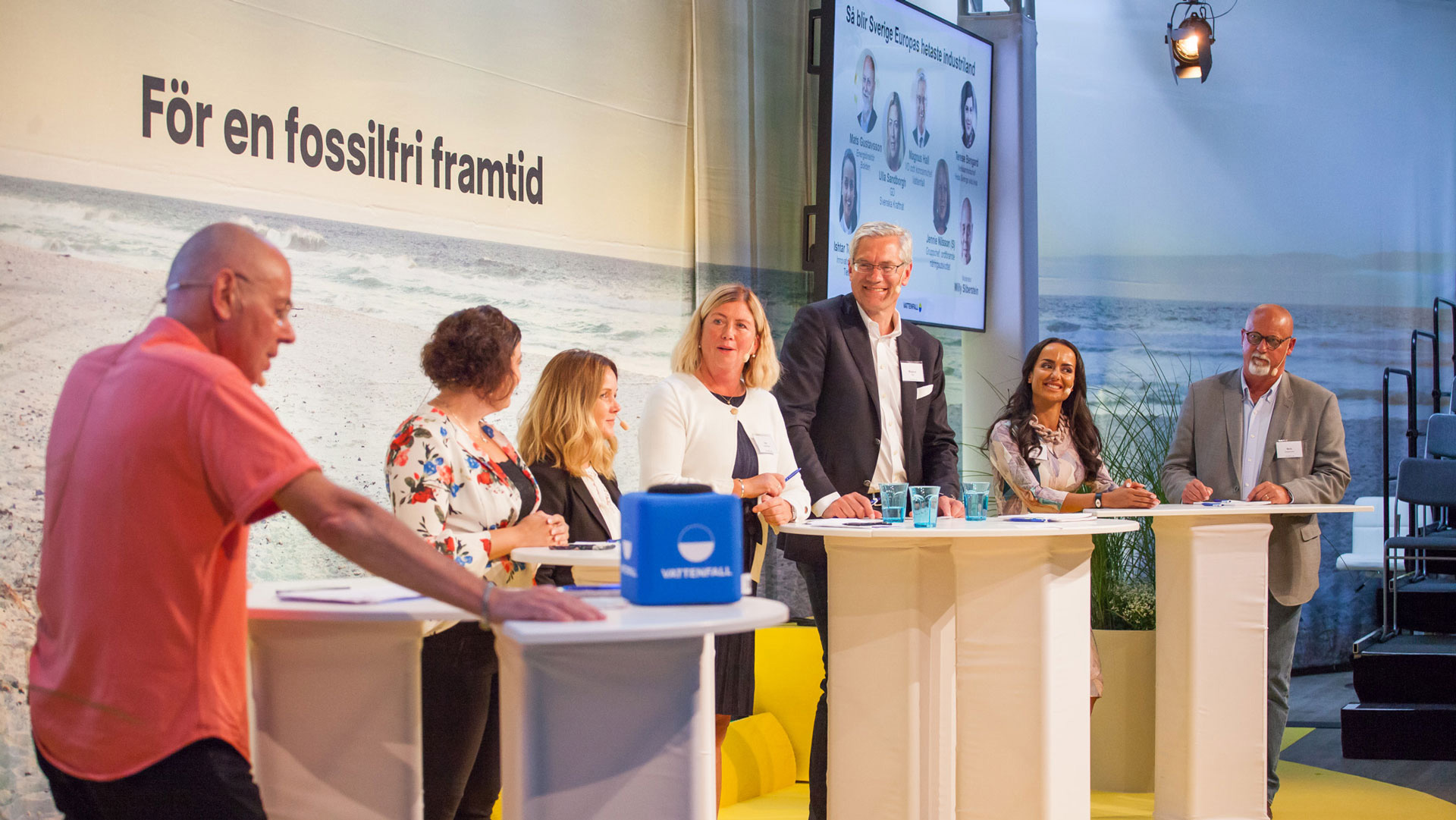 Deltager i seminaret "Så bliver Sverige Europas hotteste industriland".
Om tirsdagen var hovedtemaet, hvordan Sverige skal kunne blive Europas hotteste industriland ved at drage nytte af sit forspring, bl.a. når det handler om fossilfri elproduktion, og på den måde tiltrække mere energiintensiv industri til landet. I sin sammenfatning konstaterede Vattenfalls administrerende direktør og CEO, Magnus Hall, at der kræves en indsats både med hensyn til godkendelsesprocesser og netudbygning, og at Sverige måske også skal blive lidt mere selvsikker og endnu bedre til at markedsføre fordelene ved ren energi, en veluddannet befolkning, et godt innovationsklima og en stabil politisk situation.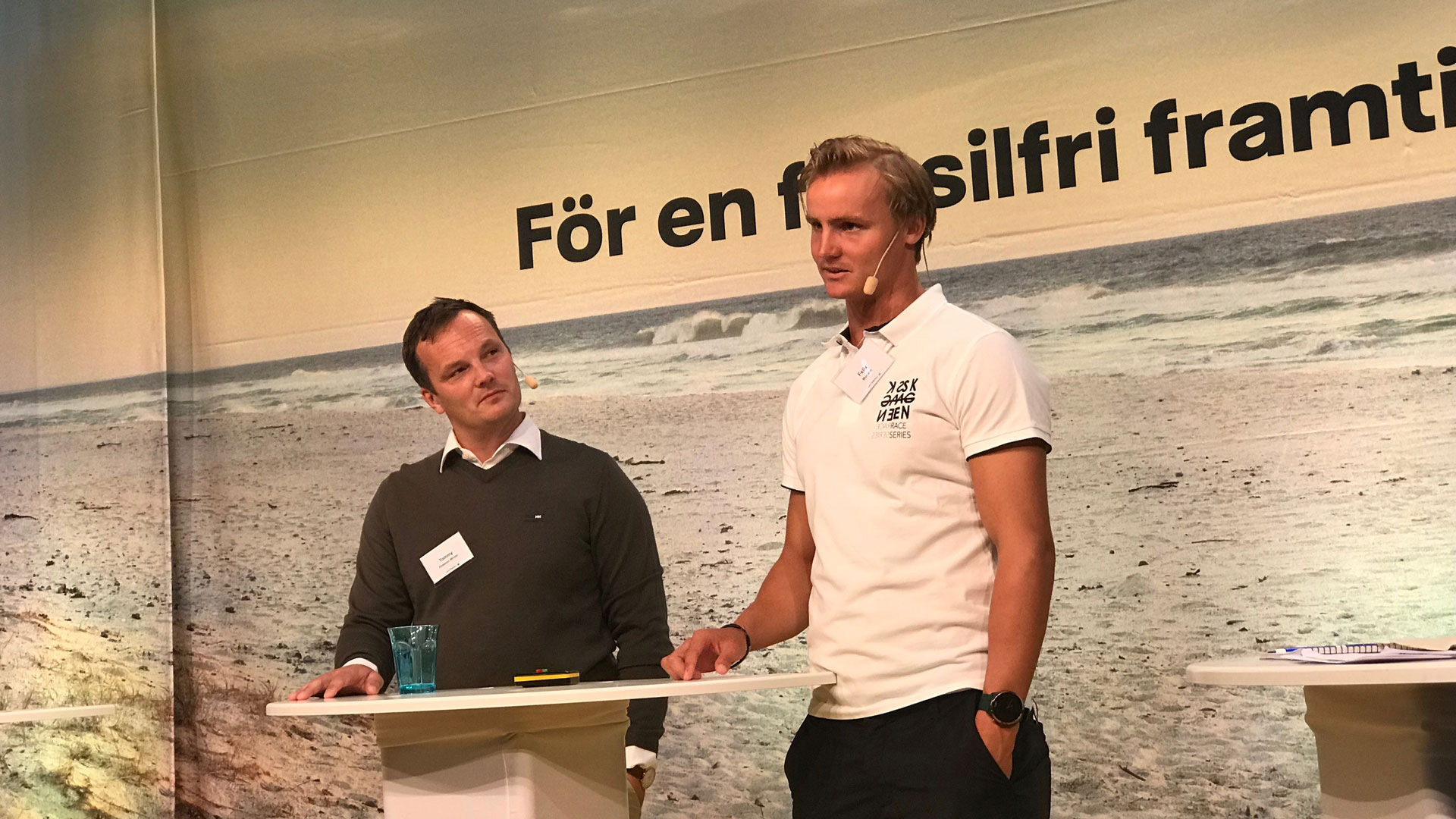 Den alpine skisportsstjerne Felix Monsén fortalte om, hvordan han og det alpine skilandshold skal halvere deres CO2-udledning. Til venstre ses chefen for det alpine skilandshold, Tommy Eliasson Winter.
Forud herfor drøftede man spørgsmålet om, hvad enkeltpersoner kan gøre for klimaet. Bl.a. fortalte den alpine skisportsstjerne Felix Monsén om sit personlige engagement, og hvordan han og hans holdkammerater arbejder for, at det alpine skilandshold skal nå sit eget mål om at reducere sit klimaaftryk med halvdelen inden 2022.
For mange støtteformer til solenergi
Onsdagen blev indledt med et anderledes indslag set med Vattenfalls målestok, en samtale mellem Magnus Hall og ærkebiskop Antje Jackelén om forbindelsen mellem åndelighed og vækst.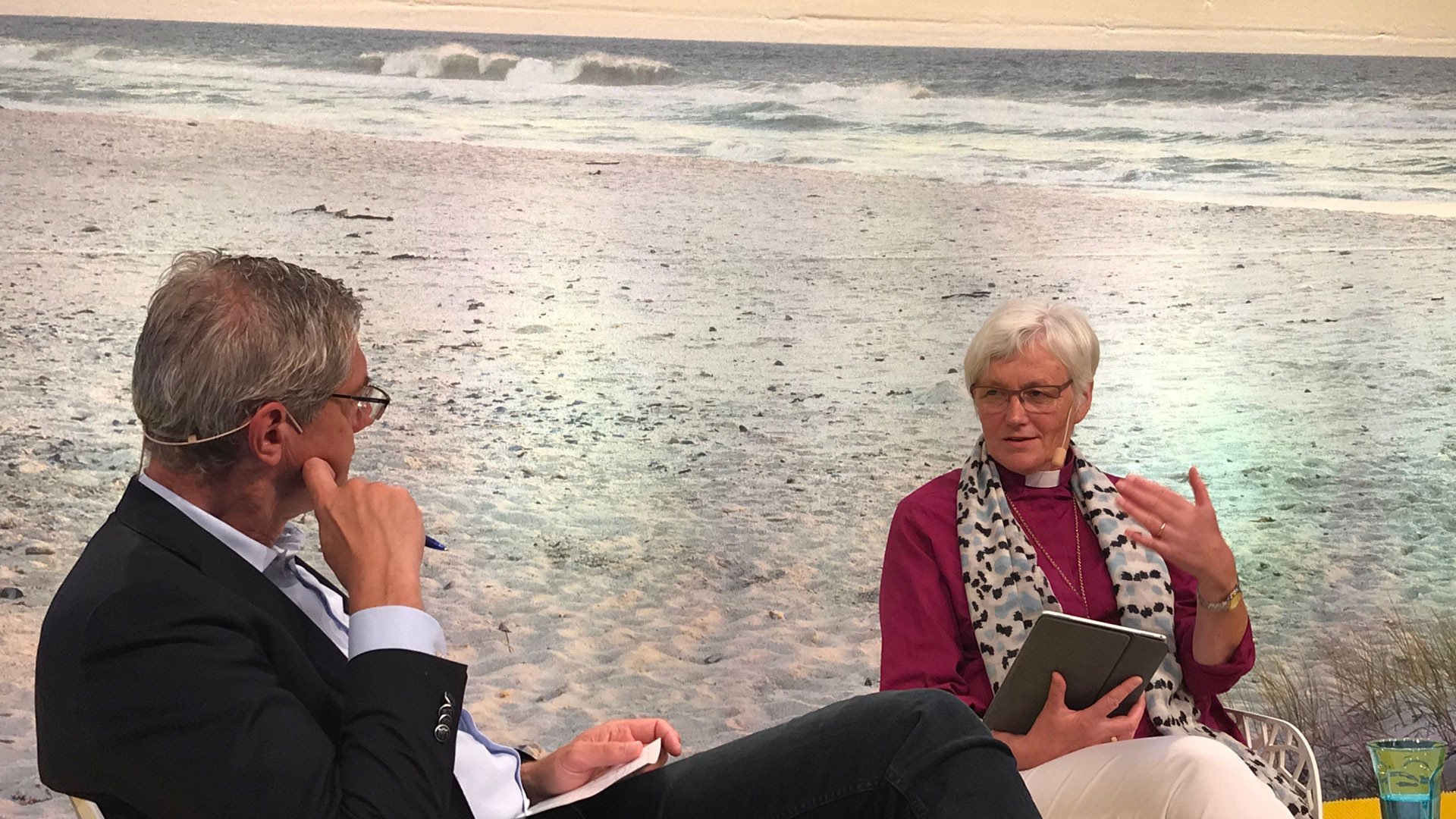 Magnus Hall havde om onsdagen en samtale med ærkebiskop Antje Jackelén om vækst for sjælen.
Et seminar om produktion af solenergi afsluttede Vattenfalls dage i Visby. Panelet, som bestod af både solcelleejere, politikere og eksperter, var i sidste ende enige om, at der er behov for at luge ud i de mange forskellige eksisterende former for støtte, bidrag og fradrag for at gøre det nemmere for potentielle prosumenter at tage stilling og slå til. Samtidig mente flere, at det i takt med faldende priser på solceller var på tide at begynde at udfase subventionerne og lade solcellemarkedet stå på egne ben.
Højt niveau i samtalerne
Cecilia Hellner, Head of PRA Nordic, der er indholdsansvarlig for seminarerne, var tilfreds med udfaldet:
"Det har været utroligt vellykket og velbesøgt. Jeg har også en følelse af, at vi til dels har tiltrukket et nyt publikum, som vi ikke normalt ser i Energihuset. Jeg synes også, at der har været et rigtigt højt niveau i samtalerne, og vi har fået gode tilbagemeldinger fra deltagere og tilskuere. Vi er alle ekstremt entusiastiske", siger hun.
I alt var 80 personer, politikere, beslutningstagere, repræsentanter for industrien, partnere og andre med i seminarpanelerne. Desuden blev der i løbet af dagene gennemført fire rundbordssamtaler direkte mellem Vattenfall og interessenter fra forskellige samfundssektorer. Flere af Vattenfalls medarbejdere medvirkede også i seminarer i andre fora under Almedalsugen, i alt 14 arrangementer.
"Almedalen er et meget vigtigt forum for at fremhæve spørgsmål, som er vigtige for Vattenfalls aktiviteter i Sverige. Og så skal man ikke se Almedalen som en særskilt øvelse, da de spørgsmål, som vi fremhæver her, også fremhæves resten af året. Men Almedalen er unik, eftersom alle, der er involveret i disse spørgsmål, er til stede, så man har mulighed for at samle dem i samme rum på den samme scene. Det har man ellers ikke", siger Karin Lepasoon, Head of Communications hos Vattenfall.
Fakta
Alle Vattenfalls seminarer i Almedalen transmitteres via internettet og kan også efterfølgende ses på www.vattenfall.se/almedalen