Fire folkeskoler i Esbjerg og Varde kommuner bliver de første til at låne trailere, der er ladet med undervisningsmateriale om vindenergi.
En vindtunnel, en vindmåler, en vejrstation og små vindmøller er blandt det undervisningsudstyr, som energiselskabet Vattenfall stiller til rådighed for lærere og elever i folkeskolerne i de to kommuner. Eleverne får med lån af trailerne mulighed for på en meget håndgribelig måde at lære om en af fremtidens vigtigste energikilder, bæredygtig vindenergi, og måske blive inspireret til at uddanne sig på området.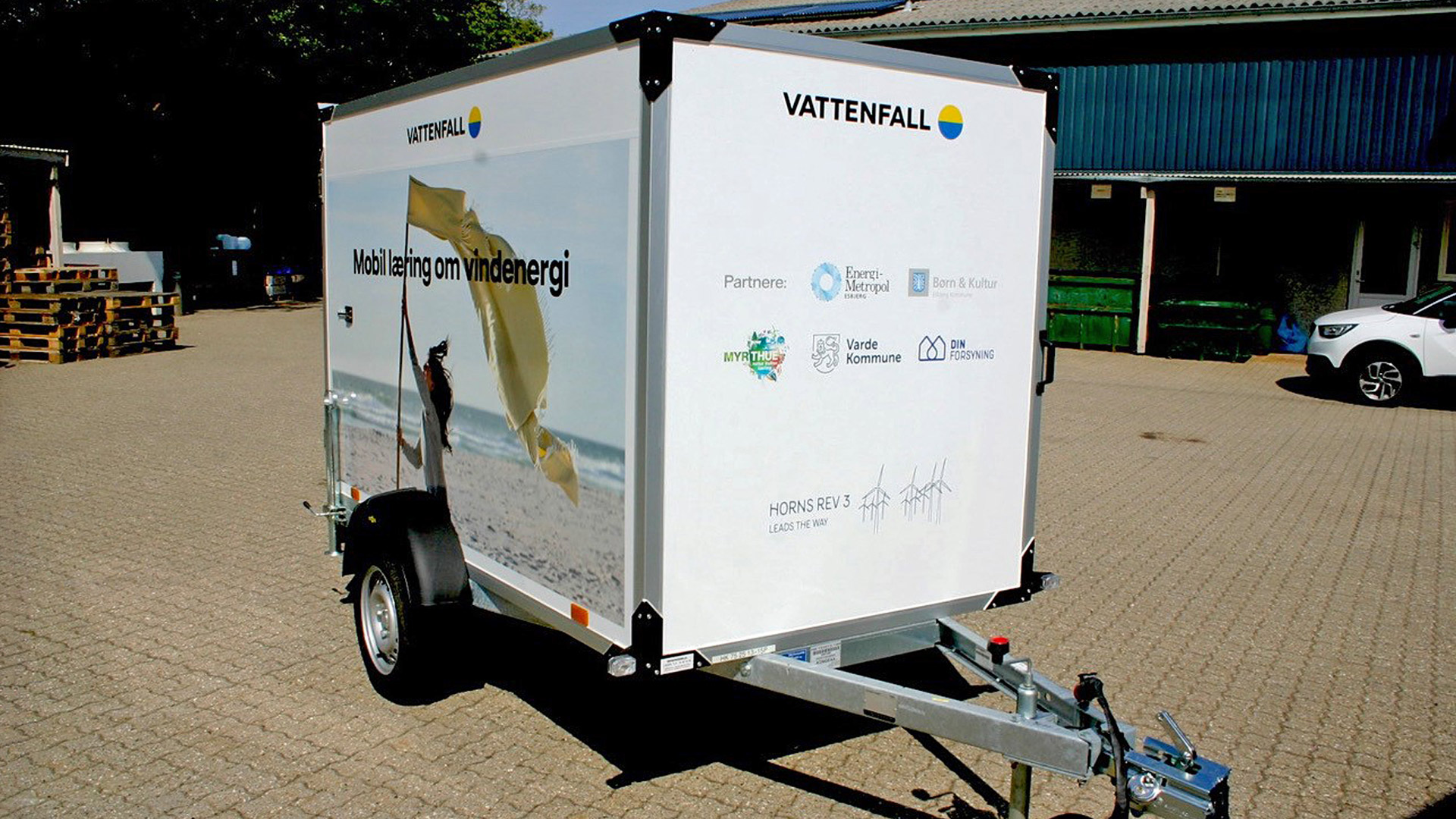 Vattenfalls trailer er ladet med det mobile udstyr, som folkeskolerne kan låne i forbindelse med deres undervisning i fx naturvidenskab eller matematik.
Unikt initiativ og udstyr
Læringskonsulent Kerstin Book i Esbjerg Kommune, der sammen med Varde har taget initiativ til undervisningsprojektet "Science, teknologi og innovation", siger, at samarbejdet med blandt andre Vattenfall og læreruddannelsen UC Syd har resulteret i det mobile udstyr, som lærere og elever kan få glæde af mange år frem.
"Vi har ikke gjort det her før, og derfor er trailerne med indhold et unikt tilbud til skolerne. De kan få emnet kørt til døren og hen over nogle uger beskæftige sig med vindenergi i fagene natur & teknologi, matematik eller i forbindelse med temaer som uddannelse og job. Vi udfordrer samtidig eleverne til at være kreative og udvikle deres egne ideer om fremtidens vindenergi", siger Kerstin Book.
I Esbjerg Kommune er det Cosmos Skolens afdeling i Boldesager i Esbjerg og Ansgarskolen Vadehav i Ribe, der bliver de første til at låne udstyret.
Trailerens indhold
Materialet i traileren henvender sig til mellemtrinnet og fagene natur & teknologi, matematik og uddannelse og job. Materialet består af:
Lærervejledning
Forsøgs- og aktivitetshæfter til eleverne
Guide til "Engineeringprocess"
Udstyr til forsøgene, som supplerer skolens eget udstyr
Eksempler på udstyr
- Vindtunnel
- Digital vindmåler
- Effektmåler
- Vejrstation
- Datalogger
- Brændselscellesæt
- Vindmølle med gearing
Investering i fremtiden
Vattenfall har valgt at understøtte projektet ved at investere i udviklingen af det mobile undervisningsmateriale.
"Offshore vind spiller en betydelig rolle i områdets erhvervsudvikling og fremtidens energiforsyning, og både nu og i fremtiden efterspørger virksomhederne kvalificeret arbejdskraft indenfor håndværksfagene og ingeniørfagene. Det gavner ikke kun Vattenfall, men alle andre interessenter i offshore vindkraft, når vi allerede i folkeskolen vækker interessen hos de helt unge," siger Vattenfalls Senior Policy & Communication Advisor Arne Rahbek.
Studerende bag materialet
Undervisningsmaterialet er udviklet af seks lærerstuderende på UC Syd i Esbjerg, og vindtunnellerne er fremstillet af tre studerende fra Fredericia Maskinmesterskole – alt sammen som et led i de studerendes uddannelse. Lektor Gert Wahlgreen på UC Syd kalder projektet for kæmpe godt og relevant.
"Vi har jo virksomheden Vattenfall her i Esbjerg og havmølleparken Horns Rev 3 lige "udenfor døren", og vinden den er her jo. Skolebørnene får dermed en god forståelse af, hvordan man omdanner vindens bevægelsesenergi til elektrisk energi. Desuden kan materialet kombineres med andre energikilder og give et godt og sammenhængende undervisningsforløb", siger lektor Gert Wahlgreen.
Se videoen om tilblivelsen af trailerne:
Projektets partnere
Skulle mange af eleverne blive inspireret til senere at tage en uddannelse, der kan bruges inden for vindenergi, så er målet nået for Esbjerg og Varde kommuners fælles fokus på naturvidenskab i folkeskolerne. Partnerne i projektet består foruden de to kommuner og Vattenfall af Energi Metropol Esbjerg, forsyningsselskabet Din Forsyning samt formidlingstjenesten Myrthuegård i Esbjerg.