Energinet har installeret tre transformere på henholdsvis 700, 1500 og 1800 ton til Vattenfalls havmøllepark.
Opførelsen af Danmarks største havmøllepark på godt 600 MW nåede i begyndelsen af maj en vigtig milepæl, da Energinet afsluttede placeringen af tre transformere på Kriegers Flak. Transformerne er opsat på to forskellige lokationer, fordi havmølleparken bliver delt i to sektioner – én på hver sin side af en korridor, hvorfra der udvindes råstoffer fra havbunden.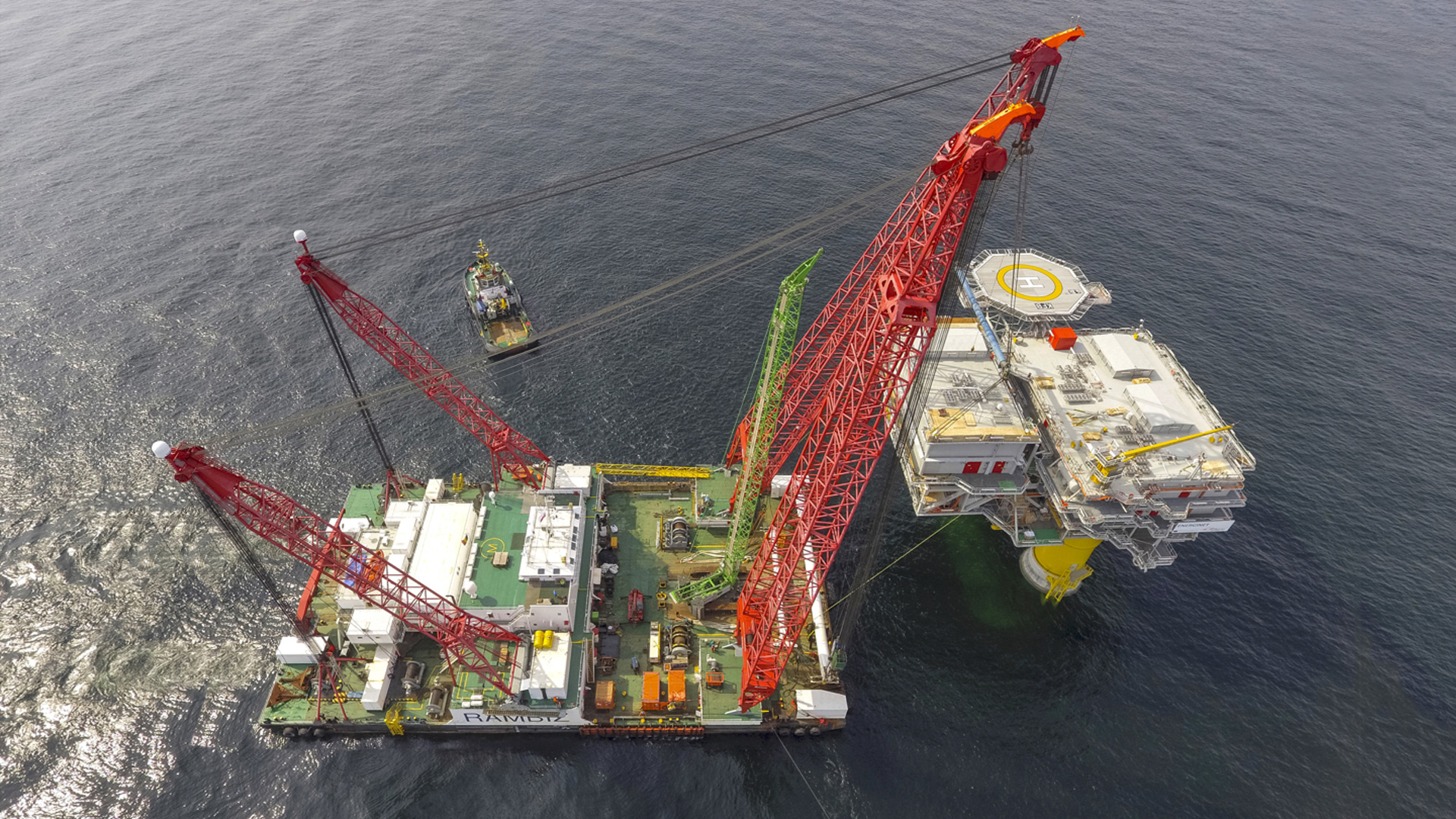 Kranskibet Rambiz placerer her den mindste af transformerne på dobbeltfundamentet. Transformeren skal bruges til at sammenkoble det danske og tyske elnet. Foto: Energinet.
Dansk-tysk elforbindelse
To af platformene er placeret sammen på et dobbeltfundament. Den ene transformer skal modtage strømmen fra vindmøllerne, og den anden skal sammenkoble danske og tyske elkabler og etablere den første elforbindelse nogensinde mellem to lande via en havmøllepark. Energinet arbejder i den forbindelse sammen med det tyske selskab 50Hertz Transmission om at etablere en dobbelt omformerstation ved byen Bentwisch i Nordtyskland.
Midlertidig hotelplatform
Energinet havde kranskibet Rambiz til at placere de tre fundamenter, og lettelsen er ifølge projektleder Jens Chr. Hygebjerg fra Energinet stor, fordi selve installationen er den mest kostbare risiko i hele projektet. I forbindelse med dobbeltfundamentet bliver der installeret en midlertidig hotelplatform med plads til 80 ansatte, der skal idriftsætte transformerne. Platformene ventes spændingssat 1. oktober 2018.
Tidsplanen for vindmøllerne
I 2019 bliver fundamenter og overgangsstykker til de 72 Siemens-Gamesa produceret og året efter rammes fundamenterne ned i havbunden. I 2021 opstilles vindmøllerne og sættes i drift løbende.