Vattenfalls to nye havmølleparker Vesterhav Syd og Vesterhav Nord vil være de første i Danmark, som er direkte med til at stabilisere elnettet og dermed strømforsyningen.
Vattenfalls nye vindmølleparker ud for den jyske vestkyst er ikke alene med til at levere vedvarende energi til de danske forbrugere, de indgår for første gang nogensinde som del af en aftale om aktivt at levere styrke til elnettet i det vestjyske område. Ud over at øge den danske elproduktion fra vindmøller med over ti procent vil de nemlig aktivt kunne levere noget af den spændingsstabilitet, som nettet behøver for at kunne fastholde det pålidelige elnet, Danmark er så berømt for.
Som små kraftværker
"En vindmølle er nu lige så stor som et mindre kraftvarmeværk på næsten 10 MW, så vi kan virkelig levere noget power til nettet, som ellers skulle være kommet fra kraftværker. Men dem er der jo ikke er så mange af i det område, hvor Vesterhav Syd og Nord er ved at blive opført", forklarer Kenneth Skaug, senioringeniør i System Design-afdelingen hos Vattenfall i Kolding.
"Det hele drejer sig om magnetfelter, elektriske felter og frekvens, som skal styres og overvåges nøje for at vi alle kan få flødekartoflerne og lasagnen varmet til aftensmaden, hente kold mælk i køleskabet og få fjernsynet, computere og lyset til at fungere", tilføjer Kenneth Skaug med et glimt i øjet, der viser, at han godt ved, at det nok ikke er stedet for de dybere tekniske forklaringer.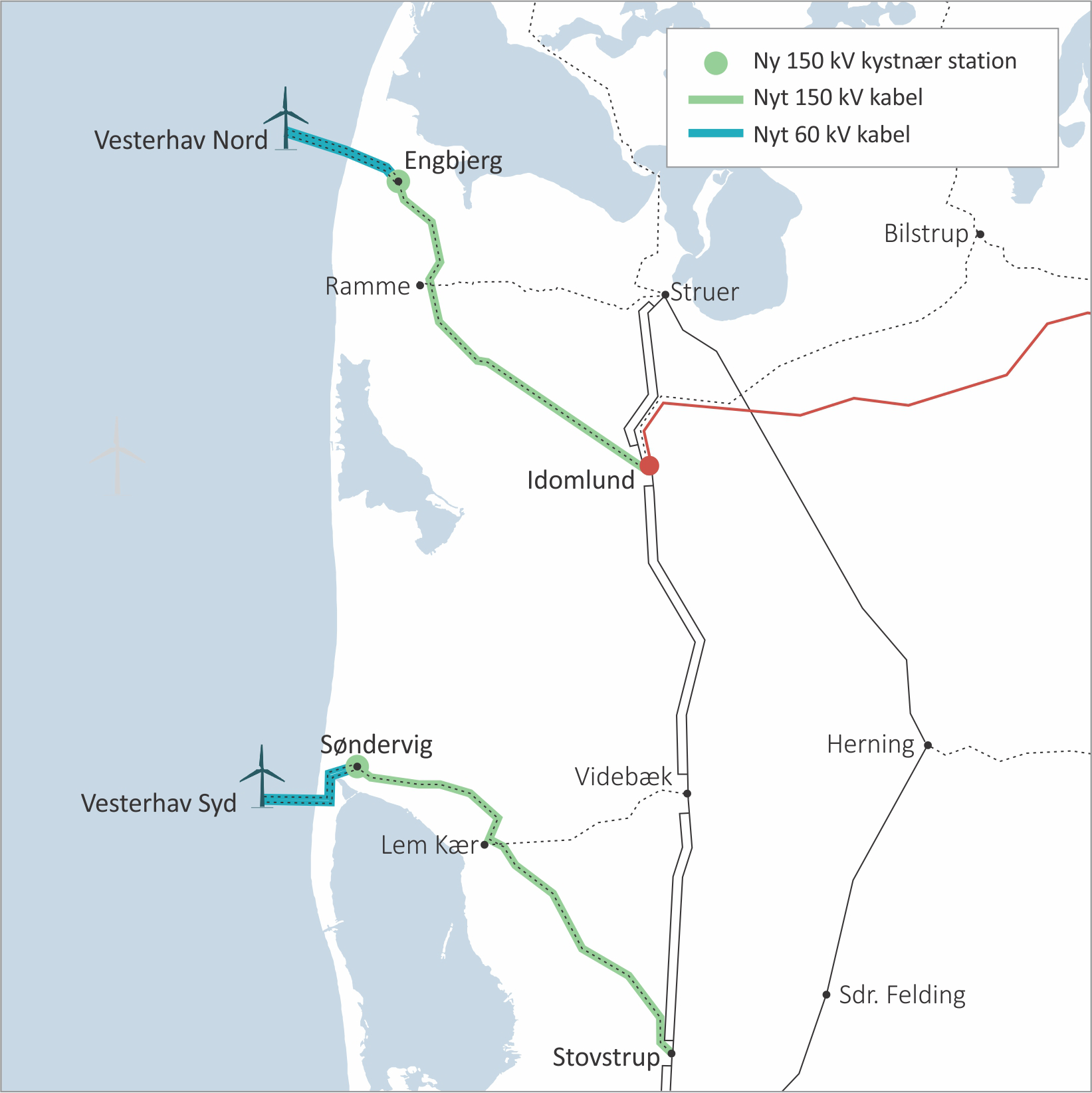 Tilslutning af kystnære møller, principskitse. Illustration: Energinet.
Tæt på kysten og super hurtige til at reagere
Hidtil har det været nødvendigt at have store kraftværker kørende for at sikre stabiliteten i nettet, men med den nye unikke aftale mellem Vattenfall og Energinet, som driver de store transmissionsnet, kan vindmøllerne gå direkte ind og justere mængden af energi, så den svarer til efterspørgslen, og det med millisekunders varsel i modsætning til de store, tunge kraftværksanlæg, som helst skal køre med en konstant produktion og bruge tid til at justere.
Så kunne man jo spørge: Hvorfor har vi så ikke udnyttet vindmøllerne på den måde før? Der er jo mange havvindmølleparker rundt omkring i de danske farvande. Forklaringen ligger ifølge Kennet Skaug i, at de er placeret langt fra kysten og de store transmissionsnet, og på grund af afstanden er der for store tab i transmissionssystemet til dette formål. De to nye Vattenfall-vindmølleparker ligger derimod tæt nok på kysten og i en kort nok "elektrisk afstand" til, at de kan blive koblet direkte på en 150 kV transformer og dermed aktivt støtte nettet.
Første aftale af sin art i Danmark
Ifølge chefingeniør Poul Mortensen fra Energinet er aftalen om spændingsregulering banebrydende, da den er den første af sin art i Danmark, hvor to vindmølleparker bliver en integreret del af den primære drift og support, der skal sikre et stabilt og driftsikkert elsystem.
"Med de to vindmølleparker kommer elsystemet til at råde over spændingssupport, der er fuldt på højde med ydelsen, traditionelle kraftværker kan levere, og hvad der er endnu vigtigere, sker tilslutningen lige nøjagtigt der, hvor der i dagens og fremtidens elsystem, baseret på vedvarende energi, er behov for spændingsunderstøttende egenskaber," siger Poul Mortensen.
Kenneth Skaug har været med til at udvikle ideen og aftalen mellem Vattenfall og Energinet og ser videre muligheder for anvendelsen af vindmøller.
"En del af nettet på Vestkysten har brug for denne egenskab i lokalområdet. Og vindmøllerne er nu gået fra at destabilisere nettet som i gamle dage til at fungere som en stabiliserende faktor. Danmark har på et tidspunkt kørt i 41 døgn uden at have de store kraftværker i drift. Det ville man ikke have troet for ti år siden. Foruden de to havvindmølleparker er Vattenfalls landvindmøller også med i overvejelserne nu. Især den planlagte udvidelse af vindmølleparken Nørrekær Enge i Nordjylland vil være velegnet til at understøtte nettet på samme måde. Jo større parken er og jo tættere forbindelsen er til højspændingsnettet, jo bedre er parkernes muligheder for at hjælpe nettet."