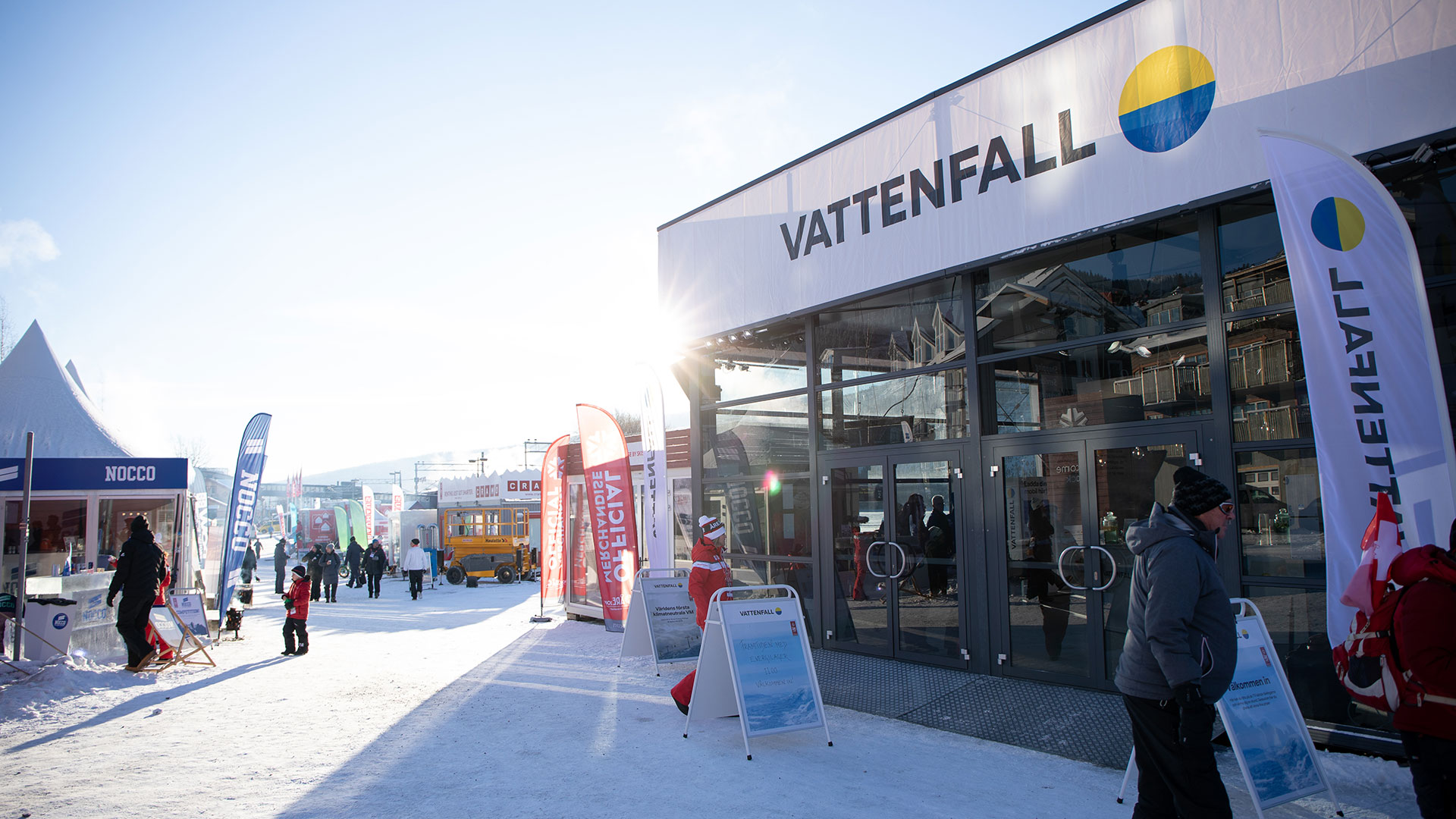 Klimaintelligent verdensmesterskab i skiløb i Åre er nu i gang
Vattenfall bidrager til at sætte nye standarder for klimaintelligente sportsbegivenheder.
FIS Alpine World Ski Championships er nu i gang i Åre og vil finde sted over de kommende to uger. Hundredvis af skiløbere, medarbejdere og over 120.000 tilskuere forventes at besøge den nordsvenske by.
Ved hjælp af solcellepaneler, elkøretøjer, batterilagringsfaciliteter og opladningsinfrastruktur bidrager Vattenfall til at gøre dette års konkurrencer til det første klimaneutrale verdensmesterskab i alpint skiløb.
Første gang
For at opnå dette følger organisationen bag verdensmesterskaberne en omhyggeligt udarbejdet plan for at minimere begivenhedens miljøbelastning. Det betyder eksempelvis, at al rutetransport til og fra konkurrencerne vil være fossilfri.
"Vi forventer, at to tredjedele af hele vores energi- og brændselsforbrug vil være fossilfrit. I visse tilfælde har vi af sikkerhedsmæssige årsager været nødt til at bruge konventionelt brændstof, blandt andet til redningshelikoptere. I andre tilfælde, hvor et fuldstændigt fossilfrit alternativ ikke har været tilgængeligt af hensyn til risikohåndteringen, har vi kunnet erstatte fossile brændsler med bedre alternativer såsom Ecopar, der har et betydeligt mindre CO2-fodaftryk. Det er første gang, at verdensmesterskaberne i alpint skiløb bliver organiseret på denne måde, så vi er virkeligt banebrydende," fortæller Riikka Rakic, Head of Sustainability for Åre 2019, der organiserer begivenheden.
Elektrisk transport
For at reducere afhængigheden af fossilt brændstof leverer Vattenfall ladestationer og en hurtigoplader til omkring 30 elektriske Audi e-tron-elbiler samt 10 elektriske snescootere, der bruges til at fragte besøgende og medarbejdere til og fra konkurrenceområdet.
2019-verdensmesterskaberne i Åre er ISO 20121-certificeret, hvilket betyder, at blandt andet klimapåvirkningen er kortlagt og vurderet på en standardiseret måde. Der er udarbejdet mål og handlingsplaner for at reducere klimapåvirkningen af alt, lige fra transport til bortskaffelse af fødevareaffald og andet affald. I henhold til beregningerne svarer disse tiltag til i alt 1.000 tons CO2.
"I samarbejde med Vattenfall kompenserer vi for de klimaudledninger, der alligevel vil forekomme, eksempelvis ved at købe CO2-kreditter fra Gold Standard-certificerede vedvarende energiprojekter rundt omkring i verden," siger Riikka Rakic.
Egen elproduktion
Vattenfalls klimavejleder og energiekspert Lasse Ejeklint har tilbudt sin ekspertise.
"Det føles værdifuldt at være med til at gøre en stor sportsbegivenhed som denne mindre afhængig af fossile brændsler. De solcellepaneler, vi har installeret på taget af bygningen i målområdet, der huser det svenske skiforbunds kontor her i Åre, vil for eksempel blive siddende og kommer til fortsat at producere strøm i mange år fremover. Det betyder, at bygningen selv vil kunne dække det meste af sit energibehov i fremtiden. Åre bliver et forbillede for kommende nationale og internationale begivenheder, som alle kan lære af," påpeger han.
Besøgende i Åre kan også kigge forbi Vattenfalls pavillon i sponsorbyen. På scenen vil man blandt andet kunne opleve medlemmer af det svenske team af alpine skiløbere, som vil fortælle om, hvordan de samarbejder med Vattenfall for at reducere deres CO2-fodaftryk.
Efter åbningsceremonien den 4. februar begynder 2019-udgaven af verdensmesterskaberne i alpint skiløb i Åre den 5. februar med kvindernes Super G, og begivenheden slutter den 17. februar med mændenes slalomfinale.
Det gør Vattenfall i Åre
Solcellepaneler: 380 m2, produktion: 37.000 kWh vedvarende elektricitet pr. år
Batterilagringsanlæg: Består af otte batterier til elbiler fra BMW med intelligent styring
Infrastruktur med ladestationer: En hurtigoplader og 20 ladebokse, der skal oplade 33 Audi e-tron-elbiler under verdensmesterskaberne
Elkøretøjer: Omkring 10 elektriske snescootere og andre elektrisk arbejdskøretøjer