Vattenfall har vundet udbudsrunden om den anden fase af den hollandske havmøllepark Hollandse Kust Zuid 3 & 4.
I september 2018 fik Vattenfall tilladelserne til at opføre den første fase, Hollandse Kust Zuid 1 & 2. Nu har Vattenfall også vundet den anden fase, Hollandse Kust Zuid 3 & 4. Vindmølleparkerne får en kapacitet på omkring 750 MW hver og bliver de to første ikke-statsstøttede havmølleparker i verden, når de er idriftsat.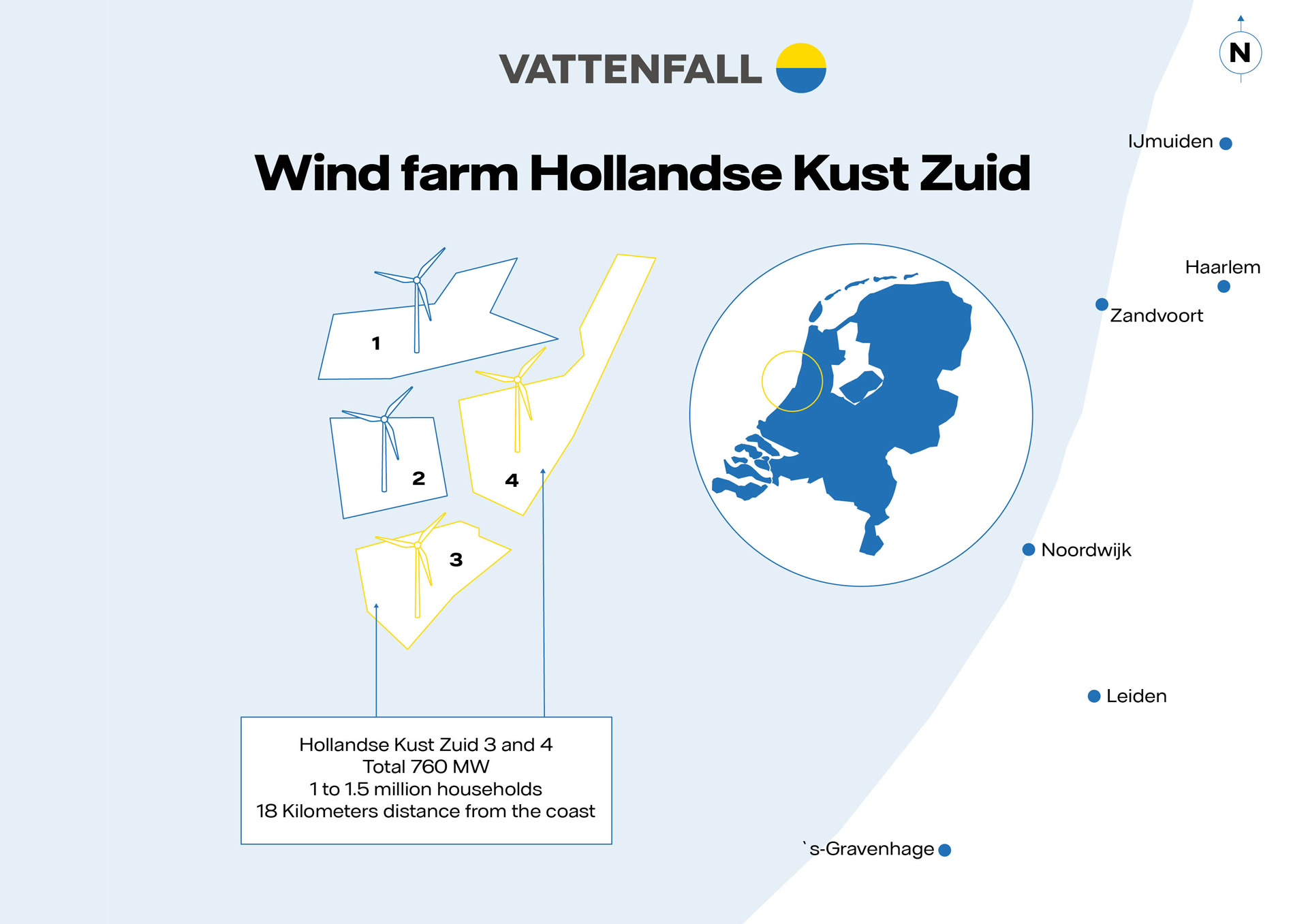 Et af Vattenfalls største projekter
Magnus Hall, Vattenfalls CEO, har denne kommentar: "Det er fantastiske nyheder for Vattenfall, vores samarbejdspartnere og den hollandske energiomlægning. Det er et vigtigt skridt for Vattenfall set i lyset af vores ambition om at gøre det muligt at leve fossilfrit inden for én generation og at skabe vækst inden for produktion af vedvarende energi. Holland er et vigtigt marked for os, og det her vil blive et af vores største havbaserede projekter. Vi glæder os til med dette projekt at bidrage til omlægningen af det hollandske energisystem."
"Vores vindende bud på Hollandse Kust Zuid 3 & 4 er resultatet af vores løbende indsats i hele værdikæden samt vores virksomheds solide resultater og porteføljemæssige tilgang. Derudover har samarbejdet med vores partnere i forsyningskæden gjort det muligt for os at levere et topmoderne forslag til projektet. Vi kan nu samle projekterne Hollandse Kust Zuid 1 & 2 og 3 & 4, hvilket er en stor fordel, der medfører yderligere optimering og synergieffekter," siger Gunnar Groebler, Vattenfall Senior Vice President og Head of Business Area Wind.
Strøm til 3 millioner husstande
Opførelsen af havvindmøllerne skal efter planen gennemføres i 2022. Ifølge udbudsreglerne skal Hollandse Kust Zuid 3 & 4 være fuldt funktionsdygtig inden for fem år efter, at tilladelsen er blevet uigenkaldelig. I alt kommer HKZ 1-4 til at producere vedvarende energi til op mod 3 millioner hollandske husstande.
Læs mere om Vattenfalls vindmølleprojekt Hollandse Kust Zuid 1 & 2