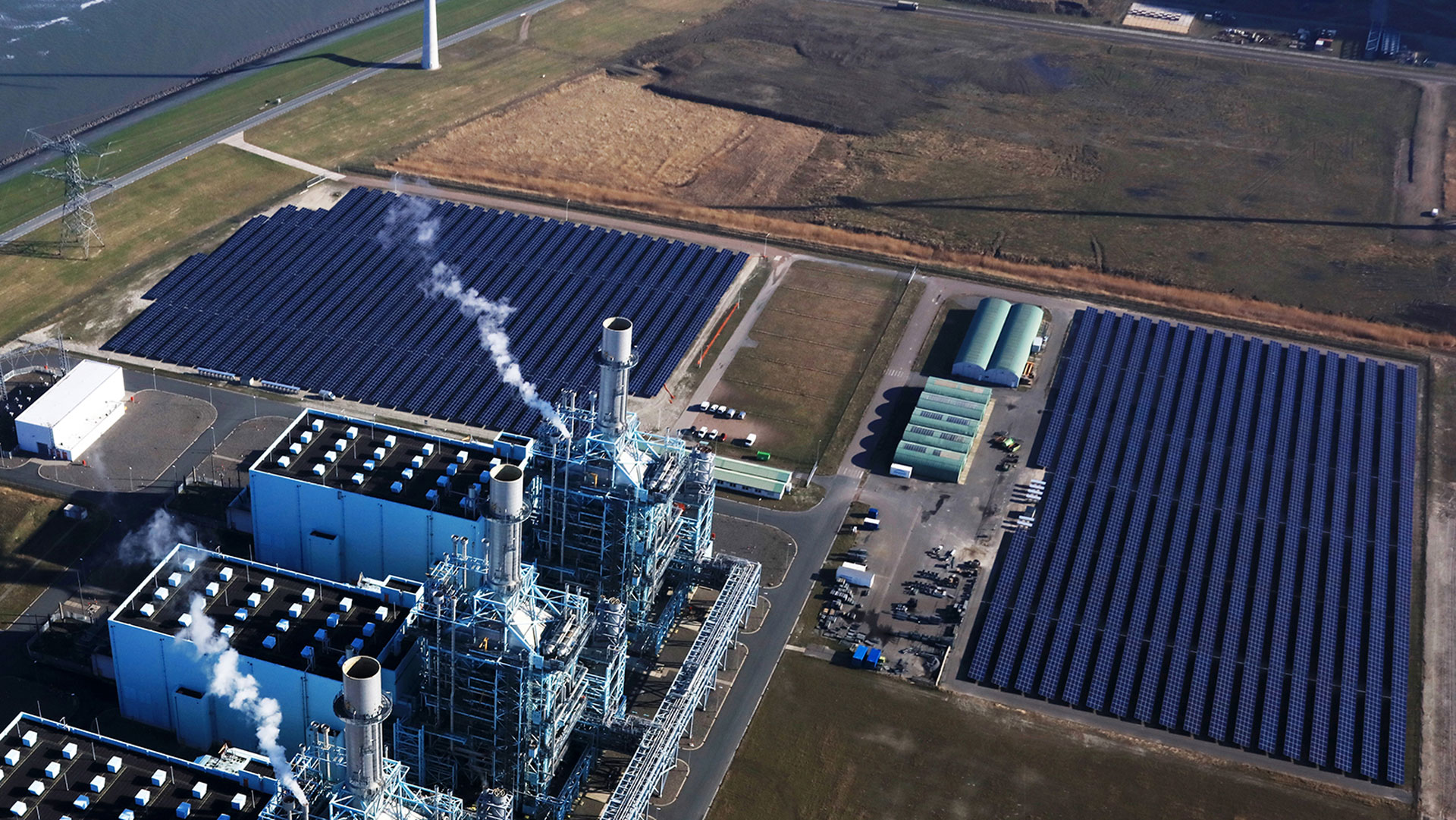 Vattenfalls til dato største solcellepark er åbnet i Holland
Intelligent anvendelse af investeringer og jord: Den crowdfundede 5,7 MW store solcellepark er placeret på samme område som gaskraftværket Magnum.
Ved Eemshaven i den nordlige del af Holland har Vattenfall åbnet sin til dato største solcellepark, med en samlet produktion på 5,7 MW. Opførelsen har kunnet gennemføres, fordi kunder, lokale indbyggere og andre interesserede parter har investeret via crowdfunding-projekt "Samen in Zon".
Det er den anden crowdfundede solcellepark, der åbner i Holland, og senere i år åbner der efter planen to mere, i Coevorden og Gasselternijveen. De vil tilsammen tegne sig for 9,2 MW vedvarende energi.
Fem fodboldbaner
Solcelleparken Eemshaven har 18.000 solcellepaneler og dækker et areal, der svarer til fem fodboldbaner. Ligesom alle Vattenfalls andre solcelleparker er den placeret sammen med anden energiproduktion, i dette tilfælde det gasfyrede kraftværk Magnum.
Margit Deimel, som er Director of Large-scale Solar and Batteries i Vattenfall, fortæller om fordelene:
"Det er effektiv ressourceudnyttelse at placere en solcellepark i en eksisterende infrastruktur. Vi bruger de samme kabler som Magnum-kraftværket, uden at det går ud over forsyningssikkerheden under installationen. Ved at benytte eksisterende udstyr opnår vi synergieffekter, der giver en positiv effekt på rentabiliteten, og vi udnytter også kraftværksområdet på intelligent vis."
Store investeringer i solenergi
Vattenfall indviede sin første solcellepark i stor skala i 2016, i Parc Cynog i Wales. Den 5 MW store solcellepark er placeret samme sted som en vindmøllepark, og den har indtil nu været Vattenfalls største solcellepark.
Solenergi er et vækstsegment i Vattenfalls portefølje af aktiviteter. I 2019 og 2020 vil Vattenfall investere omkring 100 millioner euro i solenergiproduktion i stor skala, og også i batterier. Mange af projekterne er placeret i Holland. I Tyskland er der også gang i en række solenergiprojekter, der placeres på allerede eksisterende anlæg, blandt andet sammen med Vattenfalls pumpevandkraftværker.