Stor indsats redder 1.600 strandede laks ved Älvkarleby-vandkraftværket i Sverige
Ved Vattenfalls vandkraftværk i Älvkarleby blev adskillige hundrede gydeklare laks fanget midt i vandfaldet. Heldigvis resulterede en stor indsats fra de ansatte og frivilliges side i, at laksene blev reddet tilbage i vandet i Dalälven.
For nylig fik et tordenvejr en sikring til at springe, og det standsede i en kort periode Älvkarleby-kraftværket, der ligger ved Dalälven, 150 km nord for Stockholm. Det resulterede i, at lugerne i dæmningen ved det tidligere vandfald blev åbnet et stykke tid. Eftersom det er gydetid, betyder det, at laksene stod neden for kraftværket, og det fossende vand udløste helt naturligt laksenes instinkt om at svømme mod strømmen.
"Da vandet kom, begyndte laksene at svømme lige op i faldet, men de kom ikke langt og blev i stedet fanget i en stor gruppe i mellemfaldet. Laksene gør aldrig det, man gerne vil have; det har vi efterhånden lært," fortæller Joachim Eriksson, som arbejder på Vattenfalls dambrug lidt neden for kraftværket.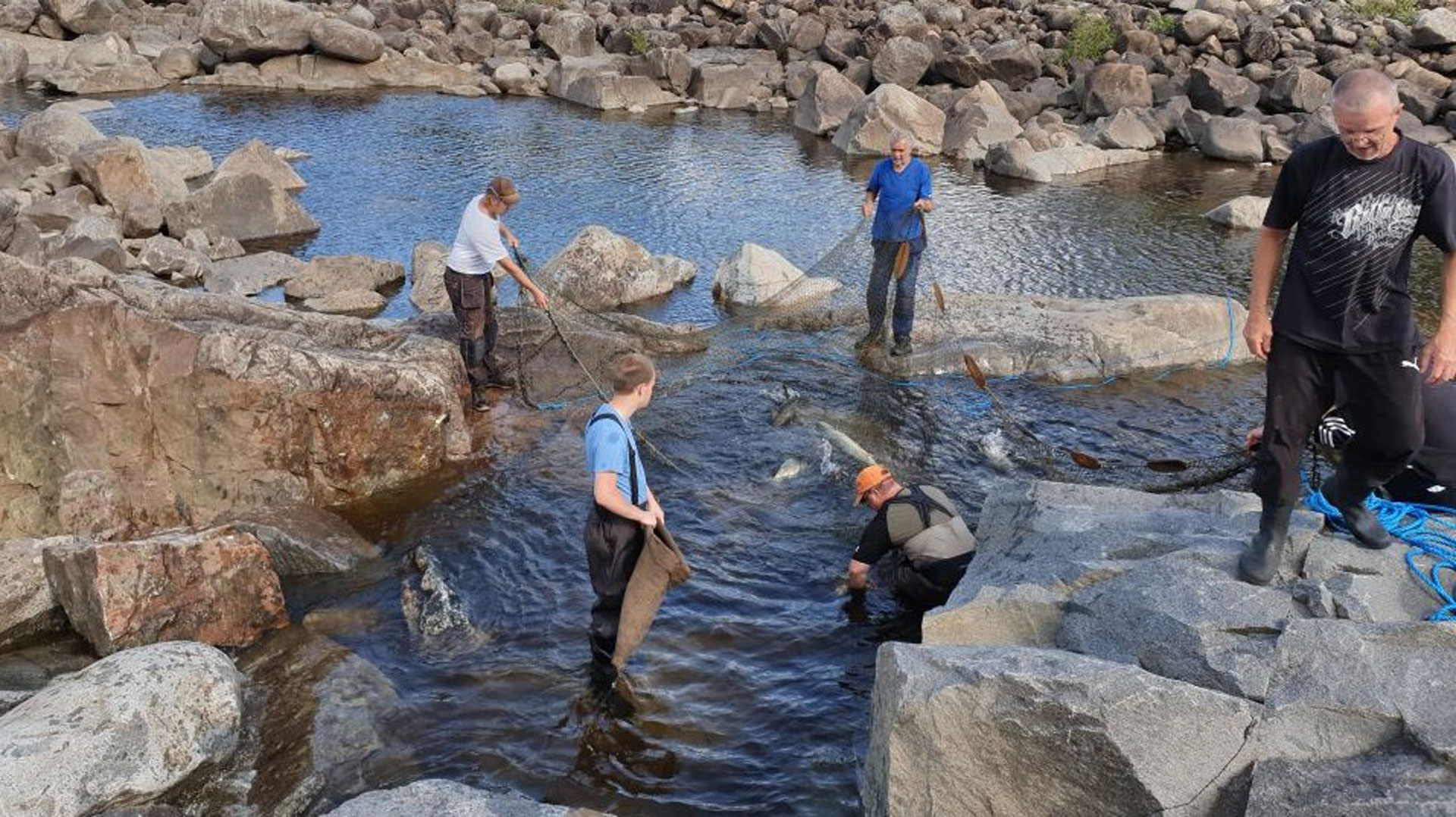 Omkring 15 personer arbejdede i to dage på at redde en større flok laks tilbage i elven ved kraftværket i Älvkarleby.
Højrisikoarbejde
I to dage arbejdede omkring 15 personer, hovedsageligt Vattenfall-medarbejdere og elvens fisketilsynsfolk, med at bære laksene tilbage til elvløbet neden for kraftværket.
"Det er meget risikabelt at arbejde neden for lugerne i dæmningen, og det stiller specielle krav til sikkerheden og til dem, som udfører arbejdet. Den første dag begyndte det oven i købet at regne, så vi var nødt til at indstille arbejdet på grund af risikoen for faldulykker."
Laks på op til 20 kg
Laksene er gydemodne og nogle store krabater. De har en vægt på mellem 2 og 20 kg, og gennemsnitsvægten ligger omkring 6 kg. Så det var lidt af en udfordring at få dem reddet ud af det 10 gange 30 meter store hul.
"I første omgang bar vi dem i sække et godt stykke fra hullet og ned til udløbsrenden, og det var meget tungt arbejde. Senere lykkedes det os at lægge fiskegarn ud, så vi kunne trække dem op. Der kunne være op mod hundrede laks i sådan et garn, og så trak vi dem de 5-6 meter ned til udløbet. I alt lykkedes det os at redde omkring 1.600 laks på den måde. Om et par dage tager vi et kig i hullet igen og ser, om der er nogen tilbage," forklarer Joachim Eriksson.
Nogle af laksene skal nu malkes for rogn for at opdrætte ny lakseyngel, der også kaldes smolt, i blandt andet Vattenfalls dambrug i Älvkarleby. Vattenfall udsætter hvert år 70.000 laksesmolt i Dalälven. Derudover udsætter SLU, Sveriges Lantbruksuniversitet, 60.000 laks og 55.000 havørreder, og Fortum udsætter 60.000 laks. Al udsætning sker nedstrøms fra Älvkarleby-kraftværket.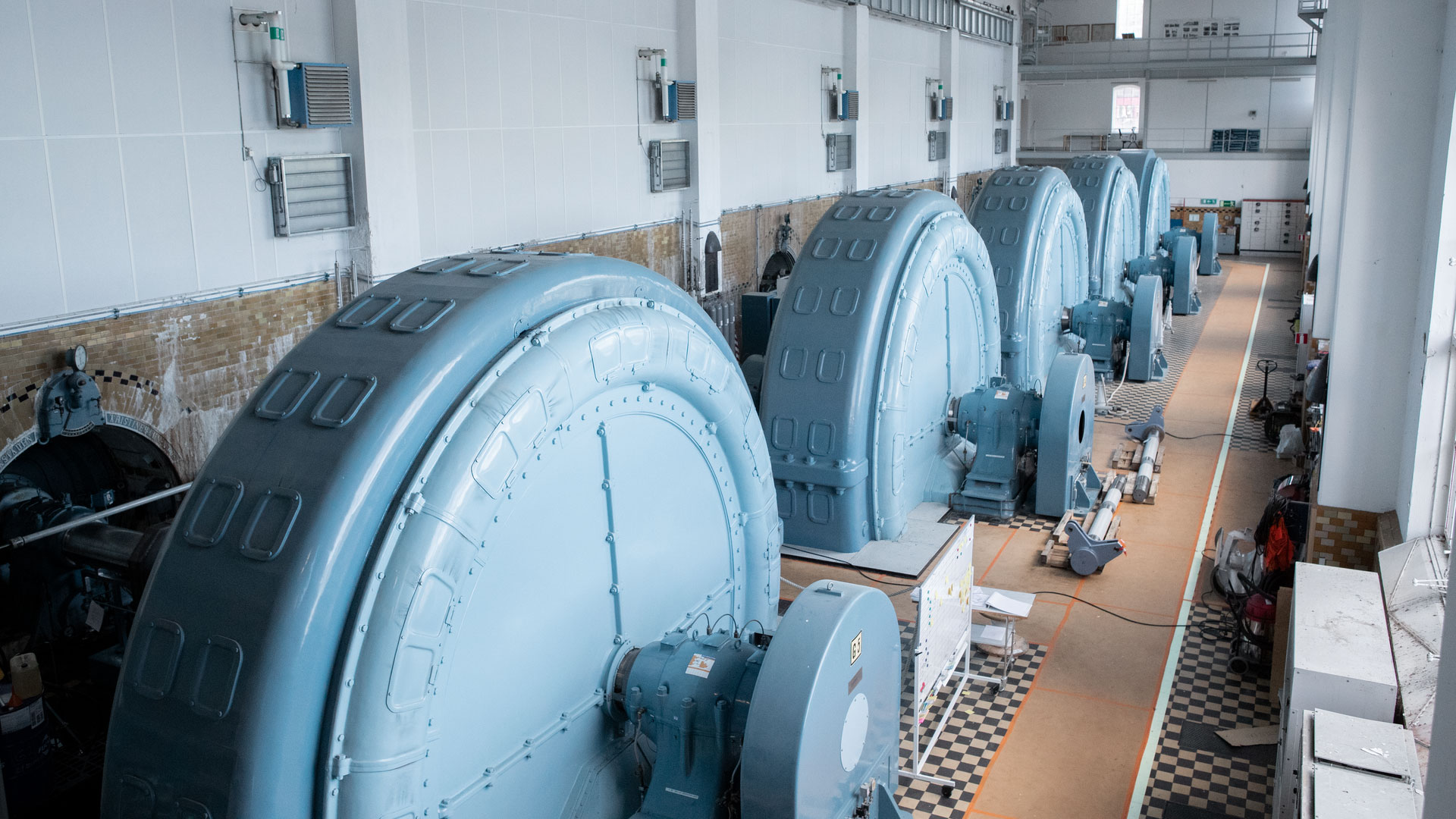 Den gamle generatorhal i Älvkarleby-kraftværket
Et af de første vandkraftværker
Vattenfall har tre vandkraftværker i Dalälven: Näs, Söderfors og Älvkarleby.
Älvkarleby blev opført i begyndelsen af 1900-tallet og er dermed et af Sveriges ældste vandkraftværker. Det blev renoveret i 1990 og har i dag en faldhøjde på 23 meter og en effekt på 125 MW.