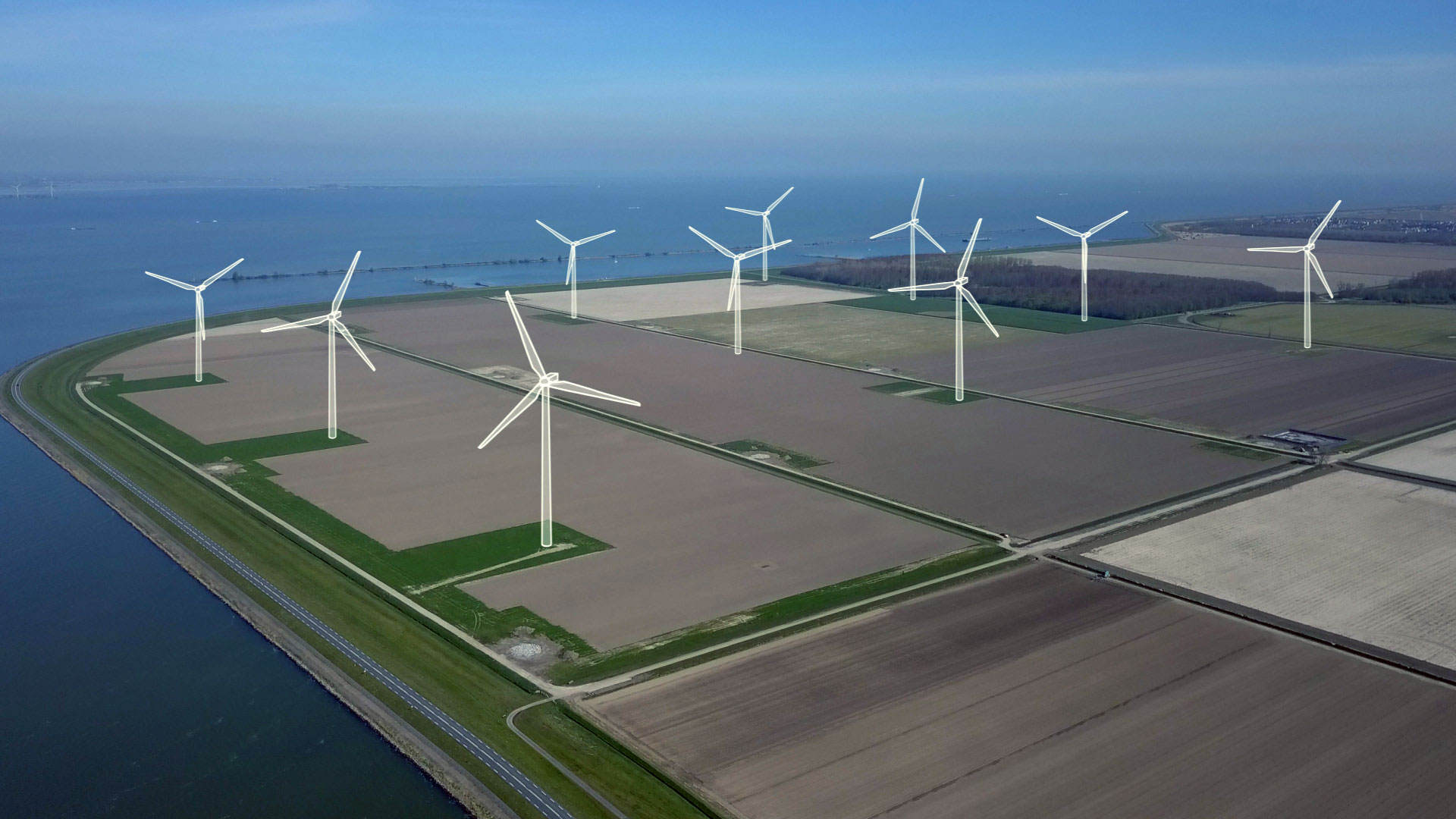 I de kommende år, vil den hollandske regering fokusere på lokalt ejerskab i udviklingen af sol og vind. I Almere arebejder Vattenfall med et lokalt borgerinitiativ ved opførelsen af en vindmøllepark.
Den nye vindmøllepark Jaap Rodenburg i Almere-Pampus, der ligger i provinsen Flevoland, skal erstatte den eksisterende Jaap Rodenburg-vindmøllepark. Vattenfall samarbejder med energikooperativet Almeerse Wind om at udskifte de ti eksisterende vindmøller med modeller med en større effekt.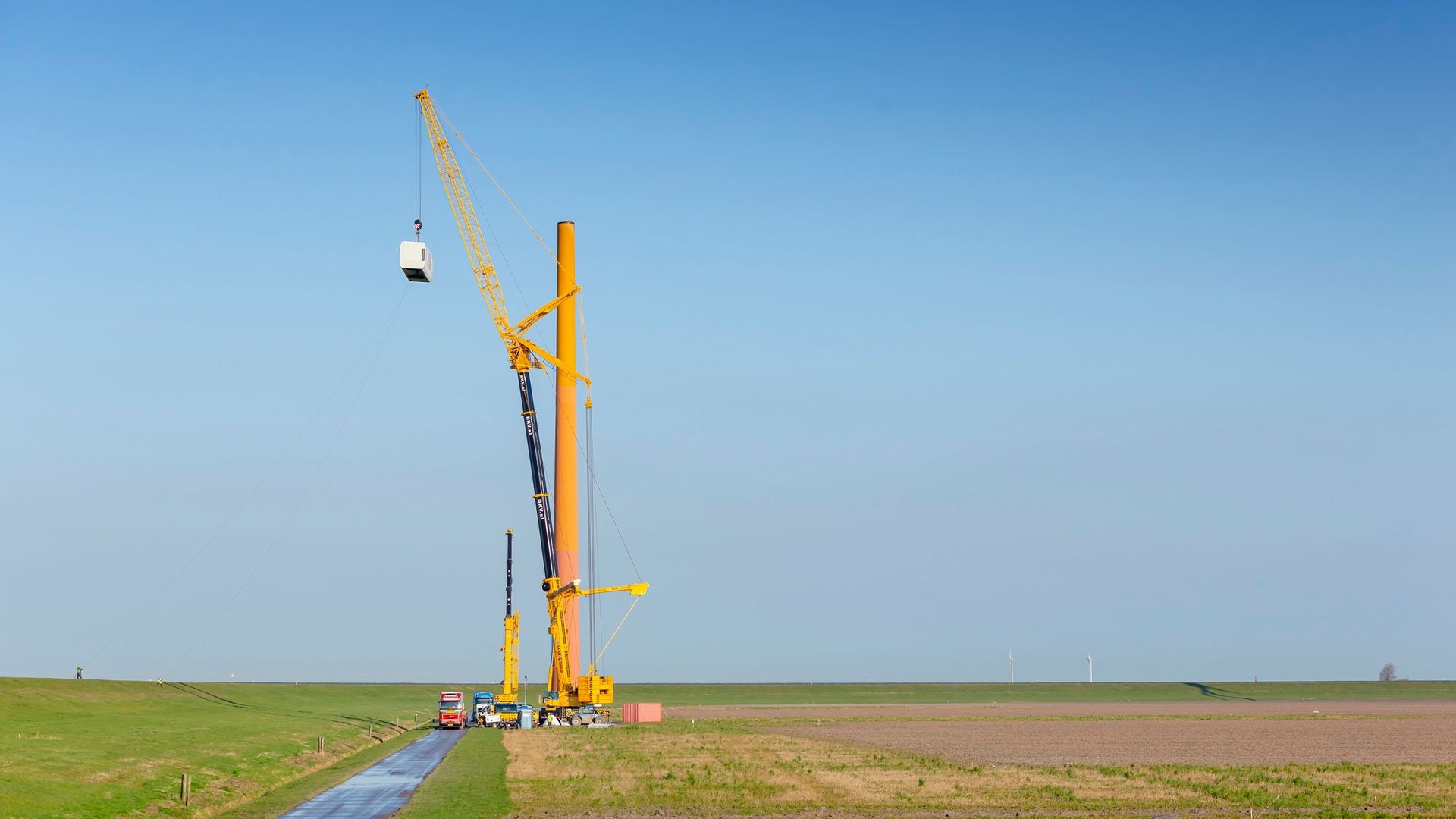 De nuværende ti vindmøller vil blive taget ned for at give plads til modeller med større effekt. Foto: Jorrit Lousberg
"Det er et unikt projekt," fortæller Hidde Seidel, som er Construction Project Manager og i sidste ende ansvarlig for opførelsen af vindmølleparken på vegne af Vattenfall. "Almeerse Wind kommer til at producere egen energi med to af de ti vindmøller. Derudover fik lokalbefolkningen lov til at beslutte, hvor vindmøllerne skulle placeres, og et lokalt byggefirma, Reimert Bouw en Infrastructuur, skal tage sig af opførelsen af vindmølleparken frem til det punkt, hvor vindmøllerne skal installeres."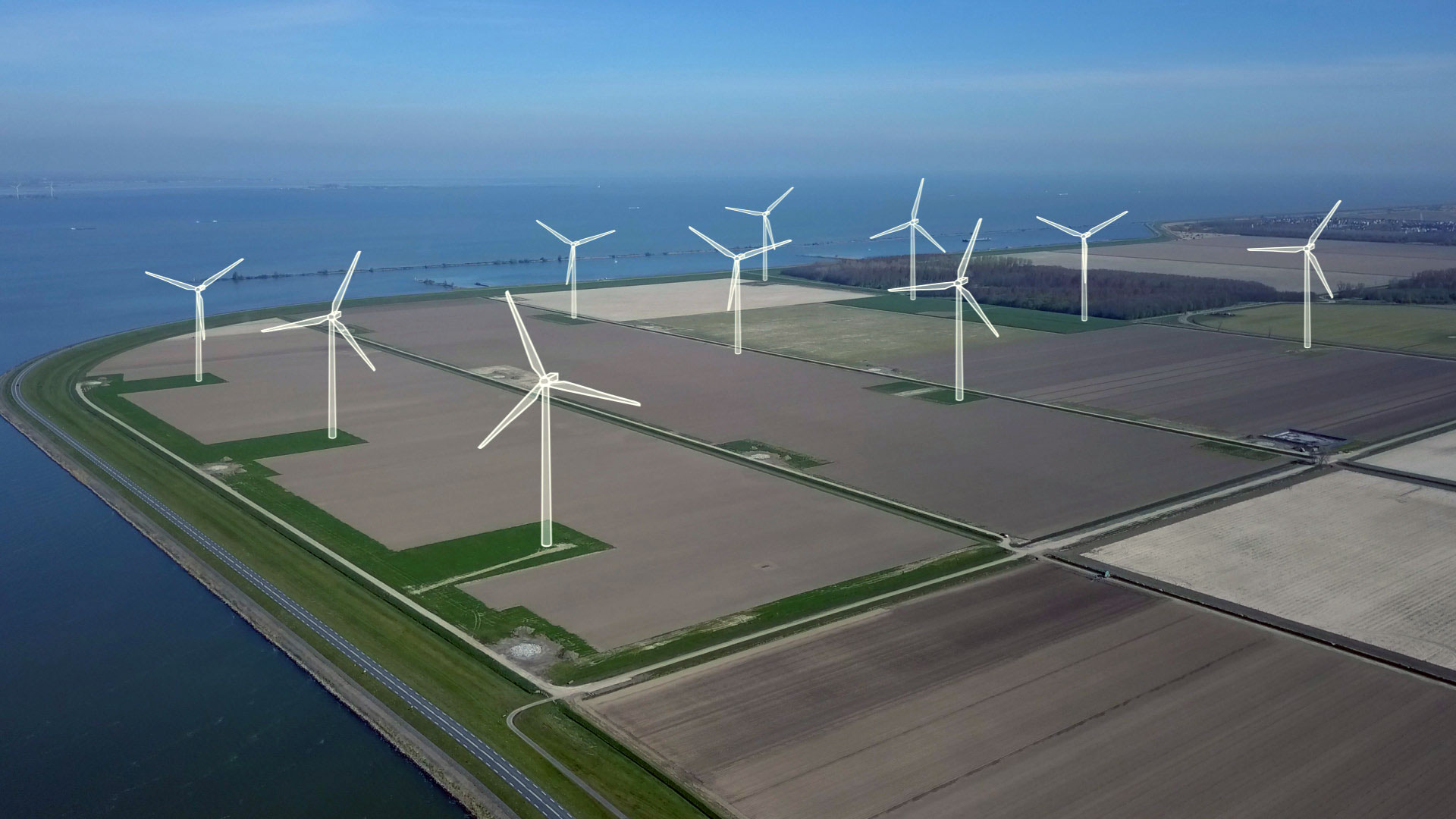 Sådan her kommer vindmølleparken snart til at se ud. Foto: Jorrit Lousberg
Energikooperativet Almeerse Wind
I 2000 blev de første vindmøller installeret nær Almere, og planen var, at de skulle blive stående frem til 2015 på grund af den forventede opførelse af et nyt boligområde. Men byggeplanerne blev udskudt til efter 2035, og kommunen gav derfor tilladelse til at ombygge den eksisterende vindmøllepark. Planerne blev udarbejdet i samarbejde med det lokale energikooperativ Almeerse Wind.
Vattenfalls Asset Development Manager, Joost de Gooijer, som er ansvarlig for udviklingen af vindmølleparken, har været involveret siden 2017: "Vattenfall får ansvaret for udviklingen af vindmølleparken, og Almeerse Wind får ansvaret for support til den. Det er et sympatisk initiativ: Vi hjælper med at gøre det muligt for indbyggerne i Almere at få fordel af vindmølleparken fremover."
"I de kommende år vil vi opleve flere af den slags initiativer, hvor vi udvikler og driver en del af en vindmøllepark via lokalt ejerskab. Derfor vil vi oftere komme til at samarbejde med lokale ejere om udviklingen af vindmølleparker, og det her projekt er en god mulighed for at hente erfaringer," påpeger Joost de Gooijer.
Inddragelse af lokalbefolkningen
Selvom der ikke er andre vindmølleparker i Holland, hvor det nærmeste hus ligger så langt væk fra vindmølleparken (1,5 kilometer) som i Almere, blev der alligevel arrangeret beboermøder for at informere alle de lokale, præcis ligesom det også gøres i forbindelse med opførelsen af andre Vattenfall-vindmølleparker.
Indbyggerne fra de forskellige boligområder omkring Almere-initiativet fik mulighed for at drøfte placeringen af de ti vindmøller. "Ud over de input, vi fik til beboermøderne, gennemførte Almere Kommune også en digital undersøgelse på 15.000 adresser. I undersøgelsen blev indbyggerne spurgt om fire alternative muligheder for placeringen af vindmøllerne. Til sidst stod det klart, at det var en variant med 10 vindmøller, hvor de eksisterende vindmøller også samtidig ville blive nedtaget, som de fleste valgte. På den måde blev Almere Kommune, Almeerse Wind, indbyggerne fra de omkringliggende områder og vi til sidst i fællesskab enige om de aktuelle ti vindmøller," forklarer Erik van Norren, som er Environmental Manager hos Vattenfall
Lokal entreprenør
Reimert Bouw en Infrastructuur fra Almere blev den vindende kandidat i udbuddet om planlægning, design og pris på vindmølleparken. "Det er rigtigt rart for os, at de kommer fra Almere," siger Hidde Seidel. "Og det er ikke kun deres kontor, men de har også en betonfabrik tæt på byggepladsen."
Reimert scorede også højt på bæredygtighedsaspektet. Hidde Seidel fortsætter: "De har kun brug for få rejsedage, og deres betonfabrik kommer til at genindvinde betonen fra den nedrevne vindmøllepark. Det er noget, der passer rigtigt godt ind i Vattenfalls vision."
Jelle van der Schaaf, som er Project Manager hos Reimert, er stolt over projektet: "Vi er rigtigt glade for, at vi kan spille en nøglerolle i forhold til at forsyne næsten 28.000 af vores 'naboer' med grøn el. Samarbejdet med Vattenfall passer godt sammen med Reimerts ambitioner inden for bæredygtighed; i de senere år har vi i høj grad investeret i viden og kompetencer inden for bæredygtigt entreprenørarbejde. Vi er stolte af, at Vattenfall har set, at det blev afspejlet i vores tilbud, og vi ser frem til et spændende og godt samarbejde."
Fakta om vindmølleparken
10 vindmøller, hvoraf to vil blive ejet af Almeerse Wind efter opførelsen
Tårnhøjde >90 meter, rotordiameter 117 meter, højde til vingespids 149,75 meter
Samlet effekt 38 MW
Mængden af produceret energi svarer til forbruget i omkring 28.000 husstande
Vindmølleparken bliver idriftsat i første kvartal 2021
Hvem var Jaap Rodenburg?
Vindmølleparken er opkaldt efter hollænderen Jaap Rodenburg (1948-1998). I forbindelse med hans arbejde som kampagneleder for Greenpeace engagerede han sig i meget høj grad i vindkraft.
Ekstra finansiering
Staten ejer den jord, vindmølleparken bliver bygget på, og det betaler Vattenfall en årlig afgift for. 50 % af beløbet går dog ikke til staten, men til fire andre parter: provinsen, kommunen, naturreservatet for Flevo-landskabet og en nærliggende rideskole.
Den aktuelle situation
De gamle vindmøller er alle blevet nedtaget, og i sommerens løb blev anlægs- og elarbejdet igangsat: Kontorbygningerne vil blive bygget på selve byggepladsen, der skal anlægges veje og bygges fundamenter, og der skal støbes kranunderlag. Det arbejde vil først blive afsluttet engang i første kvartal 2021. I begyndelsen af maj næste år vil de nye vindmøller blive installeret. Tre eller fire måneder senere – afhængigt af vejret – vil vindmøllerne være