Vattenfall har taget den endelige investeringsbeslutning for Hollandse Kust Zuid 1-4 og fortsætter dermed med opførelsen af det, der vil blive verdens største havmøllepark.
Med en installeret effekt på 1.500 MW vil Hollandse Kust Zuid være verdens største havmøllepark af sin art, når den er fuldt idriftsat i 2023. Den kommer til at producere elektricitet svarerende til det årlige forbrug i over to millioner hollandske husstande.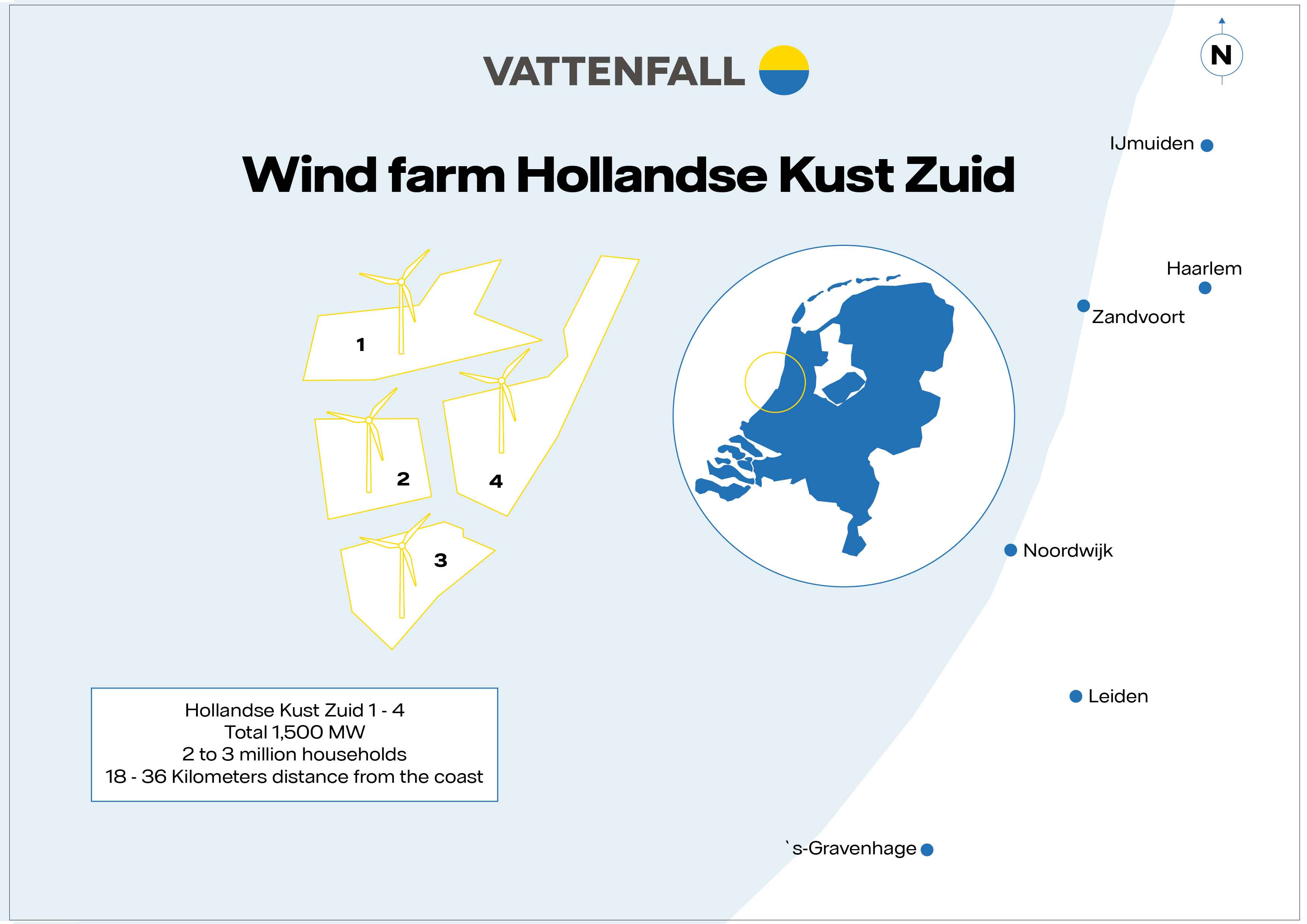 Vattenfall fik tilladelse til at opføre Hollandse Kust Zuid efter at have vundet to udbudsrunder uden støtte i 2018 og 2019. De to projekter er blevet slået sammen til én vindmøllepark for at optimere processen.
Det er et helt centralt element i løsningen af klimaforandringerne, at transport, varme og industriprocesser bliver elektrificeret med fossilfri elektricitet.
"Hollandse Kust Zuid-projektet understreger vores engagement i at forsyne Holland og Europa med fossilfri elektricitet. Derudover viser den endelige investeringsbeslutning, at vores engagement for at nå vores mål om at gøre det muligt at leve fossilfrit inden for én generation er uændret til på trods af COVID-19-pandemien," siger Magnus Hall, Vattenfalls CEO.
I 2023 vil Hollandse Kust Zuid levere en tredjedel af den samlede installerede effekt fra havmølleparker i Holland, og dermed yde et betydeligt bidrag til den hollandske regerings mål for vedvarende energi.
"Hollandse Kust Zuid vil ikke kun levere fossilfri elektricitet, der er til at betale, til vores private kunder og erhvervskunder. Det er også en stor infrastrukturinvestering, der skaber betydelig økonomisk aktivitet og arbejdspladser i en tid med økonomisk usikkerhed. Takket være det gode samarbejde med vores nationale og internationale samarbejdspartnere er vi godt forberedt på at tage det næste skridt i gennemførelsen af den milepæl som projektet udgør," siger Gunnar Groebler, Senior Vice President i Vattenfall og Head of Business Area Wind.
Både opførelsen, der vil blive påbegyndt på havet i 2021, og driften af vindmølleparken og dens servicefaciliteter vil resultere i betydelige regionale forretningsmuligheder og langsigtede jobmuligheder for højt kvalificerede medarbejdere.
Vattenfall har indgået partnerskaber med følgende leverandører:
Siemens Gamesa, der skal producere vindmøllerne og sørge for delvis installation
Hollandske Sif Group, der skal producere fundamenterne
Hollandske TKF, der skal producere parkinterne kabelsystemer
Prysmian, der skal producere parkinterne kabelsystemer
Subsea 7, der skal sørge for installation af fundamenter og parkinterne kabelsystemer
Swire Blue Ocean, der skal sørge for installation af selve vindmøllerne
Fakta om Hollandse Kust Zuid
Installeret effekt vil blive 1.500 MW, hvilket gør det til verdens største havmøllepark.
Elproduktionen vil kunne dække det årlige forbrug i over to millioner hollandske husstande.
Vindmølleparken kommer til at bestå af 140 vindmøller på 11 MW, der installeres som havvindmøller for første gang.
Området mellem vindmøllerne ude på havet vil være åbent for passage og fælles anvendelse i henhold til de offentlige bestemmelser.
Drift og vedligeholdelse vil blive håndteret fra Vattenfalls nye, topmoderne servicefacilitet i IJmuiden Havn.
Vindmølleparken vil blive tilsluttet to havbaserede transformerstationer, der skal drives af den hollandske TSO, TenneT.
Yderligere oplysninger kan fås ved at kontakte:
Vattenfalls pressekontor på tlf. +46 8 739 5010 eller e-mail press@vattenfall.com