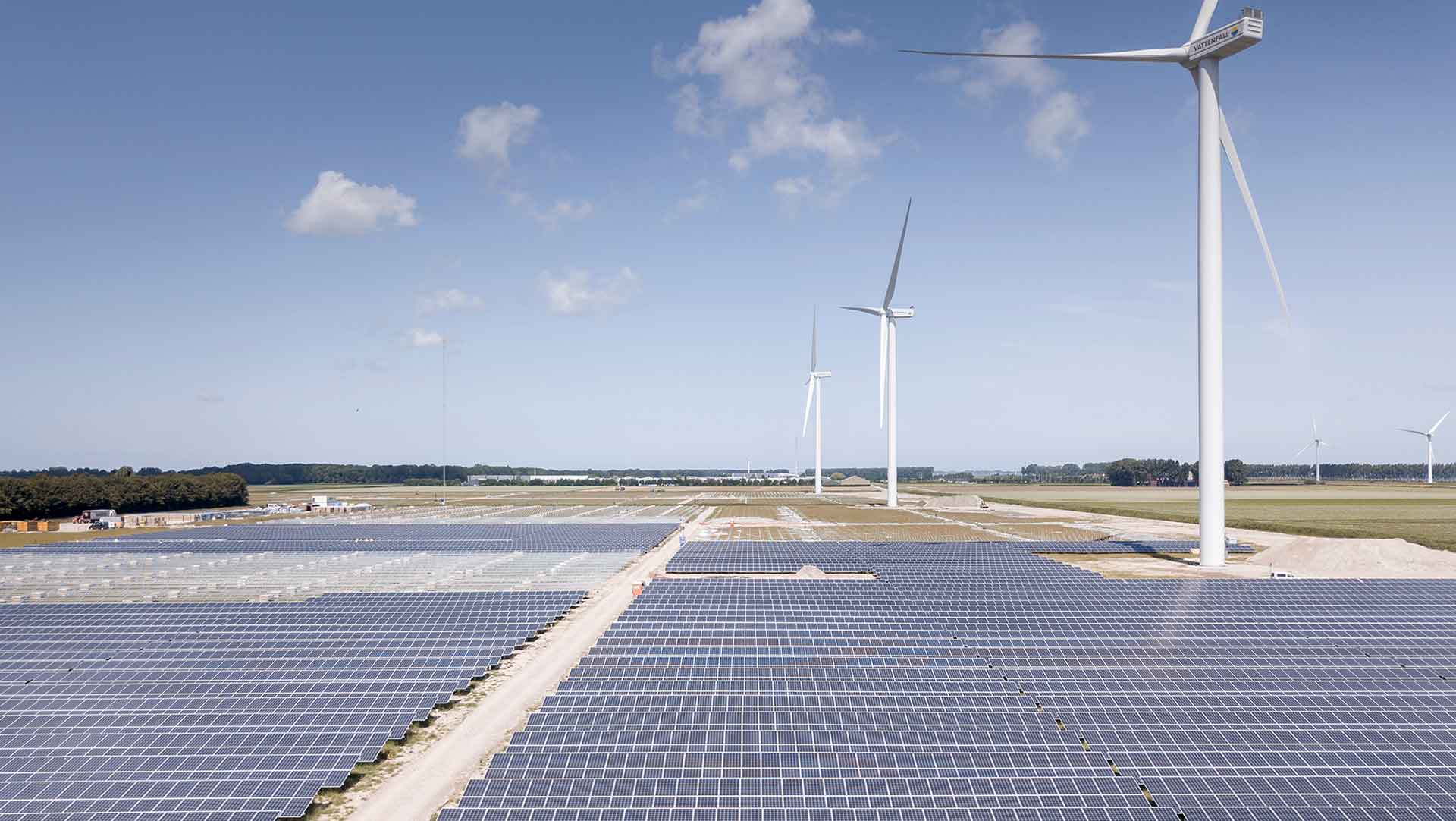 Vattenfalls største hybridenergipark tager form i Holland
I Holland er Vattenfall ved at opføre sin hidtil største hybridenergipark, Energy Park Haringvliet Zuid, der kommer til at bestå af en effektiv kombination af vindmøller, solcellepaneler og batterier.
I det sydvestlige Holland er Vattenfall i øjeblikket ved at opføre virksomhedens største hybridenergipark. Når den står klar til drift, vil energiparken bestå af 6 vindmøller, 115.000 solcellepaneler og 12 transportcontainere med batterier.
Vindmøllerne er blevet opført, installationen af solcellepanelerne blev påbegyndt i juni og batterierne er i øjeblikket ved at blive afprøvet på fabrikken, så de kan være klar til levering i august. Energiparken kommer til at producere en mængde grøn el, der svarer til det årlige forbrug i 39.000 husstande.
Vindenergi, solenergi og batterilagring
"Her på Haringvliet kombinerer vi tre teknologier: vindenergi, solenergi og batterilagring", fortæller Ross Williams, som er Project Manager på Energy Park Haringvliet Zuid. "Vind- og solenergi supplerer hinanden rigtigt godt i forhold til elproduktion. Vindmøllerne producerer mest i de mørke vintermåneder, hvor solcellepanelerne er mindre produktive, og de bedste måneder for solcellerne er om sommeren, hvor vindmøllerne ikke producerer så meget. Det betyder, at når de to produktionsformer deler en enkelt elnettilslutning, kan vi optimere brugen af hele tilslutningskapaciteten oftere hele året igennem og på den måde øge den samlede produktion fra hybridparken med omtrent den samme investering i elnettilslutningen. Batterianlægget leverer så den ekstra service, at vi kan opretholde en balance i systemet i forhold til driftsfrekvens og lagring af overskydende el."
Haringvliet-projektet er specielt, fordi det er det første af sin slags i Vattenfall. Fokus for projektet er at maksimere brugen af vedvarende energi, reducere omkostningerne og sikre så lille miljøpåvirkning som muligt ved at optimere synergieffekterne mellem de tre teknologier.
Opførelsen af vindmøllerne forsinket på grund af coronapandemien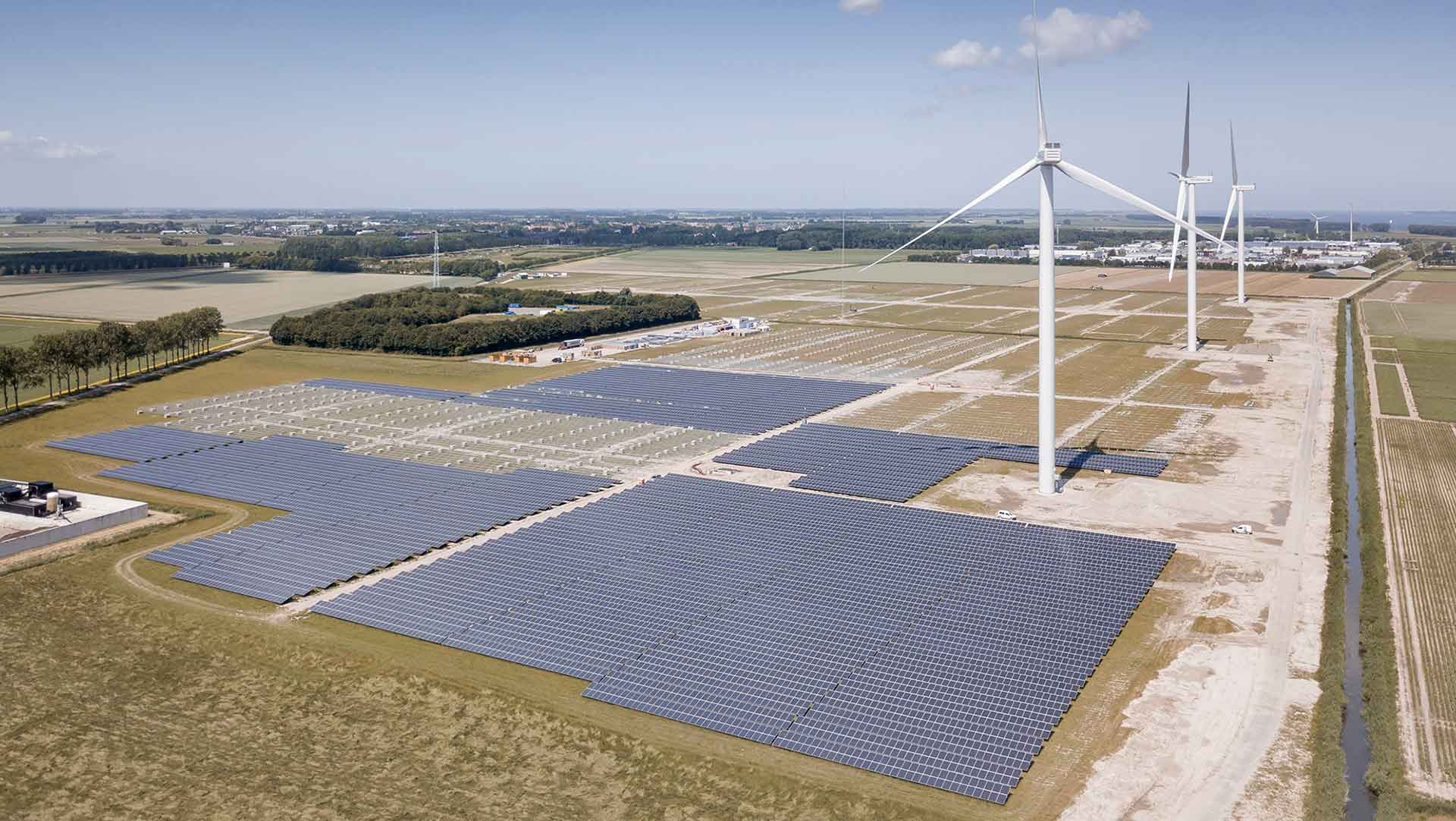 Arbejdet gik i gang i februar 2020, og det tog to måneder at opføre alle seks vindmøller i Energy Park Haringvliet Zuid. Site Manager Leon Graaf: "I vinters havde vi masser af regn og blæst. Og derefter betød udbruddet af coronavirussen, at arbejdet gik langsommere. Normalt tilslutter vi kablerne i teams, der består af tre eller fire kollegaer. Men på grund af bestemmelserne om at holde afstand kunne vi kun bruge to personer ad gangen. I april blev vejret bedre, og det lykkedes os at sætte mere fart på, så vi endte med at begrænse forsinkelserne".
I øjeblikket er vindmøllerne ved at blive afprøvet og optimeret, inden de bliver idriftsat.
Kvalitetskontrol af solcellepaneler og energiparkens design
I begyndelsen af maj 2020 blev de første pæle til solcellepanelerne rammet ned, og derefter blev de første 20 af de i alt 115.000 solcellepaneler i Energy Park Haringvliet Zuid monteret. Når solcellepanelerne står klar, vil de alene kunne forsyne 12.000 husstande med grøn el.
Hermen Visser, som er Construction Manager på solcelleparken, fortæller: "Vi udfører altid en omfattende kvalitetskontrol på de første sæt paneler. Overholder setuppet vores kriterier? Er panelerne monteret korrekt? Når vi har udført kontrollen, kan vi fortsætte. Vi kommer til at arbejde på at færdiggøre de resterende 114.980 solcellepaneler frem til oktober."
Energy Park Haringvliet Zuid er en af Vattenfalls naturinkluderende solenergiparker. I designet af parken har Vattenfall indtænkt den oplevelse, cyklister og gående i området kommer til at få: De blev opfordret til at bidrage med idéer til anlæggelsen af en cykelsti og en udsigtshøj, og solcellepanelerne bliver ikke højere end 1,5 meter, så de forbipasserende kan se hen over dem. I øjeblikket er Vattenfall i gang med at opsætte bikuber.
Batterier giver balance og mulighed for lagring
På fabrikken er leverandøren Alfen i gang med at klargøre 12 transportcontainere, der indeholder 288 BMW-batterier og det nødvendige hjælpeudstyr. Det er samme batterier, der benyttes i elbilen BMW i3. Det 12 MW store energilagringssystem er designet til at opretholde balancen i elnettet, og det kan i fremtiden bruges til lagring af vedvarende energi.
Daan Terpstra, som er Team Lead for Battery Projects i Vattenfall, forklarer: "Alle batterier og andet udstyr bliver installeret i containerne på fabrikken, så der skal laves så lidt arbejde som muligt ude på byggepladsen. I begyndelsen af juni blev batterierne afprøvet, og transport af containerne er planlagt til at blive gennemført denne sommer".
Derudover vil der også blive opført en batteritransformerstation på energiparken, hvor alle anlæg og hele energilagringssystemet tilsluttes resten af energiparken. "Når alle containerne og transformerstationerne står klar og er tilsluttet transformerstationen for hele energiparken, går vi i gang med endnu en testperiode på stedet", fortæller Daan Terpstra.
Ross Williams runder af: "Vattenfalls ambition er at gøre det muligt at leve fossilfrit inden for én generation, og der kommer Energy Park Haringvliet Zuid til at spille en enorm rolle fra 2021 og fremover, når energiparken bliver fuldt funktionsdygtig. Jeg er overbevist om, at vi kommer til at se mange flere energiparker som Haringvliet på alle vores markeder i fremtiden."
Detaljer om solcellepanelerne
115.000 solcellepaneler på 38 MW i alt
1.800 tons stål
5 transformatorer
40 hektar land
Detaljer om vindmøllerne
6 vindmøller på 22 MW i alt
Vingerne er 60 meter lange og vejer 12 tons
Højden til vingespidsen er 150 meter
Diameteren på et vindmøllefundament er 17 meter
Detaljer om batterierne
12 transportcontainere
288 BMW-batterier
12 MW lagringsplads