SSAB, LKAB og Vattenfall har påbegyndt opførelsen af et klippehulelager til fossilfri brint til HYBRITs pilotanlæg i Luleå i det nordlige Sverige. Investeringen på omkring 25 mio. euro deles ligeligt mellem holdingvirksomhederne og det svenske energiagentur.
Som led i det fælles initiativ bestående af HYBRIT, SSAB, LKAB og Vattenfall påbegynder Hybrit Development AB opførelsen af et brintlager i Svartöberget for at udvikle lagringsteknologien. Fossilfri brint, der skal erstatte kul og koks, er en afgørende del af teknikken til fremstilling af fossilfrit jern- og stål, hvor udledningen af CO2 stort set vil blive elimineret.
Brintlagre forventes at komme til at spille en meget vigtig rolle i fremtidens el- og energibalancering og i brintproduktion i stor skala. Lagringsanlægget forventes at være klar til at blive taget i brug fra 2022 til 2024.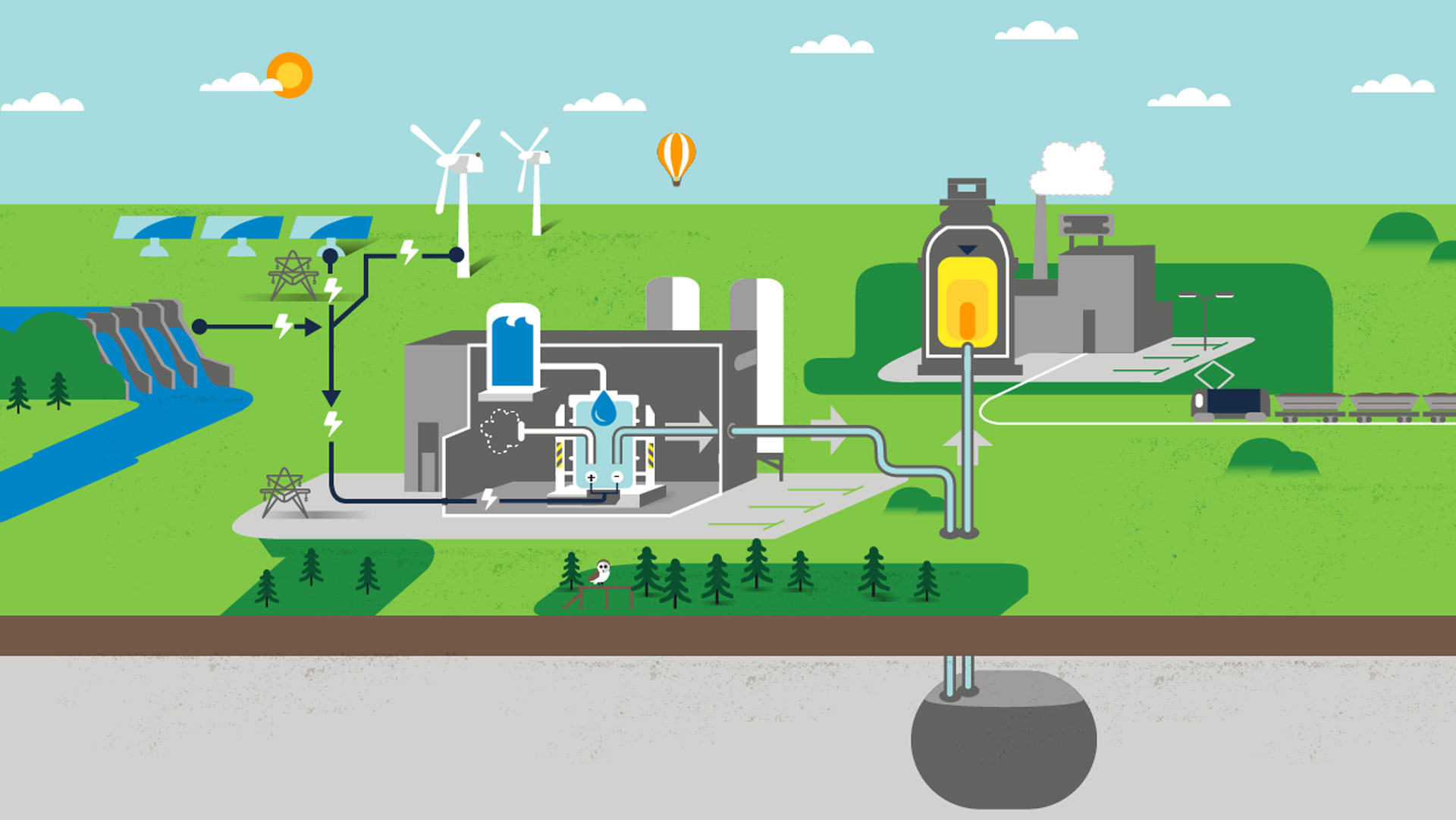 I drift næste år
"Det glæder os meget, at HYBRIT fortsat er førende inden for udvikling af effektiv produktion af fossilfrit stål, nu hvor vi også bygger et pilotanlæg til lagring af fossilfri brint i stor skala i Luleå. Lagring giver mulighed for at variere efterspørgslen på el og stabilisere energisystemet ved at producere brint, når der er masser af el, for eksempel når det blæser meget, og at bruge lagret brint, når elsystemet er under pres," siger Andreas Regnell, som er Vattenfalls Head of Strategy og bestyrelsesformand for HYBRIT.
"Ved at udvikle en metode til lagring af brint og dermed sikre adgang til fossilfri el skaber vi en værdikæde hele vejen ud til kunderne, hvor alt er fossilfrit – fra minen over elforsyningen og frem til det færdige stål. Det her er noget helt enestående," siger Martin Pei, Technical Director i SSAB og medlem af bestyrelsen for HYBRIT.
Største producent af fossilfri brint i Europa
"Det er endnu et vigtigt skridt, ikke kun for os, men i omlægningen af hele branchen. I HYBRIT samarbejder vi også om at udvikle teknologien til effektiv lagring af brint, hvilket er afgørende for at kunne producere fossilfri jernsvamp, som er råmaterialet til fremtidens fossilfrie stål. LKAB sigter mod at blive Sveriges og måske endda Europas største brintproducent i fremtiden, og dette pilotprojekt giver yderligere værdifuld viden til det fortsatte arbejde med at skabe verdens første fossilfri værdikæde for jern- og stålindustrien," fortæller Lars Ydreskog, som er Director of Strategic Projects i LKAB og medlem af bestyrelsen for HYBRIT.
Det 100 kubikmeter store brintlager bliver opført i en lukket klippehule omkring 30 meter under jorden. Opførelsen af det underjordiske lagringsanlæg gør det muligt at sikre det tryk, der kræves for at lagre store mængder energi i form af brint på en omkostningseffektiv måde. Den teknologi, der anvendes, er tilpasset forholdene i det skandinaviske grundfjeld, og den vil blive videreudviklet til at håndtere lagring af brint. Lagringsanlægget opføres i overensstemmelse med de gældende høje sikkerhedskrav og kontrolleres af de ansvarlige myndigheder.
Fossilfri brint er et centralt aspekt af HYBRIT-processen. Brint kan produceres omkostningseffektivt med elektrolyse af vand ved hjælp af fossilfri el. Den brint, der fremstilles af elektrolysatorerne, kan anvendes med det samme eller lagres til senere brug. Lagringsanlægget er baseret på gennemprøvet teknologi, og brinten anvendes i anlæggets reaktor til direkte reduktion til at fjerne ilt fra pelleteret jernmalm. Den fossilfri jernsvamp, der er resultatet af processen, bruges derefter som råmateriale i fremstilling af fossilfrit stål.
Fakta: HYBRIT-projektet
HYBRIT-initiativet blev lanceret i 2016 af de tre ejere; SSAB, LKAB og Vattenfall. Pilotanlægget til produktion af fossilfri jernsvamp i Luleå blev idriftsat den 31. august 2020, og den 24. marts 2021 blev Gällivare valgt som placering for det planlagte demoanlæg til produktion i industriel skala.
Med HYBRIT har SSAB, LKAB og Vattenfall som mål at udvikle en helt fossilfri værdikæde fra mine til færdigt stål ved hjælp af fossilfri pelleteret jernmalm, fossilfri el og brint.
Den teknologiske udvikling, der vil blive gennemført inden for rammerne af HYBRIT-initiativet, skal udfordre etablerede og kommercielt tilgængelige teknologier. Hovedformålet er at eliminere CO2-udledninger fra processen ved at anvende helt fossilfrie indgangsmaterialer og energi overalt i værdikæden. I stedet vil udledningerne bestå af vand.
Hybrit Development AB er en forsknings- og teknologiudviklingsvirksomhed, der skal levere løsninger til anlæggene. Den teknologiske udvikling vil finde sted i tæt samarbejde med holdingselskaberne.
Investeringen på omkring 250 millioner svenske kroner til pilotanlægget til brintlagring dækker også et 2-årigt drifts- og testprogram.
Allerede i 2021 vil HYBRITs pilotanlæg til direkte reduktion kunne producere fossilfri jernsvamp til fremstilling af fossilfrit stål til kundeprototyper.
Initiativet har potentiale til at reducere de samlede CO2-udledninger med 10 % i Sverige og 7 % i Finland. Stålindustrien tegner sig i dag for 7 % af den samlede globale CO2-udledning.
Fossilfri jern- og stålproduktion ved hjælp af HYBRIT-teknologi, svarende til SSABs nuværende produktionsniveau, vil kræve ca. 15 TWh om året. Når omlægningen af LKABs produktion er afsluttet, vil den kræve i alt ca. 55 TWh el om året (herunder størstedelen af SSABs behov). Det vil kræve, at tilladelsesprocesserne om udvidelse af Sveriges elnet bliver hurtigere og lettere.
Den teknik, der benyttes til opførelsen af brintlagringsanlægget, kaldes LRC (Lined Rock Cavern) og indebærer, at væggene i klippehulen dækkes med et omhyggeligt udvalgt materiale, der fungerer som et forseglingslag.
Industriklivet er en langsigtet ordning, som den svenske regering har indført for at støtte Sveriges omstilling frem mod fossilfrihed inden 2045.