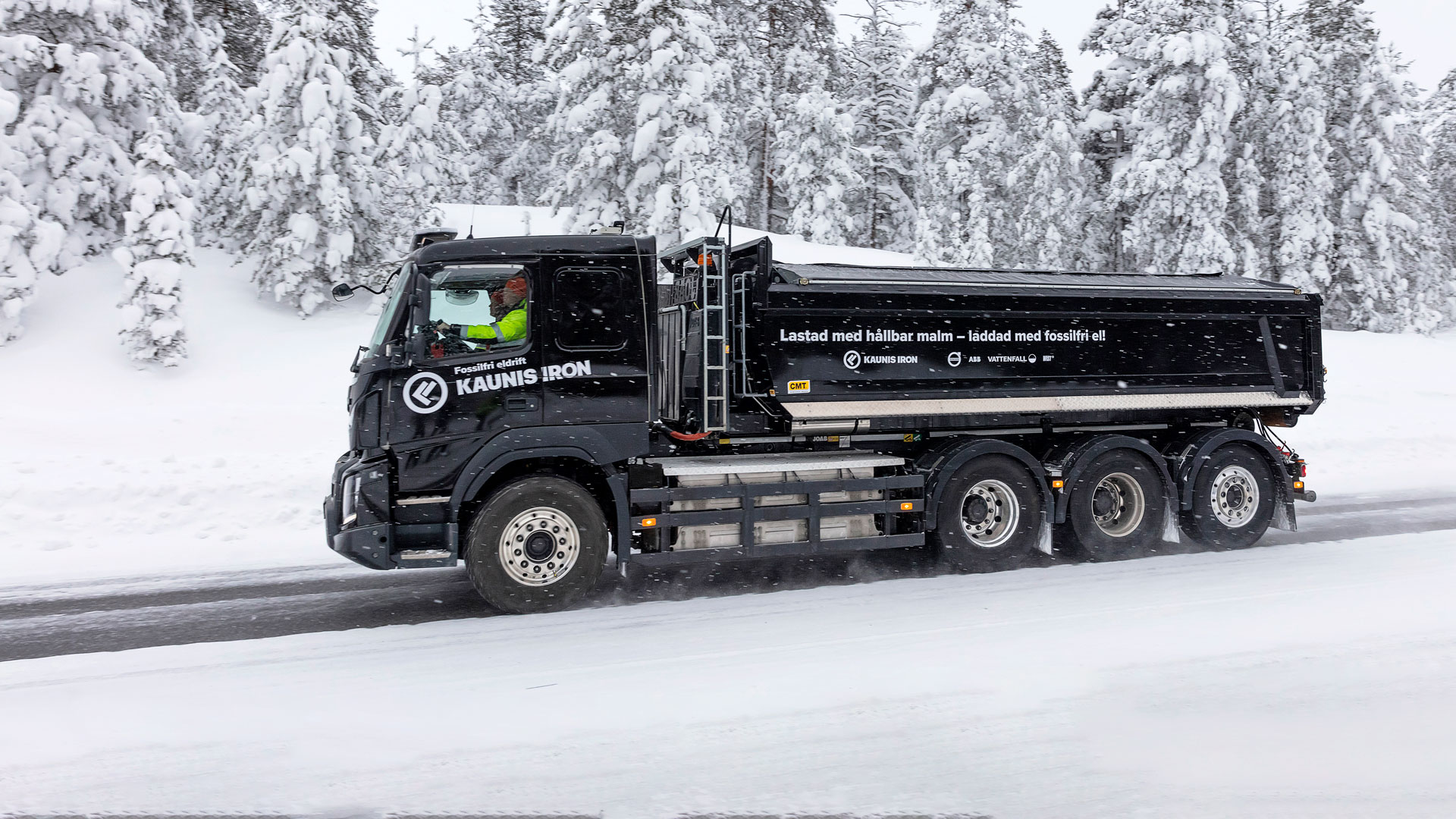 Store, fuldt elektriske lastbiler udfordrer det arktiske klima
Kan tunge eldrevne lastbiler fungerer i 44 °C frost i det nordlige Sverige? Kaunis Iron samarbejder nu med Vattenfall, Volvo Trucks, ABB samt Wist Last & Buss i et unikt pilotprojekt med henblik på at udvikle et bæredygtigt logistiksystem for fremtiden.
Fakta om pilotprojektet
Partnere:
Kaunis Iron, Vattenfall, Volvo Trucks, ABB samt Wist Last & Buss.
Testperiode:
Februar 2021.
Køretøj:
Elektrisk batteridrevet Volvo FMX.
Bruttovægt:
32 tons.
Nyttelast:
Ca. 15 tons.
Transmission:
Fuldt elektrisk, 400 kW, 2-trins gearkasse.
Batteri:
Lithium-ion med en nominel kapacitet på 264 kWh.
Opladere:
ABB leverer tre højtydende opladere, hver på 175 kW. Opladerne kan opgraderes til 350 kW og har CCS-udgange.
Det er Kaunis Irons vision at udvikle verdens mest bæredygtige jernmalm. En af de største udfordringer med hensyn til at opnå dette mål er at reducere CO2-udledningerne fra den tunge malmtransport, som i første instans foregår med lastbiler til den terminal, hvor togene tager over.
En omfattende undersøgelse af forskellige alternativer har resulteret i en pilottest med fossilfri el. Der er nu blevet etableret et klyngesamarbejde med det formål at stable et pilotprojekt på benene i Pajala, som ligger nord for polarcirklen i Sverige.
Kaunis Iron, Vattenfall, Volvo Trucks, ABB samt Wist Last & Buss samarbejder, og projektet er en del af en hensigtserklæring, som Kaunis Iron og Vattenfall undertegnede for nylig for at udvikle elektrificerede, fossilfrie mineaktiviteter.
Lars Wallgren, Logistics Manager, Kaunis Iron:
"Denne type udfordring kan ikke løses af én enkelt interessent. Industriel innovation kræver samarbejde mellem eksperter. Derfor er det glædeligt, at vi har kunnet samle et så stærkt team for at udfordre det arktiske klima med tunge eldrevne køretøjer. Og dernæst bliver det simpelthen endnu en udfordring. Som man siger: "Dem, der går i andres fodspor, kan aldrig tage føringen". Her tager vi føringen sammen. Vi tester således periodisk vores tunge køretøjer i den ekstreme vinterkulde. Hvis teknologien fungerer her, vil den sandsynligvis fungerer overalt."
Maria Lindberg, Manager, Heavy Electrified Transport hos Vattenfall:
"Vores fossilfri elektricitet og serviceydelser i forbindelse med ladeinfrastruktur, hvor vi installerer, driver og vedligeholder opladningsfunktioner, spiller en indlysende rolle i udviklingen af elektrificeret transport, og vi er meget tilfredse med dette samarbejde. Vi har her muligheden for at udvikle et aspekt af fossilfrie mineaktiviteter, et skridt hen imod at opnå et fossilfrit samfund og basisindustri.
Volvo Trucks bidrager med deres egen tunge lastbil, en fuldt elektrisk Volvo FMX-prototype, med henblik på at evaluere, hvordan batterielektriske lastbiler, herunder opladningssystemer, fungerer under arktiske forhold.
Ebba Bergbom Wallin, Commercial Electromobility Manager, Volvo Trucks, Sverige:
"Det er meget værdifuldt for os at kunne udvikle vores produkter i samarbejde med vores kunder. Samarbejdsprojekter med kunder er vigtige i vores produktudviklingsproces. Så det bliver spændende at følge og evaluere Kaunis Irons afprøvning af vores fuldt elektriske Volvo FMX i et arktisk miljø. Den vil hjælpe os med at vurdere, hvordan batterielektriske lastbiler kan anvendes til at øge effektiviteten og mindske klimapåvirkningen under ekstremt kolde vejrforhold."
En del af testen omfatter den ladeinfrastruktur, der skal kunne oplade lastbilen effektivt i driftscyklussen.
Eva Kvist Östgren, Head of EV Charging Infrastructure hos ABB Electrification i Sverige:
"Vi glæder os over at være en del af dette projekt for at teste, om det kan lade sig gøre at køre med tunge køretøjer i ekstreme miljøer med el som eneste energikilde. ABB's tre højtydende opladere anvender gennemprøvet teknologi, de sikrer hurtig opladning og kan anvendes til både tunge køretøjer og biler. Sammen med projektpartnerne leverer vi vigtige input for at minimere brugen af fossile brændstoffer og muliggøre et samfund med lave CO2-udledninger."
Kajsa Friberg, Sales Manager Region North, Wist Last & Buss:
"Wist Last & Buss og Kaunis Iron har en samarbejdsaftale om malmtransport, som strækker sig mange år ud i fremtiden, og hvor udvikling er en hjørnesten i samarbejdet. Erfaringerne fra dette unikke projekt om at nærme sig CO2-neutralitet gennem elektrificering af lastbiler i de mest krævende miljøer vil bringe ny viden til gavn for hele bilindustrien. Vores styrke som etableret Volvo-forhandler med ansvar for hele Nordsverige er vores evne til at tilpasse serviceløsningerne til forholdene. Vi udfører al regelmæssig vedligeholdelse og alle reparationer af malmlastbiler lokalt i Pajala og Junosuando i tæt samarbejde med Kaunis Irons trafikstyringsafdeling. Det sikrer i sig selv den bedst mulige oppetid for køretøjerne, og også testkøretøjet vil være i vores dygtige teknikeres gode hænder."
Links til yderligere oplysninger:
ABB's websted for ladeinfrastruktur til elkøretøjer
Vattenfall: Læs mere om vores ladeinfrastrukturtjenester
Volvo Trucks' websted for eldrevne lastbiler
Kontakt, interviews:
Lars Wallgren, Logistics Manager, Kaunis Iron: +46 70-615 21 70
Maria Lindberg, Director, Heavy Electrified Transport hos Vattenfall, Press Contact: +46 76-769 56 07, +46 8-739 50 10
Ebba Bergbom Wallin, Electromobility Business Manager, Volvo Trucks Sverige: +46 76-553 11 96
Eva Kvist Östgren, Head of EV Charging Infrastructure hos ABB Electrification Sverige: +46 70-608 12 22
Kajsa Friberg, Sales Manager North Region, Wist Last & Buss AB: + 46 70-654 12 07.