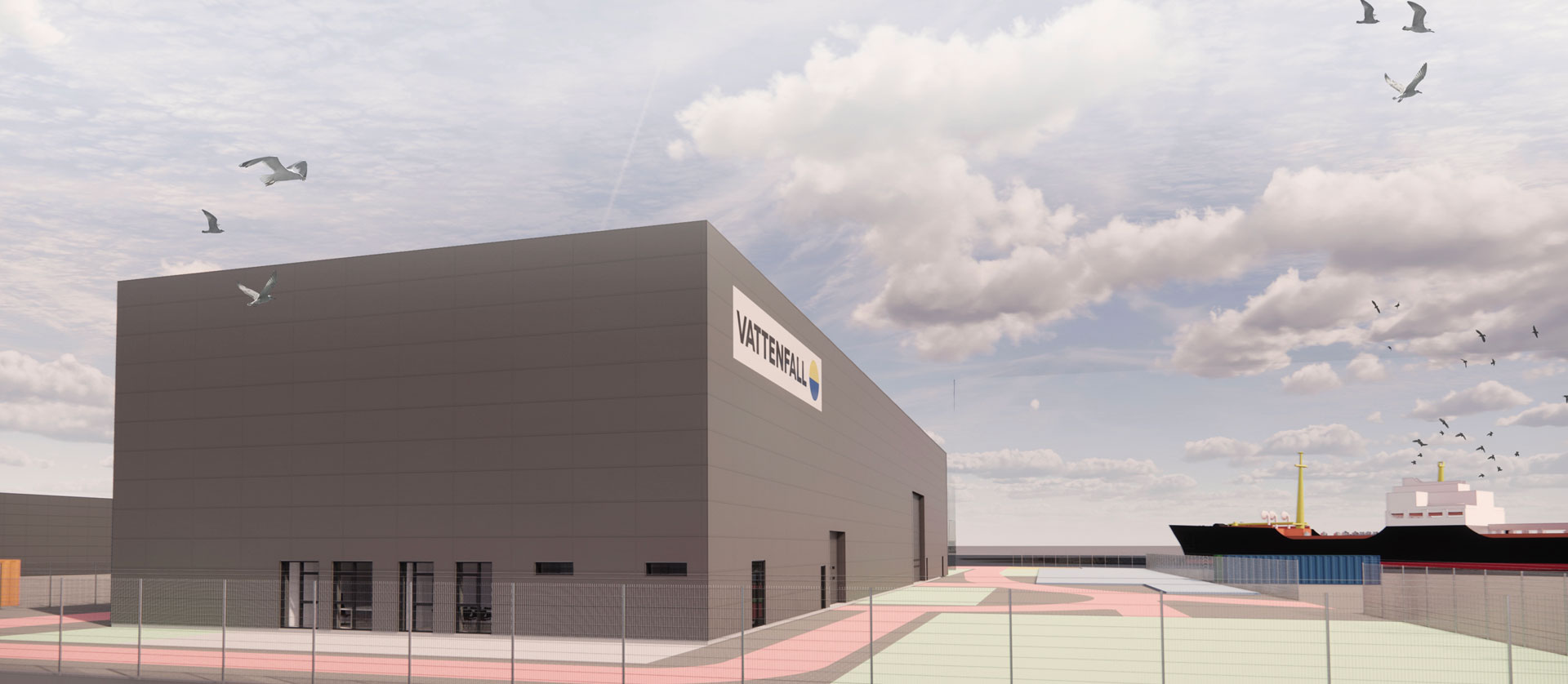 Vattenfall opretter sit største lager i Nordeuropa med kritiske hovedkomponenter og reservedele til vindmøller på Esbjerg Havn. Varelageret skal forsyne vindmølleparker i Storbritannien, Skandinavien og Nordeuropa og vil stå klar til brug i 2022.
Om kort tid går byggeriet af et nyt stort lager på Esbjerg Havn i gang. Det er Vattenfall, som etablerer nye faciliteter på havnen, der skal huse et indendørs lager på i alt 2.100 m2 samt et 8.200 m2 stort udendørsområde.
Det er fra disse faciliteter i Esbjerg, at størstedelen af Vattenfalls vindmølleparker i Nordeuropa skal forsynes med reservedele, fortæller Pia Bonding, Head of Integrated Operations i Vattenfall.
"Esbjerg Havn er det helt rigtige sted for os at placere sådan et lager på grund af den centrale placering i Nordeuropa og den professionelle havnedrift. Det vil give os en stordriftsfordel, frem for at have essentielle hovedkomponenter opbevaret på mindre lokationer rundt omkring og er en vigtig del af vores ambitioner om at se vækst af vindmølleparker på tværs af Nordeuropa," siger Pia Bonding.
Vattenfall driver over 1.300 land- og havvindmøller i Nordeuropa fordelt over parker fra Nordsverige over Danmark til Tyskland og Holland. Allerede i dag overvåges parkerne fra Vattenfalls kontor i Esbjerg og fremadrettet vil byen også være omdrejningspunkt for et centralt lager til disse parker.
Direktør på Esbjerg Havn, Dennis Jul Pedersen, hilser det nye varelager velkomment. Han er især tilfreds, fordi han ser det som en bekræftelse på, at strategien med at udlægge 150.000 m2 i den gamle færgehavn til lignende projekter, er rigtig.
"Det har været et krav fra Vattenfall, at bygningen lå tæt på kajen. Det er en del af havnens strategi at kunne levere netop de muligheder, og den tidligere færgehavn er udlagt til den type aktivitet," siger direktør på Esbjerg Havn, Dennis Jul Pedersen.
Det centrale varelagers formål er at opbevare kritiske hovedkomponenter som gearkasser, generatorer, transformatorer, aksler og vinger samt hovedkomponenterne for at bringe strømmen i land så som array-kabler og koblingsudstyr. Varelageret bliver et supplement til de individuelle varelagre, som fortsat er tilknyttet de enkelte vindmølleparker.
Selskabet Thyborøn Invest, som allerede har erfaring fra lignende byggerier i forbindelse med vindmølleparken Kriegers Flak, skal stå for byggeriet. De kommer til at eje bygningen og vil så udleje den til Vattenfall.
"Esbjerg Havn er en magnet for vindindustrien, og vi tror på, at det vil være en god og langsigtet investering at placere sig her. Der vil i mange år fremover blive brug for store faciliteter," siger Anton Bro, administrerende direktør i Thyborøn Invest.
Borgmester i Esbjerg, Jesper Frost Rasmussen, ser byggeriet som et resultat af det gode arbejde på og omkring Esbjerg Havn.
"Det er dejligt med den her vigtige og strategiske beslutning fra Vattenfall. Vi tror på, at det er endnu et resultat af, at vi i Esbjerg har fået skabt et centrum for vind i Europa, som både nationale og internationale virksomheder har fået øjnene op for," siger han.
Arbejdet påbegyndes ved udgangen af juni måned i år, og byggeriet forventes at stå færdigt ca. ti måneder senere. Herefter skal lageret fyldes op og gøres klar til drift, således at det kan tages i brug i juni 2022.