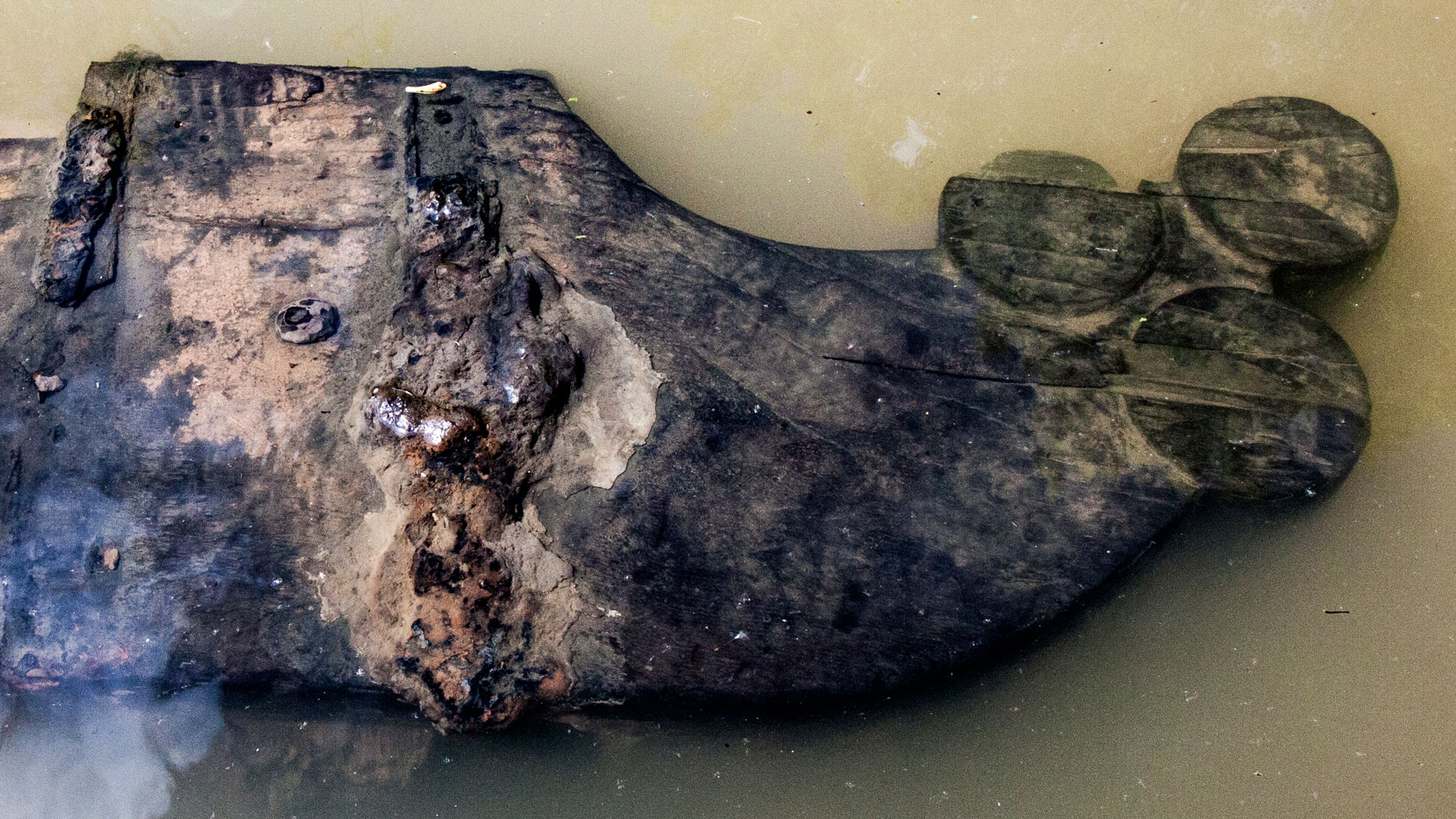 Driehonderd jaar oud scheepsroer gevonden tijdens bouw windpark Kriegers Flak
Tijdens de werkzaamheden om Kriegers Flak voor te bereiden voor Vattenfalls nieuwe windpark zijn meerdere voorwerpen uit de 17e tot de 19e eeuw gevonden die maritieme archeologen nu hebben geborgen voor verder onderzoek.
Wat zich precies in de 18e eeuw heeft afgespeeld, toen het schip zijn roer verloor op Kriegers Flak in de Oostzee, wordt waarschijnlijk nooit opgehelderd. Maar de maritieme archeologen van het Vikingschipmuseum in Roskilde, die het roer hebben opgedoken, hebben nu een beter beeld van het type schip.
Het roer van 8,30 meter lang werd op 28 meter diepte gevonden en weegt 1,2 ton. Het roer heeft een karakteristiek naar voren wijzende roerkop en drie ronde ornamenten boven de roerpen.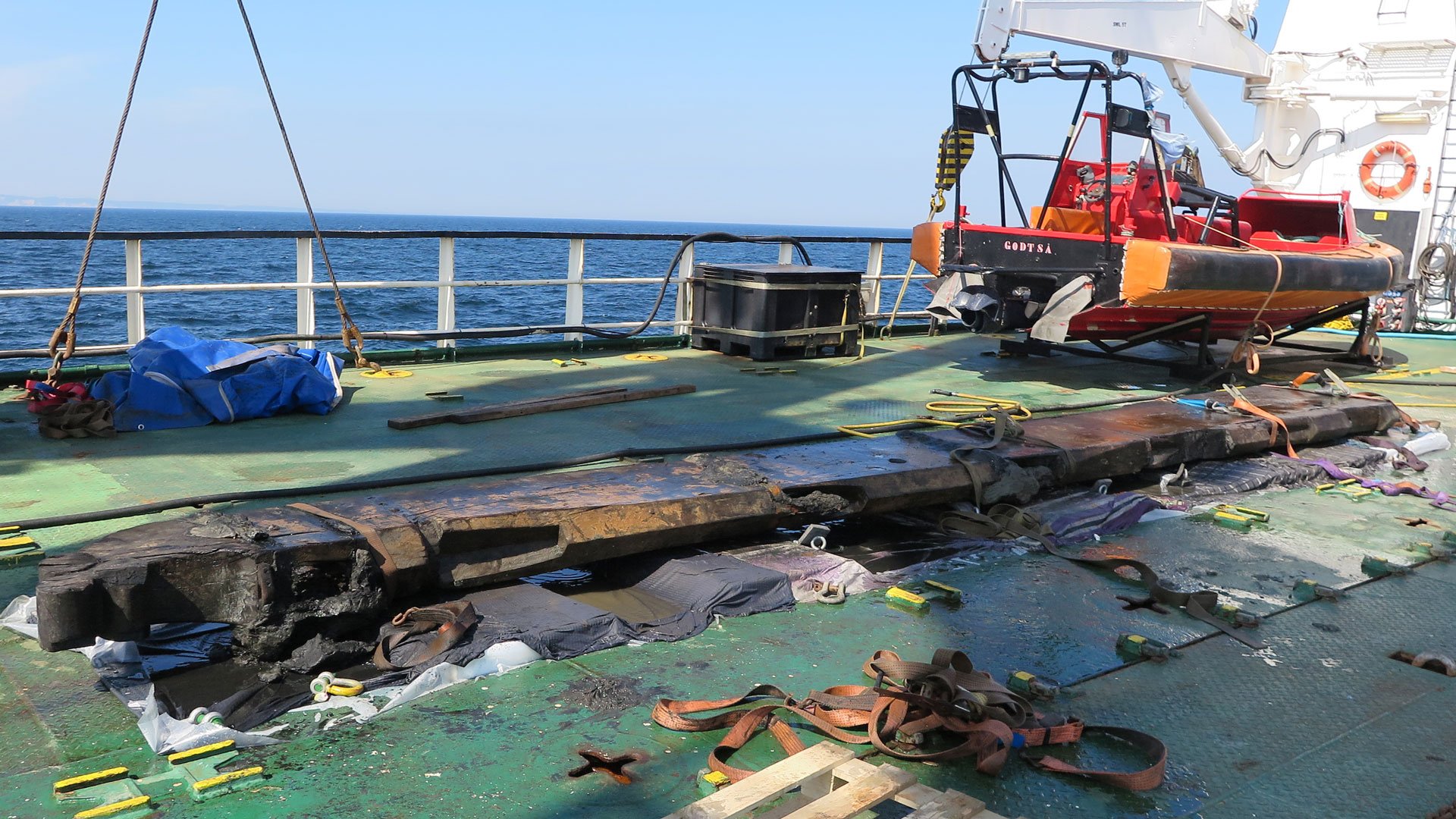 "Toen we de roerkop zagen op de video-opnames van Vattenfall, zijn wij in historische boeken op zoek gegaan naar beschrijvingen en tekeningen van vergelijkbare roeren. En we hadden geluk toen we in een Zweeds naslagwerk uit 1768 op constructietekeningen van een schip een roer zagen dat precies leek op het schip dat wij nu hebben geborgen. Het schip in het boek wordt Hållensk Hummer Hukare – een 'hoeker', genoemd. Het karakteristieke ornament van de roerkop lijkt echter ook op vondsten en afbeeldingen uit de 17e eeuw, bijvoorbeeld op het bekendere scheepstype 'vlieboot'. Beide scheepstypen werden in de 18e eeuw veel gebruikt voor het transport van goederen van bijvoorbeeld Amsterdam naar de dorpen aan de Oostzee", vertelt Mikkel Thomsen, museumconservator en archeoloog van het Vikingschipmuseum en verantwoordelijk voor de vondsten in de zee bij Oost-Denemarken. Ze kunnen meer dan honderd jaar oud zijn en vallen daarom onder de Deense museumwet.
Van ondiepe ankerplaats tot grootste windmolenpark Denemarken
"Wij vermoeden dat Kriegers Flak vanwege het relatief ondiepe water als ankerplaats werd gebruikt. Bij slecht weer werd daar gewacht totdat ze weer de Oostzee op konden varen. Het schip heeft misschien ook onderdeel uitgemaakt van de veelvoorkomende Engelse konvooien rond 1800 in deze regio. Er liggen namelijk opvallend veel ankers in het relatief ondiepe gebied", aldus Morten Johansen, museumconservator en archeoloog en zelf een van de duikers naar het roer.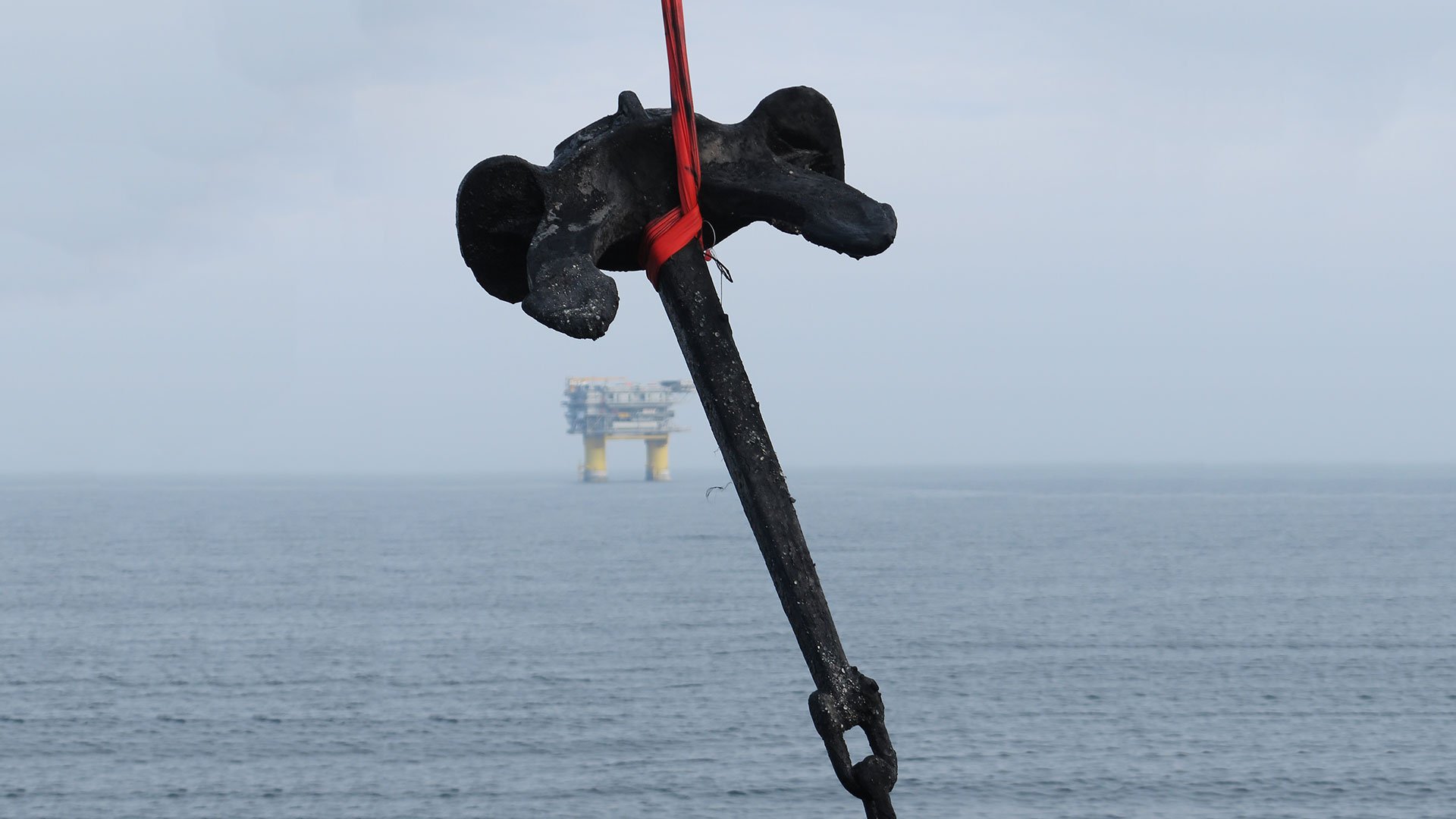 Tijdens Vattenfalls onderzoek werden naast het roer ook een zogenoemd zijzwaard van een ander schip en vijf ankers gevonden. Aan twee daarvan zaten nog lange ankerkettingen. Ze werden op de zeebodem verplaatst voor Vattenfalls bouwwerkzaamheden.
Het feit dat Kriegers Flak fijnmazig wordt uitgekamd op historische voorwerpen is te danken aan Vattenfall, die op de zandvlakte het grootste windmolenpark van Denemarken bouwt met een capaciteit van 600 MW als het eind 2021 volledig in productie is genomen.
Mijnen, bommen en historische scheepsonderdelen
Senior geofysica Dorthe Reng Erbs-Hansen, bij Vattenfall verantwoordelijk voor zeebodemonderzoek, legt uit: "Bij elk windmolenpark moet de zeebodem eerst onderzocht worden op voorwerpen die meer dan honderd jaar oud zijn en onder de Deense museumwet vallen. De Deense systeembeheerder Energinet is op Kriegers Flak verantwoordelijk voor het onderzoek in het hele gebied, maar toen we de zeebodem op de plek waar de windmolens komen onderzochten op onontplofte mijnen en bommen, ontdekten we een Duitse dieptebom, een mortier en ook andere metalen voorwerpen. De specialisten op het schip die het onderzoek verrichtten, stelden vast dat een aantal daarvan waarschijnlijk onder cultureel erfgoed vielen, onder andere omdat ze uit hout en metaal bestonden. De informatie daarover stuurden wij naar het Vikingschipmuseum."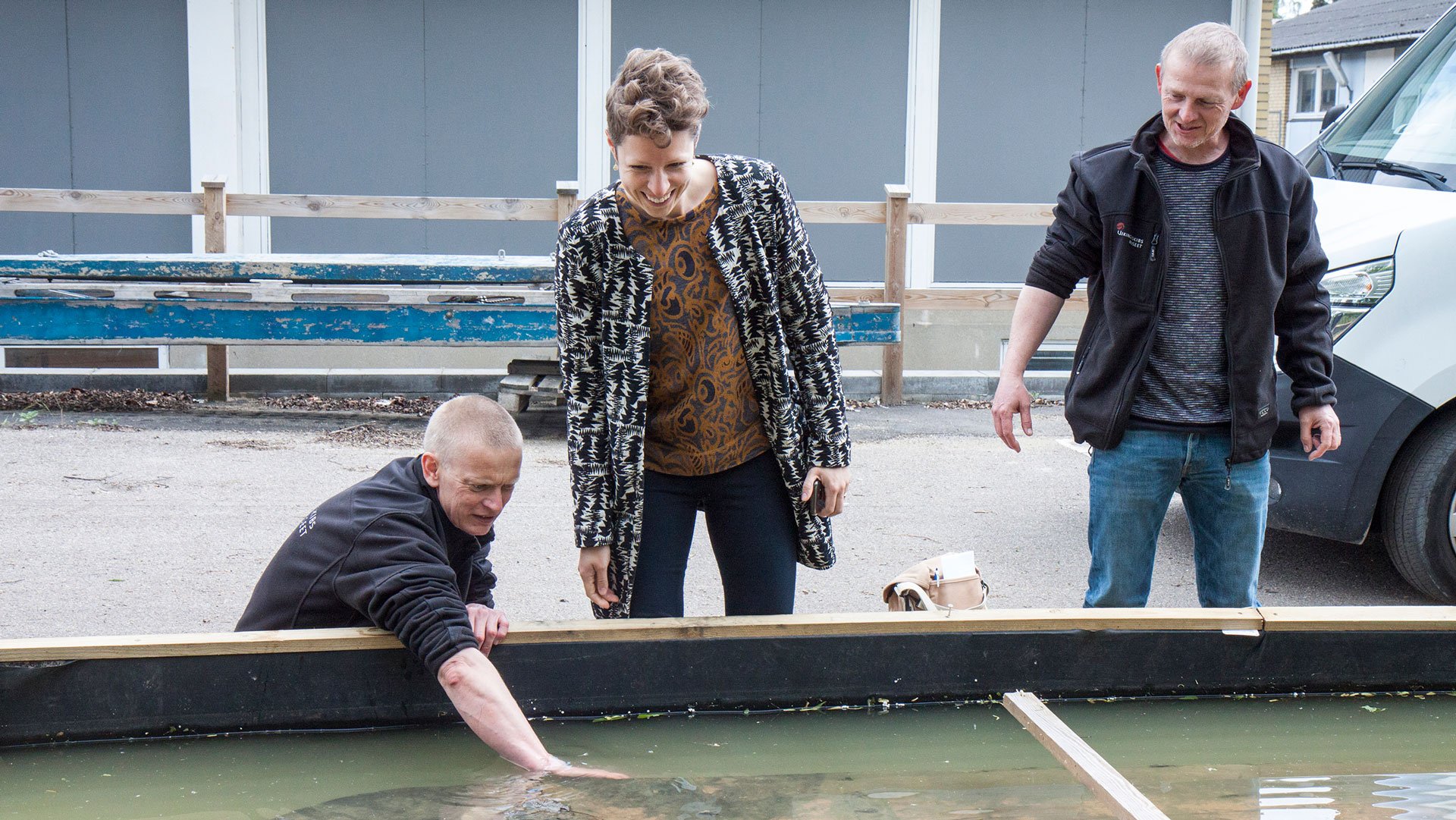 Museumconservatoren en archeologen Mikkel Thomsen en Morten Johansen bekijken met Vattenfalls senior geofysica Dorthe Reng Erbs-Hansen het grote scheepsroer.
Volgens de archeologen is het gebied bij Kriegers Flak nu een van best onderzochte gebieden van de Deense zeebodem. Tijdens de hiervoor genoemde onderzoeken zijn in totaal 118 mogelijke cultuurhistorische voorwerpen bekeken en daarvan zijn er 22 potentiële historische overblijfselen. Drie voorwerpen zijn geborgen: het roer, het zijzwaard en een mast, die werd geborgen voor de bouw van het transformatorstation van het park. Twee ankers zijn verplaatst buiten het gebied waar de werkzaamheden plaatsvinden.
De archeologische werkzaamheden zijn nu klaar en het Vikingschipmuseum zal Slots- og Kulturstyrelsen adviseren het gebied vrij te geven. Met uitzondering van een aantal aangewezen zones rond de gevonden, maar niet geborgen, historische overblijfselen.
"Vattenfall heeft op juiste wijze gehandeld en ons laten zien wat ze tijdens de zoektocht naar explosieven hebben gevonden. Het is een schoolvoorbeeld van goede samenwerking tussen de autoriteiten en aannemers", onderstreept Mikkel Thomsen.
Ringen van het hout helpen met datering
De archeologen gaan nu verder met de nauwkeurige datering van de vondsten. Er vindt onder andere een zogenoemde jaarringdatering plaats, waarbij een proef van elk voorwerp wordt vergeleken met een soort 'streepjescodebibliotheek' van jaarringen uit bijvoorbeeld Scandinavië, Nederland en Engeland. Met wat geluk is er een match en kunnen we vaststellen waar het hout vandaan komt en uit welke tijd het stamt.
Een andere manier om vast te stellen uit welk land het schip afkomstig is, is de afmetingen exact nagaan en kijken of ze bijvoorbeeld passen bij Engelse, Nederlandse of Zweedse meeteenheden.
Wat gebeurt er met de voorwerpen?
De voorwerpen die geen belemmeringen vormen voor het windmolenpark en in de zee blijven liggen, worden afgeschermd middels een beschermingsgebied. Er zijn drie mogelijkheden voor de geborgen voorwerpen waarvan is vastgesteld dat ze bewaard moeten blijven als de archeologen van het Vikingschipmuseum alle gegevens over de voorwerpen hebben verzameld.
De voorwerpen worden geconserveerd en opgenomen in een museumverzameling waar ze eventueel tentoongesteld worden.
Wordt er geen afnemer gevonden, dan worden de voorwerpen herbegraven in zee of in vochtige afzettingen op het land.
Ten slotte kunnen de voorwerpen worden afgeschreven.
Vooral in het laatste geval is het belangrijk dat de onderdelen grondig zijn opgemeten en gedocumenteerd, zodat ze digitaal kunnen worden herenigd met de rest van het schip, mocht dit later worden gevonden. De digitale 3D-opnames kunnen bovendien de basis vormen voor bijvoorbeeld een virtuele tentoonstelling.

Fragment van de tekening uit het boek Architectura Navalis Mercatoria uitgegeven in 1768 door Fredrik Henrik af Chapman, die in zijn tijd een bekende scheepsbouwer was. Hij was onder andere hoofd van de Zweedse vlootbasis in Karlskrona in Zweden. De werf is nu eigendom van het Zweedse Maritiem Historisch Museum.
Over windpark Kriegers Flak
Met een productiecapaciteit van ruim 600 MW wil Kriegers Flak het grootste windmolenpark van Denemarken worden.
De productie van het windmolenpark is goed voor het jaarlijkse elektriciteitsverbruik van 600.000 Deense huishoudens.
De 72 molens zijn elk afzonderlijk 188 meter lang en elk fundament weegt zo'n 800 ton.
Het windmolenpark ligt in de Oostzee op 15-40 kilometer van de Deense kust.
Foto's & copyright: Vikingeskibsmuseet i Roskilde