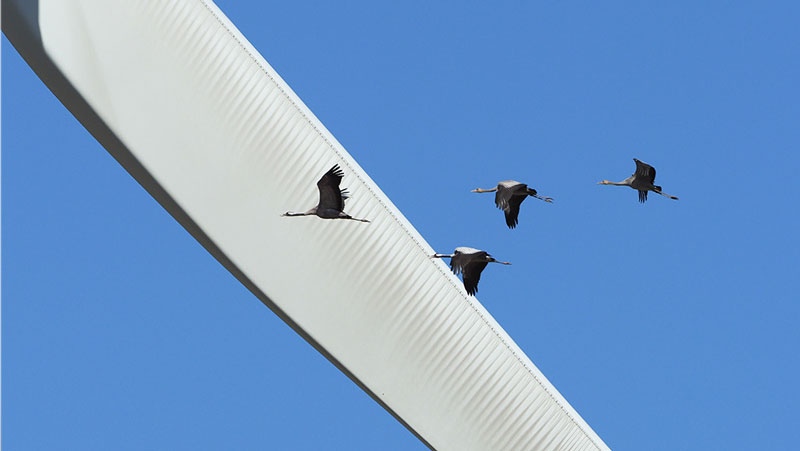 Een nieuw onderzoek naar vogels bij het Klim-windpark in Noord-Jutland in Denemarken toont aan dat vogels veel beter zijn in het vermijden van turbinebladen dan vooraf gedacht. De positieve resultaten bevestigen een groter potentieel voor co-existentie tussen natuur en windparken.
Het nieuwe onderzoek, voor Vattenfall uitgevoerd door twee ervaren adviesbureaus in samenwerking met plaatselijke ornithologen, laat zien dat meer dan 99 procent van de kleine rietganzen en kraanvogels die in het gebied vliegen de turbinebladen vermijden.
Het Klim-windpark bevindt zich in de directe omgeving van het internationale Natura 2000-vogelbeschermingsgebied Vejlerne. Elke dag verlaten duizenden vogels hun overnachtingsgebieden in Vejlerne en vliegen ze naar de nabijgelegen velden om voedsel te vinden, waarbij vele vogels het windpark passeren.
"Het gebied is een belangrijk natuurgebied en vrij bijzonder, omdat 20.000 tot 30.000 kleine rietganzen en enkele honderden kraanvogels hier overnachten. Gedurende de winterperiode vliegen 's morgens en 's avonds duizenden vogels langs het windpark. Daarom is het positief nieuws dat de vogels in zo'n grote mate over of om de turbines heen vliegen. Er zijn bijna geen vogels die de turbines raken, en dat cijfer is aanzienlijk lager dan vooraf werd aangenomen", vertelt Jesper Kyed Larsen, Bioscience Lead van Vattenfall Environment & Sustainability.
Het onderzoek is voor een deel uitgevoerd om te bewijzen dat het Klim-windpark voldoet aan de milieuvergunning, die voorschrijft dat het aantal botsingen niet meer mag bedragen dan 75 procent van de huidige verdedigbare sterftecijfers voor populaties kleine rietganzen en kraanvogels.
Het onderzoek is uitgevoerd over twee tijdvakken, respectievelijk één en drie jaar na de bouw van het windpark in 2015, en het is het tot nu toe uitgebreidste onderzoek dat in Denemarken is uitgevoerd over hoe ganzen en kraanvogels reageren op de draaiende bladen van een windturbine. De focus was om te berekenen hoeveel vogels met de bladen in botsing komen en hoeveel vogels er in het gebied vliegen.
Gedurende drie perioden van iets meer dan een maand in zowel het eerste als het derde jaar, is het gebied rondom 11 turbines iedere drie dagen gecontroleerd op dode vogels, veren of andere sporen van overblijfselen van vogels. Het aantal vogels in het onderzoeksgebied is ook geregistreerd met gebruik van laserverrekijkers, telescopen en radar waardoor het mogelijk was om systematisch de afstand en vlieghoogte te meten en vervolgens een 3D-traject van elke vogel te maken.
De onderzoeksresultaten zijn vooral positief vanwege de groeiende noodzaak om windmolens te plaatsen als onderdeel van de inspanningen om de klimaatverandering te beperken, omdat ze wijzen op het potentieel voor de co-existentie tussen natuur en windparken.
"De resultaten bevestigen dat vogels er verbazend goed in zijn om over of om de turbines heen te vliegen. Dit is positief nieuws, omdat er bijna geen vogels sterven als gevolg van een botsing en ook omdat het betekent dat de bouw van windmolens niet direct met natuurgebieden hoeft te conflicteren. Deze nieuwe kennis moet meegenomen worden bij het plannen van nieuwe windparken", aldus Jesper Kyed Larsen.
De resultaten van het onderzoek worden gepubliceerd in DOF BirdLife, het Deense wetenschappelijke tijdschrift, samen met een 'peer review' om het een professionele betekenis te geven.
Over het onderzoek
Het onderzoek bij het Klim-windpark en het Natura 2000-natuurgebied Vejlerne heeft het aantal potentiële botsingen door vogels vastgelegd door rondom windturbines te zoeken, met aanpassingen voor wat vossen en andere dieren mogelijk hebben verwijderd.
Voor de kleine rietganzen en de kraanvogels kwam de ontwijkende respons gedurende de twee onderzoeksjaren uit op 99,9 procent, gebaseerd op een populatie van respectievelijk 20-30.000 ganzen en enkele honderden kraanvogels.
Er werden geen kleine rietganzen of kraanvogels gevonden waarbij met zekerheid kon worden vastgesteld dat zij waren omgekomen als gevolg van een botsing met de turbinebladen.
Vanwege het voorzichtigheidsbeginsel is in het onderzoek aangenomen dat alle vogels of overblijfselen van vogels die onder de turbines werden gevonden bij een botsing betrokken kunnen zijn geweest.
Door het potentiële aantal gebotste vogels te vergelijken met de in het gebied geregistreerde vogels, is een zogenoemde 'ontwijkende respons' berekend met gebruikmaking van het internationaal erkende Band-model.
Het onderzoek is in opdracht van Vattenfall uitgevoerd door drie erkende adviesbureaus en lokale professionele ornithologen.
Foto: Henrik Haaning Nielsen