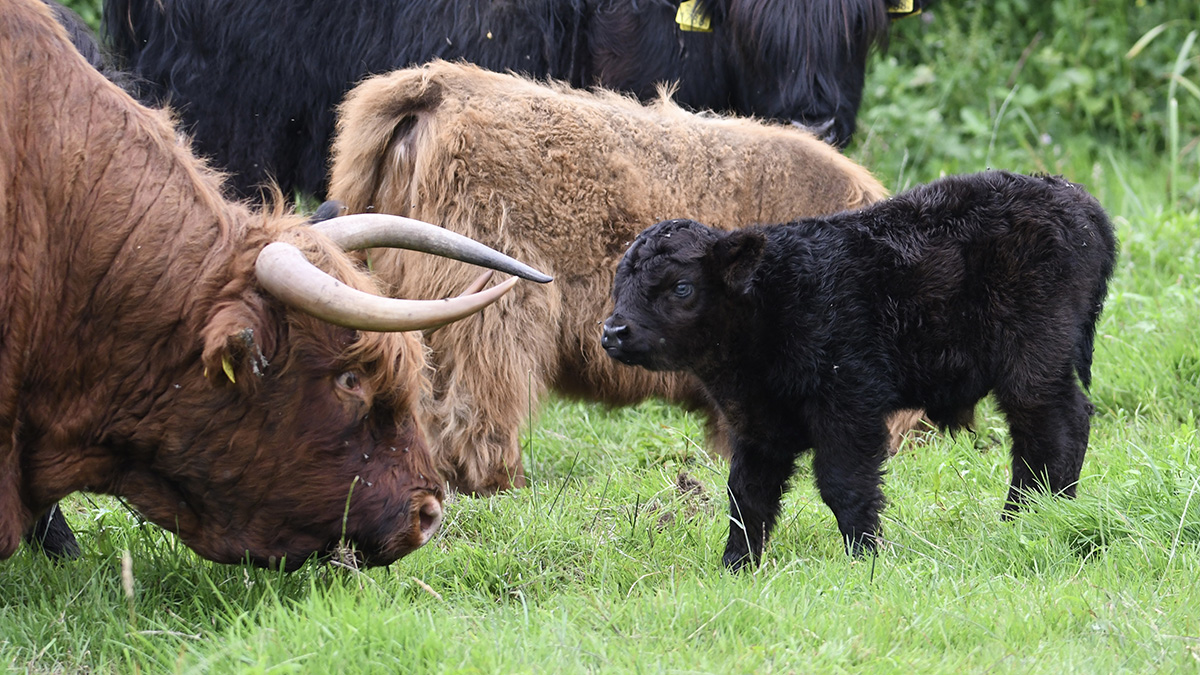 Natuurbeheer rondom centrales werpt steeds meer vruchten af
In de Baai van Ballast, een van de drie natuurgebieden rondom haar centrales in Diemen die Vattenfall sinds de jaren negentig in Diemen deels beheert, is een Schotse Hooglander geboren, een stierkalfje. Schotse Hooglanders begrazen de gebieden die verder zo veel mogelijk met rust gelaten om spontane natuur een kans te geven. Voor het eerst is er ook een bever in het gebied gesignaleerd. Deze bever heeft zich nog niet definitief gevestigd in de Baai van Ballast en is wellicht dezelfde bever die al eerder in het Naardermeer is gezien.
Naast de Baai van Ballast beheert Vattenfall de gebieden Zeehoeve en de Overdiemerpolder in Diemen. Gezamenlijk beslaan de gebieden 21 hectare en jaarlijks wordt geïnventariseerd welke planten, insecten, dieren en (broed)vogels er in het gebied aanwezig zijn. Er wordt daarbij speciaal gelet op pioniersoorten en -vegetatie, zoals de ijsvogel, de krooneend en de plant de kleine valeriaan. Deze staan allemaal op de Rode Lijst van de International Union for Conservation of Nature and Natural Resources. Het aantal soorten stijgt over de jaren, met dit jaar dus een eerste signalering van een bever.
Van grote runderen tot kleine bijen
Op elk van de drie terreinen lopen Schotse Hooglanders die de gebieden begrazen. Het zijn veertien volwassen runderen in totaal met een recente uitbreiding door de geboorte van een stierkalfje in de Overdiemerpolder. Doordat de runderen de grond opentrappen en het eiwitrijke gras eten, is er in de gebieden een gevarieerd bloem- en kruidenbed ontstaan. De bloemen voeden de insecten, de zaden de vogels en de muizen. Met hun mest en hun vacht, waar zaden in blijven hangen, verspreiden de runderen zaden door het gebied. Sinds 2019 huisvest de centrale ook een bijenstal omdat bijen ook een onmisbare schakel vormen door hun bestuiving van gewassen.
Peter Tijnagel, rentmeester bij Vattenfall, is al jaren zeer nauw betrokken bij het beheer van natuurterreinen van Vattenfall: "Bij ons leeft het besef dat wij een zeer kwetsbare 'buurman' hebben in de vorm van een Natura 2000-gebied. Het IJmeer vlak naast de centrale herbergt een grote schat aan natuurwaarden. Het is niet alleen een foeragegebied voor vogels, maar ook steeds meer andere dieren, zoals de ringslang, vinden aan de randen van het meer hun thuis."
De komende periode wordt geprobeerd te monitoren hoe de bever zich door het gebied beweegt en of hij/zij zich daar zal vestigen.
Meer informatie: Diemen Vattenfall | FREE Nature