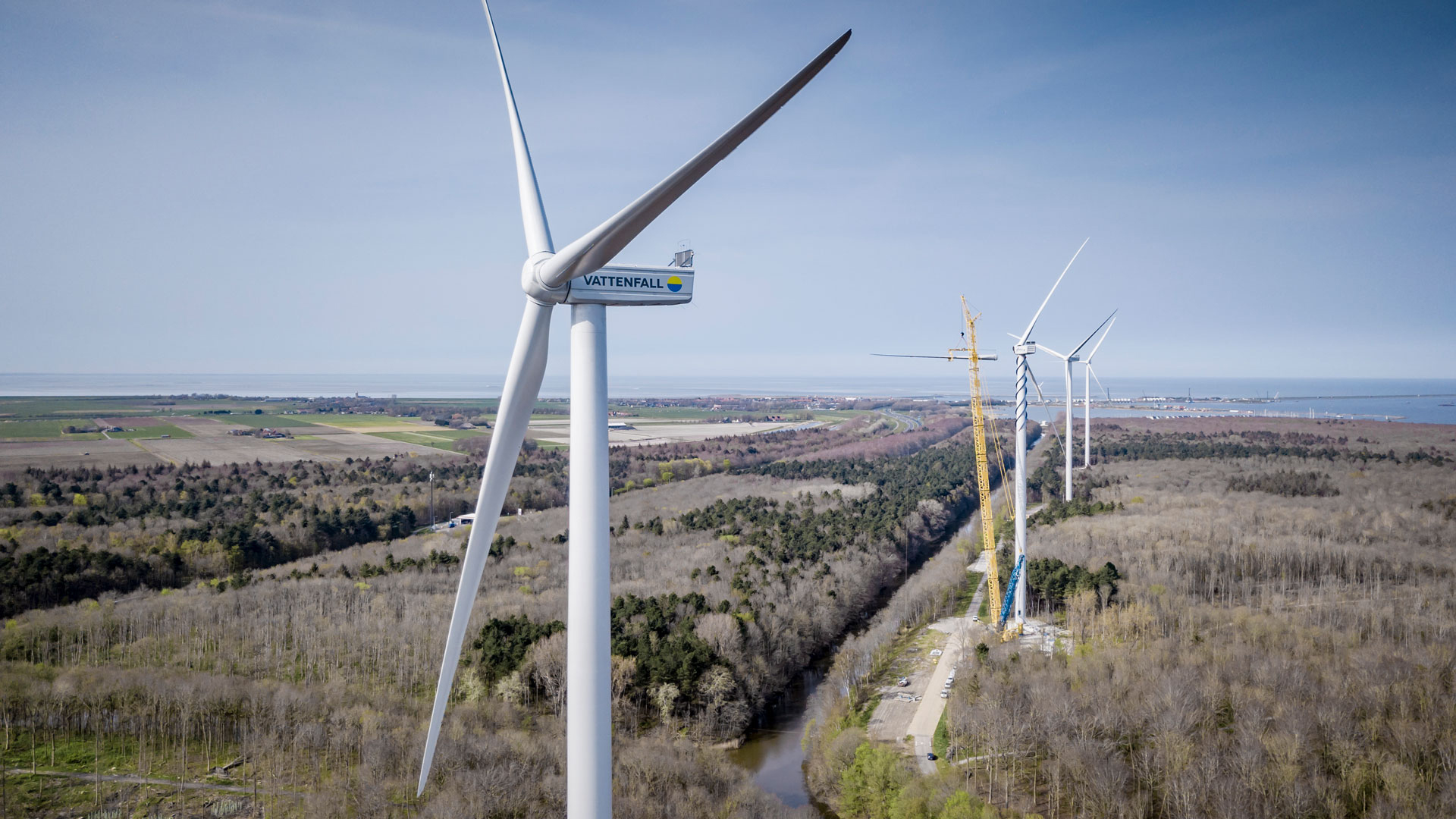 Het bouwen en exploiteren van onshore windparken brengt de nodige uitdagingen met zich mee, die per land en locatie kunnen verschillen. In Vattenfalls maandelijkse projectmeeting komen de meest uiteenlopende situaties aan bod.
Vattenfall is een van de marktleiders in onshore windenergie met meer dan 50 actieve windparken verspreid over Zweden, Duitsland, Nederland, het Verenigd Koninkrijk en Denemarken en met nog eens 11 andere parken, goed voor 1,1 GW, in aanbouw. Vattenfall is ook toonaangevend bij het ontwikkelen van hybride elektriciteitscentrales die de gecombineerde voordelen van wind- en zonne-energie en batterijopslag optimaliseren.
Om de windactiviteiten verder te laten groeien, onderzoeken we nieuwe soorten locaties, businessmodellen en manieren van samenwerken met de omgeving.
Windenergie maakt een snelle groei door. Vattenfall onderzoekt de opties om de CO2-voetafdruk van windmolens verder te verkleinen. In deze video kom je er meer over te weten.
Maandelijkse meeting over de diverse uitdagingen
Iedere maand komen Vattenfalls projectmanagers voor onsite wind samen om elkaar op de hoogte te houden. De uitdagingen die worden besproken zijn nogal divers: van het vermijden van beren en het beschermen van vleermuizen tot het omgaan met onontplofte bommen. Hoewel een groot deel van de bijeenkomsten wordt besteed aan het bespreken van problemen op locaties, kijkt Head of Construction Management Ruben Lindenburg er iedere keer weer naar uit:
"Het is een van de coolste afspraken in mijn agenda, omdat onze projectmanagers met veel enthousiasme vertellen over de vele unieke uitdagingen waarmee ze te maken hebben en hoe ze die willen oplossen."
Veel van deze uitdagingen hebben te maken met de locatie. Hoewel open gebieden, verwijderd van mensen en bebouwing, de meest voor de hand liggende locaties zijn om projecten te bouwen, is er in veel landen waarin Vattenfall actief is steeds minder geschikte ruimte beschikbaar.
Wat zit er onder de grond?
Er worden steeds meer projecten gebouwd in stedelijke gebieden, zoals Nieuwe Hemweg, in het havengebied van Amsterdam, waar zes windmolens zijn geplaatst direct naast een opstelterrein voor treinen en dichtbij de belangrijkste ringweg rond de stad.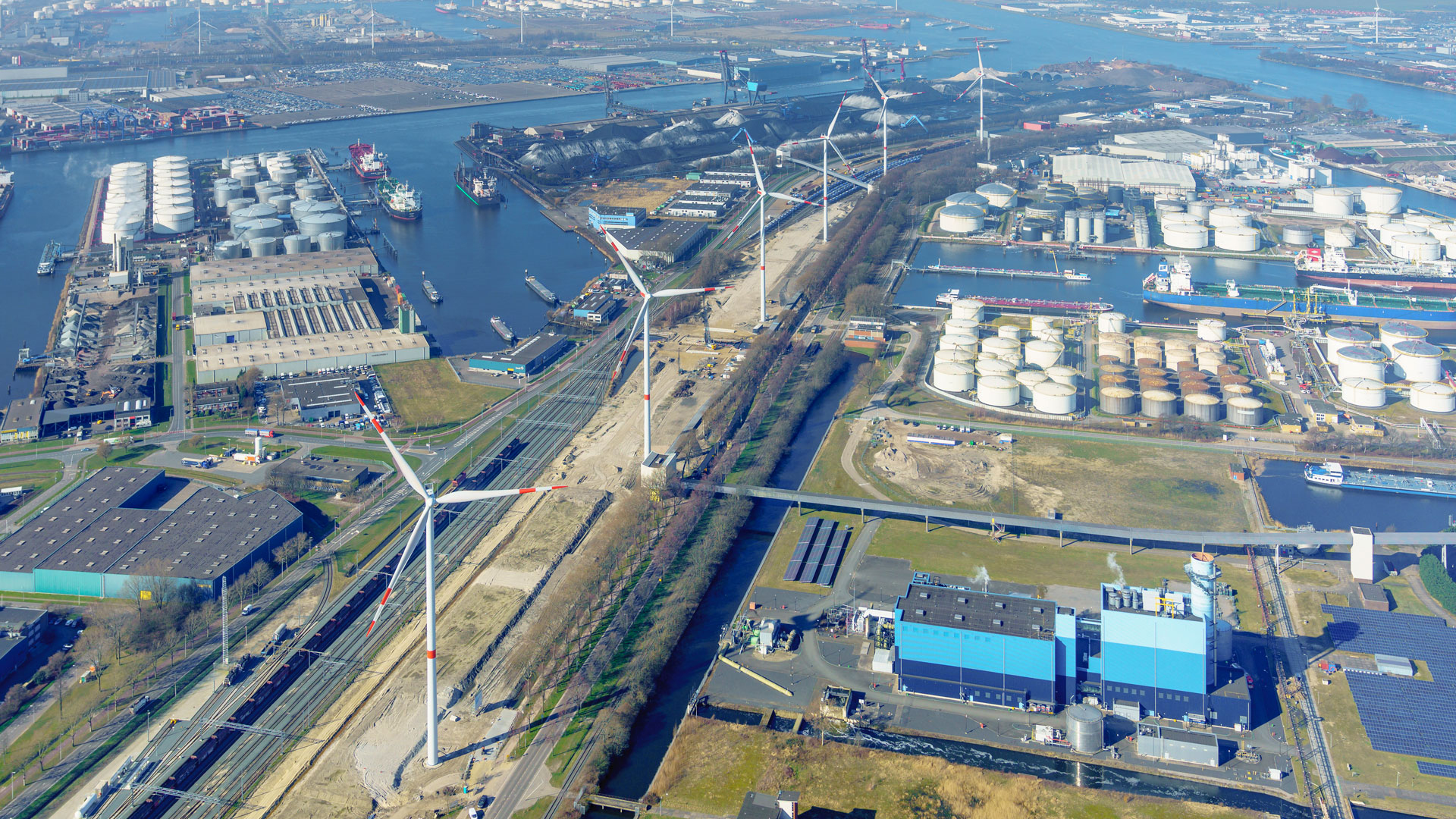 Foto: Vattenfall, Jorrit Lousberg
Voor projectmanager Edwin Holla was het om de gezondheid en veiligheid te garanderen vanaf het begin erg belangrijk om te laten onderzoeken wat er zich op de locatie precies onder de grond bevindt: "In een open veld op het platteland kun je beginnen met graven zonder je teveel zorgen te maken over wat er onder de grond zit. Maar op een industrieterrein is veel verborgen infrastructuur, zoals hogedrukgasleidingen en stroomkabels die we handmatig moeten detecteren voordat we gaan graven. In sommige gebieden is er zelfs de kans dat we onontplofte bommen uit de oorlog aantreffen."
Aangezien de locatie zich dichtbij een druk opstelterrein voor treinen bevindt, bestaat ook het risico van ijsvorming dat van de turbines kan vallen op de mensen die eronder aan het werk zijn. Er is daarom een speciaal ontworpen systeem geïnstalleerd dat met camera's de hoeveelheid ijsvorming op de turbines detecteert, zodat deze indien nodig stilgelegd kunnen worden. Borden, luidsprekers en verlichting waarschuwen de werklui op de grond wanneer ze moeten schuilen totdat het gevaar is geweken.
Omzeilen van het weer
In het noorden van Zweden - waar bruine beren voorkomen – maken de barre winterse omgeving en de lokale rendierhouderij dat zware bouwwerkzaamheden aan het Blakliden-Fäbodberget-project vijf maanden per jaar stil moeten liggen.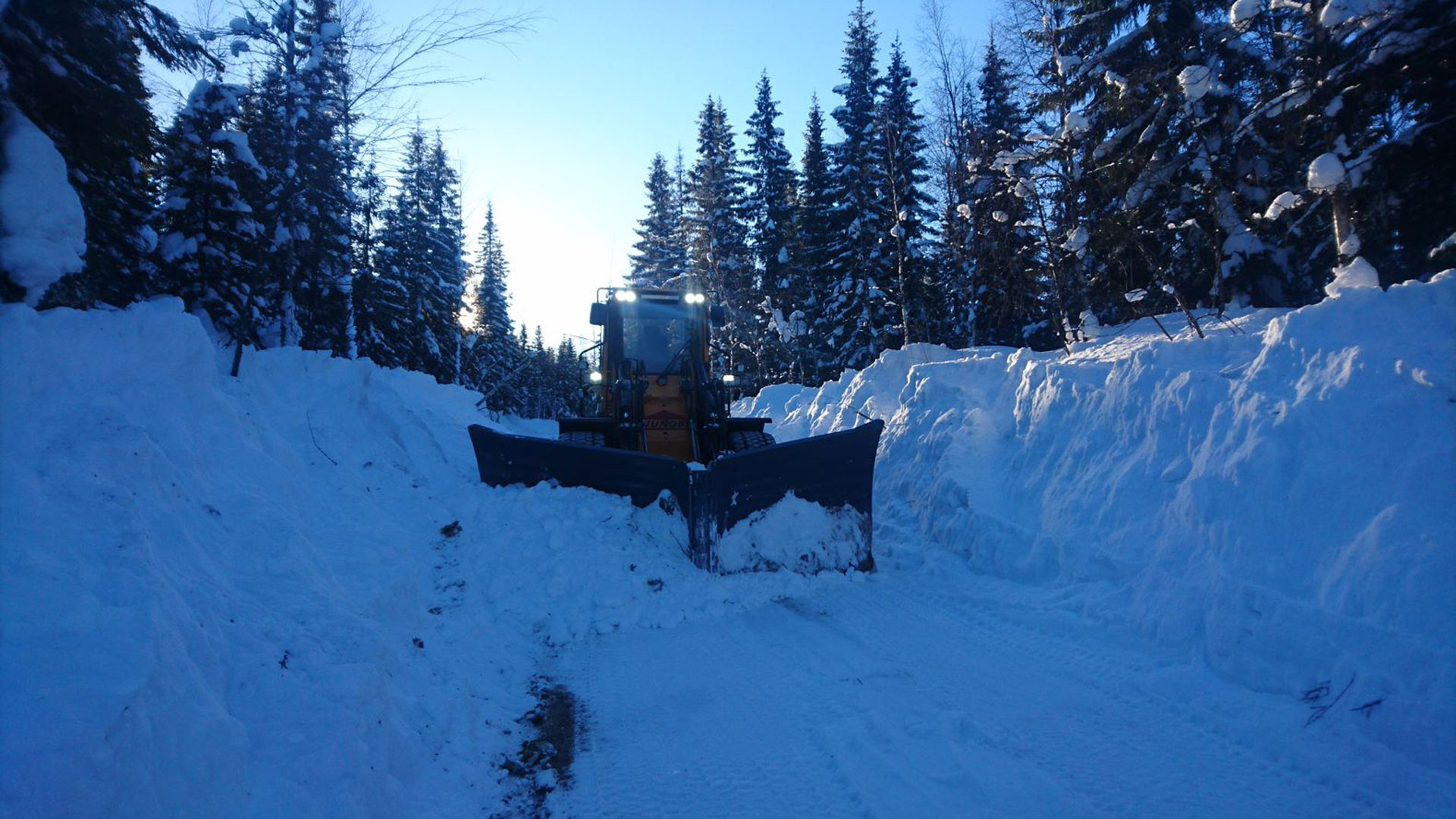 "We hebben deze tijd gebruikt om optimaal te plannen en ons voor te bereiden op een zeer intensieve bouwperiode. We willen namelijk 84 molens installeren in minder dan vier maanden tijd", zegt projectmanager Charlotte Lehmann-Madsen.
De enorme schaal van het project, met vier locaties en 200 hectare, levert ook uitdagingen op. De afstand tussen sommige turbines is bijna 80 km, wat meer is dan bij welk van onze projecten dan ook.
Goede buren voor de natuur
Naarmate we nieuwe locaties verkennen, is het noodzakelijk dat projectteams steeds innovatievere manieren bedenken om te werken in harmonie met de omgeving.
Bij het Prinses Ariane Windpark – het grootste onshore windpark van Nederland – zijn 82 turbines geplaatst, waarvan een aantal in een bosgebied dat door duizenden mensen wordt bezocht en waar verschillende dieren leven.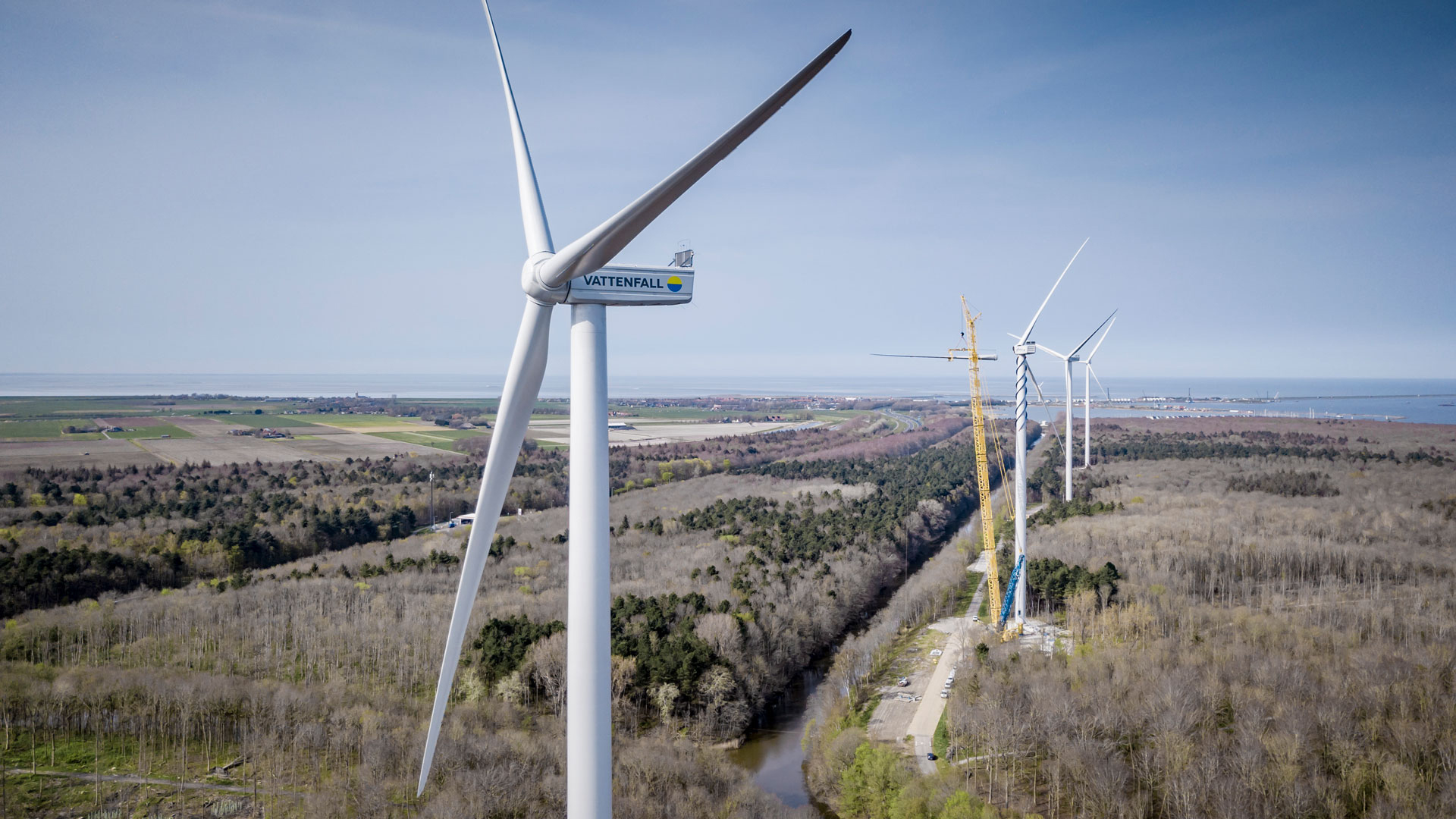 Foto: Vattenfall, Jorrit Lousberg
"Het was belangrijk om heel nauw samen te werken met de bosbeheerder om ervoor te zorgen dat de turbines echt in de omgeving opgaan en om de impact van onze activiteiten op bezoekers tot een minimum te beperken", vertelt Ruben Lindenburg, die naast zijn rol bij de bouw ook projectmanager is op de locatie.
Zo bevinden de funderingsstructuren van de vier turbines in het bos zich onder de grond en zijn ze bedekt met gras.
Het is ook erg belangrijk om de dieren in het bos te beschermen. Hiertoe is een geavanceerd detectiesysteem geïnstalleerd om te voorkomen dat vleermuizen tegen de turbines aanbotsen. Het systeem bewaakt onder andere de luchtvochtigheid en windniveaus en zet de turbines uit op het moment dat het voor vleermuizen de beste tijd is om te vliegen.
Volgens Bryan Wright, Portfolio Director Construction voor Onshore Wind, legt de verscheidenheid van de projecten die momenteel in de steigers staan de nadruk op Vattenfalls kracht, juist op het moment dat er tussen ontwikkelaars meer concurrentie komt voor geschikte locaties.
"Doordat we actief zijn in verschillende markten, weten we hoe we projecten kunnen leveren op uiteenlopende locaties − van bebouwde gebieden tot bossen, op heuvelachtig terrein of onder zeeniveau.
"Je kunt projecten in verschillende landen op veel verschillende manieren aanpakken; wat in het ene land normaal is, vindt men ergens anders misschien heel ongewoon. Door met diverse teams te werken in een aantal landen, profiteren we van de verschillende perspectieven en benaderingen, en kunnen we onze gedeelde kennis gebruiken in al onze projecten", aldus Wright.