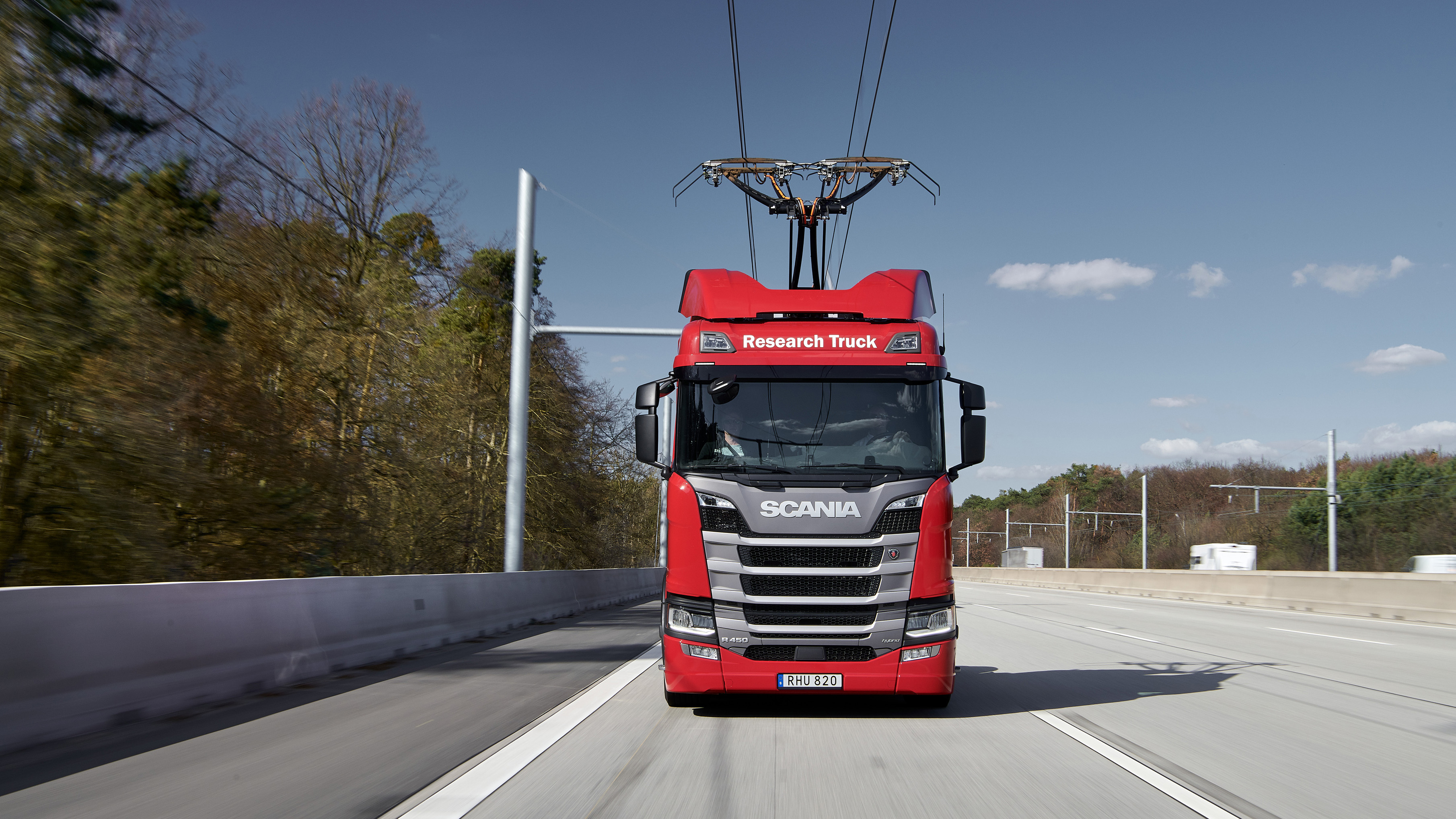 Zweden en Duitsland lopen voorop in de ontwikkeling van elektrische wegen
Duitsland en Zweden lopen voorop als het gaat om praktijkstudies op het gebied van elektrische wegen. Op het Zweedse eiland Gotland is de eerste draadloze e-weg ter wereld aangelegd.
Elektrische wegen zijn een van de technologieën die bestudeerd worden om zwaar verkeer te decarboniseren: binnen een paar jaar kan in Zweden of Duitsland de eerste commerciële elektrische weg werkelijkheid zijn.
Verkeer en vervoer zijn verantwoordelijk voor meer dan een kwart van de wereldwijde uitstoot van broeikasgassen, waardoor het noodzakelijk is om fossiele brandstoffen geleidelijk af te schaffen. Op dit moment neemt het aandeel elektrische voertuigen snel toe en worden oplaadnetwerken zoals Vattenfall InCharge in een steeds hoger tempo uitgebreid.
In het geval van zwaar transport over lange afstanden kan waarschijnlijk niet volstaan worden met het opladen van batterijen in oplaadstations langs de weg. In plaats daarvan kunnen delen van wegen worden geëlektrificeerd, zodat voertuigen tijdens het rijden opgeladen kunnen worden. Op die manier kan de grootte van batterijen verkleind worden, wat gewicht bespaart.
"Vaste oplaadpunten zullen waarschijnlijk gebruikt worden voor lokaal of regionaal transport. Maar voor lange transporttrucks die in Zweden wel 60 ton kunnen wegen, en in bepaalde specifieke gevallen zelfs wel 90 ton, zijn elektrische wegsystemen volgens sommigen essentieel", zegt Colin Stewart, e-mobilityspecialist bij Vattenfall Research & Development.
Draadloze transmissie
Vattenfall participeert in een aantal verschillende projecten om wegvervoer te elektrificeren met als doel om fossielvrij leven binnen één generatie mogelijk te maken.
Buiten Visby, op het Zweedse eiland Gotland, is in december 2020 's werelds eerste draadloze elektrische weg aangelegd. Daar zijn op een openbare weg tussen de luchthaven en het stadscentrum koperen spoelen van 1,5 meter lang onder het asfalt geplaatst. Corresponderende spoelen in het voertuig dragen de elektrische stroom over via zogenaamde inductie, een bewezen technologie die bijvoorbeeld gebruikt wordt bij elektrische tandenborstelladers en ook in moderne kachels.
Vattenfall is een van de deelnemers aan het Smartroad Gotland-project en heeft onder andere een energieopslag geleverd via Power-as-a-service. De grote batterij heeft een vermogen van 240 kilowatt en wordt deels gevoed door zonnecellen.
Het doel van de energieopslag is om de stroompieken van de elektrische weg af te nemen en zo te voorkomen dat het netwerk voortdurend uitgebreid moet worden, bijvoorbeeld met een nieuwe elektriciteitscentrale. In plaats daarvan kan een kleinere elektrische aansluiting worden gebruikt. "Dit is een oplossing die zowel tijd als waardevolle grondstoffen bespaart", zegt Kajsa Roxbergh, business developer bij Vattenfall Network Solutions.
In Duitsland wordt een soortgelijke draadloze elektrische weg aangelegd voor een buslijn in de stad Karlsruhe.
De eerste ter wereld
De meeste projecten op de openbare weg worden in Zweden en Duitsland uitgevoerd. In 2017 zijn beide landen een innovatiepartnerschap aangegaan, met elektrische wegen als een van de samenwerkingsgebieden. Inmiddels maakt ook Frankrijk deel uit van dit partnerschap.
Al in 2016 is 's werelds allereerste openbare elektrische weg in Zweden in gebruik genomen, op een deel van de snelweg E16 tussen Gävle en Sandviken. De e-weg maakte gebruik van een bovenleiding, en de vrachtwagens waren uitgerust met stroomafnemers, vergelijkbaar met een tram.
Tegenwoordig wordt dezelfde technologie gebruikt in diverse succesvolle projecten in Duitsland, waaronder een project in de buurt van Frankfurt am Main. Op een snelwegstrook van 60 kilometer is 5 kilometer uitgerust met een bovenleiding die de vrachtwagens tijdens het rijden oplaadt en zo grote hoeveelheden fossiele brandstof bespaart. Een aantal logistieke bedrijven neemt deel aan dit project en gebruikt elektrische vrachtwagens van de Zweedse fabrikant Scania.
80 procent van het Duitse transport
In Duitsland is in totaal ongeveer 15 kilometer aan elektrische wegen met bovenleidingen aangelegd. Het gaat hierbij misschien niet om lange afstanden, maar schattingen tonen aan dat al door het elektrificeren van een derde van de Duitse snelwegen maar liefst 80 procent van het zware wegvervoer van het land elektrisch zou kunnen worden aangedreven.
De rail wordt automatisch gedetecteerd
Een derde technologie om de wegen van elektriciteit te voorzien is het installeren van een elektrische rail in de rijbaan. Naast de luchthaven Arlanda in Stockholm heeft Vattenfall het project eRoad Arlanda ondersteund, waarbij 2 kilometer van een 10 kilometer lange strook is geëlektrificeerd die gebruikt wordt voor regulier vrachtverkeer.
De korte video laat zien hoe de technologie achter eRoad Arlanda werkt.
Deze korte video laat zien hoe de technologie achter eRoad Arlanda werkt.
De technologie werkt met behulp van een beweegbare arm die de rail in de rijbaan vindt. Zolang het voertuig zich recht boven de rail bevindt, staat de connector in de verlaagde positie. Bij een inhaalactie gaat de connector automatisch omhoog.
Standaardisatie is nodig
"Al deze technologieën hebben voor- en nadelen. Maar voor een succesvolle implementatie in wegtransport over lange afstanden zal een gestandaardiseerde oplossing nodig zijn", verklaart Colin Stewart. "Interoperabiliteit is essentieel om een elektrisch wegennet in verschillende Europese landen te kunnen uitrollen."
Eerste commerciële elektrische weg kan binnenkort werkelijkheid zijn
Wanneer zien we een eerste commerciële toepassing? Naast het kostenaspect moet een aantal belangrijke juridische en technische kwesties onderzocht worden. In Duitsland blijkt uit een onderzoek van het ministerie van Milieu dat 4.000 kilometer aan snelwegen geëlektrificeerd kan worden. De kosten, 12 miljard euro, worden als beheersbaar beschouwd in vergelijking met de plannen van het land om bijna 100 miljard euro te investeren in nieuwe aanleg en uitbreiding van wegen in de komende 10 jaar.
In Zweden heeft de regering de Zweedse Transportadministratie opdracht gegeven een plan te ontwikkelen om vanaf 2030 2.000 kilometer van de drukste wegen van het land te elektrificeren. Dit jaar zal onderzoek uitwijzen hoe elektrische wegen gereguleerd kunnen worden, bijvoorbeeld via bestaande wegregulering, elektrische installaties, elektriciteitsnetwerken en de elektriciteitsmarkt.
"Na dit jaar verwachten we verdere besluitvorming over elektrische wegsystemen ter voorbereiding op een eerste commerciële proef in Zweden. Maar de verwachting is dat het nog wel een paar jaar duurt voordat je de eerste commerciële elektrische wegsystemen ziet. Tot dan zullen proefprojecten en demonstraties de technologie moeten bewijzen", aldus Colin Stewart.
Lees meer over de activiteiten van Vattenfall om de uitstoot van broeikasgassen te verminderen door elektrificatie van transport.
Foto: In samenwerking met het Duitse Siemens is het model R 450 van de Zweedse vrachtwagenfabrikant Scania uitgerust met stroomafnemers. © Scania CV AB