Huib Morelisse wordt de nieuwe CEO van Nuon
Huib Morelisse (45) is benoemd tot CEO van Nuon. Hij zal deze positie per 1 juli 2010 gaan vervullen.
Nuon CEO Øystein Løseth is zeer verheugd met de komst van Huib Morelisse: "We zijn er trots op in Huib mijn opvolger te hebben gevonden. Hij beschikt over een ruime internationale ervaring in de energiewereld en wij achten hem uitstekend in staat om de uitdagende doelstellingen van Nuon als onderdeel van Vattenfall te realiseren. Ik zie uit naar onze samenwerking."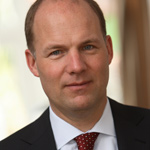 Huib Morelisse vormt vanaf 1 juli samen met Peter Smink (CFO) de Raad van Bestuur van Nuon. Hij heeft vanaf dat moment zitting in het Executive Group Management van Vattenfall als Head of Business Group Benelux.
Huib Morelisse startte in 2002 bij RWE in Duitsland als senior manager Mergers & Acquisitions. In 2005 werd hij Vice President Corporate Strategy. In 2007 is hij in Nederland gaan werken als CEO van de Nederlandse activiteiten van RWE en meest recent als Chief Technology Officer (CTO) van Essent. Eerder werkte Huib Morelisse voor de Energy and Power Group van Goldman Sachs & Co in Engeland en in de Verenigde Staten.
Over Vattenfall
Vattenfall wil een toonaangevend Europees energieconcern zijn. Vattenfall produceert elektriciteit en warmte en levert energie aan miljoenen klanten in Scandinavië en Noord-Europa. De belangrijkste klanten zijn industriële ondernemingen, energiebedrijven, gemeentes, vastgoedmaatschappijen en woningbouwverenigingen.
Over Nuon
Nuon is een energieonderneming die met zesduizend medewerkers drie miljoen consumenten, bedrijven en organisaties bedient in Nederland, België en Duitsland. Een betrouwbare, betaalbare en zo schoon mogelijke energielevering staat daarbij centraal. Nuon produceert en levert gas, elektriciteit, warmte en koude en helpt haar klanten om het energieverbruik te beperken. Nuon is onderdeel van de Vattenfall Group.