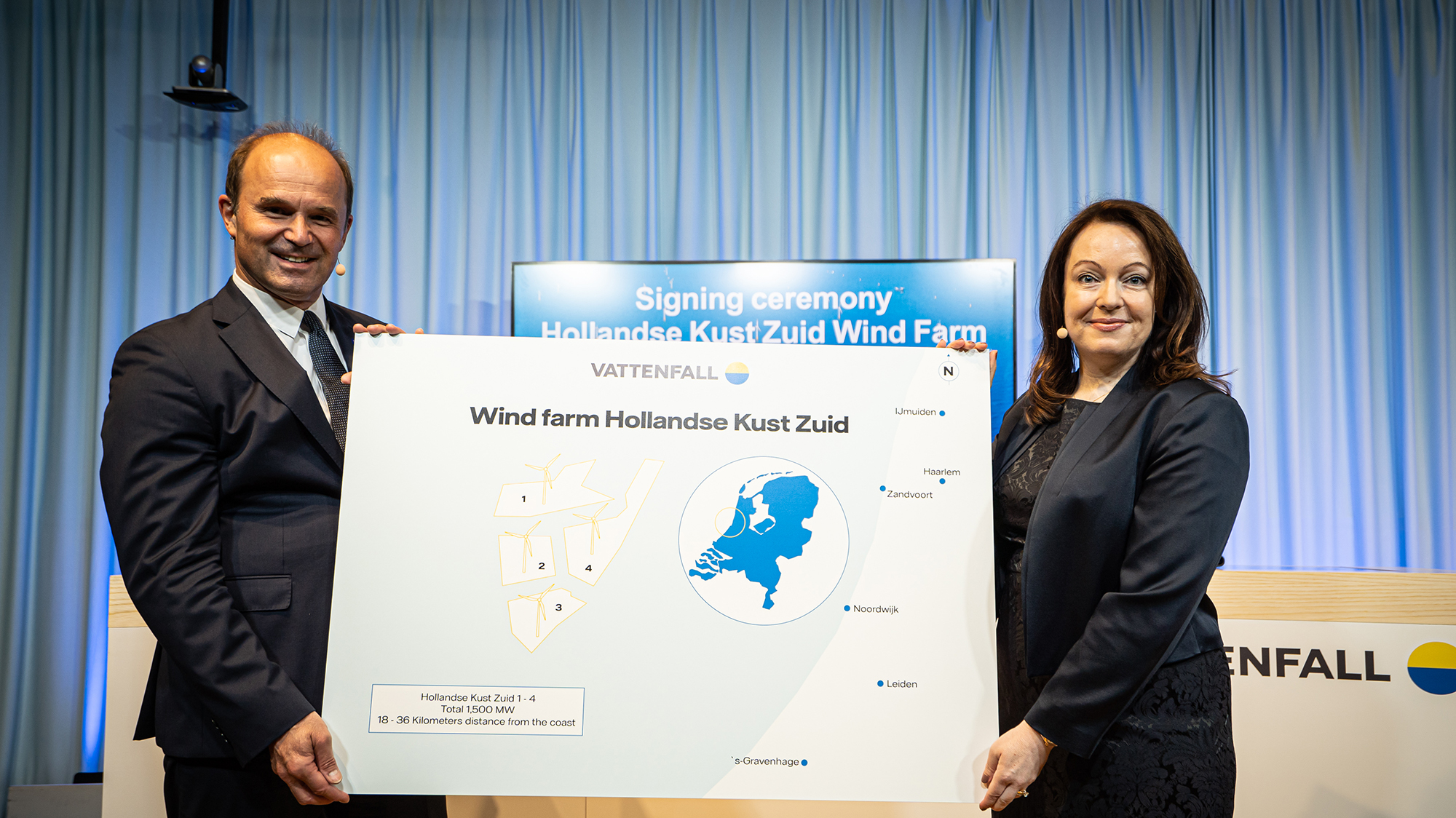 Vattenfall en BASF bereiken overeenstemming over verkoop van 49,5% van offshore windpark Hollandse Kust Zuid
Martijn Hagens, CEO Vattenfall Nederland: "Deze samenwerking is een belangrijke stap in het verduurzamen van de industrie. Daarnaast is er een flink deel van Hollandse Kust Zuid gereserveerd voor onze Nederlandse consumenten en kleinzakelijke klanten – zij zullen in de nabije toekomst 100% groene stroom van ons krijgen, die in Nederland is opgewekt. Onze portfolio is veel groter dan alleen Hollandse Kust Zuid: Vattenfall wil het mogelijk maken fossielvrij te leven binnen één generatie. We investeren daarom nu al fors in wind en zon en willen nóg meer doen. Door de verkoop van een deel van Hollandse Kust Zuid maken we geld vrij dat we in nieuwe duurzame projecten kunnen steken. Daarmee versnellen we de energietransitie en brengen we onze ambities dichterbij."
Vattenfall en BASF hebben overeenstemming bereikt over de verkoop van 49,5% van het offshore windpark Hollandse Kust Zuid voor een bedrag van € 0,3 miljard. Inclusief de bijdrage aan de bouw, zal de totale investering van BASF uiteindelijk € 1,6 miljard bedragen. Afronding van de transactie wordt verwacht in het vierde kwartaal van 2021 en is afhankelijk van de goedkeuring door de relevante autoriteiten.
De bouw van windpark Hollandse Kust Zuid start in juli 2021 en zal naar verwachting in 2023 volledig operationeel zijn. Het is dan het grootste offshore windpark ter wereld met 140 windturbines en een totaal geïnstalleerd vermogen van 1,5 Gigawatt. Hollandse Kust Zuid wordt het eerste volledig commerciële offshore windpark ter wereld dat geen enkele subsidie ontvangt voor de geproduceerde stroom.
Vattenfall zal zijn aandeel van de productie onder andere gebruiken om zijn klanten in Nederland van fossielvrije elektriciteit te voorzien. BASF zal zijn deel van de elektriciteit gebruiken om de chemische productie op locaties in heel Europa te ondersteunen.
BASF verwerft de elektriciteit van het windpark voor zijn eigendomsaandeel via een langlopende afnameovereenkomst (een zogenaamde power purchase agreement of PPA). Het stelt BASF in staat om innovatieve en emissiearme technologieën toe te passen op verschillende van zijn productielocaties in Europa. De Verbund-productielocatie van BASF in Antwerpen gaat het meest profiteren van de duurzame energie. De Antwerpse locatie is de grootste chemische productielocatie in België en de op één na grootste BASF productielocatie ter wereld.
Levering aan andere Europese BASF-locaties is afhankelijk van de ontwikkeling van regelgeving voor duurzame energie. Met het windpark wordt ook een belangrijke bijdrage geleverd aan het behalen van de Nederlandse doelstellingen op het gebied van de opwekking van duurzame energie en vermindering van broeikasgassen. BASF heeft in Nederland ruim 1.500 mensen in dienst, die op verschillende locaties producten voor tal van sectoren ontwikkelen, produceren en verkopen.
"Dit windpark is een belangrijke bouwsteen om onze locatie Antwerp Verbund en andere Europese locaties van hernieuwbare elektriciteit te voorzien. Het is de eerste grote investering van BASF in installaties voor hernieuwbare energie. Door deze investering waarborgen we aanzienlijke hoeveelheden elektriciteit uit hernieuwbare bronnen voor BASF, wat een belangrijk element is van onze transformatie naar klimaatneutraliteit", aldus dr. Martin Brudermüller, voorzitter van de raad van bestuur van BASF SE.
"Vattenfall en BASF delen de doelstelling om de uitstoot van broeikasgassen binnen onze bedrijfsvoering af te bouwen. Met deze samenwerking bewijst Vattenfall eens te meer dat overeenkomsten met industriële partners een sleutelrol spelen bij het versnellen van de Europese energietransitie in de verschillende sectoren. Ik ben er bijzonder trots op dat we tegelijkertijd óók de levering van fossielvrije elektriciteit aan onze Nederlandse klanten kunnen veiligstellen", aldus Anna Borg, president en CEO van Vattenfall.
Vattenfall wil fossielvrij leven binnen één generatie mogelijk maken. Om dit doel te bereiken investeert het bedrijf fors in duurzame energie. Offshore windenergie speelt daarin een cruciale rol. Eén van de pijlers onder de groeistrategie van Vattenfall is het vinden van partners om de hoge investeringskosten mee te delen. Daardoor ontstaat financiële ruimte voor nieuwe investeringen in duurzame energie en fossielvrije projecten en helpen investeerders Vattenfall om de energietransitie te versnellen.
BASF streeft ernaar om zijn uitstoot van broeikasgassen in 2030 met 25 procent te hebben verminderd en in 2050 een netto-nul emissie te bereiken. Een belangrijke stap om de uitstoot verder terug te dringen is fossiel opgewekte elektriciteit te vervangen door fossielvrije elektriciteit. De hoeveelheid duurzame energie die daarvoor nodig is, wil BASF verkrijgen via een "make and buy"-aanpak. Om zijn kapitaal zo efficiënt mogelijk in te zetten is BASF van plan om mede-investeerders te zoeken voor dit project.
BASF werkt aan de opschaling van emissiearme technologieën naar industriële dimensies. Na 2030 verwacht BASF de invoering van technologieën zoals CO2-vrije methodes voor de productie van waterstof en elektrische stoomkrakers, die de behoefte van BASF aan hernieuwbare energie aanzienlijk zal doen stijgen. Stoomkrakers spelen een belangrijke rol in de productie van basischemicaliën en vereisen een grote hoeveelheid energie om koolwaterstof onder hoge temperaturen en druk te splitsen in olefinen en aromaten. Offshore windparken kunnen een sleutelrol spelen in het aanleveren van de vereiste hoeveelheden hernieuwbare energie.
"Vattenfall en BASF hebben een lange relatie. Met dit Europese project zetten we de volgende stap om ons partnerschap verder uit te bouwen. Deze overeenkomst is positief voor het klimaat en voor onze ondernemingen. Wij blijven zoeken naar nieuwe samenwerkingen in de toekomst", aldus Anna Borg en dr. Martin Brudermüller.
Over BASF
Bij BASF ontwikkelen wij chemie voor een duurzame toekomst. Wij koppelen economisch succes aan milieubescherming en sociale verantwoordelijkheid. Meer dan 110.000 medewerkers binnen de BASF Group dragen bij aan het succes van onze klanten in vrijwel alle sectoren en in bijna elk land ter wereld. Onze portefeuille is onderverdeeld in zes segmenten: Chemie, Materialen, Industriële oplossingen, Oppervlaktetechnologieën, Voeding & Verzorging en Landbouwoplossingen. BASF realiseerde in 2020 een omzet van € 59 miljard. BASF-aandelen worden verhandeld op de beurs in Frankfurt (BAS) en als American Depositary Receipts (BASFY) in de VS. Ga voor meer informatie naar www.BASF.com.
Foto: Dr. Martin Brudermüller, voorzitter van de raad van bestuur van BASF SE, en Anna Borg, president en CEO van Vattenfall. Copyright: Vattenfall