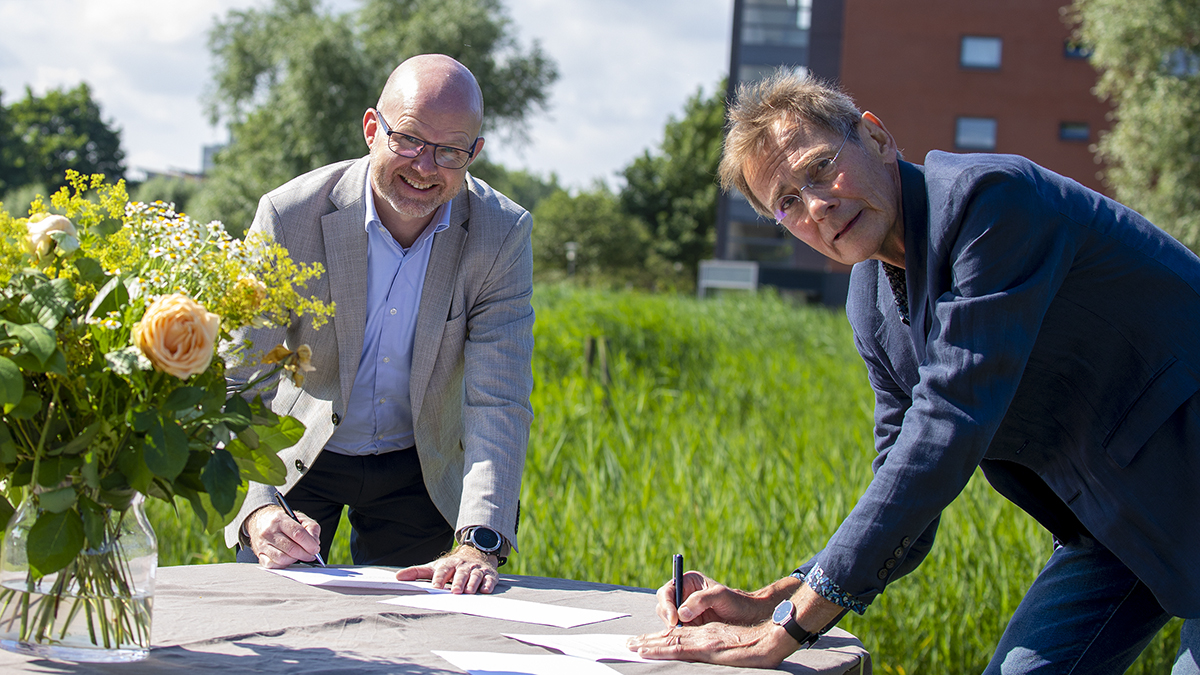 Vattenfall en bewonerscoöperatie Energiek Poelgeest tekenen intentieovereenkomst: aan de slag met aquathermieplannen
Coöperatie Energiek Poelgeest en Vattenfall gaan samen onderzoeken wat er nog nodig is om de ruim 1.000 woningen in Poelgeest (Oegstgeest) te verwarmen met warmte uit water. Dat hebben de twee partijen vandaag vastgelegd in een intentieovereenkomst. De afspraken die daarin staan, brengen de droom van beide partijen een stukje dichterbij: een warmtenet met aquathermie als bron en met een zo laag mogelijke CO2-uitstoot.
In de intentieovereenkomst staat hoe Energiek Poelgeest en Vattenfall willen samenwerken en welke volgende stappen ze gaan zetten om een aquathermie-warmtebron te realiseren. Ook staan er concrete afspraken in de overeenkomst over de voorwaarden waar het project – als het gerealiseerd wordt – aan moet voldoen. De warmtevoorziening moet bijvoorbeeld duurzaam, veilig en betrouwbaar zijn en de kosten moeten zowel voor de bewoners als voor Vattenfall acceptabel zijn.
Vervolg op haalbaarheidsonderzoek
De intentieovereenkomst is een logisch vervolg op het onderzoek dat Energiek Poelgeest en Vattenfall de afgelopen twee jaar hebben uitgevoerd, in samenwerking met de gemeente Oegstgeest en het Hoogheemraadschap van Rijnland. Een onderzoeksbureau heeft toen vastgesteld dat het technisch mogelijk is om voldoende warmte uit het omliggende water of uit de nabijgelegen rioolwaterzuiveringsinstallatie te halen.
Veel uitzoekwerk
Nu dat mogelijk blijkt, gaan Vattenfall en de coöperatie kijken wat er nodig is om de plannen tot uitvoer te brengen. Dat vraagt om heel wat uitzoekwerk: wat voor installatie is er nodig en waar kan die staan? Over wat voor investeringen praat je? Krijgt het project een vergunning? Ook moet de keuze gemaakt worden uit warmte uit oppervlaktewater of rioolwater.
Actieve rol voor bewoners
In het hele proces is nadrukkelijk een rol gereserveerd voor de wijkbewoners. Dat gaat verder dan meepraten over de plannen: de komende tijd wordt uitgezocht of het mogelijk is om de bewoners van Poelgeest medezeggenschap te geven in hun warmtevoorziening of te laten mee-investeren in de nieuwe warmteoplossing. Burgerparticipatie wordt in het Klimaatakkoord gezien als een van de voorwaarden voor een gedragen energietransitie.
Definitief besluit in 2023
Als alles loopt zoals verwacht, kan in het tweede kwartaal van 2023 een besluit genomen worden en is het duidelijk of aquathermie voor Poelgeest definitief door kan gaan.
Foto: Vattenfall/Sia Windig
Arno van Gestel, commercieel directeur Vattenfall Warmte Nederland, en Peter van Schie, voorzitter Energiek Poelgeest, ondertekenen de intentieovereenkomst.