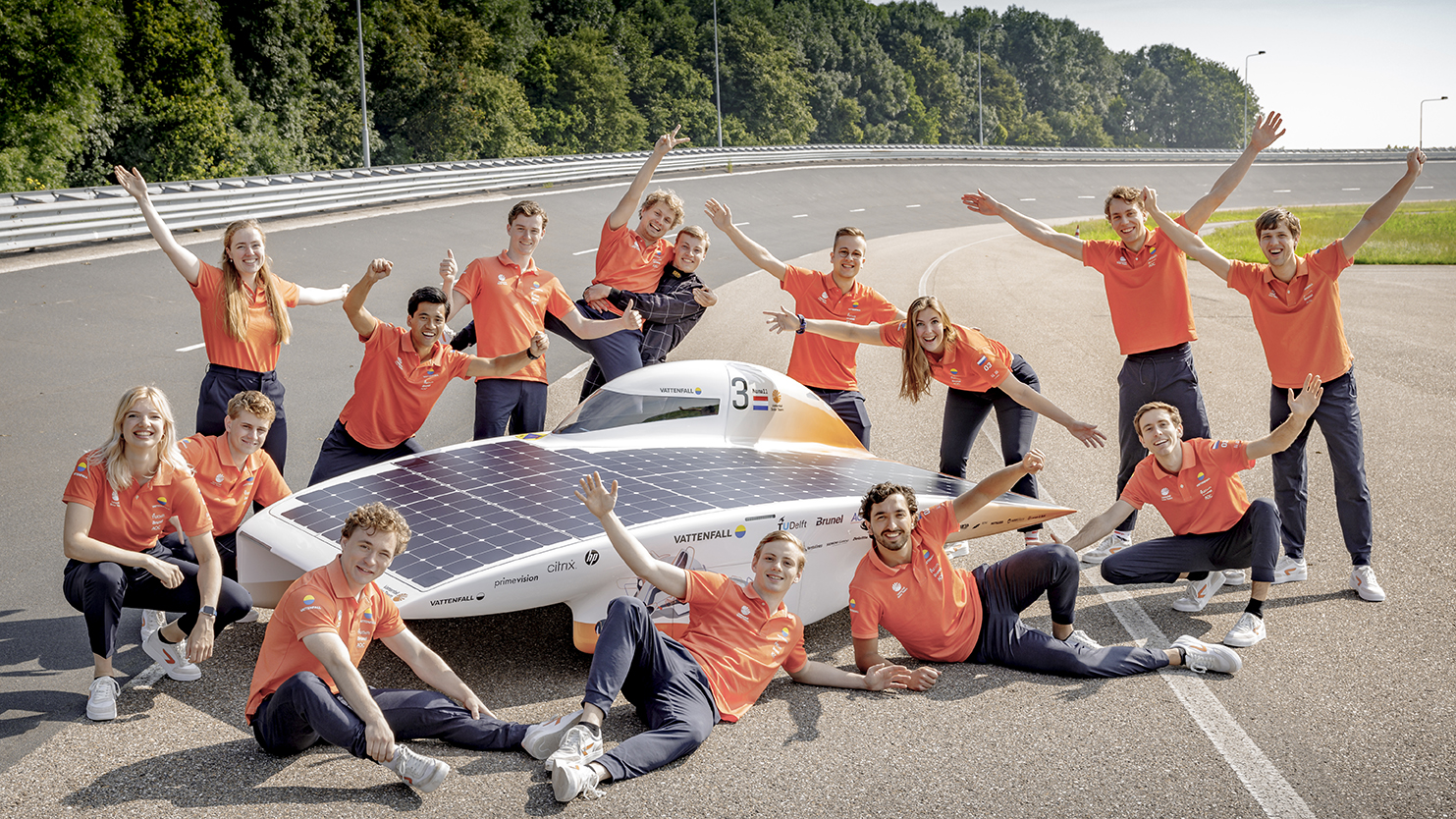 Vattenfall Solar Team presenteert Nuna11: de 'Picasso' onder de zonneauto's
Het Vattenfall Solar Team heeft op 8 juli hun nieuwste zonneauto Nuna11 gepresenteerd aan de buitenwereld. Meest opvallend: de aparte vorm. De zonneauto is een driewieler met een ongewone positie van het derde wiel en met een schuin geplaatst zonnepaneel. Met Nuna11 hoopt het team dit najaar de wereldtop te verslaan tijdens de Solar Challenge Morocco.
Nuna11 zit vol met nieuwe, technische vindingen. De bijzondere vorm van de zonneauto volgt uit de gedurfde keuze voor twee wielen rechts en één wiel links. Dat maakt Nuna11 origineel om te zien, met recht de 'Picasso' onder de zonneauto's. Nog belangrijker: het innovatieve design draagt optimaal bij aan de aerodynamica van de wagen. "Traditionele driewielers hebben het derde wiel middenvoor of middenachter. Dan moet de lucht op drie plekken om een wiel heen. Door te kiezen voor twee wielen rechts, voor en achter de coureur, en één wiel links, hebben we slechts op twee plekken luchtweerstand. Dit is de meest aerodynamische vorm die denkbaar is", legt teamleider Christiaan Wiers het ontwerp uit.
Catamaran met drie wielen
Het gekozen model staat in de zonneracewereld bekend als de catamaran. Bij de voorgangers Nuna9 en NunaX liet het Vattenfall Solar Team zien hiermee ook gebruik te kunnen maken van het voordeel van de wind. Dankzij het bijzondere ontwerp van Nuna11 kan dit voordeel worden gecombineerd met minder rolweerstand door drie wielen. Ook opvallend is dat het zonnepaneel scheef staat. Wiers: "Daarmee creëren we meer downforce op het linkerwiel. Dat geeft de auto meer stabiliteit in winderige omstandigheden en het maakt hem sneller en veiliger."
Complex stuursysteem
De keuze voor één wiel links en twee rechts stelde het team wel voor een flinke uitdaging als het gaat om het stuursysteem, vertelt Thies Postma, een van de coureurs: "De wielen zitten niet op dezelfde as, zoals gebruikelijk bij auto's. Toch moeten ze samenwerken om de bocht goed te kunnen maken. Er moest dus veel denkwerk en creativiteit aan te pas komen om de droom van optimale aerodynamica om te zetten in realiteit."
Revolutionaire motorcontroller
De nieuwe motorcontroller is minder zichtbaar, maar minstens zo'n belangrijke innovatie. Voorheen werd dit onderdeel ingekocht en moest het team kiezen tussen kracht – nodig in heuvelachtig gebied – en efficiëntie. Nuna11 beschikt over een zelfontworpen controller die het beste biedt van beide werelden. Teamlid Jasper Insinger werkte er maandenlang aan, vaak tot diep in de nacht. "Er gingen heel veel uren zitten in het testen van alle verschillende soorten schakelaars en configuraties. Ik vond het echt een gave uitdaging om dit voor elkaar te krijgen! Met Nuna11 kunnen we nu sneller optrekken, beter klimmen én goed deelnemen aan stadsverkeer. Ideaal voor een race zoals in Marokko", aldus Insinger.
Solar Challenge Morocco
Het Vattenfall Solar Team wil in oktober met de Nuna11 meedoen aan de Solar Challenge in Morocco en hoopt na zeven keer goud in Australië en drie keer goud in Zuid-Afrika weer als winnaar over de finish te rijden. Een flinke uitdaging met zoveel wereldtoppers in het deelnemersveld! Of de race daadwerkelijk doorgaat, hangt nog wel af van de ontwikkelingen en de maatregelen die de coronapandemie met zich meebrengt. Teamleider Wiers: "We zijn er als team klaar voor, dus nu is het duimen dat de coronasituatie de race dit najaar toelaat!"
Nieuw raceformat
In vijf etappes en evenzoveel dagen leggen de teams zo'n 2.500 kilometer af. De route loopt door het zuiden van Marokko, onder andere langs het Atlasgebergte en door een deel van de Sahara. Het parcours kent daarmee meer hoogteverschillen dan dat in Australië. De teams starten en finishen in de havenstad Agadir. Het team dat de totale afstand het snelst aflegt, wint de race.
Foto: Jorrit Lousberg