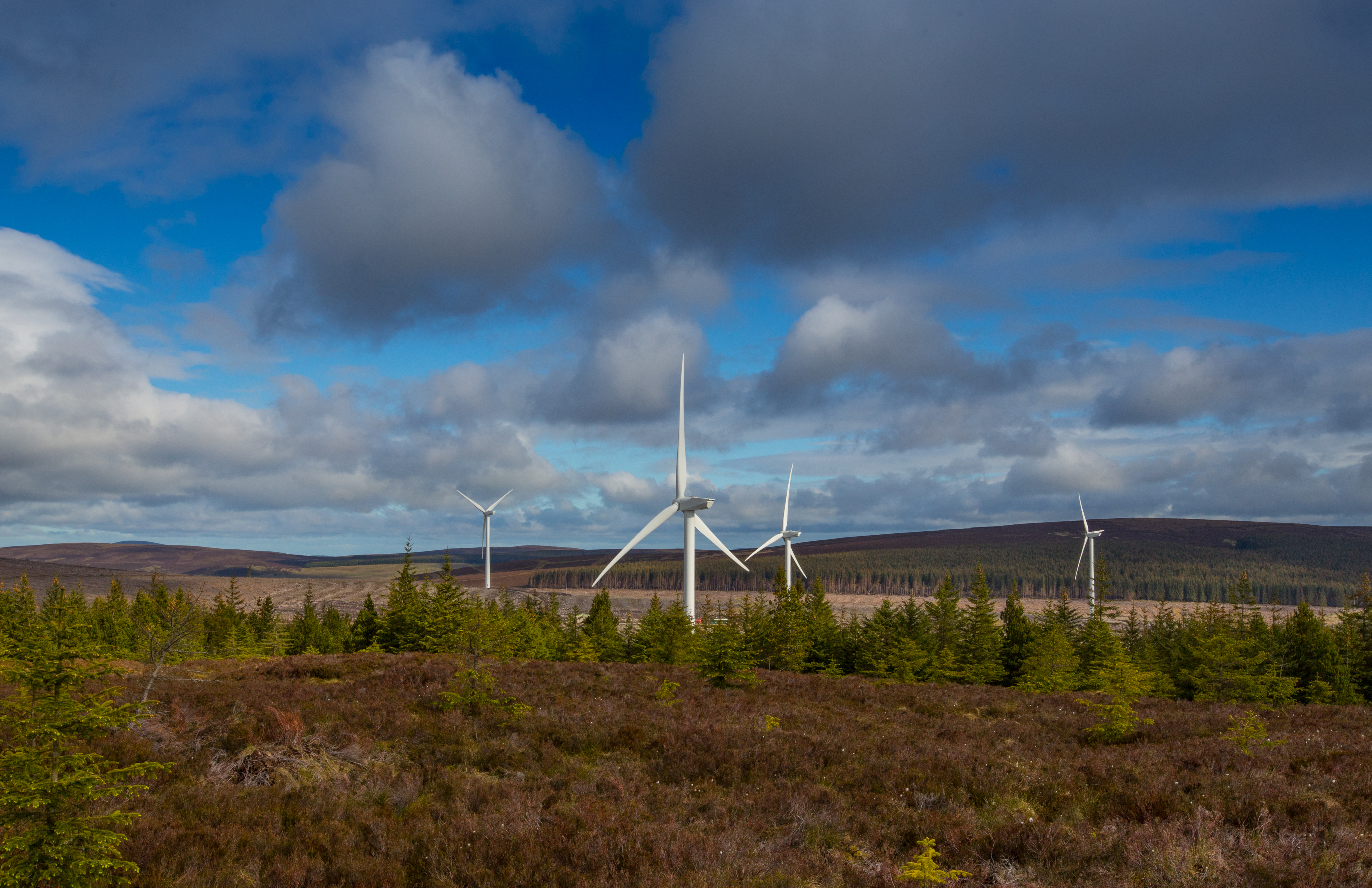 News
December 11, 2020
3 min
Aberdeenshire Wind Farm celebrates five years and nearly £1 million investment in community benefits
Clashindarroch Wind Farm, owned and operated by Vattenfall, is celebrating five years since it began operating and the major contribution it has made to the local community in that time.
As of May 2020, Clashindarroch Wind Farm Community Fund has awarded more than 100 grants totalling £881,330.
A new report illustrating the impact of the fund highlights the positive differences the Community Fund has already made for local people in the four areas served by the Huntly, Strathbogie and Tap o' Noth Community Councils and the Cabrach Community Association during its first five years.
One such project receiving funding was Huntly-based organisation 'Networks of Wellbeing' (NoW). NoW were awarded a grant of £17,327 in 2017 to provide individual mental health support and community-based activities. The funding was used to pay for room hire and staffing costs to set up a one-to-one counselling service for members of the community in need. At the time of applying NoW estimated their services would directly benefit around 100 local people over the two-year project. The actual number of people who took advantage of NoW's services was 200.
Another project which met the Fund priority of improving local facilities was at Scott Hall in Forgue. After discovering dry rot in the hall's roof back in 2016, the Scott Hall Committee began planning for repairs to protect and preserve the building for future community use. Grants from the Fund totalling £72,800 were awarded between 2017 and 2018 to carry out the repairs. Without external grant assistance, the Committee wouldn't have been able to fund the repairs from its own resources. Improvements made included the replacement of selected windows, repairs to a gable area, repointing, joinery repairs and internal and external decoration.
In addition, the Fund allocated £20,000 to the Clashindarroch Wind Farm Community Fund - Coronavirus Emergency Fund, as the pandemic began to pose challenges for many in the local area. Demand has been high, with a total of £14,600 awarded to local organisations and a further £10,000 allocated to continue to provide support during these challenging times.
Clashindarroch Wind Farm Community Fund is administered by the independent charity Foundation Scotland. Decisions on Fund strategy and the awarding of grants are made by a panel of local people drawn from the four communities.
The Fund Panel are now inviting community groups and organisations to apply for the next round of funding. The next deadline for grant applications is 25th January 2021 and application forms can be found on the Clashindarroch page of Foundation Scotland's website.
Frank Elsworth, Vattenfall's UK Development Director for Onshore Wind, said:
"Vattenfall believes that renewable energy can provide more than just important environmental benefits. Working with local communities is fundamental to how we operate and we want to use our projects to invest in community benefits, and support skills development and local supply chains wherever possible. I am delighted to see that the community fund at Clashindarroch is playing such a major role in supporting local projects.
"Clashindarroch provides a clear blueprint for how renewable energy investment can help power a green economic recovery and make a real impact at a local level.
"Our onshore wind farms continue to be a central pillar to the economic growth in Scotland. Vattenfall's Clashindarroch II Wind Farm project, which is currently awaiting a planning decision, could be next in line to do just this."
Chair of the Clashindarroch Wind Farm Community Fund Panel, George Wordie, said:
Clashindarroch Community Fund is meeting local needs, reaching all of the communities in the Fund area as well as the Fund priorities. The Panel has taken the opportunity of the five year anniversary to review the Fund and feels it is working well. The support from Foundation Scotland, including detailed research into applications, in also very welcome and makes the Panel's job easier."
Tom Black, Community Fund Manager at Foundation Scotland, said:
"We are very proud of the difference this funding has already made to the people in the communities. From funding counselling and advice services, to providing new accessible defibrillators and improvements to school playgrounds. The partnership between Foundation Scotland and the Fund Panel combines local knowledge and grant-making expertise to ensure the Fund leaves a lasting positive impact within these four communities and will continue to do so for many more years to come."
Find out more about the projects receiving funding in the first five years of the Clashindarroch Wind Farm Community Fund here.