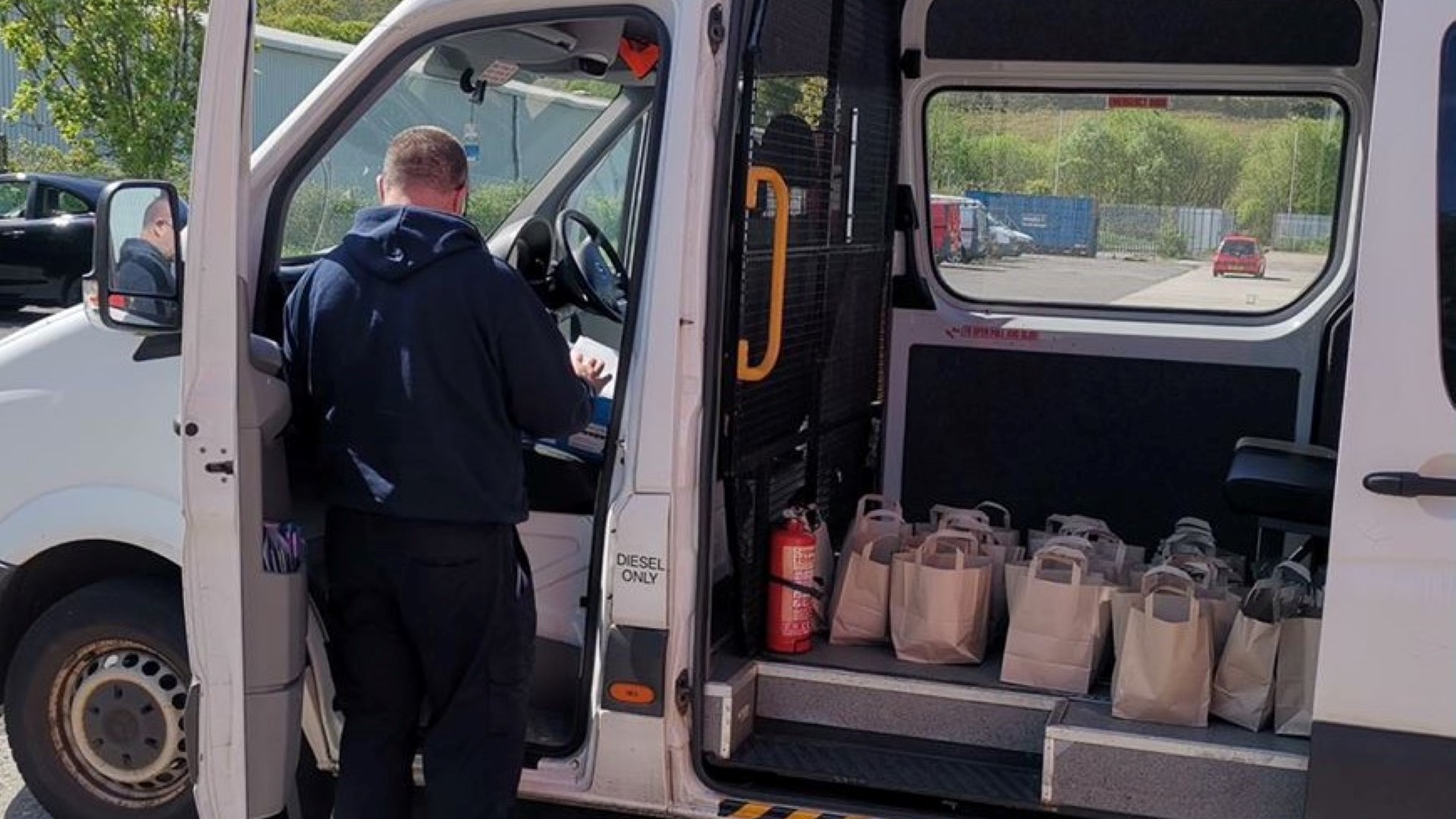 Pen y Cymoedd Wind Farm Community Fund responds to the COVID-19 pandemic
The Pen y Cymoedd Wind Farm Community Fund Community Interest Company is making emergency survival and project funding available to organisations in the Fund area during the COVID-19 pandemic. Many projects previously funded by the Community Fund have been refocusing their efforts to support their local communities during the coronavirus crisis.
Three years since it was established, the Pen y Cymoedd Wind Farm Community Fund continues to support communities in the upper Rhondda, Cynon, Afan and Neath valleys. Established by wind developer Vattenfall, the Fund has an annual budget of £1.8 million for the 25 year life of Pen y Cymoedd Wind Farm, which is situated on land managed by Natural Resources Wales. It offers opportunities for local people, organisations, and businesses to invest in themselves and their ideas, building on all that is best in their communities to create jobs and grow the local economy.
The Fund has recognised that these are challenging times for all and in response has set up an emergency fund specifically for organisations, charities, and businesses in the Fund area of benefit.
Today we celebrate three examples of inspirational individuals and their projects that have benefited from the Fund and are now refocusing their efforts to provide much needed support to their local communities during this challenging time.
Nathan Howells - The Play Yard
Nathan is manager of The Play Yard, a vibrant hub for the community consisting of a children's play area and café, allowing members to connect with one another, improve mental health and banish feelings of isolation. More than just a play centre, it offers educational and training opportunities to give people the tools they need to succeed in their search for employment, and works closely with schools to support children with behavioural needs.
During COVID-19, Nathan and his team at Valley's Kids have been working hard to create and distribute high quality food hampers to those who have been furloughed or otherwise affected by the crisis, and have also been supplying over 200 school lunches a day to prevent children going hungry.
The Community Fund award of £357,000 in 2017, to be paid over a period of five years, enabled The Play Yard to renovate the building and transform it into a safe and inviting space for members of the community. Since its creation, The Play Yard has created jobs and purpose for 24 people who all live within 10 miles of the local area and has provided training courses to over 100 members of the public, including business administration, first aid, mental health and child safeguarding.
Nathan Howells, Manager at The Play Yard said:
"We have seen the harrowing effect of coronavirus on our local community and are working hard to ensure that those who require extra support during these challenging times, receive it. I am incredibly proud of the entire Play Yard team who are providing lunches to local children and hampers to families in need. We will continue to support the local community throughout the COVID-19 crisis and confident we can emerge stronger together."
Stuart James – Cwmgwrach Stores
SRCC Stores is a convenience store based in Cwmgwrach. Since the pandemic started the staff team has been working in partnership with other businesses in the upper Neath Valley to support communities and offer free home fresh fruit and veg and meat delivery services with no minimum order. Its new Bistro had been due to open at the end of March, but now on hold, activities are now focused on making sure people receive the help they need at this difficult time. The Project Fund of £5000 has enabled the business to buy a van to expand the delivery service. Stuart is making the most of this extra capacity.
Stuart James, Owner of Cwmgrach stores said:
"Before we had the van, we were dependent on staff cars and the kindness of volunteers. We can now reduce delivery times and are more productive and offering additional employment and a much further reach. We are now making just one daily trip to the cash and carry per day instead of 4 and we can meet the needs of more communities from Rhigos and Glynneath to Resolven and Clyne."
Andy Mulligan – Hot Jam
Hot Jam runs music education projects, predominantly focused on rock / pop / jazz and other contemporary styles, educating and enthusing young people to take part in a wide variety of musical activities. Now that work in schools is suspended, an emergency fund grant of £8420 has enabled the Hot Jam team to launch a new online song-writing programme - working with young people aged 7 – 18 in isolation and enabling them to come together virtually across the valleys.
Andy Mulligan, Owner of Hot Jam said:
"Children are isolated from their friends and peers and cooped up indoors, sometimes with little or no outside space - missing out on many aspects of their education. And this situation is likely to be in place for a long period. We will tackle these issues by working with young people to document their feelings at this time; to help them understand and work through their own emotions. Writing a song as a tool to work through emotions is a fabulous way of dealing with trauma and feelings, writing a song with like-minded peers is a fantastic way of increasing self-esteem and well-being. This will be an important document of events that will come to redefine and shape our lives in the future. It will also help the participants, their families, friends and the wider community come to terms with this unprecedented situation."
Dave Henderson, Community Fund Chair said:
"The emergency fund aims to respond as quickly as possible to the needs of community groups and businesses, offering grants and bridging loans to assist with cash flow. We are also working closely with others to refer and signpost to ensure that organisations get the help they need."
Patrick Delaney, Site Manager at Pen y Cymoedd Wind Farm said:
"It is inspirational to see projects already funded by the Community Fund refocusing their efforts to support their local communities, adapting, and changing ways of working during the coronavirus crisis.
"The Pen y Cymoedd Wind Farm Community Fund's response to provide emergency funding for charities in need of extra support during the COVID-19 pandemic, shows sensitivity to local needs during these unprecedented times, ensuring they can still deliver vital services and meet immediate community needs.
"Vattenfall remains committed to its mission to make fossil free living possible within one generation. As an electricity generating company, we are fundamental to the well-being of society, and our priority is to keep Pen y Cymoedd Wind Farm operating as usual to help maintain the electricity supply in Wales and the UK."