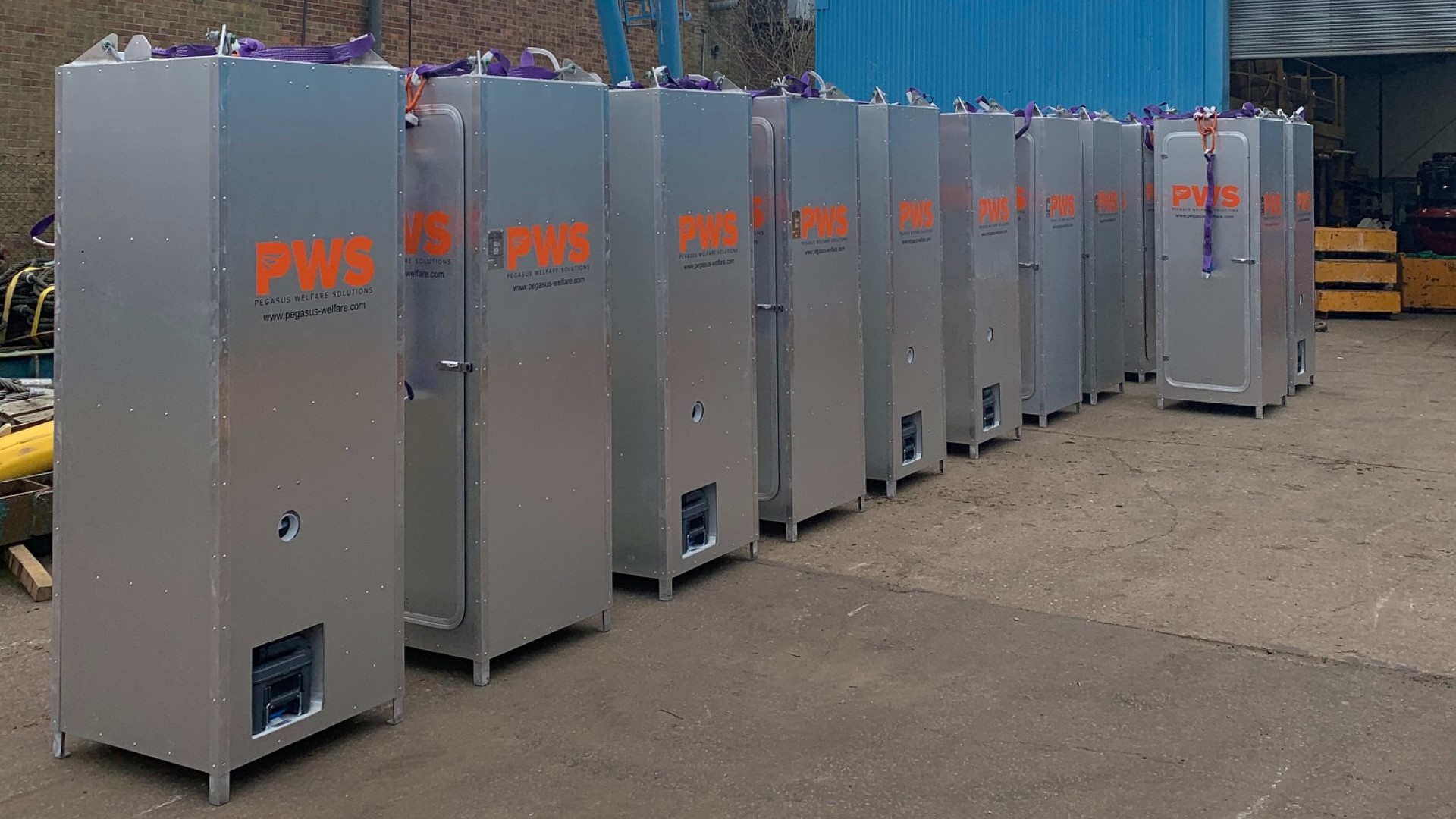 Loo queue – made-in-Norfolk first wind farm toilets ready to sail
First order for Norfolk's "gamechanger" offshore wind turbine toilets ready for installation in Scotland.
All turbines on Vattenfall's Aberdeen Offshore Wind Farm to be the first in the world to be fitted next week with an in-tower loo invented and made near Norwich.
"Hygiene and welfare are not optional extras offshore. No other workplaces have no welfare facilities on site," inventor said.
Order creates one temporary Norfolk job and work for three Great Yarmouth companies.
The first order of Norfolk's "gamechanger" toilets for offshore wind turbines is complete and ready for the 500-mile journey to Scotland for installation.
Fabrication of in-tower loos for Swedish energy group Vattenfall's Aberdeen Offshore Wind Farm finished this week at Pegasus Welfare Solutions' (PWS) base at Lenwade, near Norwich and are lined up ready for the roadtrip up north.
Inventor and PWS managing director Dan Greeves is campaigning for loos on turbines to become standard across the fast-growing offshore wind industry, where not one offshore turbine is fitted with a toilet.
"My mission here in Norfolk is to make hygiene and welfare not optional extras and nice to haves, but essential for the workforce. You wouldn't turn up at any other workplace and accept no welfare facilities on site, so why should offshore wind workers?
"Vattenfall, as a responsible developer that cares about its workforce, is the first to invest in our units on every turbine on its Aberdeen Offshore Wind Farm, that is renowned for its innovations and industry firsts.
"And I'm confident that our made-in-Norfolk product will be installed on their Norfolk projects, Norfolk Vanguard and Norfolk Boreas, and have been involved with the team working in Norfolk for some time."
Dan, who worked offshore for more than a decade, took on an extra employee to fabricate the units at PWS' base near Norwich, and turned to Great Yarmouth company, Seabed Scour Control Systems, to supply bespoke rigging to lift the units.
MDF Transport, based at Gapton Hall, Great Yarmouth, was contracted to take the units to Aberdeen. Kirklands Equipment Supply, of Great Yarmouth, handmade waterproof PVC carry bags for the cassettes for each turbine, certified for offshore use at height by the Great Yarmouth base of Certex.
Stag Plant Hire, based in Peterhead, Aberdeen will service the units.
Dan said: "It's an added bonus that we were able to create employment for the length of the job and work for local companies and illustrates the trickle-down effect in the supply chain."
Alexandra Richards, operations and maintenance manager at Aberdeen Offshore Wind Farm, said:
"A significant amount of working time is taken out of each day by technicians for loo visits, so there are operational benefits to be had.
"If the number of occasions a technician transfers to the crew transfer vessel is reduced there are health and safety benefits, so in-turbine toilets are more than just a convenience."
On offshore turbines, technicians often take 45 minutes to answer a call of nature, having to climb down 200m ladders and leaving the turbine to embark on to a crew transfer vessel or SOV (service operation vessel), sometimes having to call the boat back to the turbine in rough seas when they needed it.
The patented loos offer developers more than a convenience – they save time off the job therefore boosting shift productivity and minimise risks; the greatest safety risk in offshore turbine working is transfers from turbine to vessel.
Two technicians will make the installations next week on every turbine.
The design of the cubicle was finalised at the end of last year in collaboration with the Offshore Renewable Energy (ORE) Catapult, which also plans to trial the facilities at its 7MW Levenmouth demonstration turbine off the Fife coast later this year.