Musdale Wind Farm Proposal
Located approximately 9km south east of Oban in west Scotland, this proposed onshore wind farm could have up to 26 turbines with a combined capacity of 156MW.
The project is at an early stage, with a detailed Scoping Report submitted to the Scottish Government in November 2020 (setting out the proposed scope of environmental work).
Extensive technical and environmental surveys are now underway to help build our understanding of the site and gather data which will inform the development of the turbine layout and overall design.
We have also held a couple of online consultations to gather initial feedback from the local community on the proposal and begin to explore the potential benefits that the project could deliver to the local area. We will be holding a further consultation event towards the end of 2021 to update the community on the design development and listen to feedback.
About Musdale
The proposed site lies approximately 5.5km south east of the village of Kilmore and 9km south east of Oban, within Argyll and Bute, and is a mix of rough open moorland and craggy hills.
Wind farm location map
The red line boundary shows the location of the wind farm proposal.
Musdale has long been identified as having potential for wind power generation, with areas of the site subject to a previous proposal by another developer. Vattenfall has carefully studied these earlier plans, learned from them, and is seeking to develop a scheme designed to offer maximum benefit in terms of fossil-free energy generation, community investment, environmental impact and socio-economic opportunities.
The proposal currently comprises 26 turbines with a maximum tip height of up to 200m and the capability to generate an estimated 425,500MWh, enough to power the equivalent of 118,000* homes.
It is possible that the scheme may reduce in terms of both number and size of turbines as we undertake environmental surveys, reflect on stakeholder feedback, and develop the design.
*https://www.renewableuk.com/page/UKWEDExplained
Community engagement
In December 2020 we held an initial online exhibition and consultation to introduce the project and gather people's initial feedback on the proposal.
Over 350 people visited the online exhibition, which included a range of one-to-one calls held by the project team to answer people's questions,and we received a good level of response to the consultation (which closed in February 2021). A summary of the key themes which emerged from the consultation can be found in our Spring 2021 Newsletter here.
This initial feedback has helped us to identify potential issues, concerns, and opportunities early in the project - which we can take into consideration as the design progresses. We are grateful to everyone who took the time to engage with us.
Online Exhibition
To view the online exhibition just click on the link below.
You can still access the online exhibition (which explains more about the project) by clicking on the link here or on the arrow next to the image above. However, please note that the Frequently asked Questions (FAQs) were updated in April 2021, and you can find a copy of them here.
Vattenfall is keen to work closely with the local community on the project and is committed to the very best engagement, but to ensure public safety during the current Covid-19 pandemic this is being undertaken remotely and online until it is safe to carry out face-to-face engagement again. If you have any questions or would like further information on the project (including hard-copy information) you can get in touch with the project team by using the contact details at the end of this page.
Community benefits
Whilst the project is still at an early stage, we have received lots of interest from the local community in exploring the potential benefits which Musdale could deliver to the local area. In response to this, we launched a community benefit survey in April 2021 to begin to gather feedback and ideas from the local community on community benefits, maximising local supply chain opportunities, and the opportunity for shared ownership in the wind farm itself.
The survey, which closed for comments in May 2021, will help to inform and shape further engagement on the potential local benefits that could be delivered from Musdale Wind Farm.
For further information on Vattenfall's approach to community investment please click here.
What's next?
We are currently in the process of reviewing the community and key stakeholder consultation feedback received, together with findings from the detailed environmental and technical surveys being undertaken, to help shape and develop the design over the coming months.
We are also continuing to engage with the local Community Councils, key consultees and relevant authorities on the project in order to keep them up to date with the project as it progresses. In addition we are planning to hold another public exhibition and consultation (hopefully face-to-face in the community, COVID permitting) towards the end of 2021 in order to update the community on the design development and listen to people's feedback. We will provide more information on this webpage about this event nearer the time.
Download the scoping report
Why Wind Power?
Scotland has set its goal to reach net zero by 2045, and renewable energy projects such as Musdale Wind Farm will provide the platform for the decarbonisation of homes, businesses and transport needed to reach this ambition. Onshore wind can make a significant contribution, and we can deploy more powerful turbines than ever before.
Onshore wind is now the cheapest way to generate electricity of any kind. Across the UK, there is already around 14GW of onshore wind built and it is now one of the cornerstones of the UK electricity mix. It is estimated that by 2030, 30GW of onshore and offshore wind will be required to meet our climate targets at the lowest cost to the consumer.
Onshore wind also brings benefits to host communities and the broader economy. We will offer a community investment package in line with prevailing Scottish Government guidance for local communities to invest in the priorities which matter to them. Across the economy, there are many opportunities for Scottish businesses to get involved ranging from environmental studies and civil engineering through to site security and catering.
Vattenfall has a strong commitment to working with the local supply chain and we aim to procure 60% of components and labour for our projects from within Scotland. If you think your business could supply Musdale Wind Farm or any of our other projects, please let us know.
About Vattenfall
Vattenfall is one of Europe's leading energy suppliers with 20,000 employees. Owned by the Swedish state, for over a century we have worked to electrify society. In the UK, we have been developing projects since 2008, investing more than £3.5billion in enough wind to power 700,000 homes.
Today, Vattenfall is driven by the ambition to enable fossil free living within a generation. Our biggest UK wind farm will be at South Kyle, to the north of Dumfries and Galloway. Construction of this multi-million pound investment will commence later this year, bringing significant economic opportunity to South West Scotland, and heralding a major community investment.
Besides our determination to drive economic opportunity for the region, Vattenfall is committed to enhancing and protecting the natural environment. This will be at the heart of our considerations when exploring Musdale Wind Farm Proposal.
Get in touch
If you have any questions about the Musdale Wind Farm proposal at this early stage, or would like further information (including hard copies), you can get in touch directly with our project team at musdale.windfarm@vattenfall.com or by phoning them on 01434 611300 or by writing to them as follows:
Musdale Project Team
Vattenfall Wind Power Ltd
St Andrew's House
Haugh Lane
Hexham
Northumberland
NE46 3QQ
See also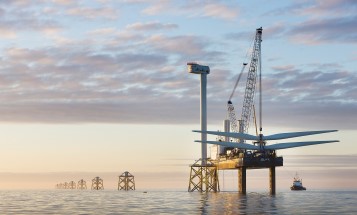 The wind industry is expected to generate thousands of skilled jobs across the UK.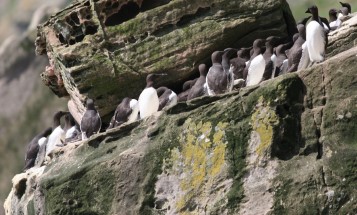 At our wind farms a year round programme of environmental monitoring takes place.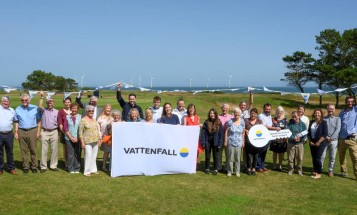 We invest over £2.5mn into the local communities hosting our wind farm projects each year.