HYBRIT; a collaboration between SSAB, LKAB and Vattenfall
Fossil-free steel is happening.
HYBRIT: The biggest change in steel production
The biggest change in steel production in over 1,000 years. Together with our partners LKAB and SSAB, we have created HYBRIT – a project for producing steel using hydrogen rather than coal.
Fossil free electricity is the key
Electrification is key to combat climate change. The aim is to more or less eliminate CO2 emissions. Watch HYBRIT – 4: Fossil free electricity is the key.
A new steel making process to eliminate CO2
HYBRIT can reduce Sweden's CO2 emissions by 10% and Finland's by 7% if implemented at full-scale. In 2018, the construction of a pilot plant in Luleå, Sweden, began. The full-scale fossil-free process for steel manufacturing should be ready by 2035.
The aim is to decarbonise the steel industry by replacing the coking coal (traditionally used in steel production to convert iron ore to iron) with hydrogen made from fossil-free electricity (primarily wind power) and water. A process called direct reduction will replace the current blast furnace process. The by-product will be water, which in turn can be recovered for the production of hydrogen gas.
In the summer of 2022, the rock cavern storage facility for fossil-free hydrogen in Luleå was inaugurated. The storage facility is an important part of the value chain for fossil-free iron and steel production.
Related content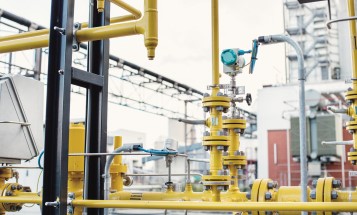 We are forming partnerships in different fields and industries to reach climate goals.