Gigantiske stålporte i bjerget skjuler en hemmelighed fra den kolde krig.
Allerede før man træder ind i anlægget, er det tydeligt, at kraftværket i Stenungsund blev bygget som sikkerhedsforanstaltning i krigstid. Oven over alle indgangene til anlægget kan man se store betonblokke, der i tilfælde af et angreb kunne bruges til at barrikadere adgangsvejene. Og hovedindgangen er udstyret med en tyk stålport, hvilket gør, at anlægget kan isoleres fuldstændig fra omgivelserne. Heldigvis er vores guide, Thomas Wikström, som er Business Area Manager for Thermal Services i Vattenfall Services Nordic, en betroet person, der har adgangskoden, så han kan lukke os ind.
"Hvis I ser på indgangstunnellerne, så går de alle sammen i en kurve, for man skulle ikke kunne skyde direkte ind i maskinhallen," forklarer Thomas Wikström, mens vi bevæger os gennem den gigantiske tunnel og ind i bjerget. "Herinde i bjerget er der sprængt 600 huler i forskellig størrelse for at gøre plads til fire fuldt udstyrede kraftværks-enheder, et vandrensningsanlæg og enorme huler med lagerplads til olie, der sikrede, at anlægget kunne være selvforsynende, hvis Sverige blev angrebet fra øst."
I dag kan Thomas Wikström afsløre historien om det hemmelige anlæg uden at bryde sin tavshedspligt, men i 1960'erne og 1970'erne, dengang den kolde krig var glohed, ville han sandsynligvis være endt i fængsel, anklaget for landsforræderi.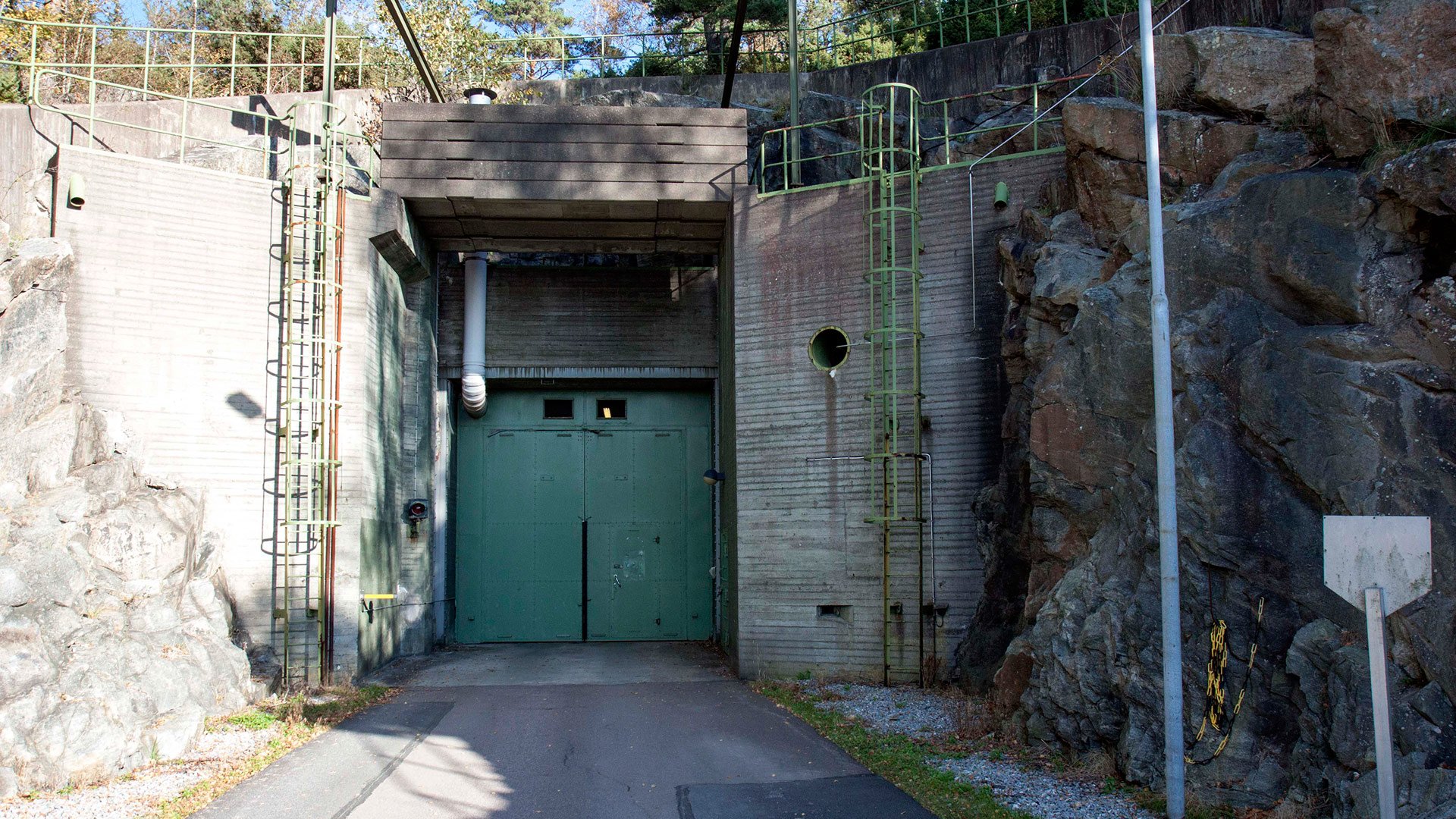 Fra ferieparadis til elforsyningsanlæg i krigstid
Efter 2. verdenskrig begyndte den svenske regering at lede efter det rette sted til at bygge et velbeskyttet kraftværk – i et bjerg tæt på en dyb og isfri havn. Man søgte langs hele den svenske vestkyst efter et bjerg, der var stort nok til de store kedler, generatorer og andet udstyr. Stenungsund, der dengang var et lille ferieparadis ved kysten, viste sig at kunne opfylde alle disse krav, og i 1956 gav de første detonationer genlyd i det ellers så fredelige øhav i det vestlige Sverige. Imponerende 1,5 millioner kubikmeter – eller tre millioner tons – klippe blev fjernet for at gøre plads til kraftværket og alle hjælpesystemerne.
Over en tiårig periode fra 1959 til 1969 blev fire oliefyrede kraftværksenheder opført inde i hulerne, så de kunne fungere som spidslast- og reserveanlæg i fredstid samt, som det vigtigste, kunne stå klar til at levere strøm til Sverige efter en krig, når alle andre anlæg og infrastrukturen formentligt var jævnet med jorden. Det eneste, der afslører, hvad der befinder sig inde i bjerget, er fire majestætiske skorstene, der stikker op over bjergtoppen. Skulle skorstenene blive ødelagt af bomber, er de konstrueret, så murbrokkerne ville falde ned i et dybt hul inde i bjerget. På den måde ville røggassen stadig kunne blive udledt, og anlægget ville kunne fortsætte med at producere strøm.
Helt frem til oliekrisen i 1970'erne kørte anlægget faktisk som grundlastkraftværk meget af tiden. De to små 150 MW-enheder blev taget ud af drift i 2009, mens de to 260 MW-enheder stadig er i driftsmæssig stand.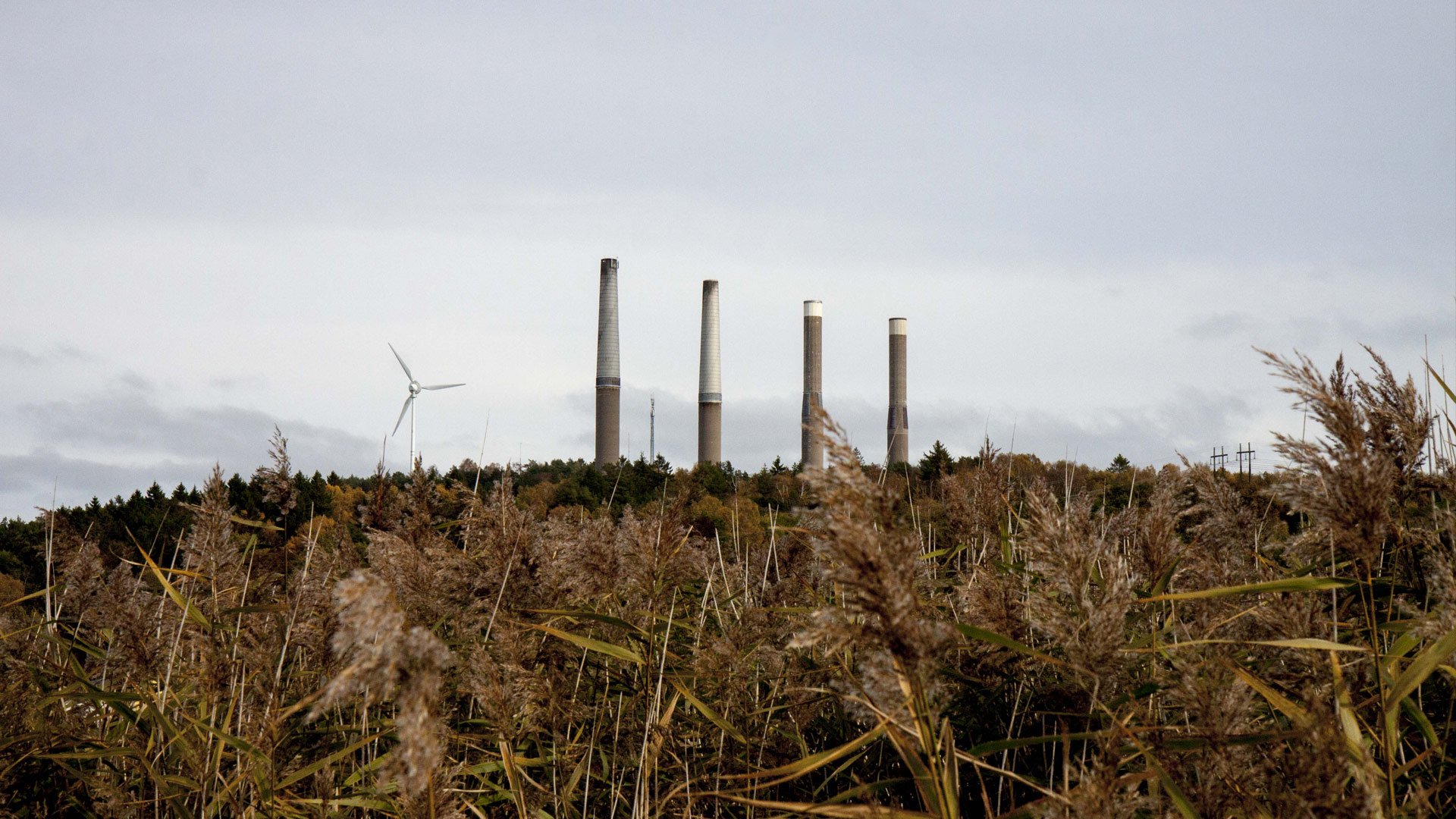 2 x 260 MW-enheder er stadig operationelle.
Ingen standardløsninger
Inde i bjerget ligger sidetunneller og huler, der er skabt til helt specifikke formål, som perler på en snor. Mobiltelefoner fungerer ikke inde i bjerget, så hele kraftværket har sit eget telefonsystem med personlige alarmfunktioner, fordi medarbejderne ofte arbejder alene i det store og vidt forgrenede anlæg. 16 elevatorer inde i bjerget transporterer folk og udstyr fra et niveau til et andet, og der er installeret et meget komplekst brandalarmsystem, fordi mange af hulerne er ubemandede det meste af tiden.
En mangeartet, moderne virksomhed
Et stykke inde i tunnellen, på venstre side, gennem en diskret sidedør, finder vi et komplet vandrensningsanlæg. Anlægget henter vand fra en sø seks kilometer væk og omdanner de på årsbasis ni millioner kubikmeter råvand og proces-vand til brug i anlægget, den omkringliggende industri og kommunen. To af de ni millioner kubikmeter vand udgør ferskvandsforsyningen til hele Stenungsund Kommune.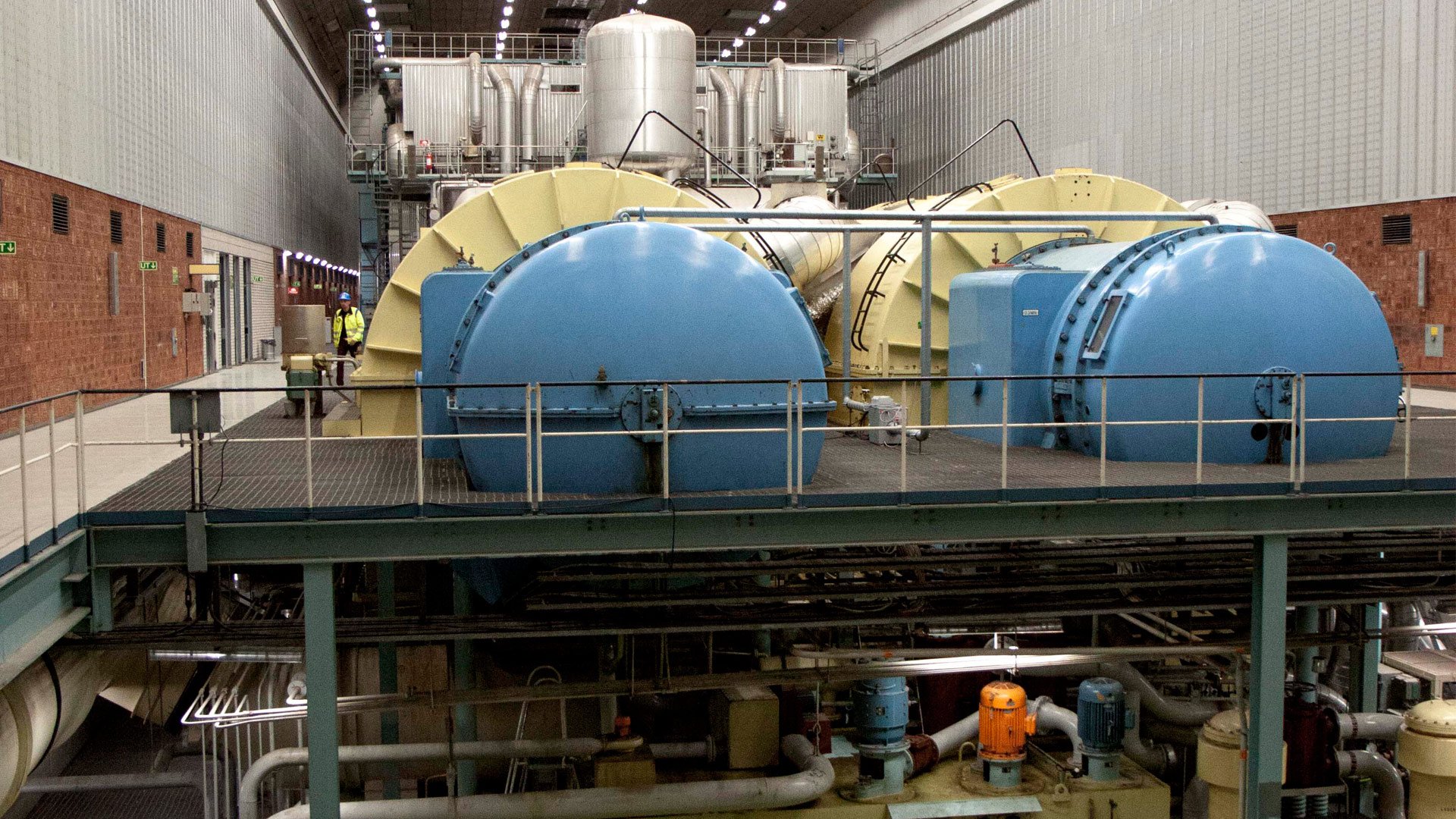 Stadig driftsklare, hvis der bliver kaldt på dem Bjerget skjuler fire fuldt udstyrede kraftværksblokke. To af dem er stadig driftsklare og kan benyttes som kraftreserve i det svenske elnet, hvis der bliver kaldt på dem.
"Vand er et af Vattenfalls fire aktivitetsområder i Stenungsund i dag. Spidslast- og reservekapacitetskraftværket tegner sig faktisk kun for 30 procent af virksomheden i Stenungsund, så i årenes løb er der blevet udviklet kommercielle sideaktiviteter, herunder en havn, hvor der anløber over 200 gas-, olie- og kemikalietankere om året for at servicere en stor del af den lokale kemiske industri; 520.000 m3 olielagre i 11 huler, som vi for det meste lejer ud, og vandvirksomheden, hvor vi også sælger rå-, køle- og procesvand til eksterne industrivirksomheder – alt sammen drevet af Vattenfall Services", forklarer Thomas Wikström.
Disse aktiviteter bidrager til at gøre kraftværket rentabelt, selv under lange perioder, hvor anlægget ikke kører. Det betyder også, at anlægget kan have en meget skrabet organisation med en høj effektivitet, fordi medarbejderne flyttes mellem de forskellige virksomhedsområder efter behov.
I 1970'erne, hvor de fire enheder kørte døgnet rundt, havde Vattenfall fem fulde skiftehold med i alt 330 medarbejdere i Stenungsund. Siden 2003 har kraftværket været en del af den generelle svenske elkapacitetsreserve. I 2014 og i 2017 vandt anlæggets to stadigvæk aktive enheder imidlertid ikke auktionen om at fungere som elreserve, og det har ført til en evaluering af de forskellige alternativer for anlæggets fremtid. En endelig beslutning forventes i løbet af anden halvdel af 2017. Ud over at holde enhederne driftsklare med visse begrænsninger har de nuværende 30 fastansatte medarbejdere ansvaret for og er nødvendige for at køre alle aktiviteterne i havnen, vandbehandlingsanlægget og olielagrene, hvilket giver en masse synergieffekt i de daglige opgaver.
T.v. Kommunikationen inde i bjerget krævede oprindeligt et specielt system med lyssignaler, og selv i dag benytter medarbejderne et helt uafhængigt telefonsystem. Moderne mobiltelefoner fungerer ikke inde i de 600 huler og vidtforgrenede tunneller.
T.h. Elektriker Kaisa Lithander kører på sin elektriske knallert for at tilbagelægge de lange afstande imellem hendes forskellige arbejdspladser inde i bjerget.
---
Om Thomas
Navn: Thomas Wikström.
Alder: 36.
Stilling: Business Area Manager og havnemester.
Arbejdssted: Stenungsund.
Hobbyer: Udendørs aktiviteter, orienteringsløb og fiskeri, projekter i hjemmet og sejlsport.