Sidste år dækkede danske vindmøller 42,1 % af det danske elforbrug, og en enkelt time producerede de endda det, der svarer til 138,7 % af landets elforbrug.
I 2015 slog dansk vindenergi igen verdensrekorden ved at producere 42,1 % af det danske elforbrug. I Vestdanmark, hvor de fleste af vindmøllerne er placeret, producerede vindenergi faktisk mere strøm end det vestdanske forbrug i 1.460 timer af årets 8.760 timer, og vindenergiens samlede andel af elproduktionen i Vestdanmark nåede ifølge den danske transmissionssystemoperatør Energinet.dk helt op på 55 %.
"Det er i sig selv ikke usædvanligt med timer med vindproduktion større end forbruget, men at vi nu er oppe på en sjettedel af tiden i det vestdanske elnet illustrerer, at mere og mere svingende elproduktion betyder, at vi i endnu højere grad har gavn af at importere og eksportere over grænser. Hvis vi i nogle timer har meget vindenergi, sælger producenterne til forbrugere i Norge, Sverige og Tyskland, og modsat køber vi herhjemme f.eks. vandkraft fra Norge, solenergi fra Tyskland og kraftværksstrøm fra Sverige, når det bedst kan betale sig", siger Carsten Vittrup, energistrategisk rådgiver i Energinet.dk's afdeling for Energianalyse.
Gode vindmåneder
En medvirkende årsag til rekorden i 2015 er, at det var et år med meget vind. Men Energinet.dk forklarer, at to havmølleparker har været ude af drift i henholdsvis en og to måneder på grund af kabelfejl. Uden disse driftsstop ville vindenergi have bidraget med ca. 43,5 %.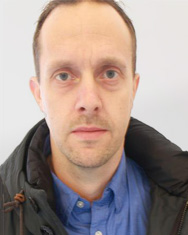 For Jan Jørgensen, som står i spidsen for Vattenfalls overvågningscenter i Esbjerg, hvorfra alle Vattenfalls 1.000 vindmøller overvåges og styres, kommer den danske rekord ikke som en overraskelse:
"I oktober forventede jeg ikke, at den danske vindsektor ville slå nogen rekorder, men november og december var ekstremt gode vindmåneder. Og rent faktisk, hvis vi ser på Vattenfall generelt, så var de to måneder den næstbedste og den bedste måned nogensinde i forhold til vindenergiproduktion, hvor vi den 22. december oplevede den absolutte rekord for én dag."
I betragtning af de omfattende danske planer om udvidelse af produktionen af både landbaseret, havbaseret og kystnær vindenergi, hvor Vattenfall er en stor og aktiv aktør, er Jan Jørgensen sikker på at Folketingets mål om 50 % vindproduceret strøm i de danske stikkontakter i 2020 er inden for rækkevidde – hvis vejret tillader det.
Artikel: "De holder vindmøllerne snurrende"
Om Energinet.dk:
Energinet.dk ejer og driver de danske el- og gastransmissionsnet, og deres kerneydelse er forsyningssikkerhed.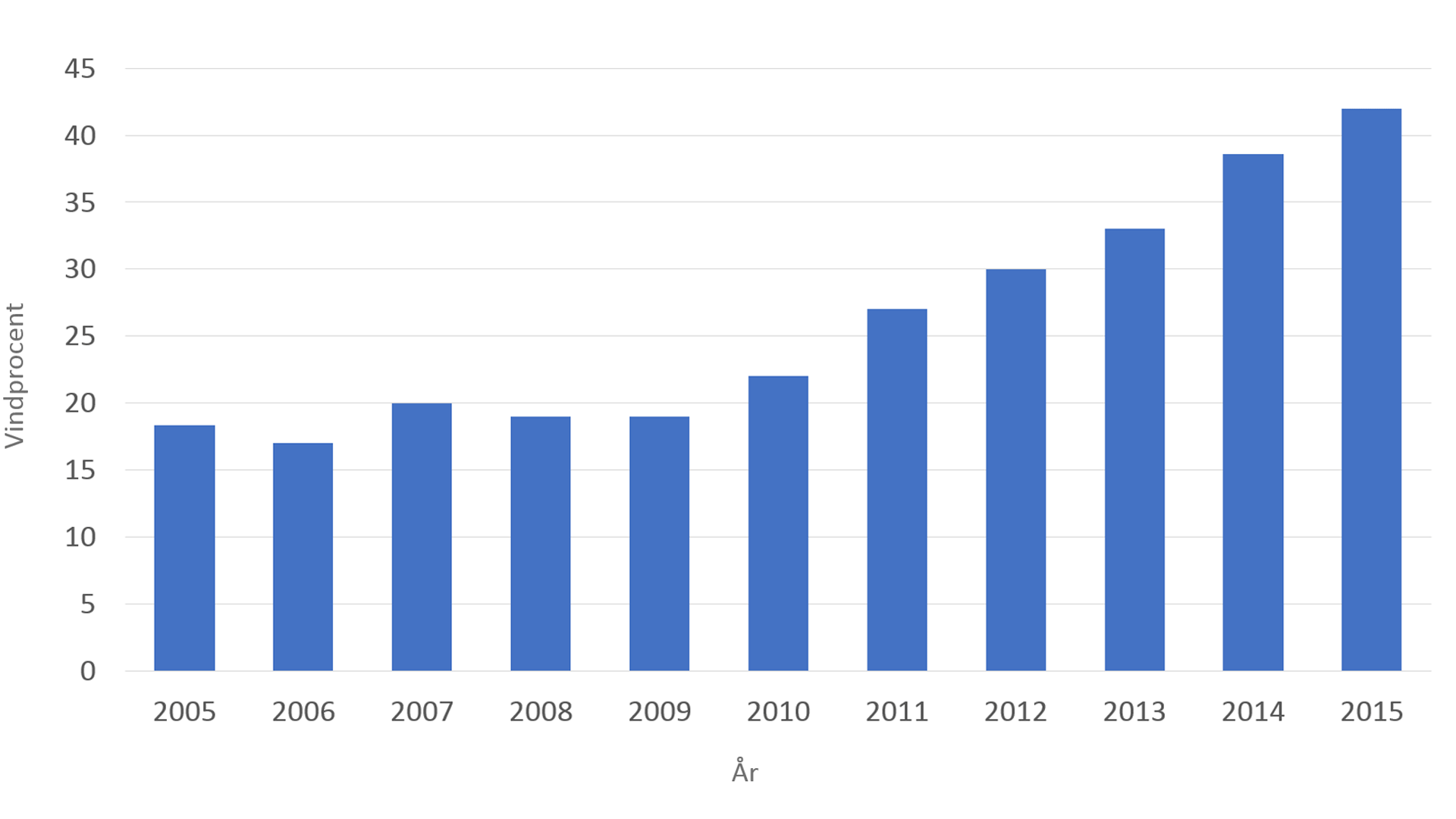 Vindenergiens andel i det danske elsystem er vokset år for år. Kilde: Energinet.dk.