Salg af brunkulsaktiviteterne, kvartalsrapport og generalforsamling. Det var ikke nogen blid start for Vattenfalls nye Head of Communications, Karin Lepasoon, som også sidder i koncernledelsen.
Efter den første måned hos Vattenfall er hun ved at lære virksomheden og medarbejderne at kende. En af de første arbejdsopgaver var at arbejde med kommunikationen omkring salget af de tyske brunkulsaktiviteter.
"Det var som at hoppe i vandet i den dybe ende af bassinet og bare begynde at svømme. Der var ikke så meget at betænke sig på. På den anden side var det en god måde at komme ind i en vigtig del af virksomheden på og lære en masse mennesker at kende på meget kort tid."
Windsurfende kommunikator
En internetsøgning på Karin Lepasoon viser blandt andet, at hun har arbejdet som ansvarlig for kommunikation, bæredygtighed og HR i venturekapitalvirksomheden Nordic Capital og som viceadministrerende direktør i Skanska-koncernen.
Søgningen viser også, at hendes far kom til Sverige som krigsflygtning fra Estland, og at hun interesserer sig for motorsport og windsurfing.
"Øjenåbner"
Det eneste tidspunkt under det ca. en time lange interview, hvor Karin Lepasoon tager sig ekstra tid til at besvare et spørgsmål, er, da hun bliver spurgt om, hvilken bil der er hendes drømmebil. Ellers svarer hun straks og udførligt.
Du er uddannet jurist, hvorfor kommunikation?
"Det startede egentlig, da jeg blev ansat på Näringslivets EU-fakta i 1993, fordi jeg kunne EU-ret. Mit arbejde bestod i at oversætte EU-retlige spørgsmål, som jurister, der ikke var eksperter i EU-ret, kunne sætte sig ind i og anvende for at få Sverige til at stemme ja ved folkeafstemningen i 1994. Vi var et team af forholdsvis unge mennesker, som skulle ud og snakke EU med det svenske folk. Og vi havde en ret afslappet fremtoning, vi var ikke industriforbundsdirektører eller lignende, men bag kulisserne var der et utroligt sofistikeret opinionsdannelsesapparat med kampagneledere fra Tony Blairs kampagne i spidsen. Han havde netop vundet valget i Storbritannien. Og hele dette opinionsdannelsesapparat fik jeg mulighed for at arbejde ret tæt på, og her fik jeg øjnene op for, hvor spændende det er med kommunikation, at forstå målgrupper og tilpasse budskabet til disse. Det var øjenåbneren, og siden har jeg arbejdet med kommunikation på en eller anden måde."
Ikke fakir
I modsætning til sin forgænger sidder Karin Lepasoon i koncernledelsen.
Da hun først blev kontaktet om jobbet hos Vattenfall, var hun på weekendudflugt.
"Jeg havde ikke gjort mig nogen tanker om et eventuelt nyt arbejde, eftersom jeg blot havde været hos Nordic Capital i et halvt år. Men jeg tænkte, 'det er måske det her, jeg skal lave?' Jeg havde arbejdet i store virksomheder i mange år og trivedes godt i et komplekst miljø, med flere forskellige kulturer og ved at sidde tæt på kernen i virksomheden."
"Efterfølgende syntes jeg, at det var ret sjovt, da jeg kom hertil og blev spurgt, om jeg var en slags fakir, fordi jeg ville have dette job. Men det er jeg jo ikke."
Hvilke forventninger havde du til det nye job og Vattenfall, og hvordan er de blevet indfriet?
"Jeg havde en forventning om, at der er rigtig mange mennesker, som har vidt forskellige synspunkter og meninger om Vattenfall, og at der er mange interessenter, mange målgrupper eller interesseorganisationer, som er interesseret i hver sin lille del af Vattenfall. Sådan er det i virkeligheden, og hos Vattenfall er det eksponentielt. Alt kan ganges op med cirka 1.000. Det indebærer, at det bliver endnu vigtigere, at vi som virksomhed har et meget tydeligt mål for, hvor vi skal hen, hvorfor vi skal derhen, og hvordan vi kommer det. Eftersom der er så mange, som hele tiden vil ændre vores skibs kurs, skal vi sørge for at holde den rigtige retning. Jeg mener, at vi har en tydelig retning i vores strategi. Og det handler faktisk bare om at fastholde den på alle måder."
Hvordan gør man så det?
"Dels ved at sørge for, at alle aktiviteter, alle BU'er og stabsfunktioner virkelig forstår deres del af strategien og arbejder hen imod den, så vi fylder vores retning med relevant og konkret indhold. Og dels at vi i alle stabsfunktioner også sikrer, at man forstår strategien og støtter op om måden, hvorpå vi skal nå derhen. På den måde vil vi også have en masse spændende ting at kommunikere, som støtter denne strategi. Man kan ikke begynde i omvendt rækkefølge med bare at kommunikere noget uden at have et relevant indhold."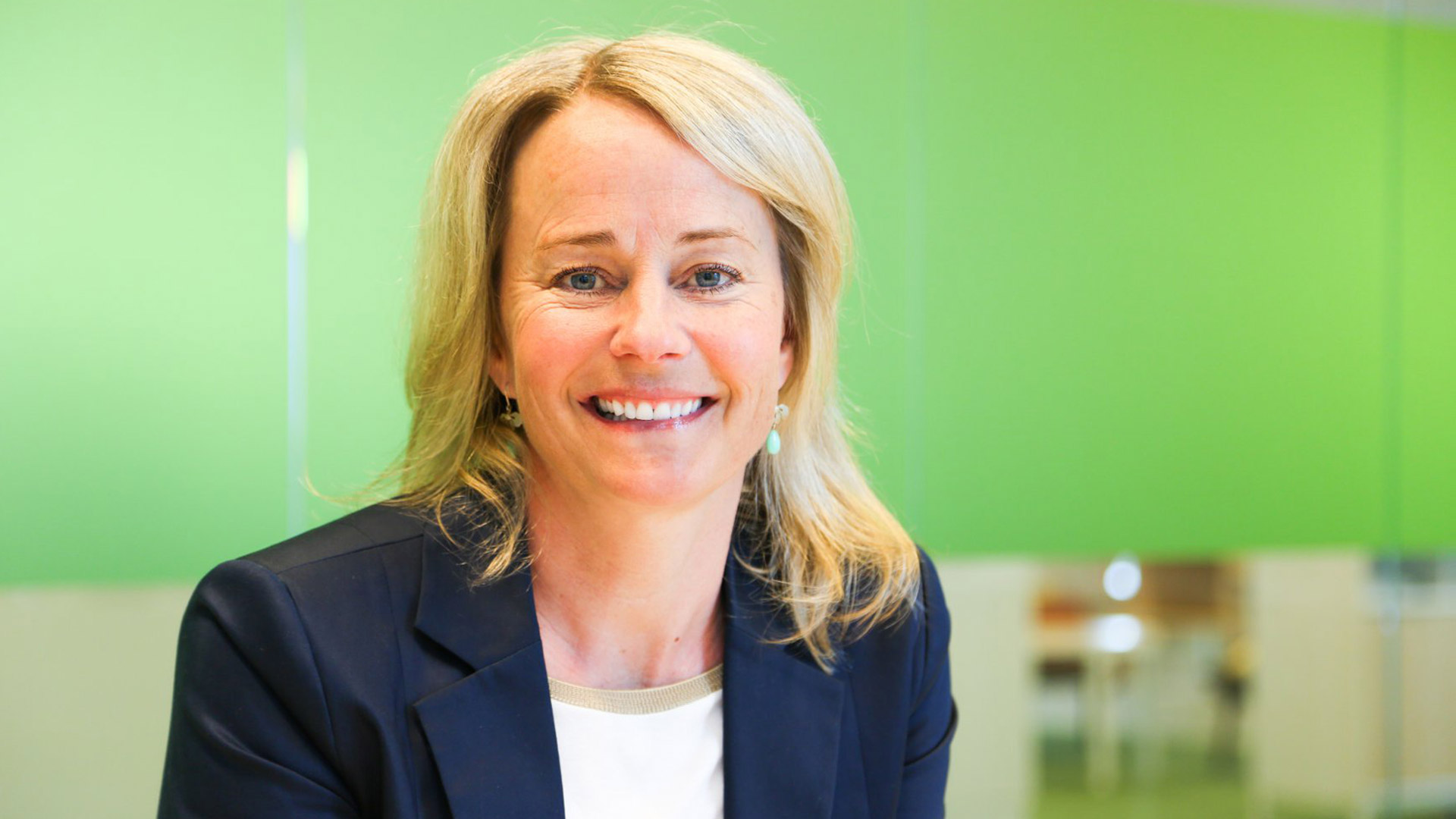 Virksomhedens bedste
Hvad er din største styrke som kommunikator?
"Dels synes jeg om mennesker, at mødes og omgås i et team. Gennem kommunikation kan man se, hvordan ting og sager hænger sammen. Det gælder om at sikre, at man ikke sender for mange modstridende budskaber, både mundtligt og gennem sine handlinger. Jeg synes, at jeg er ret god til både at have et helikopterperspektiv og til at få budskabet kogt ned, så det bliver interessant for de målgrupper, som vi ønsker at få i tale."
"Jeg trives bedst i et miljø, hvor jeg føler, at dem, som arbejder der, løbende stiller forslag, som fremmer virksomhedens bedste. Ikke personens bedste, ikke teamets bedste, men virksomhedens bedste. Så længe man altid har det for øje, er det helt enkelt. Det vil med andre ord sige, at intern politik slet ikke er mig."
Digitalt kontor
Endnu er der ikke meget, som afslører noget om personen Karin Lepasoon i kontorlokalet på 11. etage i Arenastaden. En urtepotte med en vindmølle nedstoppet i, en træfigur, der ligner fisken Nemo, og en rød/hvid prikket kasse er alt, som vidner om, at der rent faktisk er nogen, som arbejder her.
"Jeg er virkelig digitaliseret og vil ikke have en masse papirer. Jeg sidder her ikke så meget, bortset fra når jeg har møder. Jeg vil ikke sidde for meget i det her lokale, ikke alene i hvert fald."
Drømmebilen
Så hvordan var det nu med drømmebilen? Efter et øjebliks trommen med fingrene på bordpladen lyder svaret:
"Der er mange sportsvogne, som jeg synes om. GT3RS er en super lækker Porsche, Nissan GTR er også fin, men de er begge miljøsyndere, så de er måske alligevel ikke helt ok."
---
Fakta om Karin Lepasoon
Alder: 47.
Bor: Stockholm.
Familie: to børn på hhv. 11 og 13 år, i parforhold med bonusbørn, men bor alene.
Interesser: motorsport, windsurfing.
Transportform til arbejde: kører typisk i bil, men tager af og til offentlige transportmidler.
Bil: Lexus hybrid.