Første elbil, som oplades under kørslen, er nu på vej
Sveriges første fuldt elektriske lastbil, som kan oplades under kørslen, er nu blevet godkendt af den svenske bilinspektion til kørsel på offentlig vej. Dermed kan ellastbilen tages i drift på en ny type elvej, som skal indvies til efteråret på en landevej ved Arlanda-lufthavnen nord for Stockholm.
Den fuldt elektriske lastbil og den nye elvej er en del af det svenske udviklingsprojekt eRoadArlanda. Projektet er udvalgt af den svenske trafikstyrelse som et af to projekter med henblik på vurdering af teknologi til elveje. Til forskel fra de fleste andre typer elveje, der ligesom jernbaner er baseret på elforsyning via en kontaktledning og en strømaftager på toppen af køretøjet, vil ellastbilen i eRoadArlanda-projektet hente strøm fra en elskinne, der ligger nede i vejbanen ligesom en modelracerbane.
"Vattenfall vil støtte overgangen til eldreven transport og deltager derfor i dette projekt for at teste en helt ny teknologi til elveje. Til efteråret vil der blive anlagt en to kilometer lang strækning på en del af en offentlig landevej mellem Arlanda og logistikområdet Rosersberg. Teststrækningen og den nye elvejsteknologi er den første i verden af sin slags," siger Johan Tollin, ansvarlig for e-mobility i Vattenfall R&D.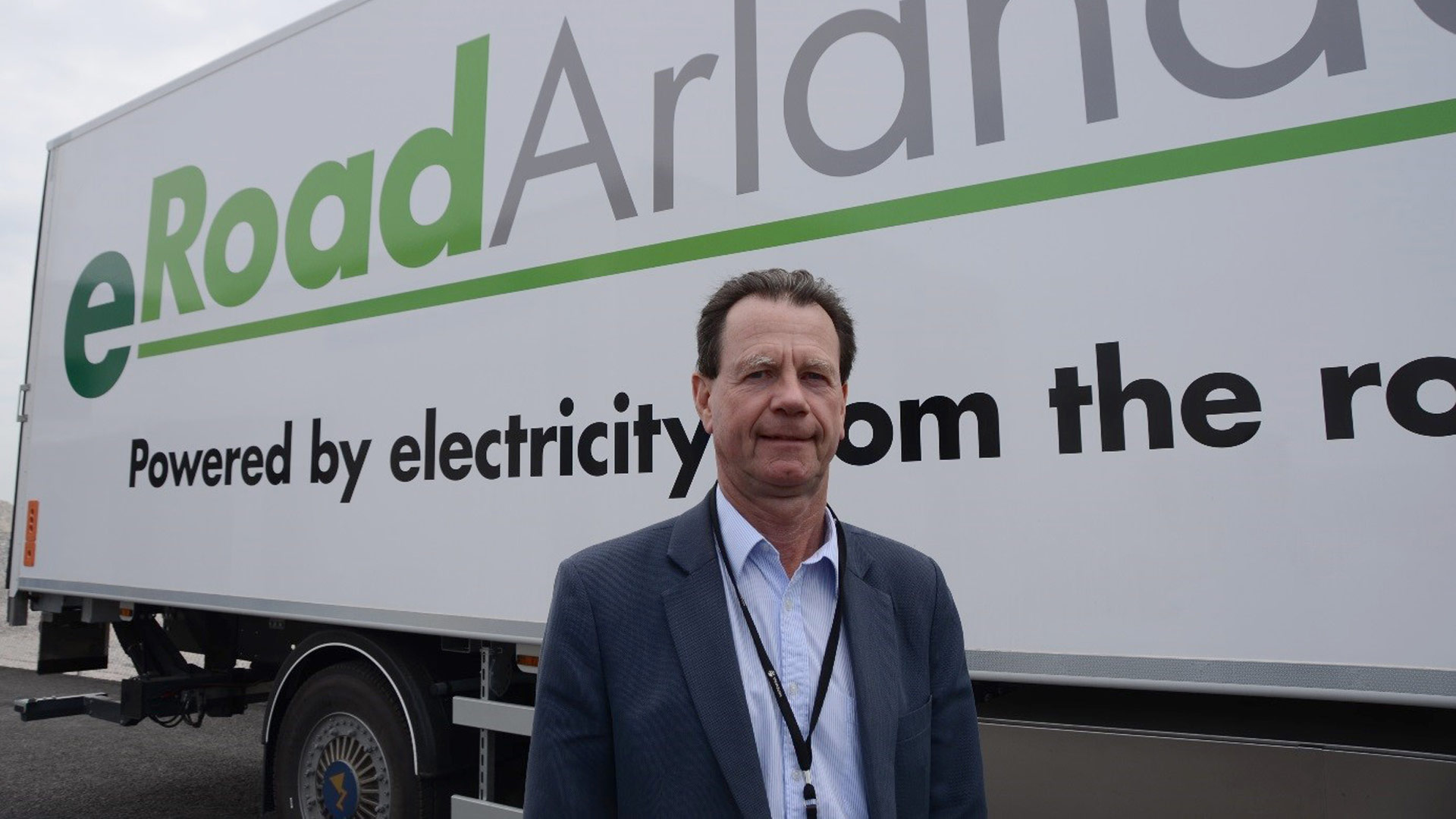 Sveriges første fuldt elektriske lastbil, som kan oplades under kørslen, er for nylig blevet godkendt af den svenske bilinspektion. Ifølge Johan Tollin, der er ansvarlig for e-mobility i Vattenfall R&D, er der dermed taget et vigtigt skridt i udviklingen af tunge vejtransporter på en ny type elveje.
Regulær godstrafik
Lastbilen vil blive anvendt af speditionsvirksomheden PostNord i regulær godstrafik på strækningen, som sammenlagt er på 10 kilometer. Batteriet i lastbilen vejer ca. 600 kg og har med 80 kWh omtrent den samme kapacitet som et batteri til en Tesla-elbil.
Når ellastbilen kører overføres der energi til køretøjet fra en skinne i vejen via en bevægelig arm under lastbilen. Armen registrerer, hvor skinnen i vejen ligger, og så længe køretøjet befinder sig over skinnen, er kontakten i nedfældet position. Når elskinnen slutter, eller hvis lastbilen skal skifte vejbane, trækkes armen under ellastbilen automatisk op. Teknologien er udviklet og testet på en indhegnet bane nær Arlanda-lufthavnen og har her vist sig at fungere godt.
"Elektrificering af vejtrafik er en vigtig brik i puslespillet med at mindske den samlede CO2-udledning i samfundet. CO2-udledningen fra lastbiler tegner sig for omkring en tredjedel af den samlede udledning fra vejtrafikken, og især til tunge lastbiler i fjerntrafik er batteridrift alene ikke et alternativ. Derfor er udvikling af elveje interessant for både transportvirksomheder, samfundet og os," siger Johan Tollin.
Idéen med elveje, som skal muliggøre ladning af elkøretøjer under kørslen, er at reducere behovet for store og pladskrævende batterier i fremtidens ellastbiler og elbusser. Hvis et tungt lastvognstog skal kunne køre ligeså langt på el som dagens dieseldrevne lastbiler, ville det kræve et batteri på 40 ton, hvilket ville optage en stor del af lastrummet. Med elveje kan ellastbiler i stedet få sin elforsyning fra nettet og derefter anvende et mindre batteri på vejafsnit uden elladning.
Elvejen ved Arlanda bygger på teknologi udviklet af opfinderen Gunnar Asplund i virksomheden Elways. Gunnar Asplund har tidligere været forskningschef i ABB og har her været med til at udvikle den prisbelønnede HVDC-teknologi til transmission af store mængder højspændingsjævnstrøm.
"Elveje med en elskinne fungerer til alle typer elkøretøjer og påvirker ikke landskabsbilledet på samme måde som elveje af den type, der hidtil har været præsenteret. Den teknologi, vi anvender, har potentialet til at blive en etableret standard i forbindelse med elektrificeringen af Europas veje og er et vigtigt skridt hen imod bæredygtige vej- og godstransporter i Sverige," siger Gunnar Asplund.
Vattenfall Eldistribution vil have ansvaret for eltilslutningen af den kommende teststrækning. Desuden vil Vattenfall levere el fra vindkraft til projektet.
Læs mere
eRoadArlandas hjemmeside (på engelsk)
Animeret film om elveje