Vattenfall var en af underskriverne af initiativet Equal by 30 under Clean Energy Week.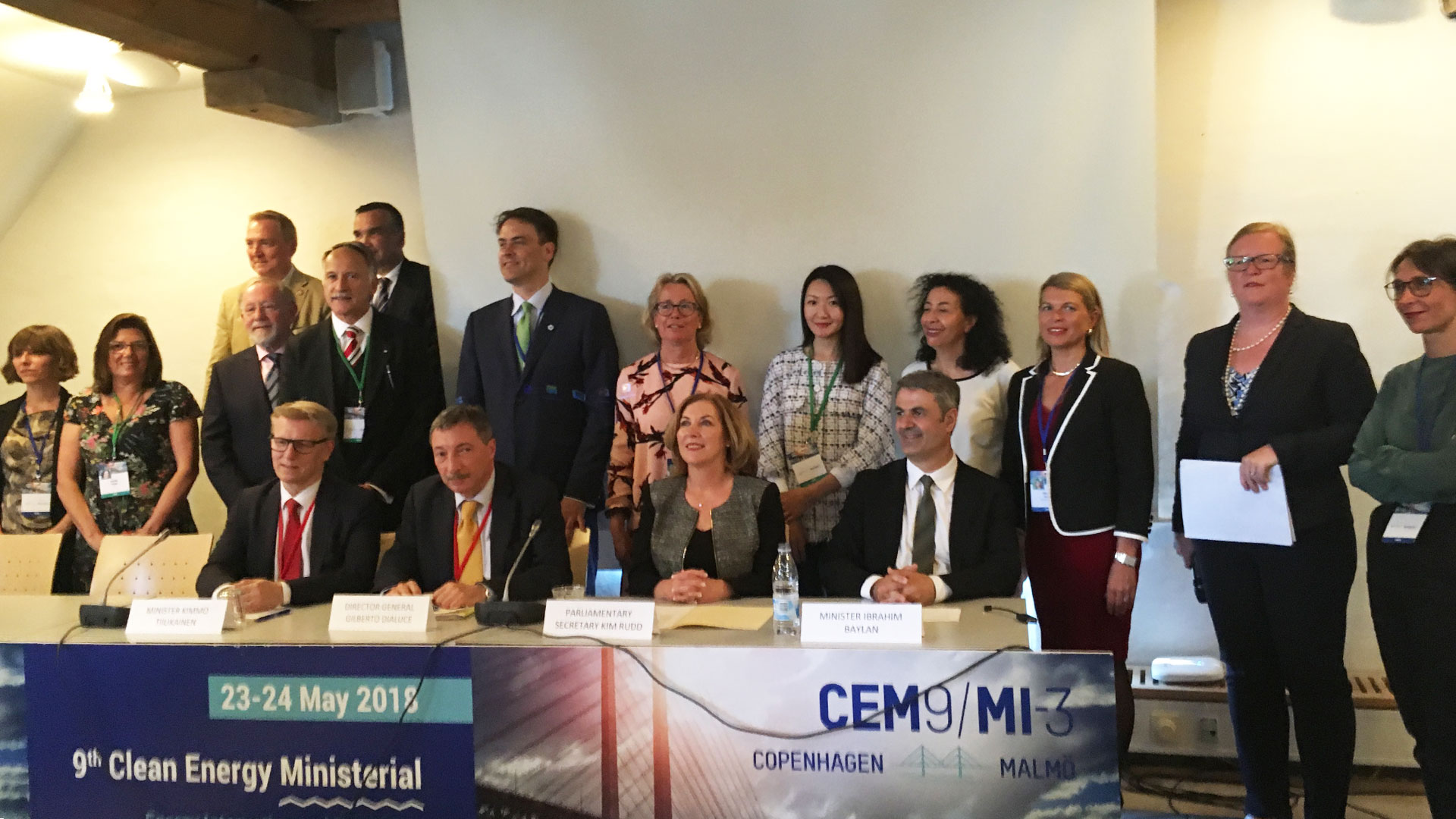 De finske, italienske, canadiske og svenske regeringer var repræsenteret ved underskrivelsen af "Equal by 30". Vattenfalls Annika Viklund står som nummer tre fra højre.
Forrige uge gennemførtes Nordic Clean Energy Week i Malmø og København, hvor ministre fra hele verden mødtes med repræsentanter fra forskellige organisationer og brancher, heriblandt Vattenfall.
I løbet af ugen blev initiativet "Equal by 30" lanceret. Det er en kampagne, der skal fremme ligestillingen i energibranchen. I arrangementet deltog både regeringsrepræsentanter og virksomheder, som forpligtede sig til at arbejde i henhold til principperne om ligeløn, ligestilling i ledelsen samt lige muligheder for kvinder frem mod 2030.
FN's globale mål
Equal by 30 administreres af energisektorens globale ligestillingssamarbejde C3E (Clean Energy Education and Empowerment). Sverige, Canada og Italien er initiativtagerne til samarbejdet, som er tilknyttet det internationale energiagentur (IEA). Initiativet er baseret på FN's globale mål om at fremme ligestillingen og øge alle kvinders og pigers selvbestemmelse.
Vattenfall var repræsenteret af Annika Viklund, Head of BA Distribution, som også er svensk C3E-ambassadør:
"Det er godt endnu engang at opleve, at energiselskaberne faktisk gerne vil gøre en indsats for ligestilling og mangfoldighed. Gennem Equal by 30 samarbejder private og offentlige energiselskaber om aktivt at arbejde for lige muligheder for mænd og kvinder. På det felt er vi i Vattenfall allerede nået et stykke hen ad vejen gennem vores arbejde i Diversity & Inclusion", siger Annika Viklund.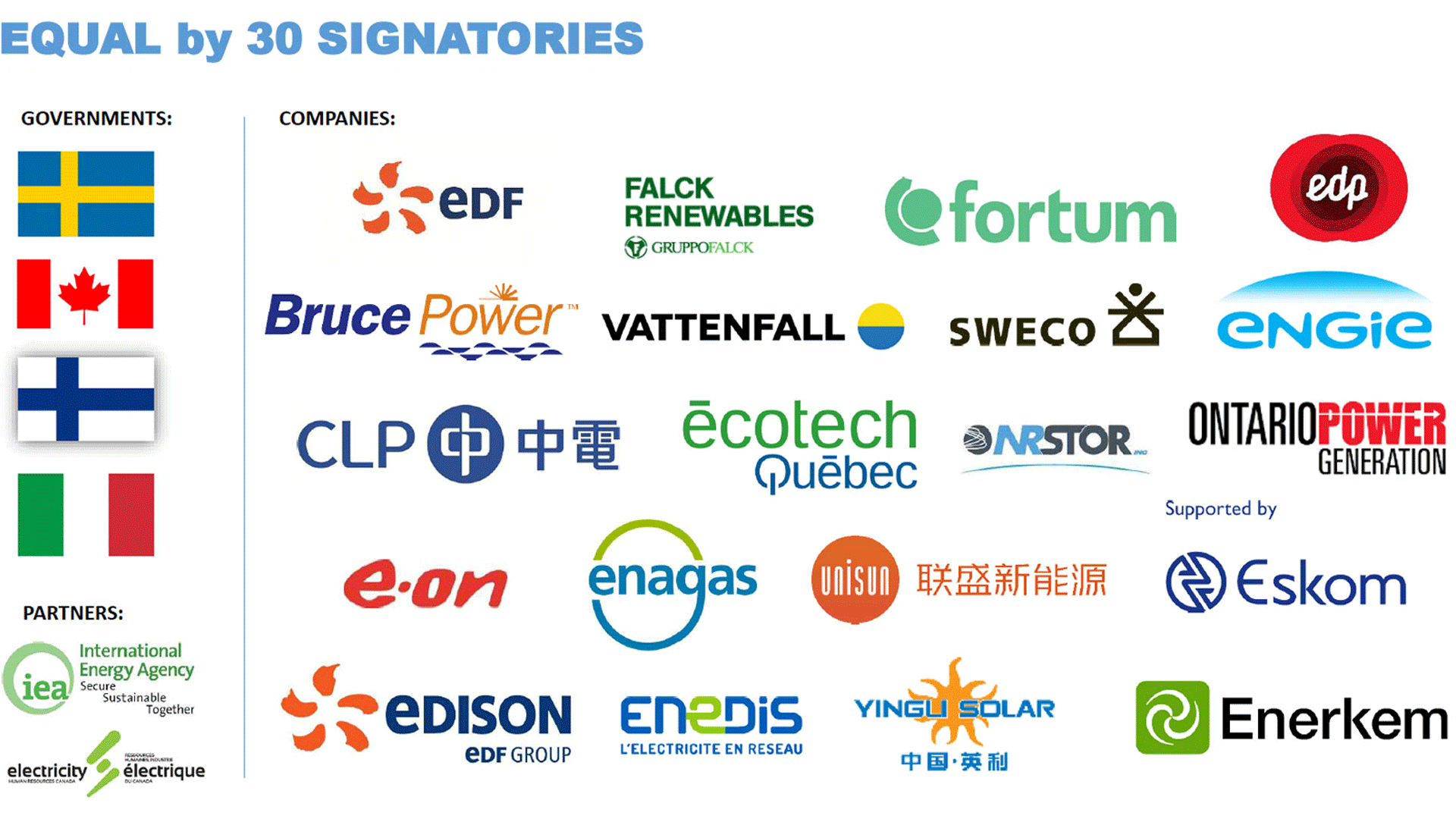 20 virksomheder og fire lande var blandt underskriverne af Equal by 30, det internationale energiagenturs (IEA) initiativ for ligestilling i energisektoren.
Målbevidst arbejde
Vattenfall arbejder allerede målbevidst med ligestillingsspørgsmål, blandt andet ved at koncernledelsen i længere tid har haft tydelige mål for at øge andelen af kvindelige ledere. Siden 2015 er der også blevet udnævnt en særskilt Diversity & Inclusion Officer blandt medlemmerne af koncernledelsen. Aktuelt er det Tuomo Hatakka, Head of BA Heat, som har rollen.
I alt er der 20 virksomheder med tilknytning til energibranchen blandt underskriverne af aftalen, blandt andet Fortum og E.ON, samt fire lande med statslige energiselskaber: Finland, Canada, Italien og Sverige:
"Mangfoldighed og ligestilling skaber forudsætning for nytænkning og innovation, og det burde være en del af kerneforretningen i alle organisationer. Sådan er det ikke i dag, og det er det, vi vil ændre på med Equal by 2030. Der er brug for både kvinders og mænds kompetencer i energiomlægningen", sagde Ibrahim Baylan, Sveriges samordnings- og energiminister.
Under Clean Energy Week deltog Vattenfalls CEO Magnus Hall også i en rundbordssamtale om industriens ansvar og muligheder for at gå foran, når det handler om at anvende vedvarende energi. Derudover arrangerede Vattenfall også et seminar om HYBRIT, projektet om fremstilling af fossilfrit stål.
Equal by 30: Equal pay, Equal leadership, Equal opportunity (på engelsk)