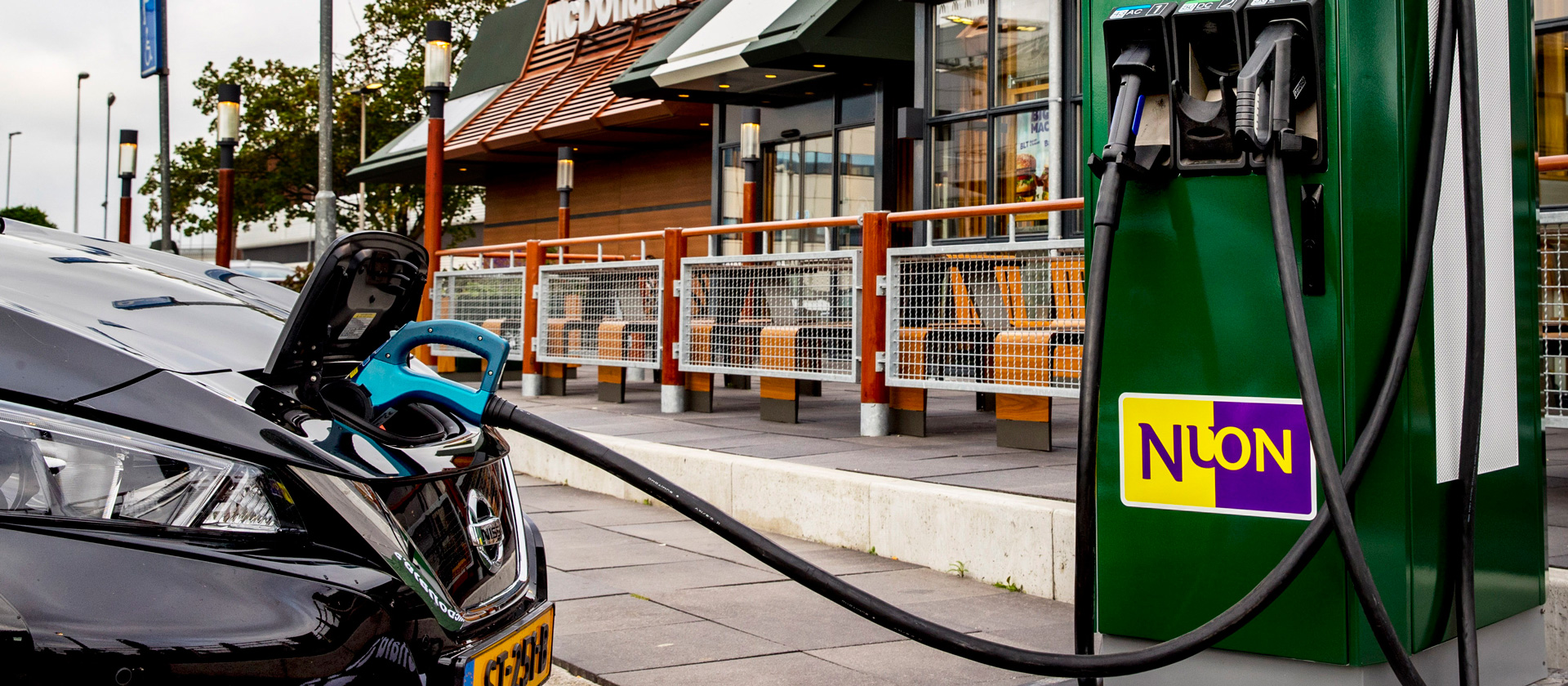 McDonald's og Nuon introducerer hurtigopladning på mere end 160 steder i Holland
Nuon og McDonald's har indgået aftale om fra slutningen af 2018 at påbegynde installationen af 168 hurtigladestandere, hver med to ladepunkter, hos samtlige af de McDonald's-forretninger i Holland, der har en McDrive.
Med samarbejdet tager McDonald's et vigtigt skridt mod sit mål om at gøre alle restauranter mere bæredygtige. Nuon og McDonald's forener deres ekspertise og markedsstørrelse med henblik på at imødekomme det voksende behov for elektrisk mobilitet i Holland.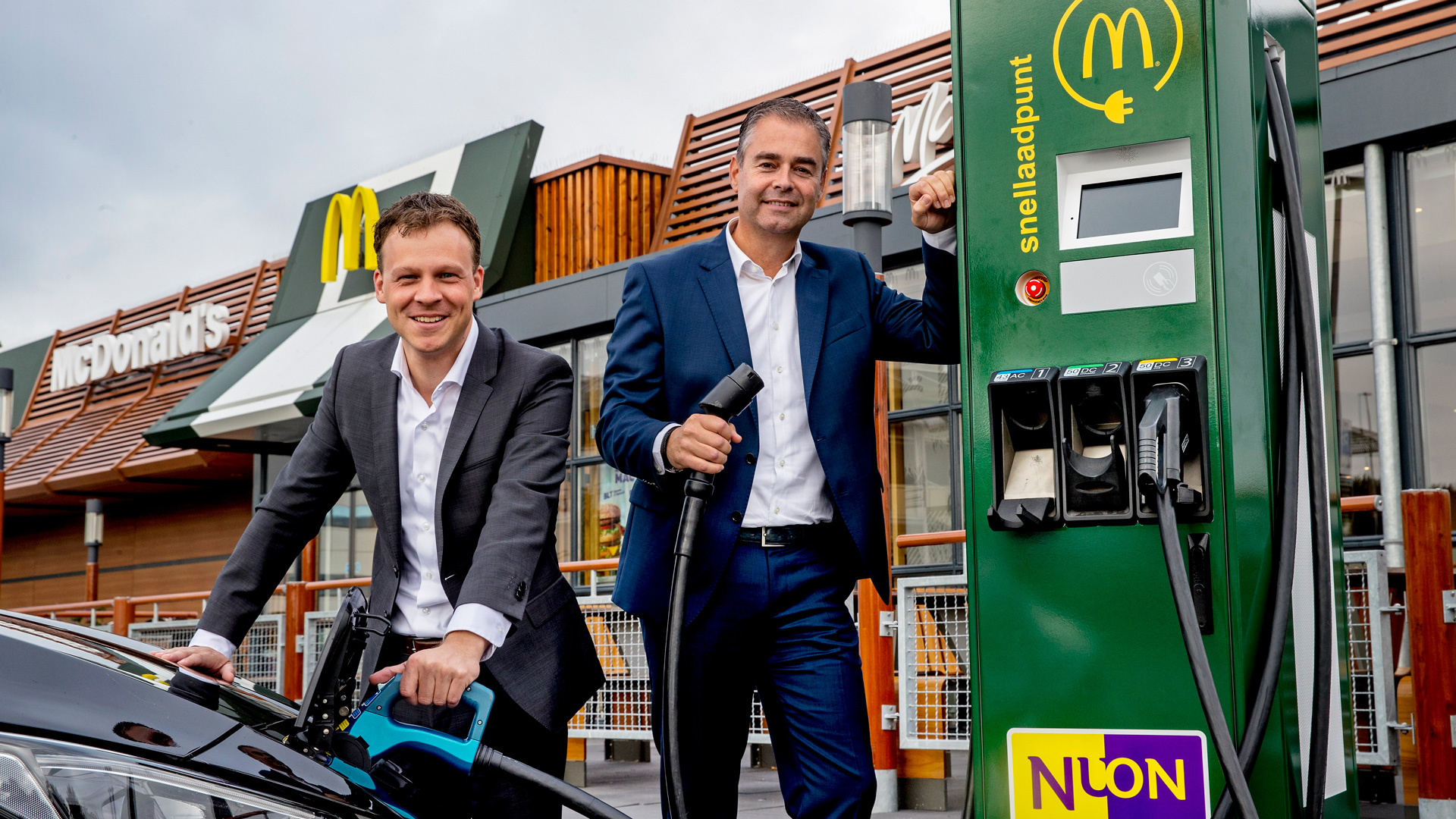 Den første hurtigladestander vil blive installeret i slutningen af 2018, hvorefter yderligere 167 ladestandere, hver med to ladepunkter, vil blive installeret i etaper over de efterfølgende tre år. Samarbejdet giver elbilister mulighed for at oplade deres biler på en halv time over hele landet med vedvarende el, der udelukkende kommer fra hollandske vindmøller.
Nyd en god kop kaffe mens du lader bilen
"Med denne aftale tager vi sammen med Nuon et vigtigt skridt på vej mod målet om at gøre vores restauranter mere bæredygtige. Vi udnytter vores størrelse til at arbejde hen imod klimaneutralt byggeri, drift og logistik. Vi er utrolig glade for, at vi med dette samarbejde kan tilbyde vores elbilkunder bekvemme hurtigladere med gode faciliteter, mens de er undervejs. Elbilisterne kan være tilbage på vejen inden for en halv time, og imens kan de nyde en god kop kaffe. Hurtigladerne bruger udelukkende vedvarende el", udtaler Bas Klaassen, Director Development Real Estate & Construction hos McDonald's.
Fossilfrit i hjemmet, på arbejdet og på vejene
"Vi er utrolig stolte over dette samarbejde", tilføjer Pieter van Ommeren, direktør for Emobility Nederland hos Nuon/Vattenfall. "Nuon og Vattenfall ønsker at gøre det muligt at leve fossilfrit, både i hjemmet, på arbejdet og på vejene. Det er derfor, vi har været aktive inden for elektrisk transport i næsten 10 år, både i det offentlige, i de private hjem og hos virksomheder. Det giver udviklingen af eltrafik i Holland et enormt boost, at vi nu kan kombinere vores ekspertise med McDonald's størrelse. For der er brug for en god infrastruktur med tilstrækkelige og let tilgængelige lademuligheder for at gøre det muligt for alle hollændere at køre på el. Det tager Nuon og McDonald's i dag et enormt skridt hen imod."
Behov for elektrisk hurtigopladning i Holland
Holland får flere og flere elbiler. Tal fra CBS (Hollands Statistik) viste pr. 1. januar 2018 en stigning på 60 % i forhold til året før, og i øjeblikket er der mere end 22.000 elkøretøjer på de hollandske veje. Rækkevidden for elkøretøjer er ikke altid stor nok til at kunne komme fra A til B. Etableringen af nettet af hurtigladestandere, som Nuon og McDonald's på kort tid ruller ud i hele Holland, er en løsning for elektrisk transport, mens man er undervejs.