Lørdag var den helt store Pride-paradedag i Stockholm og Hamborg, og masser af Vattenfall-medarbejdere deltog.
Med strålende solskin og temperaturer, man normalt kun oplever i Sydeuropa, havde Pride-paraderne i Berlin, Stockholm og Hamborg de bedste betingelser for en skøn dag sammen med kollegaer og masser af tilskuere. I Amsterdam havde Vattenfall besluttet at donere penge fra ladestationsindtægterne til LGBTI-organisationen COC.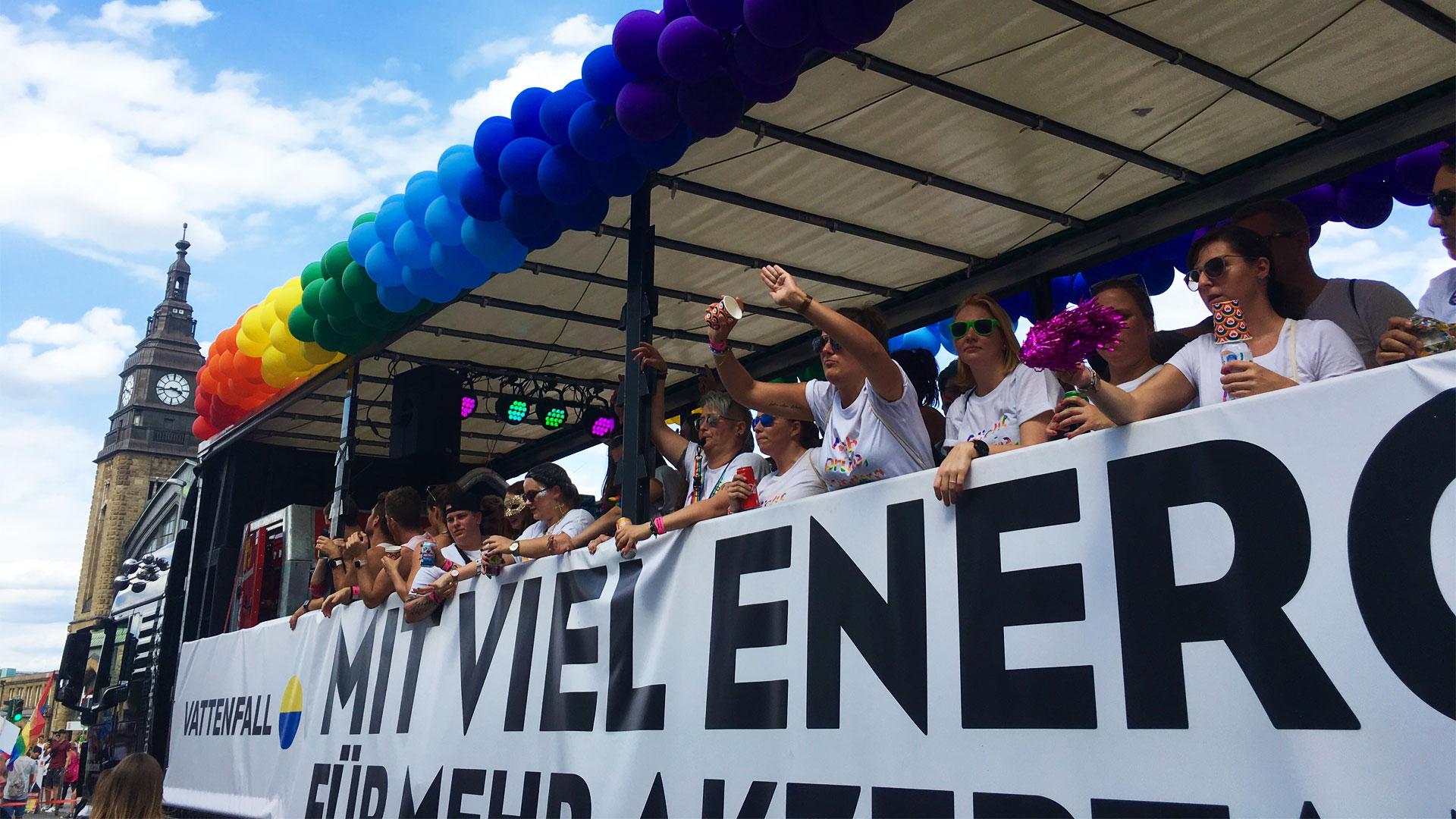 Parade med både lyd og farver gennem Hamborgs gader
Al vores energi til mangfoldighed: I de over 30 graders varme den 4. august gik omkring 200.000 mennesker gennem Hamborg i Pride-paraden for at fremme respekt, ligeværd og tolerance. Sammen med Radio Energy og Clas Ohlson havde Vattenfall en lastbil med budskabet "Powered by Diversity" (drevet af mangfoldighed).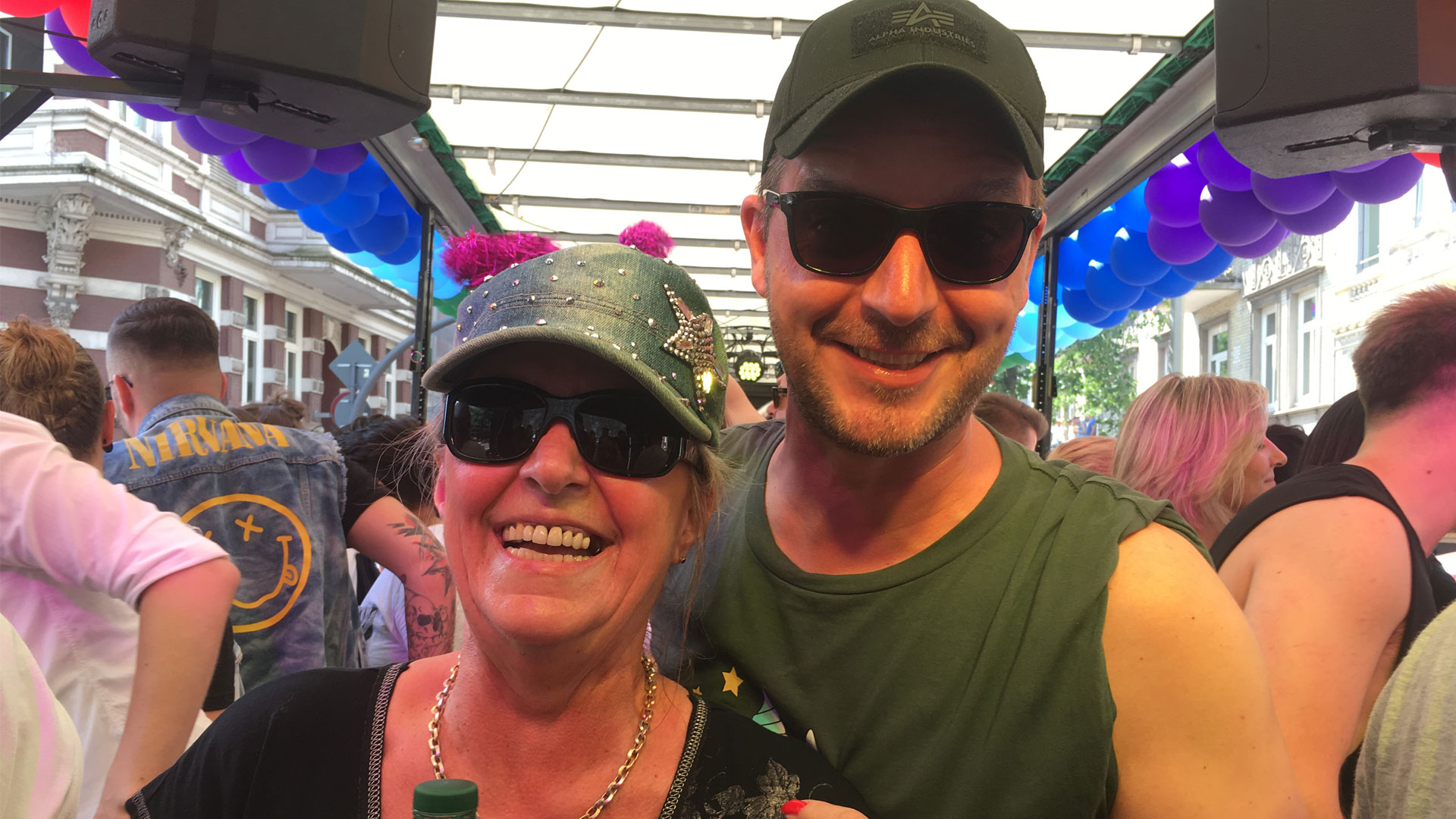 Daniel Münchrath.
Der var forinden blevet trukket lod om 20 pladser til Vattenfall-medarbejdere, og blandt vinderne var Daniel Münchrath fra Vattenfall Europe Nuclear Energy: "Min mor Elvira er kommet helt fra Köln for at være med, og vi glæder os meget til at deltage i en Pride-parade på en lastvogn for første gang i dag."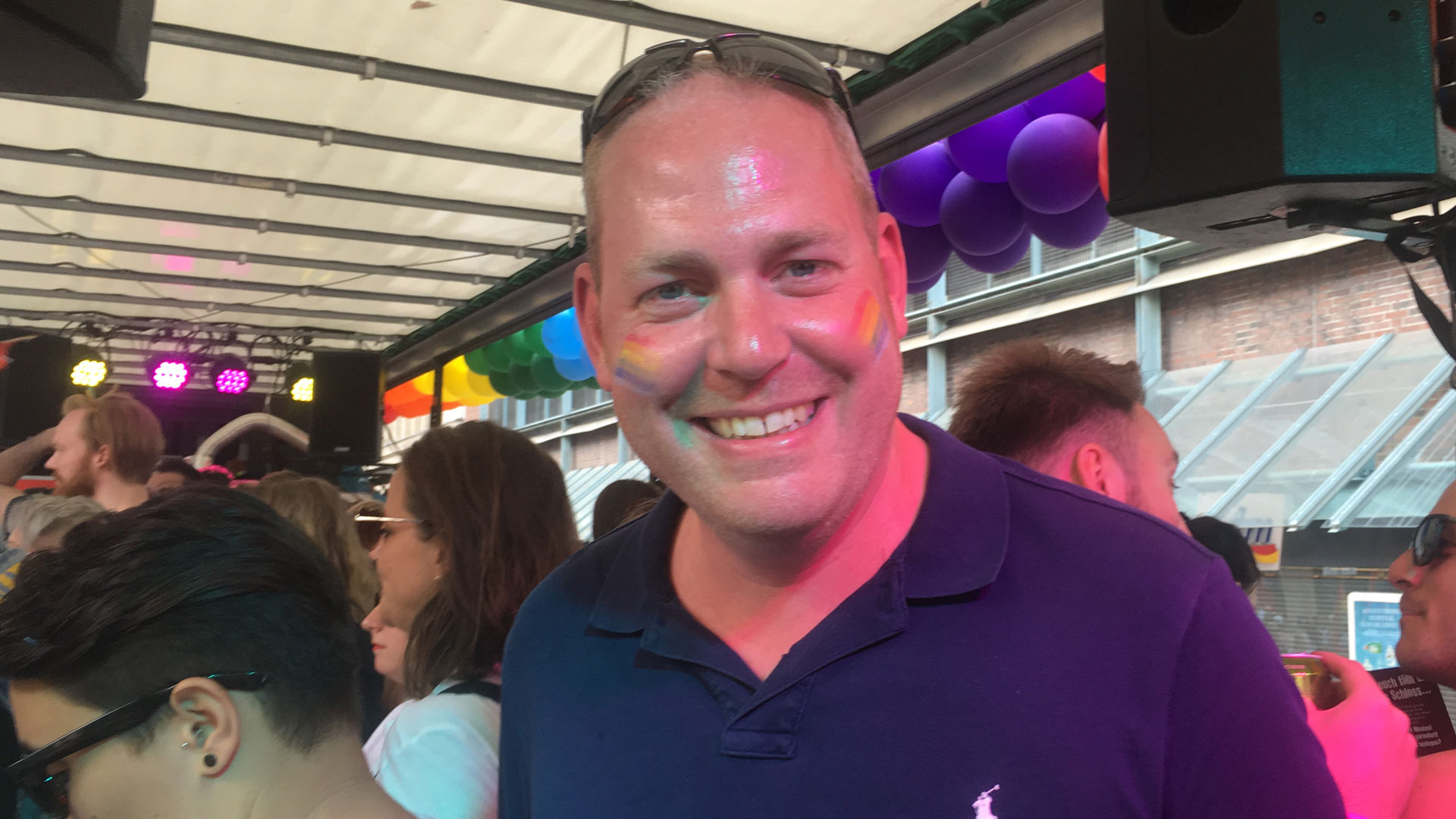 Heiko Jensen.
Heiko Jensen fra Tax Governance var også med: "Det er fantastisk, at efter Holland og Sverige så viser Vattenfall nu flaget i Berlin og Hamborg for anden gang. Lad os blive ved på den måde!"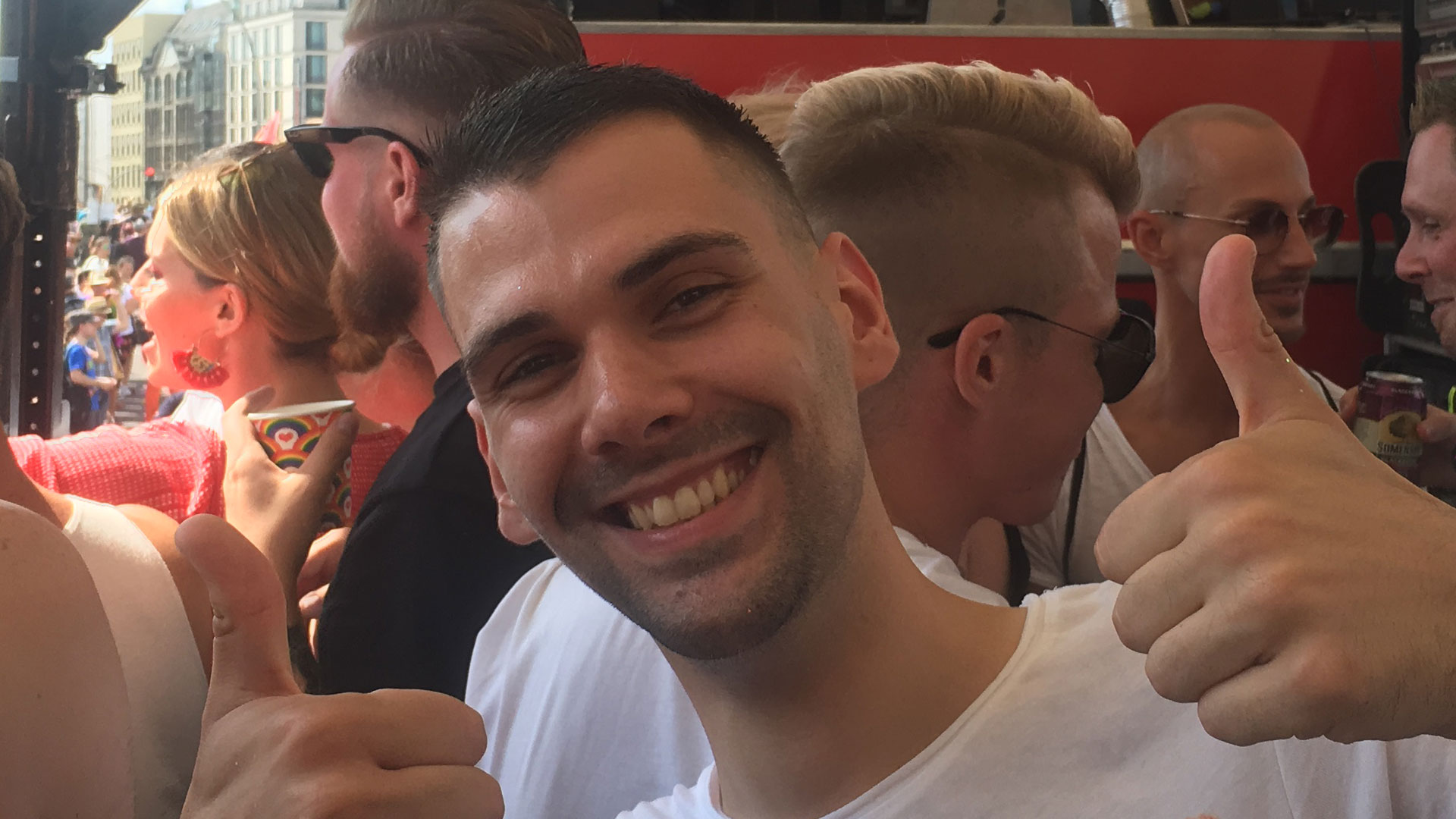 Felix Scheller.
De knap 50 udsmykkede lastbiler bevægede sig højlydt og farverigt gennem Hamborgs centrum. "Det er fantastisk, at Vattenfall er så engageret i det her og at vi sammen kan deltage i paraden for at fremme tolerance", erklærede Felix Scheller fra HR.
Pride-paraden var den afsluttende begivenhed under den 38. Pride-uge i Hamborg. Regnbueflaget vajede også ved Vattenfalls hovedkontor i Überseering.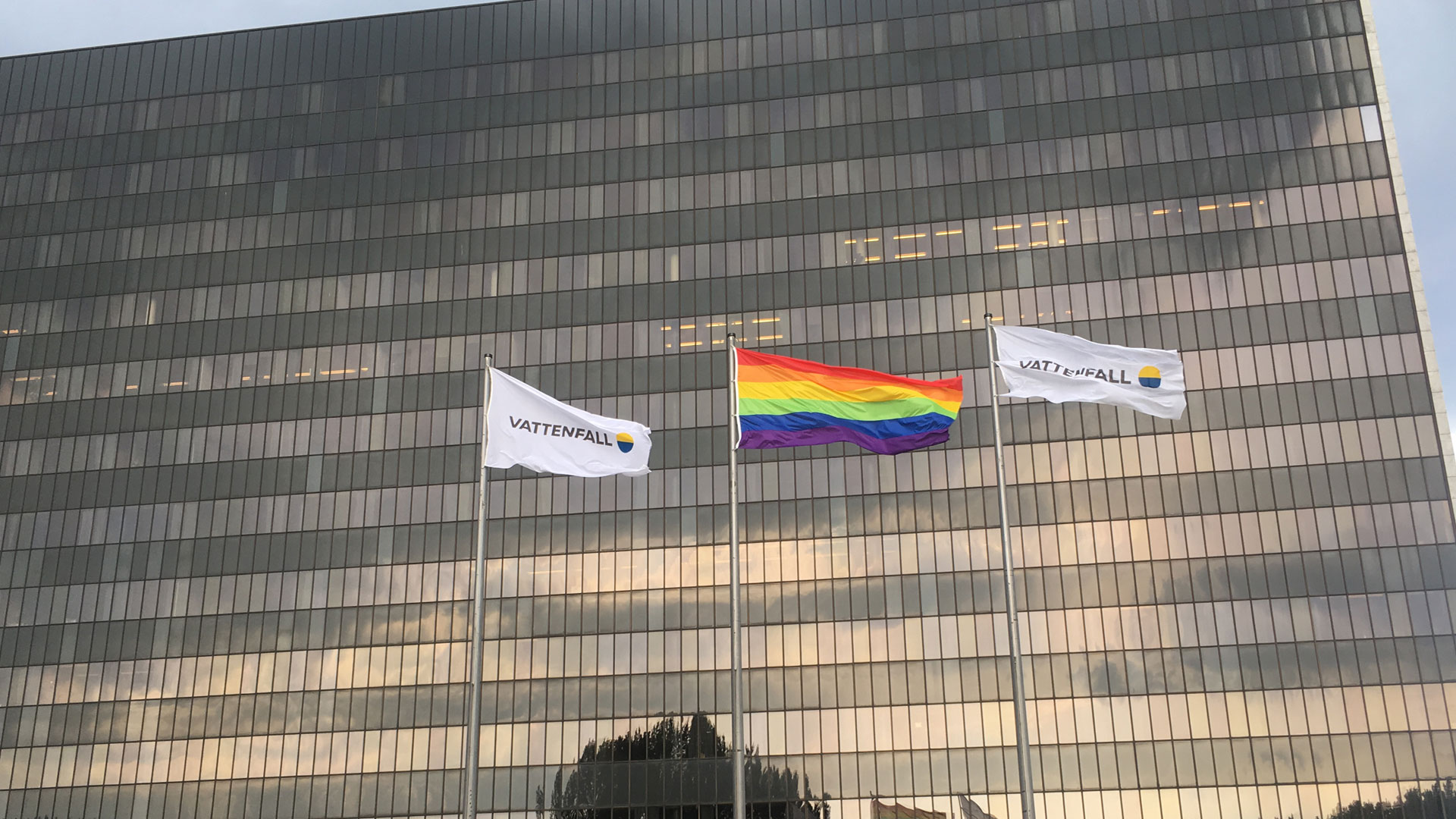 Berlin – mangfoldighed og åbenhed er vigtigt
Under paraden i Berlin fejrede 1 million tilskuere og deltagere Priden ved middelhavsagtige temperaturer på over 30 °C. I syv timer flød musikken ud fra Vattenfalls musiklastvogn, og 90 energiske kollegaer nød dagen i fulde drag under mottoet "Powered by Diversity".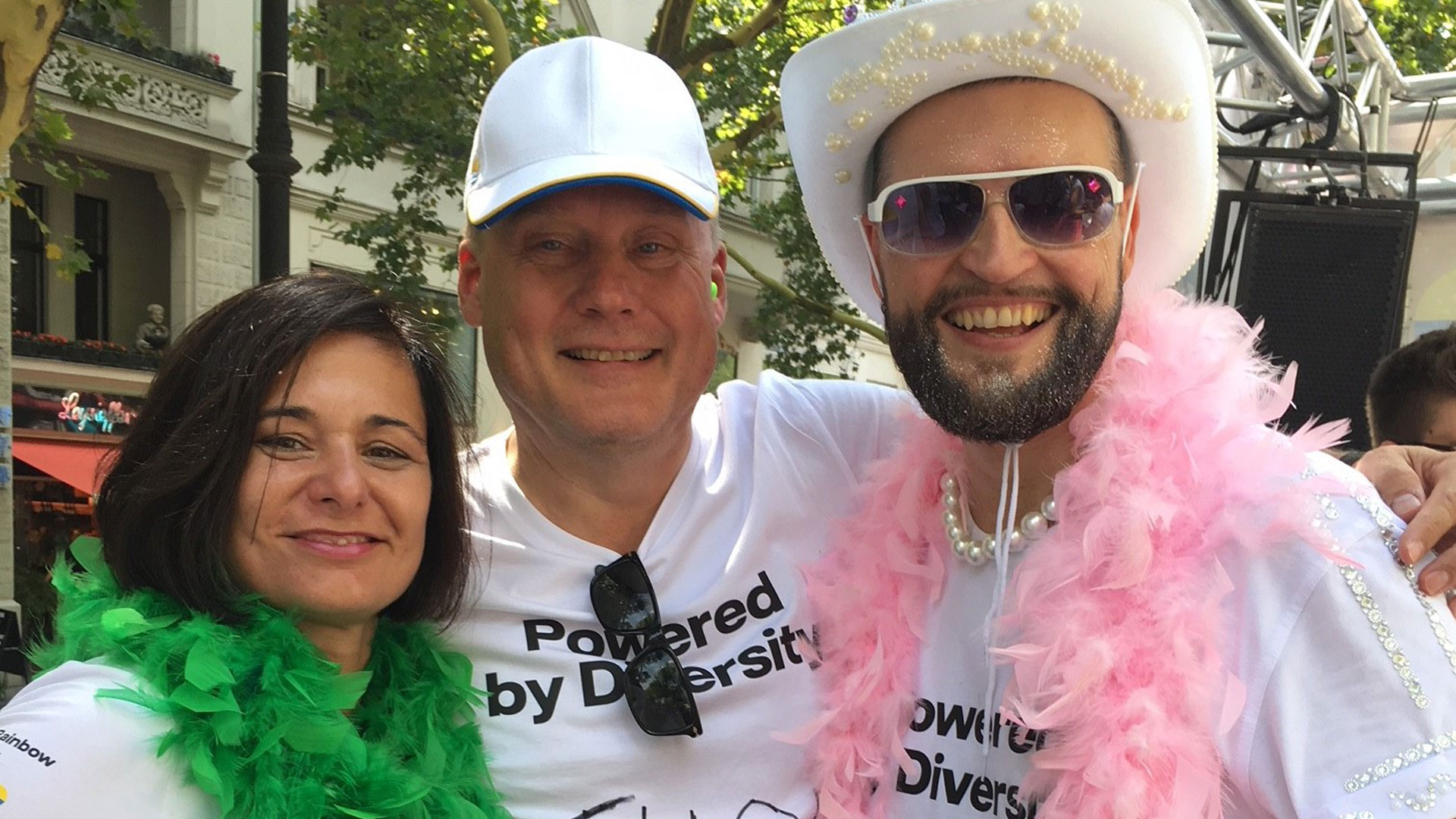 Fra venstre mod højre: Mandy Rohwedder, bestyrelsesmedlem i Vattenfall Rainbow Network, Diversity & Inclusion Officer Tuomo Hatakka og Johannes Nohl, bestyrelsesformand i Vattenfall Rainbow Network.
Vattenfalls Diversity & Inclusion Officer Tuomo Hatakka, som deltog i paraden i Berlin, sagde:
"Jeg er glad for at kunne deltage i Pride-paraden i Berlin sammen med vores Vattenfall Rainbow Network og en masse energiske kollegaer for at vise, at mangfoldighed og åbenhed er vigtigt for os. Et af Pridens politiske krav er at skabe større opmærksomhed omkring mangfoldighed i virksomheder og at støtte LGBTQ-talenter – lesbiske, bøsser, biseksuelle, trans- og queer-personer – på arbejdspladsen. Det stemmer godt overens med vores motto "Powered by Diversity", og jeg håber, at mangfoldighedspotentialet vil blive realiseret og brugt endnu mere i hele samfundet. Det vil vi alle sammen få fordel af."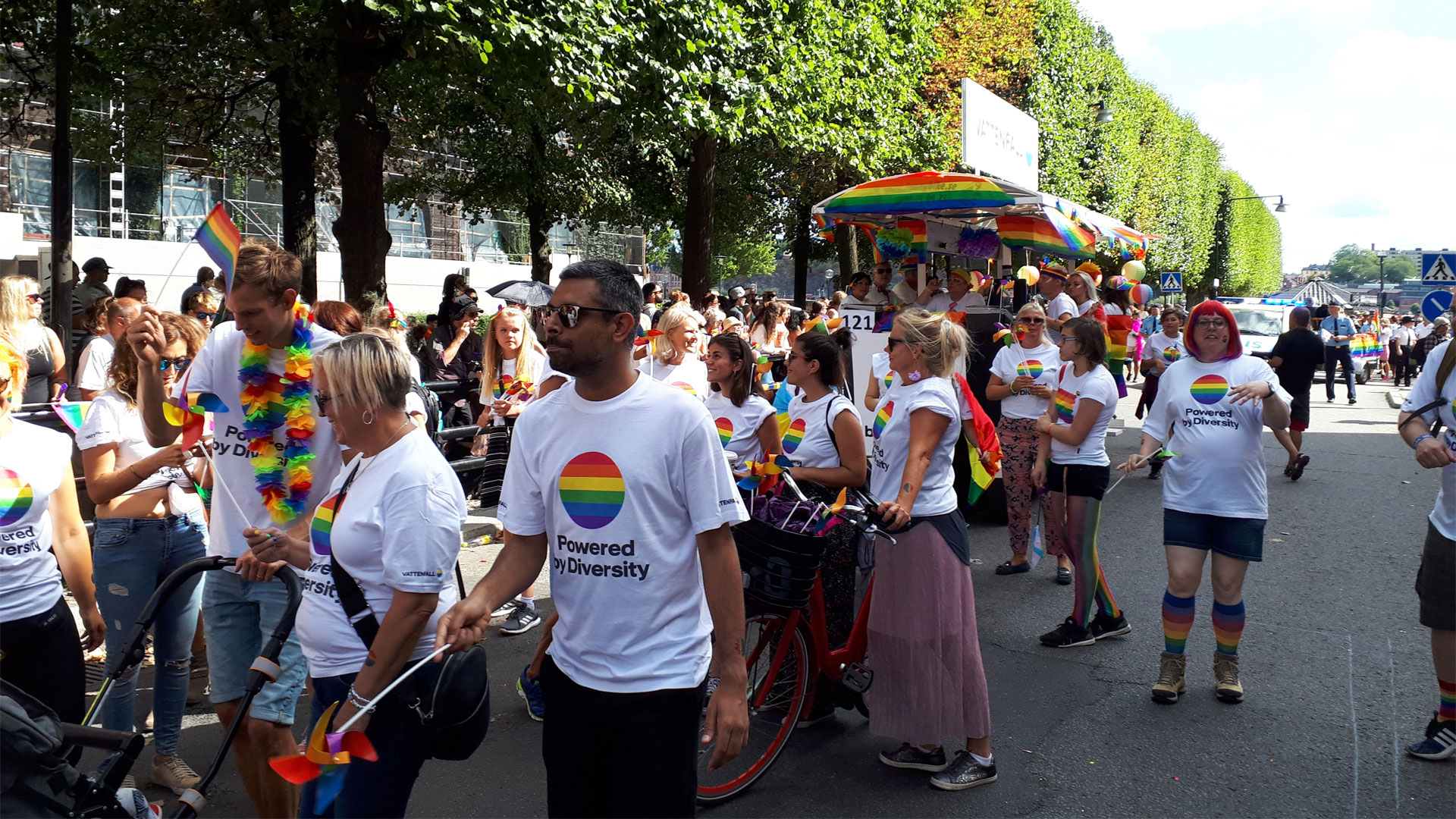 Stockholm – vigtigt at vise, at alle kan være sig selv
Også i Stockholm dansede deltagerne i Vattenfall Pride-paraden gennem gaderne for at støtte mangfoldighed og åbenhed. Omkring 50 kollegaer havde besluttet at bruge dagen i hinandens selskab, klædt i T-shirts med det specielt tilpassede regnbuefarvede logo.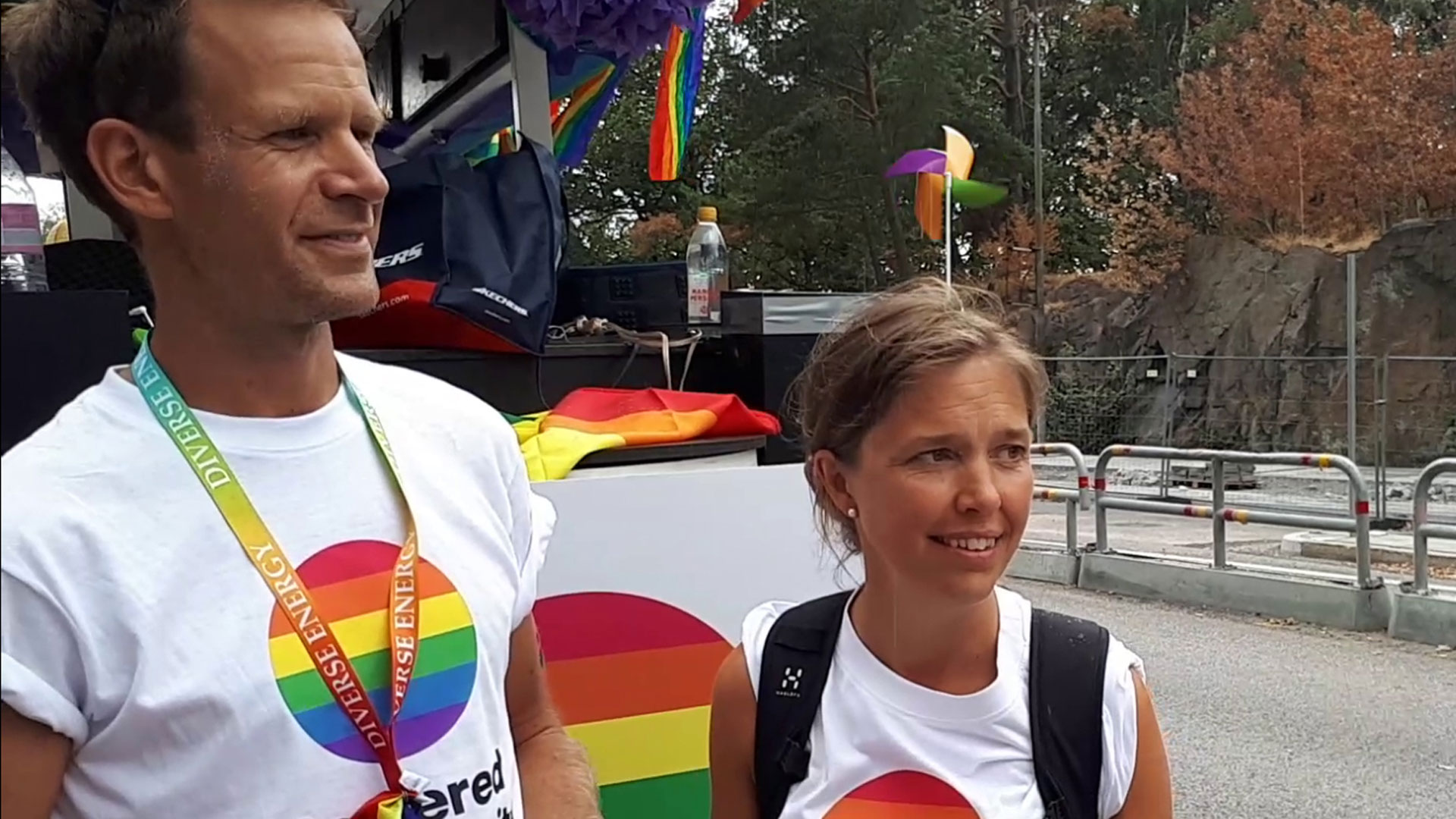 Patrik Fagerfjäll og Kerstin Ahlfont.
Kerstin Ahlfont, Senior Vice President Human Resources, deltog i Stockholm-paraden, og hendes budskab var tydeligt: "I mine øjne er det vigtigt at deltage i paraden for at vise, at alle kan være sig selv og at man kan elske den, man har lyst til."
Patrik Fagerfjäll, Strategic Purchasing, deltog for første gang og nød også paraden: "En skøn dag, fuld af glæde i alle ordets betydninger, og alt sammen drevet af mangfoldighed."
Indtægter fra ladestationer i Amsterdam doneret til LGBTI-organisation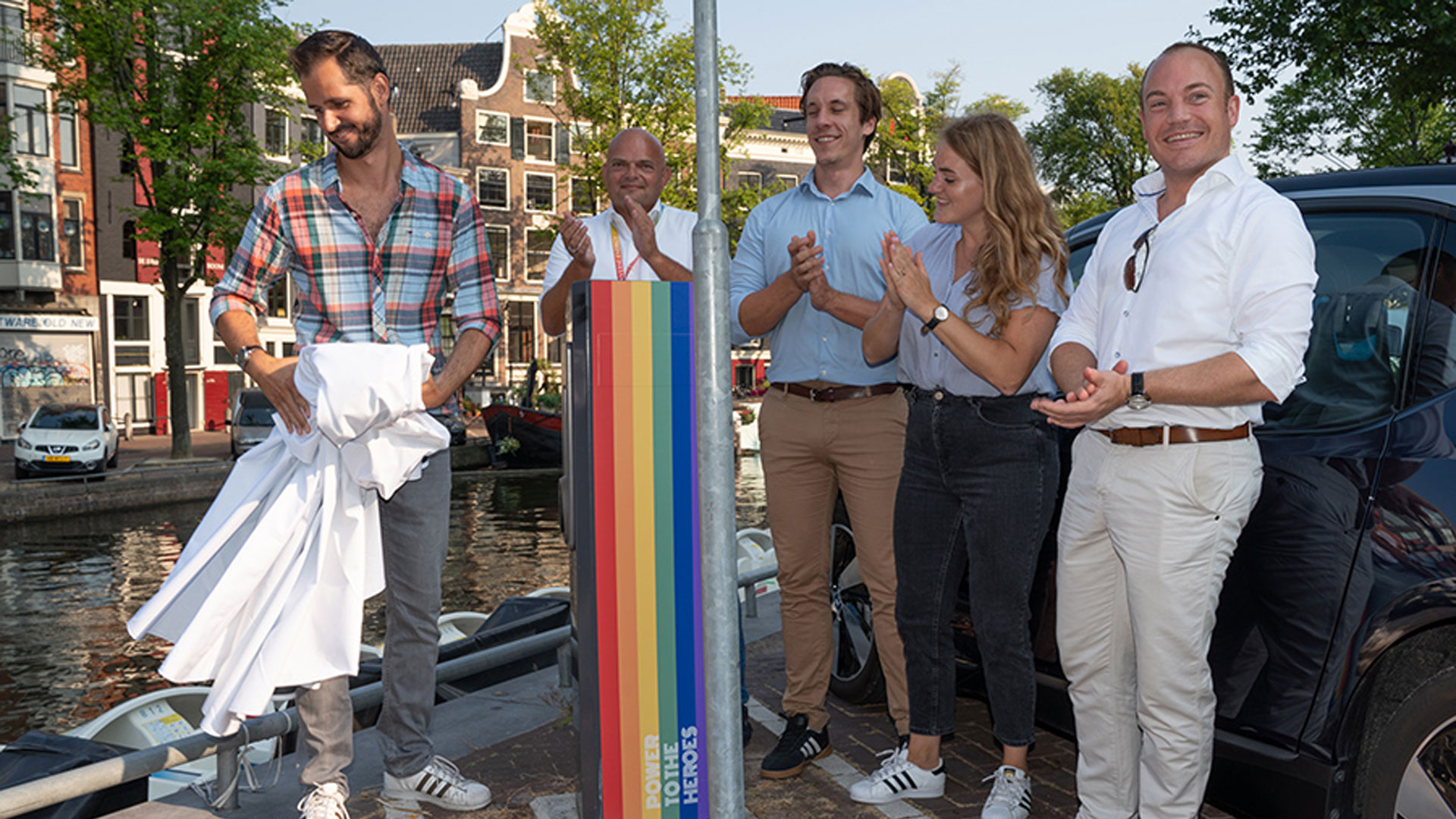 Job Karstens (EVBox), Ronald Stahli (Nuon), Mathieu Wijnen (Amsterdam kommune), Linda Roskam (Amsterdam kommune) og Vincent Jongejans (Nuon) under afsløringen af LGBTI-ladestationen. Foto: Jan-Willem de Venster.
"I år valgte Nuons mangfoldighedsnetværk, i samarbejde med EVBox og Amsterdam kommune, at udstyre 256 ladestationer i centrum af byen med budskabet "Power to the Heroes", som vi bruger til at sætte fokus på dem, der vælger at køre i elbiler, samtidig med at det fremhæver, at vi som Nuon/Vattenfall ønsker at blive fossilfri inden for én generation. Indtægterne fra ladestationerne i Pride-ugen beløb sig til over 3.500 euro, og pengene vil blive doneret til LGBTI-interessegruppen COC," fortæller Ronald Stahli, initiativtageren til Nuons LGBTI-netværk og Account Manager B2B.
"Lørdag den 28. juli stod vi også med ladelastbilen Nuon-to-go i Vondelpark i Amsterdam, hvor de besøgende gratis kunne oplade deres telefoner. Mens der blev opladet, fik vi flere gode samtaler om mangfoldighedsnetværket, men også en masse om energiproduktion. Folk var vilde med, at deres telefon blev opladet med solenergi."