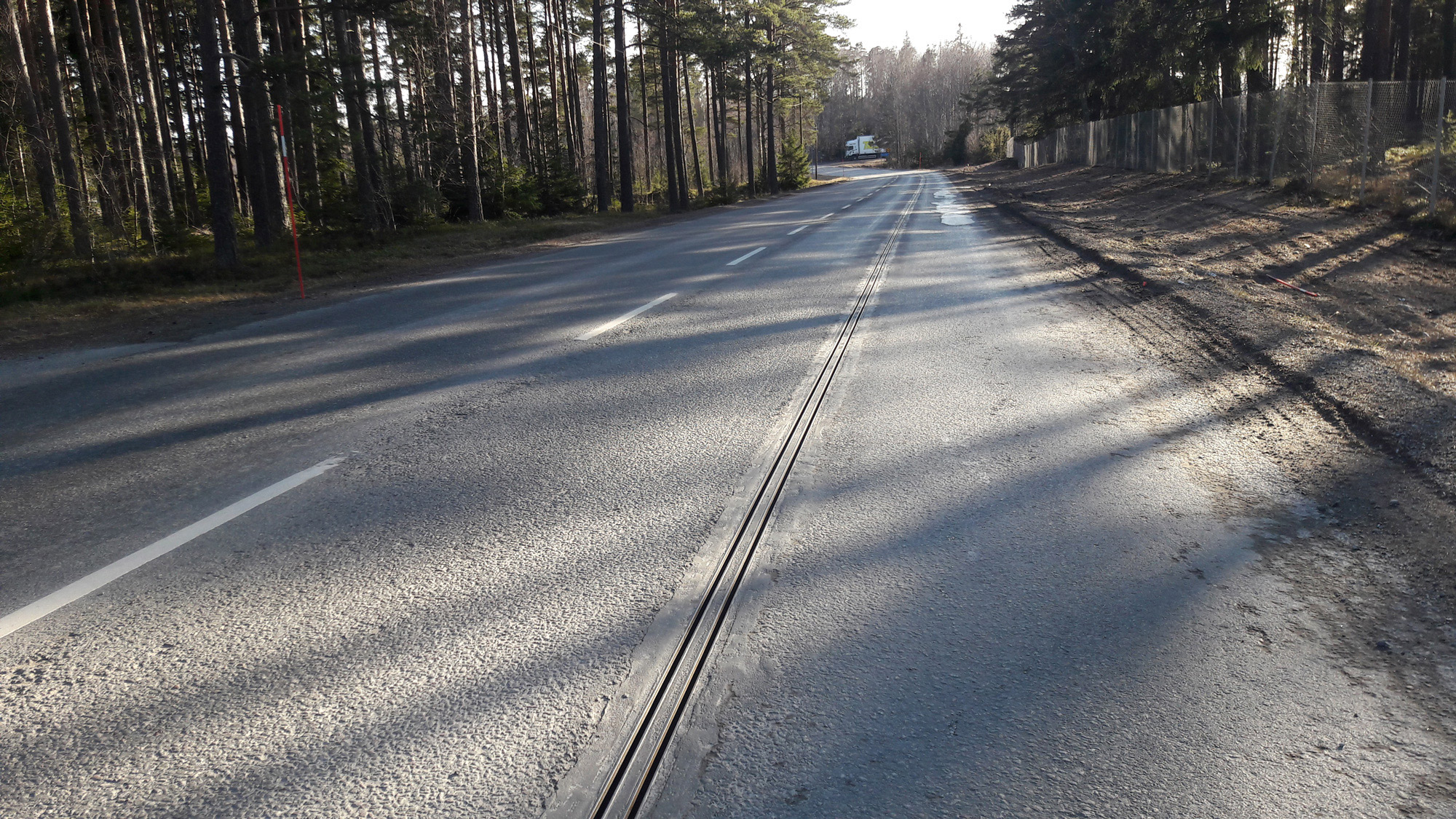 Verdens første elvej indviet uden for Stockholm
Vattenfall støtter udviklingen af ny teknik til elektrificerede veje.
Den første elvej i verden, som via en elskinne i vejbanen muliggør opladning af elkøretøjer under kørslen, er nu blevet indviet i nærheden af Arlanda-lufthavnen nord for Stockholm. Vattenfall, innovationsvirksomheden Elways samt bygge- og infrastrukturvirksomheden NCC deltager i det unikke udviklingsprojekt eRoadArlanda, som gennemføres for den svenske trafikstyrelse.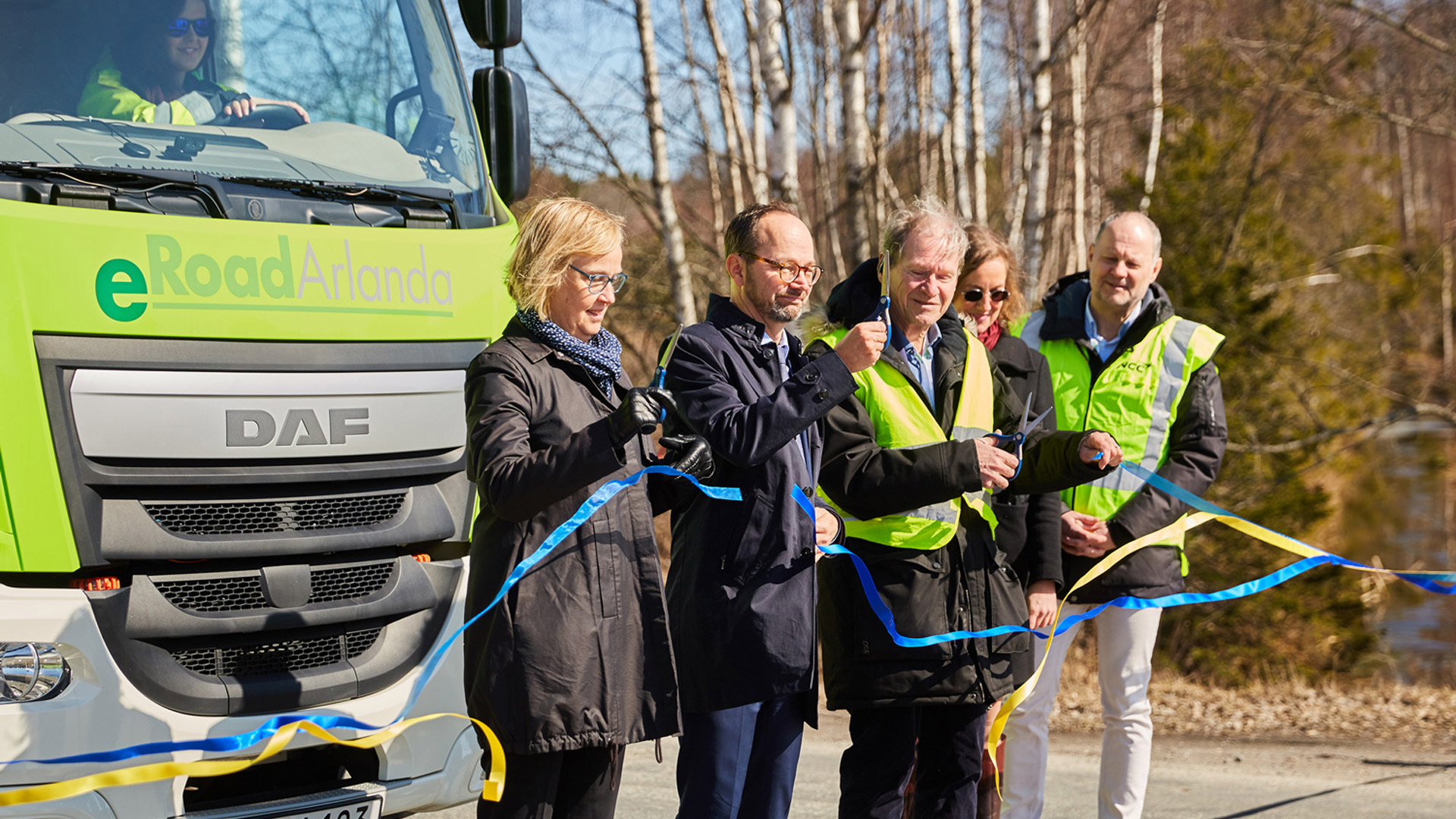 Den svenske trafikstyrelses generaldirektør, Lena Erixon, infrastrukturminister Tomas Eneroth og elskinnens opfinder, Gunnar Asplund, indvier elvejen eRoadArlanda.
Elvejen blev indviet den 11. april af Sveriges infrastrukturminister, Tomas Eneroth, den svenske trafikstyrelses generaldirektør, Lena Erixon, og den patenterede elskinnes opfinder, Gunnar Asplund, fra virksomheden Elways.
"Sverige er førende inden for udviklingen af elveje, og det første land i verden med to testprojekter på offentlig vej, som muliggør opladning af elkøretøjer under kørslen, enten fra en elskinne i vejbanen eller fra en luftledning," siger trafikstyrelsens generaldirektør, Lena Erixon.
To elveje i Sverige
eRoadArlanda er det andet elvejsprojekt i Sverige, som har modtaget statslig finansiering i form af et innovationsudbud af trafikstyrelsen. For to år siden blev det første projekt indviet på en motorvej mellem Gävle og Sandviken, 140 km nord for Stockholm. På denne elvej sker opladningen af en række hybridlastbiler via luftledninger. Den nye patenterede Elways-teknik med en elskinne i vejbanen muliggør nu opladning af alle typer elkøretøjer og ikke kun af høje lastbiler eller busser. Investeringsomkostningerne pr. kilometer beregnes at blive lavere end ved luftledninger, og det samme gælder indvirkningen på landskabsbilledet.
En glidende strømaftager under lastbilen henter strøm fra elskinnen. Strømaftageren kan bevæge sig sidelæns samt automatisk hæves op og sænkes ned i elskinnen. Ladeeffekten er 200 kW.
"Vattenfall vil bidrage til en overgang til eldrevne vejtransporter. Elveje, der muliggør dynamisk opladning under kørslen, kan blive en interessant løsning ikke mindst for tungere køretøjer, som har brug for at køre længere strækninger uden opladningsstop. Etablering af elveje ville også betyde, at alle typer elkøretøjer kan have mindre batterier og alligevel ubegrænset rækkevidde," siger Jesper Karpsen, Head of BU Network Solutions i Eldistribution.
Regulær godstrafik
Elvejen eRoadArlanda vil nu i en forlænget forsøgsperiode blive testet i mindst yderligere et år under krævende vej- og vejrforhold. Projektets specialbyggede fuldelektriske lastbil vil i denne periode køre gods mellem fragtterminalen ved Arlanda-lufthavnen og logistikvirksomheden PostNords nærliggende logistikanlæg.
"Elektrificering af vejtrafik er en vigtig brik i puslespillet om at mindske den samlede CO2-udledning i samfundet. CO2-udledningen fra lastbiler tegner sig for omkring en fjerdedel af den samlede udledning fra vejtrafikken, og udviklingen af elveje kan derfor være en vigtig brik med henblik på at mindske udledningen fra transportsektoren," siger Annika Ramsköld, Vattenfalls Head of Sustainability.
Se indslag fra indvielsen af eRoadArlanda