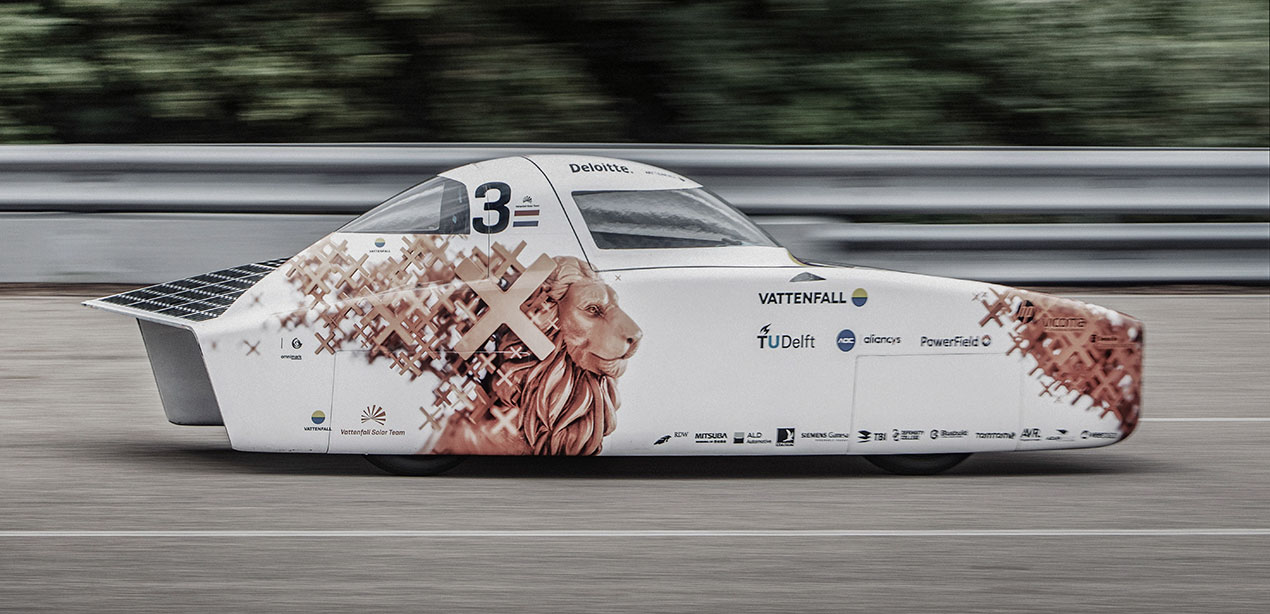 Den seneste solcellebil fra Vattenfall Solar Team sejler på den australske vind
De studerende går efter at vinde deres ottende verdensmesterskabstitel med den innovative NunaX.
Den seneste solcellebil fra Vattenfall Solar Team - NunaX - bliver afsløret i dag i Amsterdome i Amsterdam. Den tiende bil, der er fremstillet i Delft, er ikke kun mindre, lettere og mere effektiv – den har også et hemmeligt våben: Bilen er konstrueret til at bruge vinden til at få endnu mere fart på. Med NunaX håber teamet af studerende at vinde verdensmesterskabet for ottende gang i Bridgestone World Solar Challenge i Australien, der bliver afholdt i oktober.
Efter over et år med design og konstruktion står den endelig færdig: NunaX, den seneste selvbyggede solcelleracerbil fra Vattenfall Solar Team. Det er en milepæl for teammedlemmerne, som alle er studerende fra det tekniske universitet i Delft i Holland. De har sat studierne på pause i mindst 18 måneder for at deltage i Bridgestone World Solar Challenge i Australien. I dag bliver bilen præsenteret for deres familier, fans og sponsorer ved en festlig begivenhed i Amsterdome i Amsterdam.
Innovation er det unikke
Selvom Vattenfall Solar Team allerede har vundet verdensmesterskabet for solcelleracerbiler syv gange, er udfordringen lige så stor som altid. Technical Manager Bruno Martens fortæller: "Reglerne for racerløb for solcellebiler har næsten ikke ændret sig i de senere år. I de første racerløb var bilerne sommetider meget forskellige, men nu oplever vi, at teams kopierer hinanden, og at bilerne i stadigt stigende grad ligner hinanden. Det gør innovation vigtigere end nogensinde – det er de smarte detaljer, der gør hele forskellen."
Energi fra både sol og vind
Heldigvis er innovation en del af DNA'et hos Vattenfall Solar Team. I den foregående udgave vandt de studerende fra Delft takket være en innovativ, mindre bil, og forventningen er, at mange konkurrenter vil følge i deres fodspor i år. Men det er lykkedes for teammedlemmerne fra Delft at gøre deres nye bil en anelse lettere, mindre og mere effektiv end før. Bilen vejer kun 133 kg, og den ser ud til at være den mindste og letteste af bilerne nogensinde. Der er også tilføjet en lille vinge, der er placeret på en sådan måde, at den gør det muligt for solcellepanelerne på vingen at fange så meget sollys som muligt.
Men teamet sætter primært sin lid til det aerodynamiske design. Bruno Martens: "Under det foregående racerløb oplevede vi, at den lille Nuna9 havde enorm fordel af den stærke sidevind, vi altid har i det sydlige Australien. Det er lidt, ligesom når en sejlbåd bliver drevet frem af vinden. I den her udgave af bilen har vi specielt fokuseret på dét i vores design. Overdækningen og hjulinddækningerne er udformet, så de giver bilen en slags ekstra skub, når der er sidevind. På denne bil bruger vi både solenergi og en lille smule vindkraft."
Intense forberedelser inden racerløbet
I løbet af de næste par måneder vil teamet fokusere på processerne i racerløbet og gennemføre en omfattende række tests. Til det får de studerende hjælp af den tidligere hockeytræner Marc Lammers. De første tests finder sted i Holland. Til august rejser teammedlemmerne og deres solcellebil, der er blevet døbt NunaX, til Australien for at gennemføre tests og forberedelser på stedet.
Fakta og nøgletal
Om bilen
NunaX er den mindste og letteste (133 kg) bil hidtil – og medmindre et konkurrerende team stiller med en, der er endnu lettere, bliver det den letteste bil, der nogensinde har deltaget i racerløbet.
For at holde vægten nede er hver eneste del af bilen blevet konstrueret igen fra bunden. Teamet brugte andre basismaterialer til nogle af delene, og på andre fjernede de materiale. I nogle tilfælde er forskellen kun to gram, men hvert eneste gram tæller.
Bilen er meget strømlinet – sidespejlet på en normal personbil har større vindmodstand end NunaX.
Solcellepanelet består af gallium-solceller, der normalt benyttes i luftfartsindustrien. De er langt mere effektive end de silicium-solceller, der monteres på taget af bygninger.
I stedet for det sædvanlige lag af glas, der normalt bruges til at beskytte solcellerne, påfører teamet deres egen beskyttende overfladebehandling for at spare på vægten. Overfladebehandlingen indeholder også prismer, så det lys, der skinner på solcellerne, altid rammer vinkelret.
Om racerløbet
I oktober i år deltager Vattenfall Solar Team (tidligere Nuon Solar Team) fra det tekniske universitet i Delft i Bridgestone World Solar Challenge i Australien – verdensmesterskabet i racerløb for solcellebiler – for tiende gang. Løbet afvikles hvert andet år.
Bridgestone World Solar Challenge er et racerløb over flere dage på over 3.000 kilometer, og ruten går gennem den australske ødemark. Solcelleracerteams fra hele verden deltager og forsøger at nå frem til mållinjen så hurtigt som muligt.
Hvert år samles der et nyt team bestående af 16 studerende fra det tekniske universitet i Delft, og de designer og bygger bilen og kører racerløb i den.
Teamet har allerede vundet racerløbet i Australien syv gange. To gange er teamet kommet ind på andenpladsen. Teamet har også vundet Sasol Solar Challenge i Sydafrika tre gange.
Om teamet
Der dannes et nyt Vattenfall Solar Team hvert andet år bestående af 16 ambitiøse studerende fra det tekniske universitet i Delft, som afbryder deres studier i mindst 18 måneder for at deltage i Bridgestone World Solar Challenge.
Teamet har været sponseret af Vattenfall helt fra begyndelsen. Vattenfall har som mål at gøre det muligt at leve fossilfrit inden for én generation, og Vattenfall Solar Team viser, at det er muligt.